'Utopia' by Thomas More, a work of fiction and a political philosophy written in 1516, is an everlasting inspiration for both political theory and art. This book, a narrative depicting a fictional island society and its religious, social and political customs, is about persisting human desire to create order and unity in the world, and the imagination of a perfect human society where justice exists for all. The word 'utopia' is derived from Latin terms for a 'good place' and a 'non-place'. To mark the 500th anniversary of this important book, Shapero Modern will present Nova Utopia, a celebrated work by a British artist Stephen Walter. Nova Utopia is an extraordinary hand-drawn map that revisits Thomas More's famous island Utopia, a century after a capitalist revolution in 1900 has transformed it completely. It is based on the Abraham Ortelius's map of More's 'Utopia' from 1596, and it uses it as an aesthetic template mirroring its coastline and shape.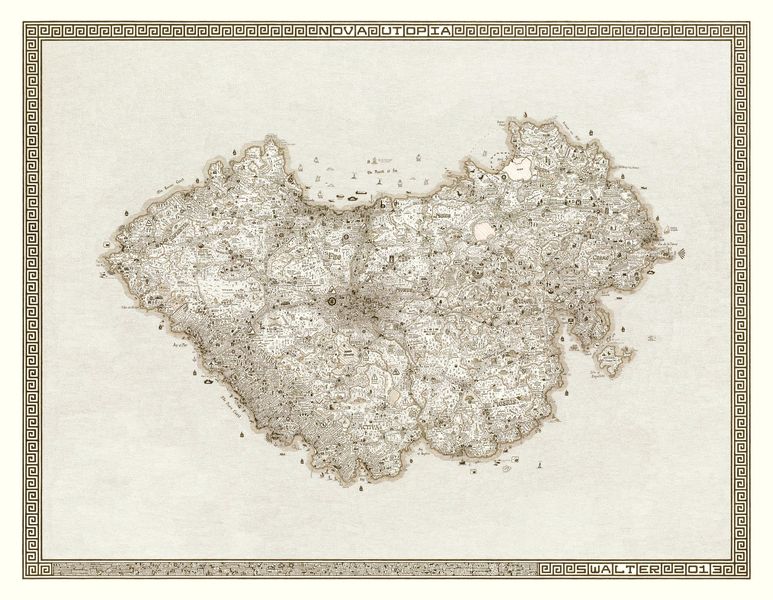 From an Egalitarian Society to a Leisure Island
More's Utopia was a strict and ordered, but fair egalitarian society free of inequalities and built upon a strong sense of community and tolerance. Since Utopia was based on principles of communalism, a private ownership of land was a cardinal sin, and labor, goods and services were shared evenly inside the tight-knit communities. Walter's update of More's imagined world starts with the entrepreneurial aspirations that emerged over time due to foreign influences, resulting in a revolution in 1900. This world is further known as Nova Utopia, becoming a capitalist state advocating personal possessions, wealth, consumerism and market philosophy. Compromising ideals that it was built on, Nova Utopia became an ideal place to do business and a dream island destination. Walter's Nova Utopia that extends into the 21st century presents a leisure island shaped by the world of mass tourism, package holidays, retirement homes, luxury resorts, banking districts and cultural hotspots.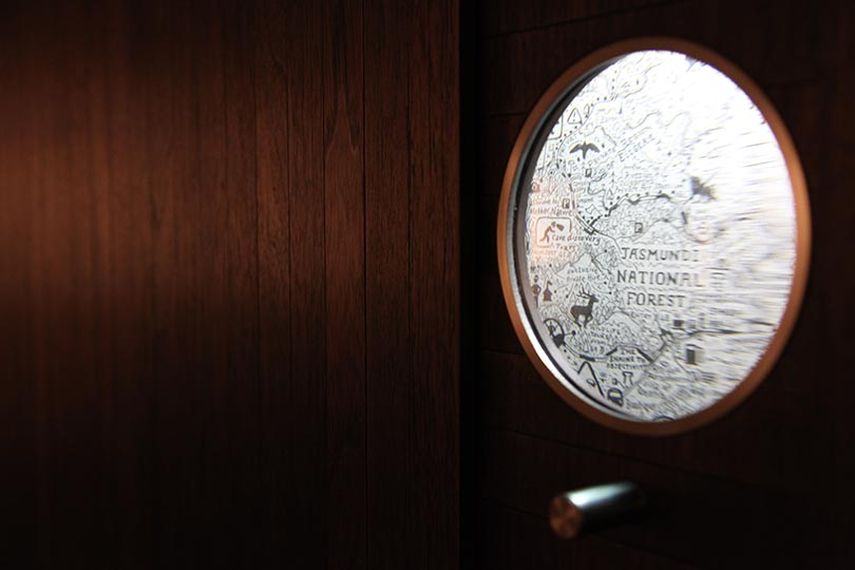 An Interactive Display Case
Nova Utopia is a collection of different utopian and dystopian manifestations, representing a combination of Walter's yearnings and things he wished didn't exist. This work is a comment on problems surrounding politics of public space and commodification of public goods. The drawing is presented inside the Hagioscope frame containing a movable magnifying glass with an LED light. Using this magnifying glass, only one person at the time can light and explore the artwork within, one piece at the time. This frame is a metaphor of today's society since it goes against the idea that Utopia is for everybody, showing that this world can never be seen in total, but rather on a personal and local level.
The History of Nova Utopia, the Artwork That Will Be Presented in the Stephen Walter Exhibition
Stephen Walter Exhibition at Shapero Modern
The drawings of Stephen Walter have evolved from his fascination with maps, public signs, symbols, semiotics and investigation into obsessive drawing techniques. His maps and beautiful landscape works are rich in details and full of autobiographical references, epithets, hidden associations and wider contradictions, exploring the phenomenon of personal and collective experiences of real and fictional places. The Nova Utopia will be on view at the Shapero Modern in London from April 13th to April 30th, 2016. The work Nova Utopia was previously shown at his solo exhibition Stephen Walter: Anthropocene at LondoNewcastle Project Space in 2013.
Editors' Tip: Utopia by Thomas More
Thomas More's 'Utopia' is considered one of the most influential books in western literature. It was first published in Latin in 1516. Thomas More was a humanist, scholar and churchman executed by Henry VIII because he refused to accept the king as the supreme head of the Church of England. The word 'utopia' is derived from the Greek prefix "ou-"(ou), meaning "not", and topos (τόπος), "place", with the suffix -iā (-ία), and this the name literally means "nowhere". Thomas More describes the perfect society living on the idealized island where the harmony and social justice prevails. The community practiced religious tolerance, everybody worked, private ownership was a cardinal sin and the violence didn't exist. It has served as an inspiration to many social movements throughout history.
Featured images: Stephen Walter - Nova Utopia (detail through  Hagioscope), 2013. All images Courtesy TAG Fine Arts and Shapero Modern.