Earlier this year in Lisbon, and a little later in Nanterre, stencil artist Stew painted two mesmerizing murals. The first depicts a sparrow (hototogisu) on a branch, announcing the arrival of summer, with a purple sun as a background. In the second, we see an enormous carp on a blue background, surrounded by other geminated carps. While the cuckoo from the first artwork was used as a symbol in many pieces by Hiroshige (1797-1858), carp has several meanings: a symbol of love and civility, but also of perseverance and tenacity. With these murals, Stew made an introduction to his latest show with GCA Gallery in Paris, in which he created an ode to the Japanese culture and, in particular, its incredible erotic art.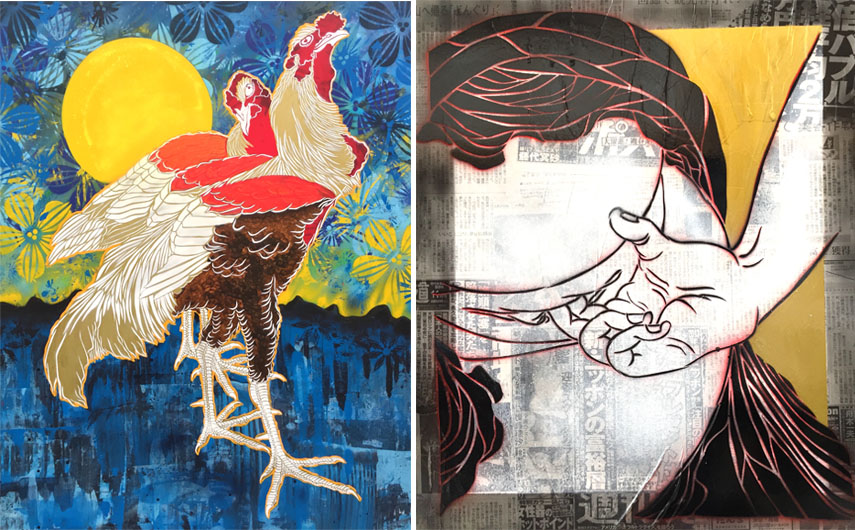 A Unique Collaboration
The relationship between Stew and GCA Gallery began some four years ago, with the artist's Homework exhibition at the art space in 2015. This is when the current project, Stewrotica, was born, joining the artist's passion for classical Japanese culture and the gallery's personality. The exhibition was conceived as a team effort, from the theme itself to the scenography, with each side using different set of skills to make it happen. Here, we once again witness the impeccable stenciling technique of Stew, who seems to be equally good at making huge murals and giving life to smaller gallery pieces in his recognizable style - a mixture of straight lines and stencils. His patterns sometimes serve as background, and sometimes as material for a given element.
STEWROTICA
Stew's most recent artworks are not at all anecdotal and refer, for the most part, to the icons of Japanese classical culture and artistic creation; think an homage to erotica, but with a wider and more complete oeuvre. The most obvious example might be Dildo girl, referencing the Shunga as the naked girl holding a sex toy (harigata) in her arm, probably made of ivory. Another one is Two fingers, a highly explicit image calling to mind the great Hokusai. But apart from the erotic subjects, Stew also depicts other symbols, such as the deer, representing longevity, or the fantastic creatures such as the cyclops demon, once again drawing inspiration from Hokusai and his Hayaku monogatari series (1831-32).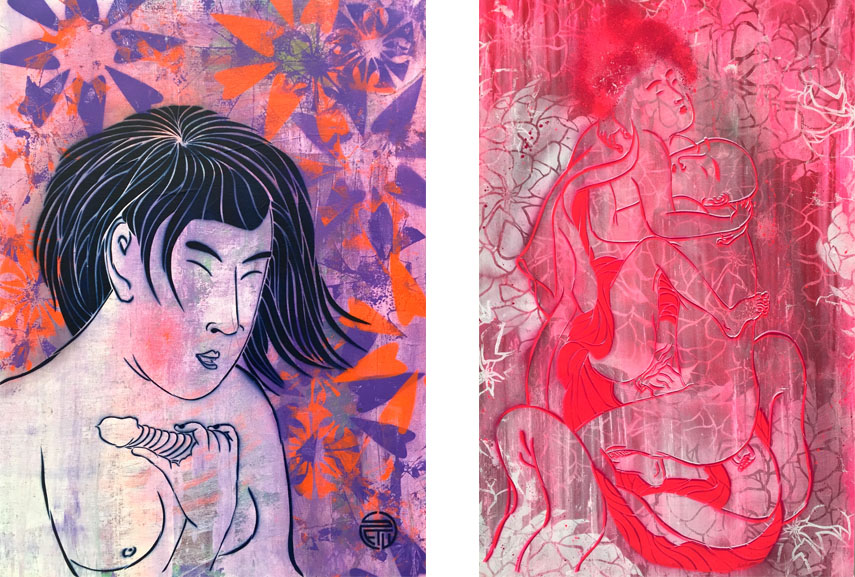 Stew Art at GCA Gallery
STEWROTICA, an exhibition of work by STEW, will be on view at GCA Gallery in Paris, France, from September 22nd through October 21st, 2017. It is an invitation to travel in time and space, as the works presented here summarize the work and research of the artist in recent years. His subjects are treated with seriousness and thoroughness, and his art is full of classical optimism and reference.
All images courtesy GCA Gallery.