Just a couple of days ago, the exhibition of Sergej Vutuc ended at Basel-based Guillaume Daeppen Gallery. Those who visited this show had an opportunity to enjoy new works by this great artist – the exhibition was entitled Die Spuren. Now, the Gallery Daeppen organizes an exhibition of the amazing France-based artist Stéphane Moscato aka STF. We recently wrote about the opening of Galerie Openspace new location in Paris, where STF exhibited as well, among many other great urban artists. The visitors of Daeppen Gallery will see the latest body of work by STF Moscato. The show is entitled Perpetual Carnival. Strongly inspired by punk rock culture, STF Moscato also proposes a social and political commitment which is implicit in his work.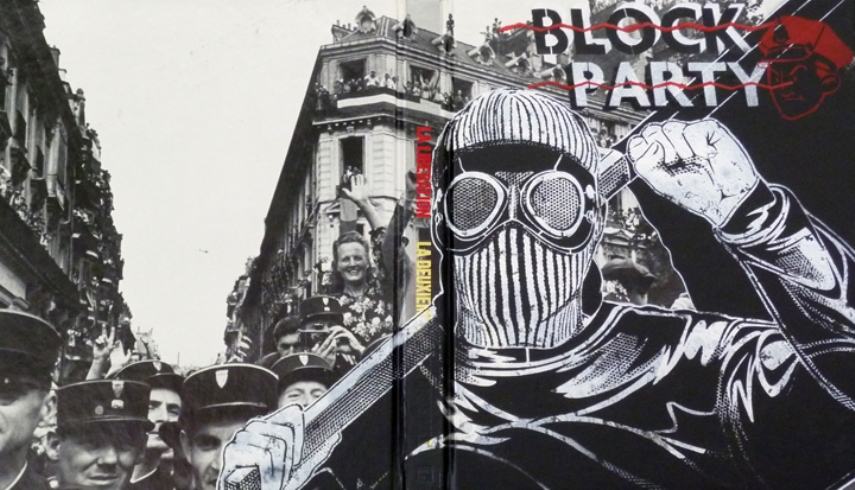 Inspiration from Punk Rock Culture – The Art of STF Moscato
STF Moscato is a French contemporary artist born in Marseille in 1976. He is well known for his urban art, and for his use of stencils and cans of spray. His career is similar to other stencil artists. Punk rock and trash style of stencil were there in the beginning, but STF never paid much attention to it, he just kind of swam in there. In 2002, he was introduced to stencil by an artist, Rnest STO, and he immediately loved its rock'n'roll side and the repetitive nature. After that, he started working on his own style, and his work grew to be quite unique over time and polysemic. It is not easy for a stencil artist in Marseille. The streets are covered with graffiti and the empty places have become rare. STF tirelessly walks the streets, peeling off whole sections of posters which he then fixes onto canvas in his studio. He then begins a creative dialogue with what he has found, part of a face or color standing out. He lets himself be guided by the meaning which emerges from these fragments of the street.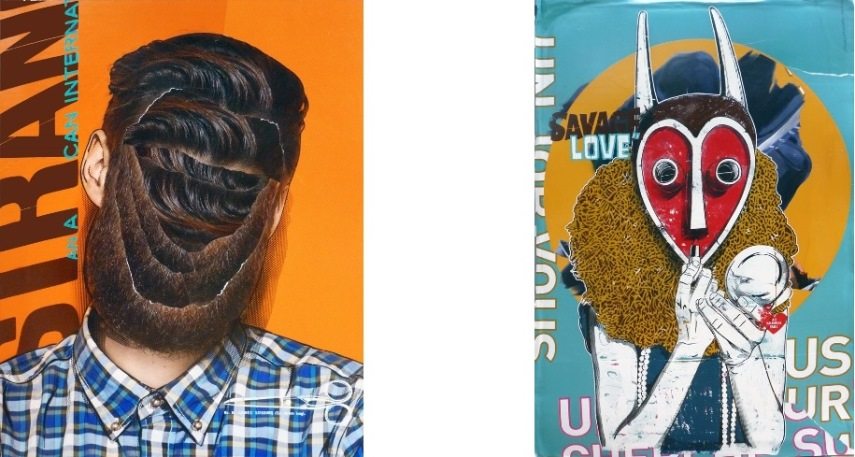 Perpetual Carnival
The starting point for STF Moscato for the Perpetual Carnival was an old engraving dated around 1700-1701 showing two people hiding behind virtuous masks showing their different"dark sides". And this image is something that the artist believes is still inspiring. So, STF wanted to paint something politically engaged in the guise of something poetic. Yet, it's not all about politics, but about how the world functions actually. There is a perfect saying in French: mouton de Panurge / sheep of Panurge which describes an individual that will blindly follow others regardless of the consequences. The masquerade is not completed if we don't wear a mask at the opening, right? So, STF decided to produce and "stencilize" DIY sheep mask for spectators. Basel has the most important Swiss carnival and it was very important for the artist to place an exhibition about carnivals in a city with such tradition. But, there is also one, quite bold political message. The right-wing populist political party – Swiss People's Party made a "propaganda" poster representing a white (and pure) sheep clearing off Swiss flag and a black (immigrant and "non-pure") sheep. This political statement is related with Purange and sheep while the artist's statement is that "if you don't care you'll be manipulated because you're blind and you will follow the one who seem to master." Finally, the conclusion of this conceptually brilliant art sounds as following:
"For you have no sympathy for me,
You, your shepherds and your dogs.
I have been told of this. I have to make things even.
Saying this, into the woods,
The wolf carries the lamb, and then eats him
Without any other why or wherefore."
...a Perpetual History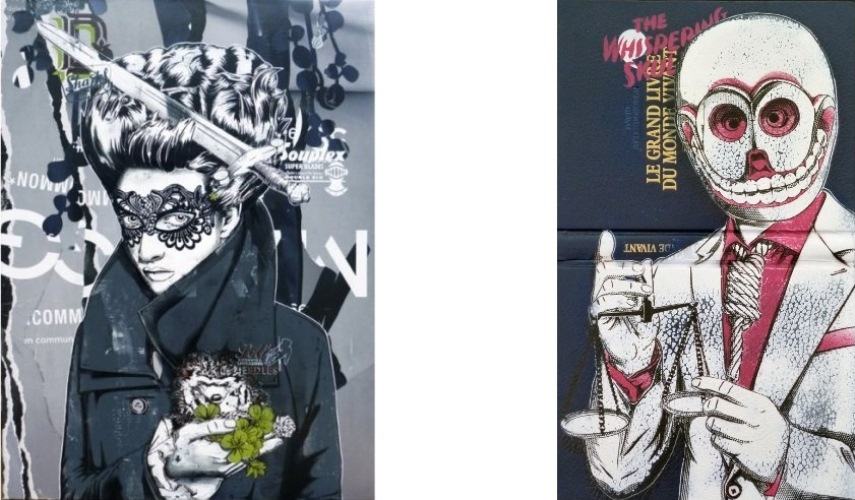 STF Moscato Exhibition at Gallery Daeppen
Guillaume Daeppen gallery for urban art is located in the city of Basel, Switzerland. Since 2006, the gallery focuses on a generation of young artists working essentially with new media. With the show BORN TO BE PUNK (2009), the Gallery confirms his new direction and continues to develop his program and to question the concepts Street, Urban, Post Punk, Skater Art as well the relations between art, fashion, illustration, design, music and photography. Since 2015, a permanent space is dedicated to prints, underground cultural publications and hard-to-find fanzines. Be sure not to miss STF Moscato exhibition at this great art space. The show entitled Perpetual Carnival will be on view from March 19 until April 30, 2016, at Gallery Daeppen in Basel. The opening is scheduled for Saturday, March 19, 6-8pm.
Featured Image: STF Moscato  - Artwork, detail. All Images courtesy of Gallery Daeppen.