Known for his stick figure-characters, STIK creates works which speak the truth with an incredible simplicity. At the 2016 "Pride is London" parade in the city's borough of Hackney, the participants brought the official banner for the event, made by this talented artist of international fame. Mounted on a London taxi, the one-off piece was hand-made in collaboration with Flagmakers, who also happen to make flags for the Queen herself. That very same banner will now be sold at a Christie's auction in England, and the money raised will go to charity.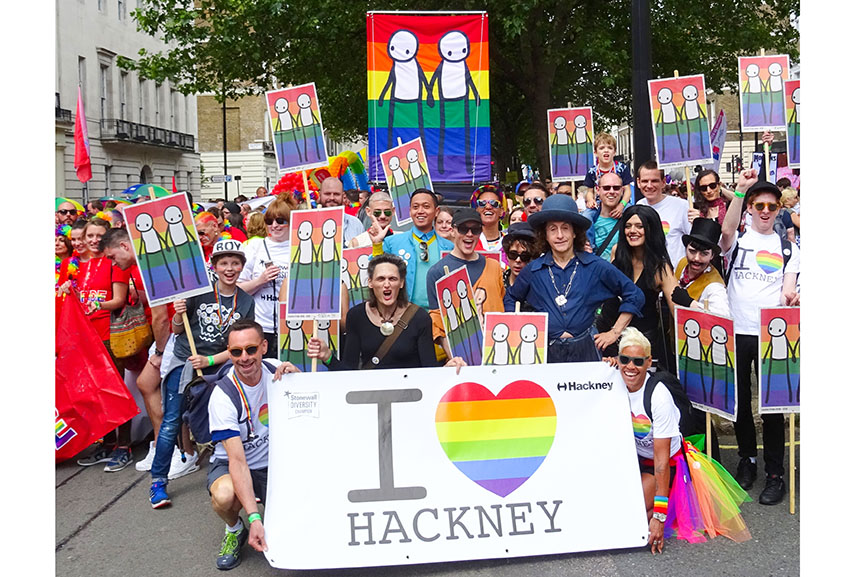 Buy STIK Pride Banner at Christie's
The STIK Pride Banner, soon to be sold at Christie's auction First Open Online, was commissioned by Hackney council and has been on loan to Hackney Museum. It shows his trademark figures, here described as androgynous, holding hands on a rainbow background and sending a message of love, regardless of gender. The money raised from the sale, which will be offered online from April 4th through 13th, 2017, will go to Project Indigo, a charity supporting young people from the LGBTQ+(lesbian, gay, bisexual, trans, Queer +) community. They will be given training on a year-long research project, culminating in a major exhibition at Hackney Museum. This exhibition will be the first of its kind to officially recognize and archive the radical queer legacy of Hackney as a social-political and educational resource available to all and will take place during LGBTQ+ month 2018.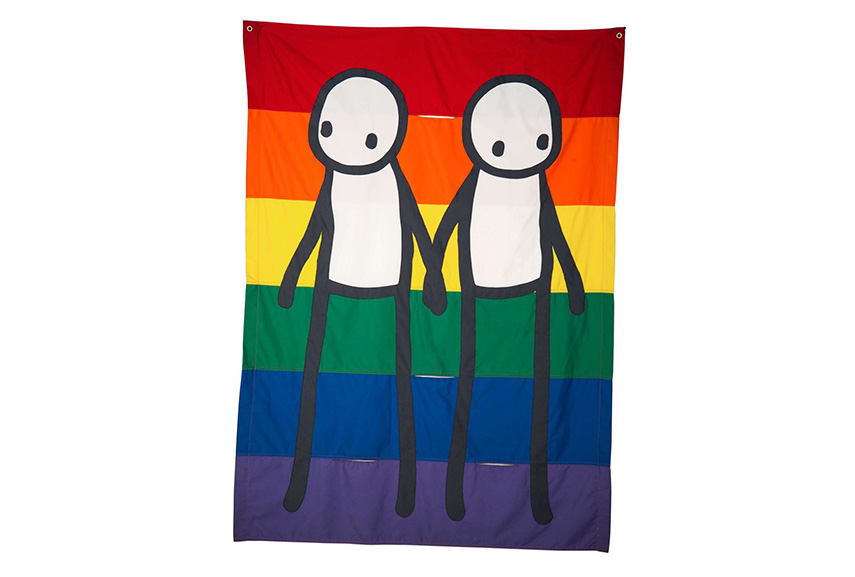 Share the Love
The two-meter flag that is STIK's Pride Banner will stand as a contribution to a definitive archive which is finally public and which will teach the audience about the turbulent and important LGBTQ+ history and battles for recognition. The latest sale at Christie's is only the last in STIK's efforts to raise awareness and donate his works for charity; he has recently raised £50,000 for Homerton Hospital, and a further £32,500 with a Christie's auction of a set of sleeping baby. The sale also comes with the news of the death of the rainbow flag creator, Gilbert Baker, who passed away on March 31st at the age of 65.
Before going online for auction, the Hackney STIK Pride Banner will be on display at Christie's premises at 8 King Street from March 31st, 2017.
Highlights Viewing
31 March: 9am - 4.30pm
1 & 2 April: 1pm - 5pm
3 - 7 April: 9am - 4.30pm
All images courtesy STIK.