Always carrying a camera wherever he goes, Stinkfish takes portraits of random people, choosing particularly intriguing ones to turn into stencils. Reinventing these characters thorough distinctive expression, he gives these faces a brand new life, capturing the moments of humanity.
The recent body of work by this talented artist will soon be on view at Vertical Gallery in his second solo show within the space. Titled The short distance between lands. The long distance between ports., the exhibition features vibrant and dynamic portraits executed in his distinct psychedelic style.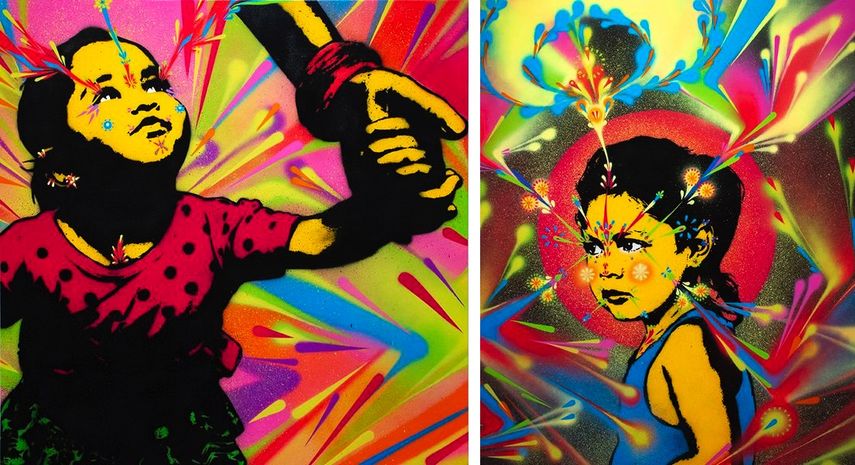 The Practice of Stinkfish
Born in Mexico but raised in Colombia, Stinkfish has been immersed in the street art scene in Bogotá from an early age. He initially began making stencils around the years 2000-2001. His first intricate street art piece was created in remembrance for John F. Kennedy's murder.
Using his own or found photographs, the artist turns them into murals that burst with color, having a stenciled portrait at their center. Using similar color techniques that were popularized in the pop art movement in the 50s, he creates portraits itself with only two or three colors, allowing the bright and varied colors of the patterns to jump to the forefront. Characterized by psychedelic themes and elements, his murals capture the fleeting glimpse of human nature, leaving the final interpretation up to the public.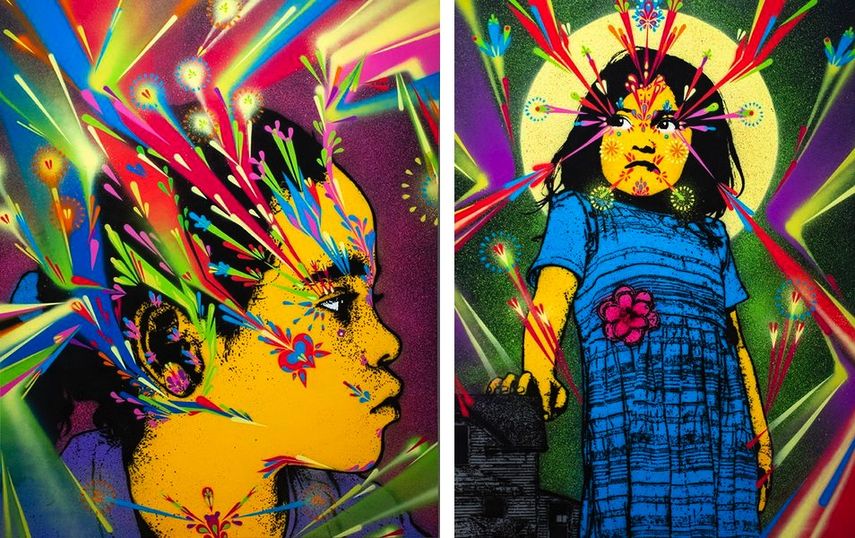 Stinkfish Exhibition in Vertical Gallery
The artist traveling all over the world searching for new inspirations, Stinkfish has left his mark on the streets of Colombia, Mexico, Peru, Ecuador, Chile, Guatemala, Spain, Germany, UK, France, Holland, Austria, Nepal, and USA.
The exhibition The short distance between lands. The long distance between ports. will be on view at Vertical Gallery in Chicago from June 8th until June 29th, 2019. The opening reception will be held on Saturday, June 8th, from 6 to 9 p.m. in the presence of the artist.
Featured image: Artwork by Stinkfish, 2019. All images courtesy of Vertical Gallery.