Emerging from the urban environment, Street Art has broken off with the statutes of the alleged establishment, substituting a canvas, brush and studio with the public space, street, concrete, wood and spray. What started as a subversive and radical act of creative vandalism is now popularized and adorned in galleries and museums worldwide. It has managed to gain a foothold in the once-hated art market due to its increasing virtuosity, bringing refreshingly new and subversive materials, techniques and traditions. As part of their midsummer session, the gallery 30works Gallery will be showing the most prominent names of German and international Street Art scene. Titled Dirty Works Extended, the show will feature Thomas Baumgärtel, Cren, Johannes Gonné, Daniel Lisson, Le Loup, Mittenimwald, Mister P, Rising F Art, The Art of Pau, SeiLeise, Strassenmaid, Van Ray, Various & Gould, Xxxhibition, XOOOOX, Marshal Arts and Zir0.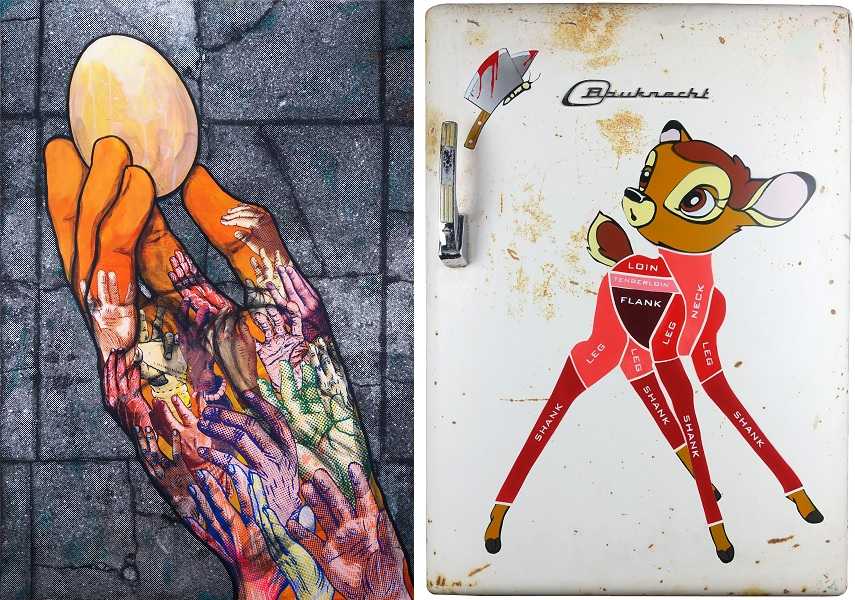 Thomas Baumgärtel, Cren, Johannes Gonné And Daniel Lisson
One of the pioneers of Street Art, Thomas Baumgärtel creates political and socially engaged works and is regarded as one of the most versatile street artists in Germany. On the other hand, Cren plays with inscriptions and typographies, extracting them from their context and bringing them together into expressionistic, calligraphic picture worlds. Johannes Gonné creates sculptures and installations in which he alienates objects and aestheticizes them with neon colors, logos or deformations. Focusing on portraiture, Daniel Lisson creates highly graphic and sometimes distorted faces that oscillate between Picasso's deconstructivism and manga aesthetics.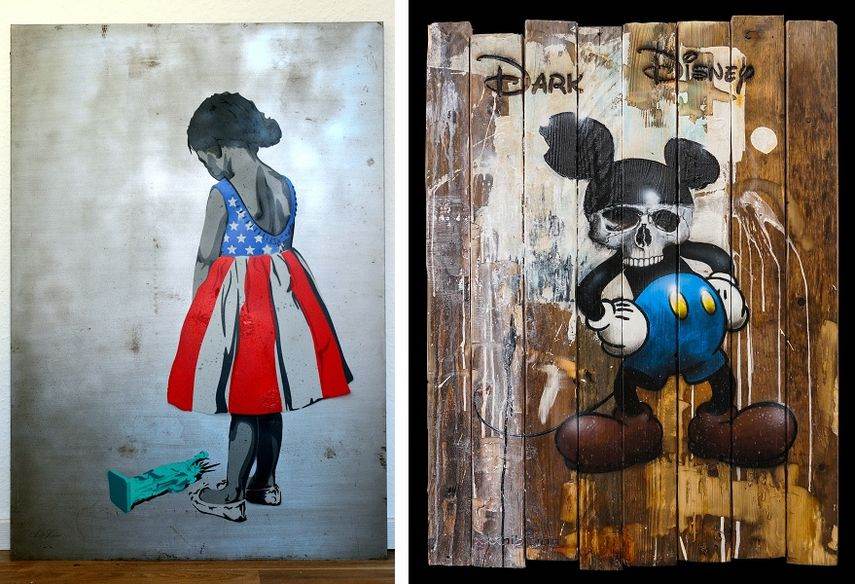 Le Loup, Mittenimwald, Mister P And Rising F Art
The gas masks are the trademark of the French artist Le Loup, creating a provocative dialogue about aesthetics, masking and the toxicity of society and art. A committed Asian and Japanese fan, Mittenimwald creates grandiose stencils in which he stages geishas or exotic beauties in almost manic meticulous detail. The collages, stencils and paste-ups of Mister P focus on everyday events, media communication and political propaganda. On the other hand, Rising F Art is an advocate of classical painting and drawing which form the basis of his original, lovingly designed picture world.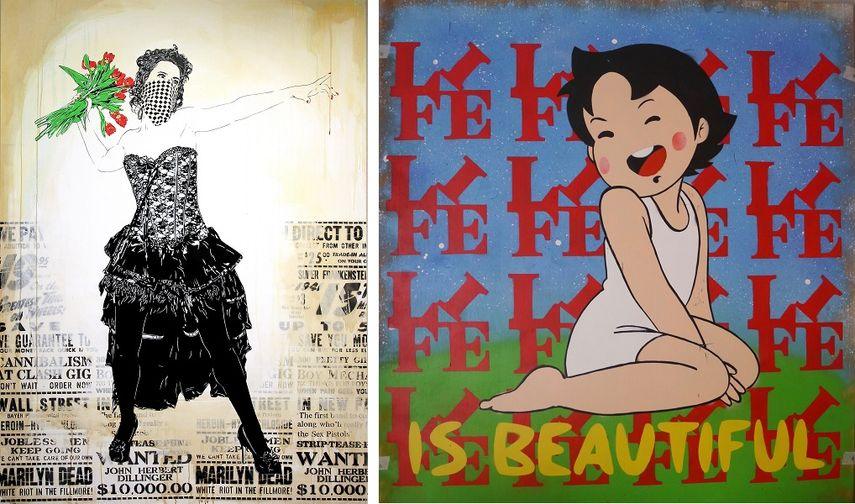 The Art of Pau, SeiLeise, Strassenmaid And Van Ray
An artist from Chile, The Art of Pau creates elaborate, strongly ornamental work characterized by ethnic influences, especially the Andean culture. One of Germany's most productive reverse graffiti artists, SeiLeise creates works distinguished by the sometimes merely intimated character, which gives them a subtle, sometimes poetic character. Strassenmaid creates photorealistic stencil portraits and focuses on values of love, happiness, and freedom. On the other hand, Van Ray focuses on supermodel and comic heroes that refer to questions of almost philosophical proportions.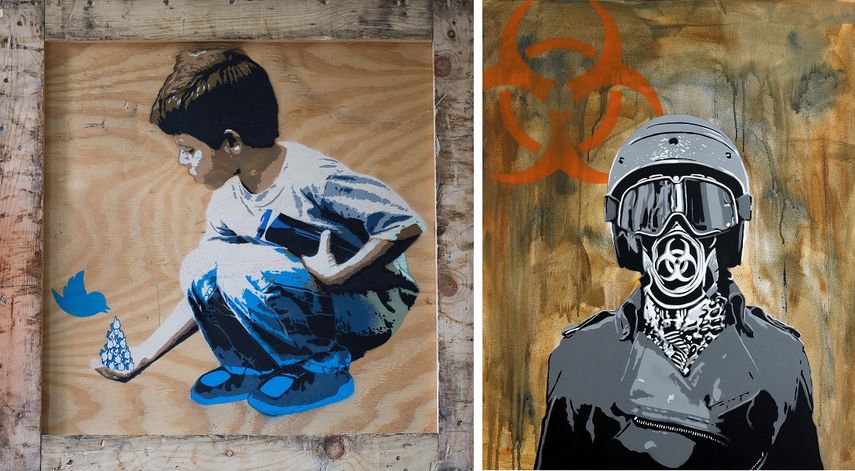 Various & Gould, Xxxhibition, XOOOOX, Marshal Arts And Zir0
A duo from Berlin, Various & Gould create collages that open up questions regarding identity, time and the art of deception. Xxxhibition draws attention by serving thought and provoking visual language that he combines with innocent sidekicks like cartoon characters and pictures of saints. The artist XOOOOX pays homage to women by painting catchy beauties which usually radiate a great naturalness. The stencil and paste-up artist Marshal Arts often paints children and heroes from his childhood, creating complex connections to highly pointed narratives. Lastly, Zir0 plays with the promises and stereotypes of the world of consumerism, telling very original and pointed stories.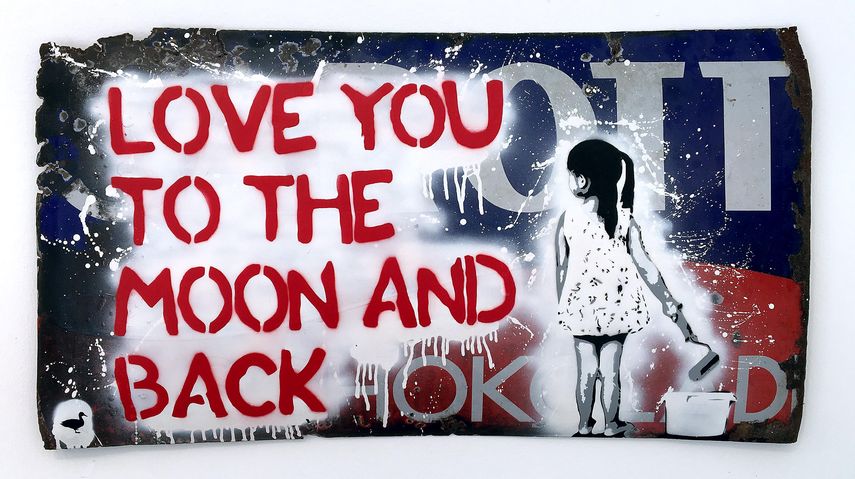 Street Art Exhibition at 30works Gallery
The artists on view will explore different themes and exhibit a variety of techniques and styles, demonstrating the diversity of this rich contemporary movement. The exhibition Dirty Works Extended will be on view at 30works in Cologne from June 23rd until July 15th, 2017. The vernissage will be held on Friday, June 23rd, from 7 to 11 p.m. The exhibition will also be on view at 30works II in Pfeilstraße from June 24th until July 8th. In the other venue, the vernissage will be held on Saturday, June 24th, from 2 to 7 p.m.
Featured image: Marshal Arts – Boy & Dove (detail); Thomas Baumgärtel – Schlumpf for President; The Art Of Pau – Muchachitas; Left: Daniel Lisson – Stimulus Space / Right: Johannes Gonné – Ampelmann. All images courtesy of 30works.