If you take a read through our recent feature, 20th Century & the Rise of Graffiti, it is obvious that street art, in its many forms, has become inextricably linked with the world of music. One can't think of the word graffiti without thinking of hip-hop, but as mentioned in the 20th Century feature, graffiti also had close ties with the world of punk rock. Not that it is unusual for the worlds of art and music to come together, just take a look back to the involvement of Andy Warhol and the Velvet Underground, both in a management role and the iconic banana album sleeve, to see that they both serve each other. But the scene around graffiti and street art seemed to give birth to a whole new generation of artists that were inspired by music, who then fed their imagery back into the world of music. To get you in the mood, take a look at 10 Album Covers by Artists, which includes work by D*Face, Keith Haring, Maya Hayuk and Retna amongst others.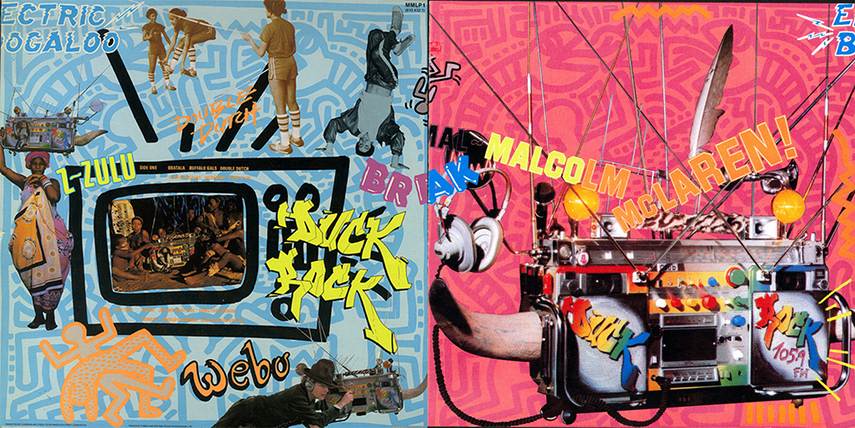 Street Art and Music: Who Likes What?
So, the big question, Street Art and Music: Who Likes What? It's not quite as simple as artists loving rock and roll and artists loving hip-hop, though they do tend to split into one or the other. But it is not always the case, just as one can appreciate many forms of creativity, one can appreciate many genres of music and you always have to take into account that artists have to pay the bills like the rest of us, so if their artwork appears on an album cover, does it mean they love the music? Take for instance Jean-Michel Basquiat, he designed an iconic record cover for the Rammellzee Vs K-Rob release Beat Bop and made an appearance in the iconic Rapture video by Blondie, which also featured Fab 5 Freddy, which helped to introduce hip-hop and graffiti to a wider audience. However, his own musical project, named Test Pattern and later changed to Gray, was noise rock inspired.
Another classic example is the work of Futura (2000), one of the early subway painters in NY, a scene linked with hip-hop. The 1980's saw Futura working with legendary punk band, The Clash, on sleeves and also painting live on stage while the band were playing, while more recently his name has been associated with the trip-hop label Mo'Wax and the band UNKLE. See some more on this in Build & Destroy and Urban Archaeology.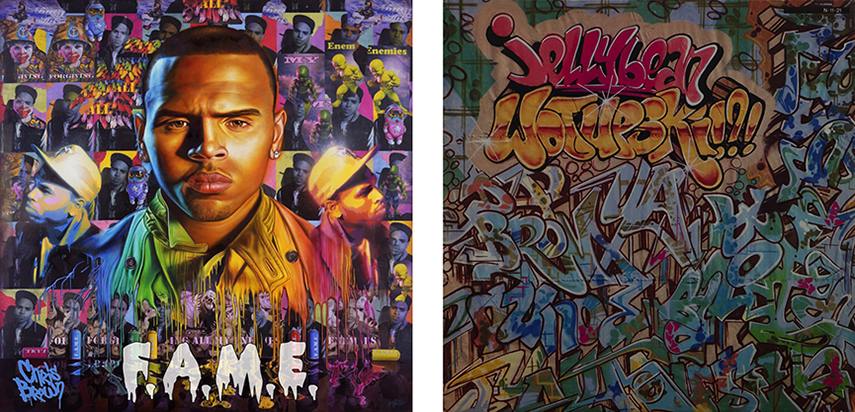 Artists Loving Hip-Hop
As mentioned earlier, hip-hop and street art are inextricably linked, both being sub-cultures born on the streets of the United States and feeding off of each other. The styles of early graffiti writers were championed by those in hip-hop circles, such as Blade and Phase 2, while the films Wild Style and Style Wars incorporated both into their imagery. The iconic Wild Style logo was based on an original piece of subway art by Dondi and then perfected as a mural by Zephyr, Sharp and Revolt for the film. Dondi also worked with Keith Haring on the cover of Duck Rock by Malcolm McClaren, one time manger of the Sex Pistols, who helped bring hip-hop to the UK with his solo releases. Wotupski!?! by Jellybean, released in 1984, featured classic graffiti writing from Seen and Duster and more recent times have seen KAWS artwork appear on 808s & Heartbreak by Kanye West, who claims he is receiving an honorary doctorate from an art school later this year (Art Degree for Yeezus?), while perhaps the most bizarre is the Ron English cover for F.A.M.E. by Chris Brown in 2011, which one can only hope is an act of subversive street art! Finally, a quick mention to Jay Shells and his original idea of creating street art in the form of street signs, which quote rap lyrics and are then placed in the location referenced in the lyrics.
Artists Loving Rock and Roll
While the late 1970's and 1980's saw graffiti and hip-hop linked, the 1990's and 2000's saw the emergence of a new breed of street artists who had been inspired by rock and punk music. A great number were also influenced by the skateboarding and zine culture that grew with such music, such as Kid Acne (Destined for Greatness) and Stefan Marx (In Dreams) along with Urban Nation curator Yasha Young (listen to her Widewalls Interview). Two of the most well-known names in modern street art have been associated with the rock and roll side of music, the first being Banksy. The legendary street artist has been known to paint punk characters with slogans, while his work has appeared on several record releases, most notably that of UK band Blur. If Banksy is to be believed, then perhaps the Blur cover was purely an exercise in paying the bills, rather than loving the music, but in other cases one can believe he genuinely had an interest, as with hand stencilled covers for Blowpop Records, one of which was being offered for sale in 2013 for a mere $37,500!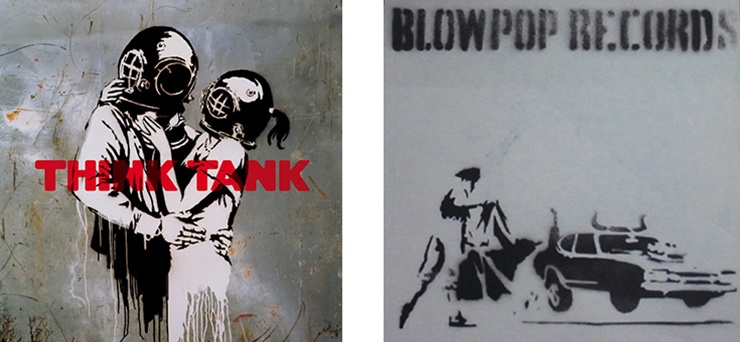 Shepard Fairey has often created images of punk icons, as can be seen in the SID: Superman is Dead exhibition he did with photographer Dennis Morris. Fairey also created his own Obey records label and has created many album sleeves for a variety of bands, more of which you can read about in the Poster Power article. There are some of course, who will feel that the over exposure of street artists like Shepard Fairey lessens the provocative nature of the art being used within music, but on the plus side, there are still like minded individuals who seek each other out for collaborations, such as Stephen Powers, aka ESPO, working on the artwork of Wakin' On a Pretty Daze by Kurt Vile. In terms of iconic covers, one must mention the work of Joey Krebs, aka Street Phantom, whose ghostly image graced the cover of Battle of Los Angeles by Rage Against the Machine, simple but stunning.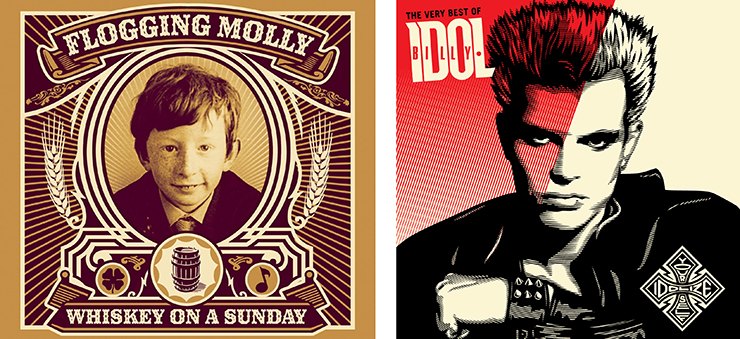 Street Art and Music
Street Art and Music: Who Likes What? can only scratch at the surface of the close relationships that have built up between street art and music, from hip-hop to punk and beyond. Even though is sometimes appears that graffiti and street art are now an accepted part of the art world and the use by musicians of imagery can be seen just as a marketing ploy, one shouldn't forget that many were inspired by music to go out and create. Such is the case with artists like D*Face, inspired by hip-hop and punk, along with skateboarding and the DIY culture of zines, who is now creating album sleeves for Christina Aguilera and making portraits of dead musicians such as Kurt Cobain, Jimi Hendrix, Jim Morrison and Amy Winehouse for his 2014 exhibition Scars & Stripes. Speaking as someone who has had the privilege of their images being used on some record covers, I can confirm it is a great honour and very exciting, which goes to highlight the importance between likeminded individuals from the art and music worlds coming together for the right reasons, both to be inspired by the art forms. But likewise, as Banksy  pointed out, you have to pay the bills and if someone offers £75,000 for your images, which is what the Blur album image generated, one can fully understand an artist saying yes even if they don't like the music!
For all the latest features, sign up to My Widewalls today!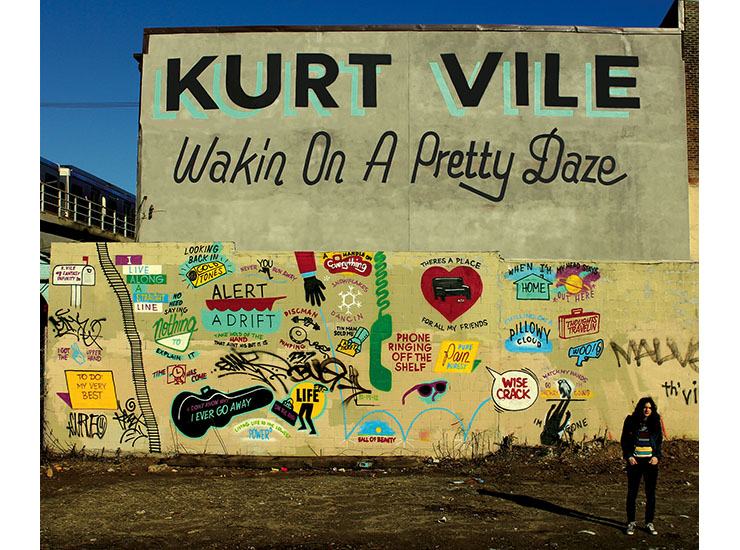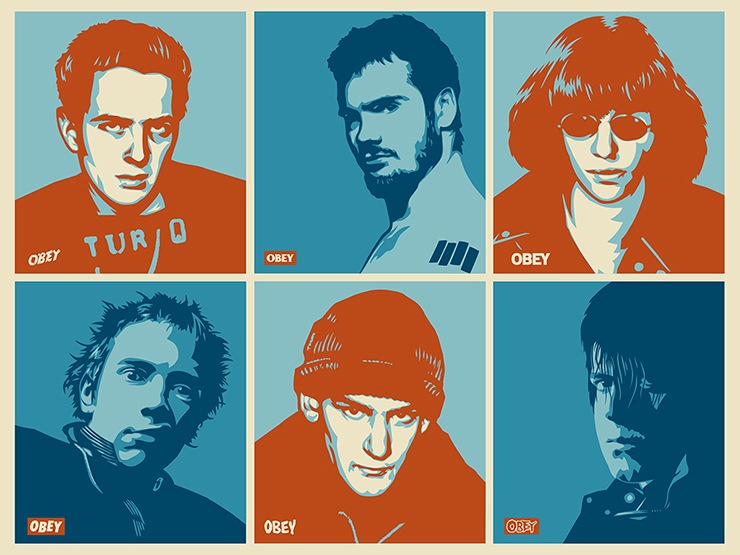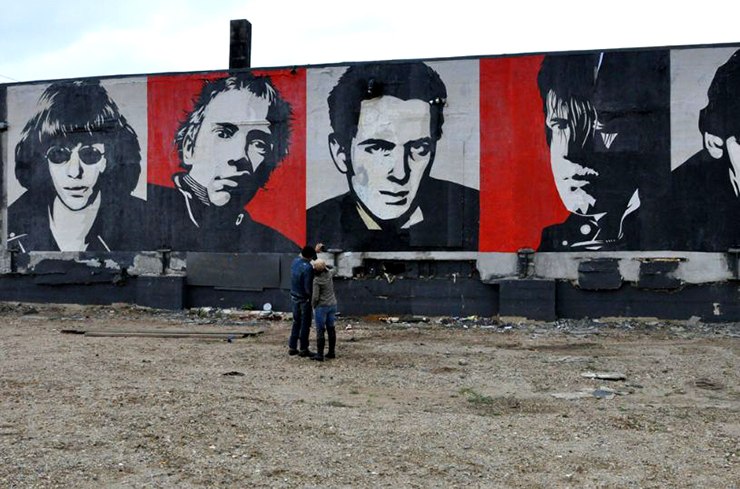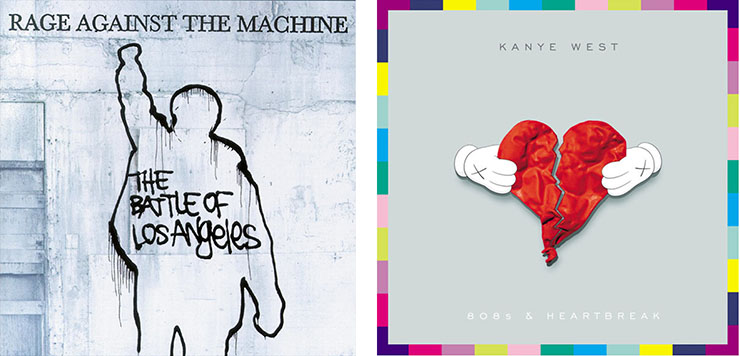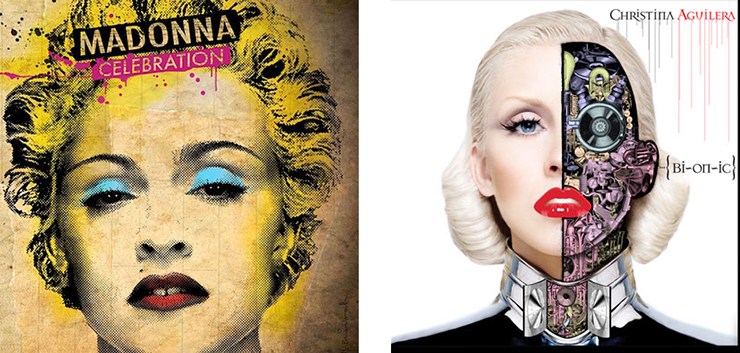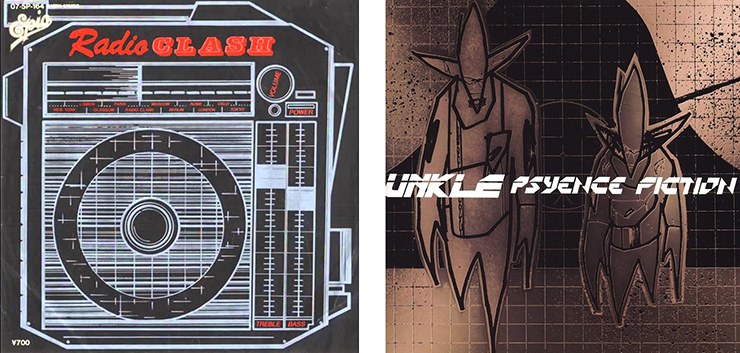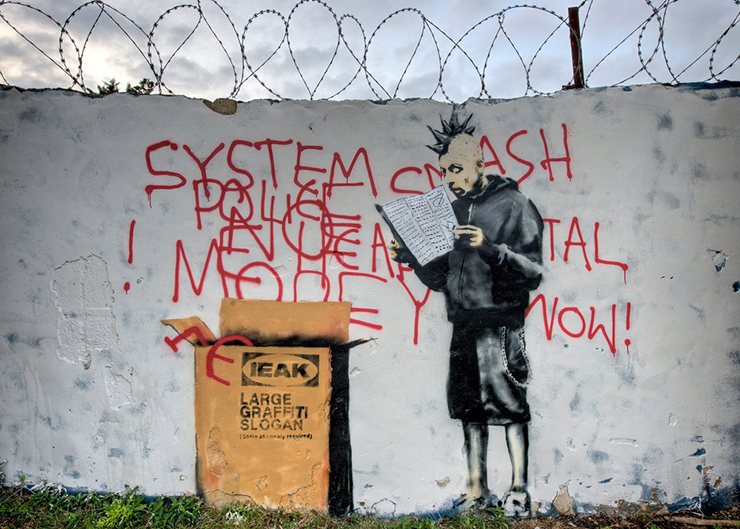 All images courtesy of the artists/musicians/record labels.