Criminally good chow with art! – is a tagline for an amazing street art bar that opened in Amsterdam this month. De Bajes, the name of the bar, is a Dutch slang for prison, but in this case, the only inmates in it were world renowned street artists who decorated its walls, including The London Police, D*Face, Ben Eine and Laser 3.14. Curated by Vroom and Varossieau, De Bajes is a welcomed addition to similar bars already existing in Hong Kong and New York City. Matching the power of images is an equally exciting all-day menu served at the bar, and an evening/night program with cocktails, craft beers, bar bites and a diverse DJ-programming.
As the owner Sven Toering explains - "In Bajes, everything we love finally comes together. High-quality food and drinks combined with the very best street art. We've been playing with the concept since 2010, but once the location at Utrechtstestraat 11 became available and we saw those tall, empty walls we immediately knew: this is the place we've been waiting for."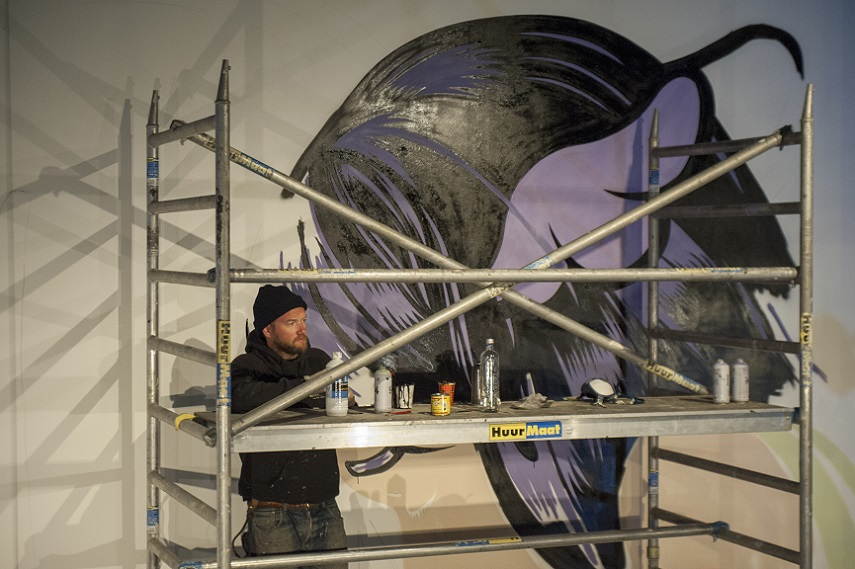 Urban Creatives in Action at De Bajes Artbar
Besides meaning prison in Dutch slang, the original Yiddish meaning of "Bajes" is actually 'home'. In Amsterdam, De Bajes also comes to mean home for an impressive collection of artworks made by Ben Eine, Fanakapan, D*Face, The London Police, Hugo Kaagman, Bortusk Leer, Ox Alien, Juane, Laser 3.14, Soren Solkaer and Cranio. This group was commissioned to decorate walls of the bar with their pieces in collaboration with Vroom & Varossieau – the famous urban contemporary art place in the city. Not solely focused on being a bar, De Bajes will also host a variety of exhibitions of up-and-coming creatives, as well as big names of the urban art scene, including hopefully Banksy and Kaws.
Behind Street Art Bar(s)
Repeat offending is understandable considering the 40 craft beers, more than 15 gins, and a premium selection of spirits and cocktails. The wide selection of bar bites, bruschetta, charcuterie and even oysters from the Dutch province of Zeeland ensure that each visitor will have very little left to desire. During the weekdays, De Bajes is open until 01.00, and during the weekend until 03.00. Thursdays and Fridays, the bar hosts the very best Amsterdam DJ's which will round up the full hedonist experience for everyone who visits the bar.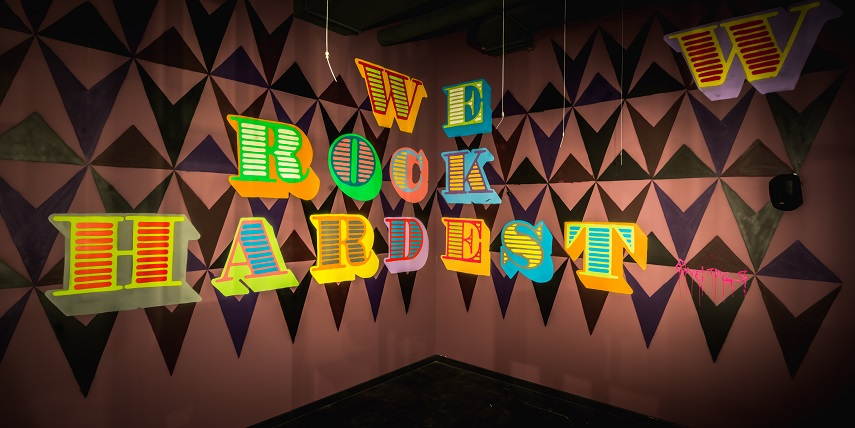 Chow and Other Details
The Bajes' kitchen is run by Chef Niels van Halen, who previously was the chef cook at the Michelin-starred restaurant De Hoefslag. Starting from 10.00 in the morning, one can order the all-day breakfast or lunch. Visitors can start the day with a full Bajes Breakfast Menu or an English Breakfast. For those unable (or unwilling) to get up early, breakfast is available until it's almost time for dinner. Doing time at De Bajes during lunch isn't a punishment either. From sandwiches with candied bacon and sausage from Brandt & Levie to the 'Greenest Sandwich Ever', served a shot of smoothie. The dinner menu, fit for the last meal, is comprised of gastro classics with a cheeky twist: from Lomo Iberico, catfish, and stewed vongole with a pumpkin mash and kombu to a superfood salad. The 'prison' gates opened on February 16th at the Utrechtsestraat, Amsterdam.
Featured images: Interior of De Bajes. Photos by Peter Baas; D*Face's Mural; Artists working at the bar. Photos by  Henk Warrink/NCO photography. All images courtesy of Vroom and Varossieau.