The wealth and range of street art and graffiti today has made our cities more colorful and the world more global. It is a breath of fresh air in the urban jungle populated by corporate ads, murals demand us to stop and gaze. Now, there is an app that helps navigate amazing street art and graffiti created by a range of artists on walls all over the world. It aims to connect all street art hunters around the world with an idea to document some of the best mural art and graffiti on walls in every city. Officially released a little over a year ago, Street Art Cities now has an impressive and ever-growing network of city maps and street art enthusiasts who do their best to document some amazing street art created by artists in major cities around the world. It became a go-to map for finding best of local art and culture during travel.
Started by a team of five street art enthusiasts, the project has grown into a rich community worldwide which contributes to creating the most advanced, easy to use and comprehensive street art and graffiti collection. Anyone can take part in the project by documenting street art in their cities and easily access new walls and projects around the globe.
The latest 2018 addition to this project is the city of Bristol. On this occasion, we had a chat with Sanne Gijsbers, one of the project's founders. Sanne talks about the beginnings, the way the network works, how the users can navigate the map, the relationship between street art and tourism, and much more.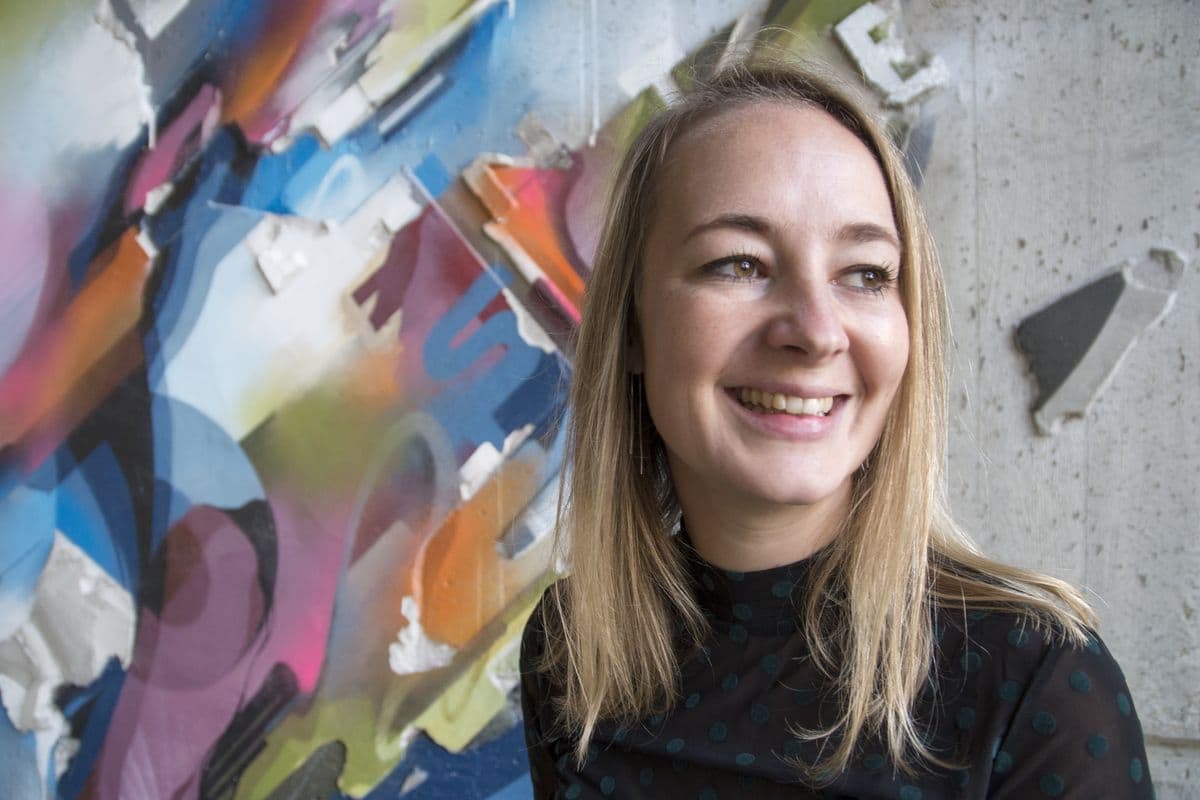 An App With an Impressive Network
Widewalls: Street Art Cities was first launched last year. How did you come to the idea to create the app?
Sanne Gijsbers: The move to translate our desktop experience (with over 250 cities) into an app, was an easy one. Over 50% of internet traffic is generated using mobile devices, plus our audience travels a lot. So we have to offer a sweet experience on mobile devices right? When we won the second prize in a contest initiated by the municipality of Antwerp, we got funded to translate our rough prototype into a working first version of the app. Fast forward several months, we've updated the app multiple times and it becomes more and more valuable. One of the things we added, of course, is the option to add new cities. The first two cities that we added where of course Antwerp and Heerlen. After that, we added cities that completed the street art collection in their city.
Nowadays, we have 25 cities in the app including New York, Los Angeles, Melbourne, Hasselt, Berlin, Paris and many more.
Widewalls: The initiative gained attention worldwide very quickly and now includes over 25 cities taking part in the mapping. Could you tell us something about this impressive network and the way it works?
SS: Thanks for the compliment! It all began with my passion for street art by documenting all of the murals in Heerlen, the Netherlands. People kept asking me about the locations of the artworks. After a while, my good friend Bart suggested building a website with a map structure so people could find the murals themselves. Tim from Antwerp saw my website and contacted me. After meeting and talking, we decided to work together and share the website.
Later that year, other hunter friends contacted us as well with the same question and not much later Street Art Cities was born. Nowadays we have a street art hunter network from all over the world and we still can't believe how fast it grew. I think the love of street art is stronger than we could ever imagine.
This exactly is the reason we think why people love it. It connects like-minded art lovers and artists, for free, in a beautiful experience.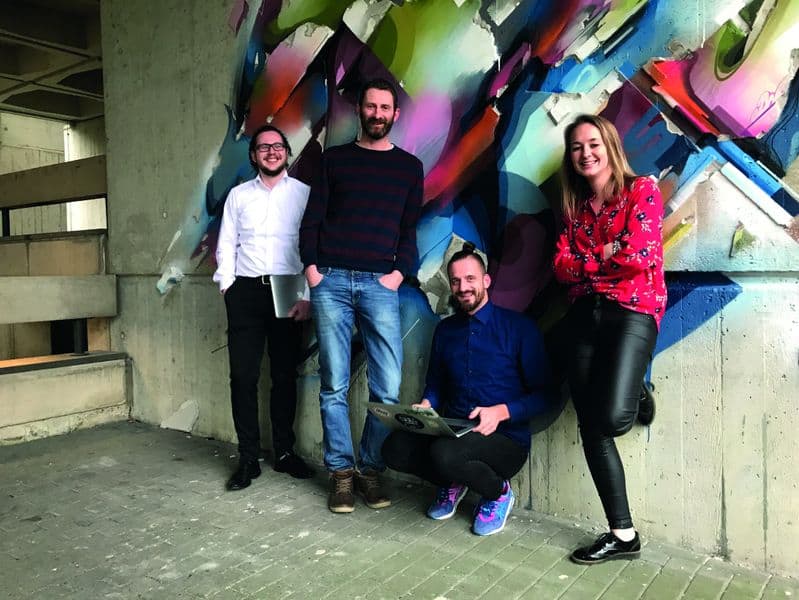 Planning Your Trip with Street Art Cities
Widewalls: The app has a staggering number of over 15.000 murals and counting. How can a user navigate this map and what information can they learn?
SS: The navigation is the same as google maps, so everyone with experience in google maps should be able to use our interface. But, the three most important aspects are; maps with works are clustered per city, artworks can be checked out if clicked on the map, or if you can just "browse artworks" by pressing that button. We try to collect as much relevant information as we can, but in some cities, it's just such a huge task that it will take some time before it's done completely.
Widewalls: How do you think the app contributes to tourism in these cities?
SS: The most important thing is that you don't have to invest a lot of time preparing your city trip anymore. You can also visit a city, or even a few cities, spontaneously. Thanks to our local hunters you already know where to find all the hidden gems so you can even stay longer and enjoy the city a bit more.
On the other hand, it's also useful for smaller street art cities. Heerlen is, for example, a fairly small city if you compare it to New York, but thanks to our worldwide network, more and more people are visiting it. That's because you can also visit other cities that are nearby like Aachen, Cologne, Hasselt, etc. So we try to cater to the needs of city hoppers and we're already seeing a bump of visitors in some cities.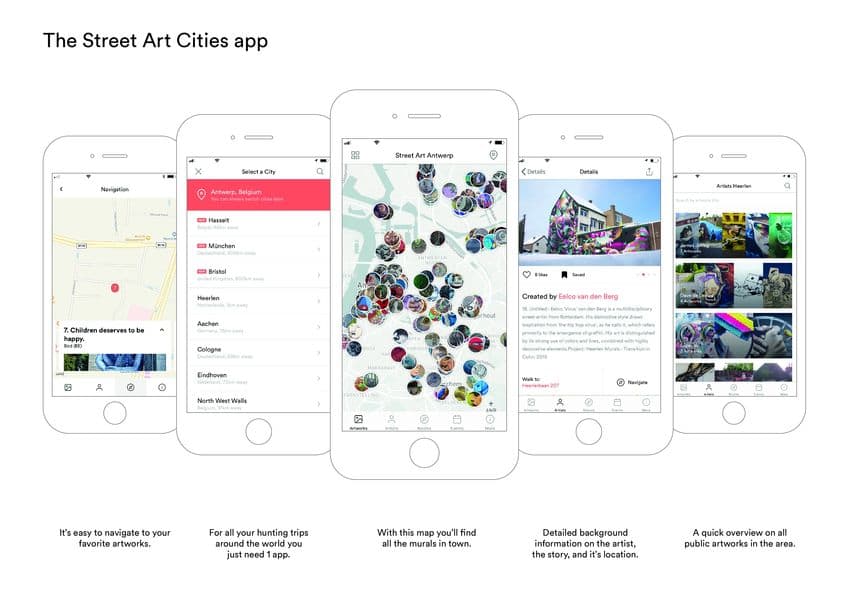 Adding Bristol to the Map
Widewalls: The city of Bristol is the latest addition to the platform. How did this come about?
SS: We created a shortlist of cities with passionate hunters that have been doing a great job for a while, so we use the app presence as a small gift for those that have been on the move. Right now we have a selection of 25 pretty damn good documented cities (improvements are done continuously), and we add cities whenever the time is right, or if we get contacted by municipalities that need help mapping their art.
Widewalls: What is next for Street Art Cities?
SS: O boy. That's a good question. I guess we just have to wait and see. There are so many insane ideas and opportunities but we would love to let it grow in a natural way. For example, a few months ago we found out that our hunters love to make a personal mural collection before they go hunting, so we decided to create that option in the app. We really try to let the community come up with new ideas so we only devote time and money to the right features that people actually want, instead of features that just sound cool to us.
Featured image: Street Art Cities app. All images courtesy Street Art Cities.