Street art exhibition starting this month at Galerie Celal will showcase works by two French street artists WXYZ and L'Outsider. These artists developed an intricate lettering style that is a foundational practice of the graffiti movement. Their style is made out of an esoteric alphabet that came as an outcome of graphical exercises into what seems a kind of an enigmatic encryption. Elaborated forms and graphic constructions of WXYZ and L'Outsider create an enjoyable visual dynamics. Their aesthetic intentions done in a complex lettering style can be read, and they reveal themselves for those who want to see. Galerie Celal wishes you good reading!
Displaying Labor behind the Graffiti Art
For the show at Galerie Celal WXYZ and L'Outsider decided to show the labour that goes before graffiti are done. Adjusting their work to gallery space, they reveal the preliminary and preparatory sketches that precede the creation of graffiti. These sketches change the way we look at urban signatures. The letters on them are subjected to deformations, artistic searches, superimpositions, entanglements, or they even merge together before being transferred on walls, trucks or store blinds. L'Outsider and WXYZ show what is not shown: the labor and processes of creation that are not publicly available as graffiti. It is indeed the letter and the style of the letter that count, more than a signature. But the signature remains, the essence of graffiti.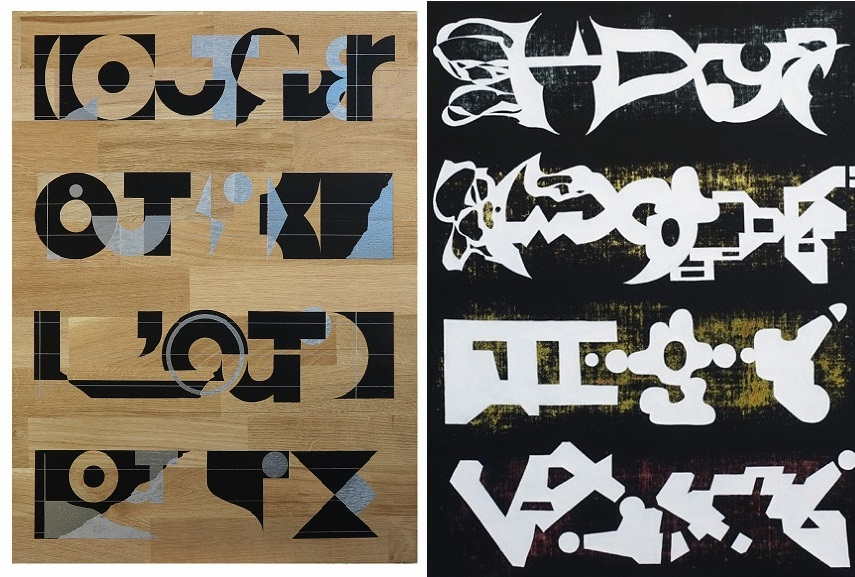 WXYZ and L'Outsider Urban Styles
WXYZ was born in 1980, and spent his childhood in eastern Paris. His outings with family and metro rides brought world of French graffiti art closer to him, and he soon got impressed by the subway world and its art. Until he learned to read, the letters had a function of ornamental details designed to further embellish the urban universe. Later on, WXYZ became more attentive to what complex lettering styles meant, and started deciphering them. Today, his work systematically tries to recover this time when the letters were free, unencumbered with meaning, the time before the decoding. He distorts, alters, cuts, mixes and combines his four signature letters up until they are illegible. L'Outsider similarly distorts his letters although the complete illegibility is usually never achieved. Besides doing graffiti in black and white, in different flag colors, and in reproductions of animal skins among others, L'Outsider is also a photographer who discovers complex patterns resembling graffiti in the world that surrounds us.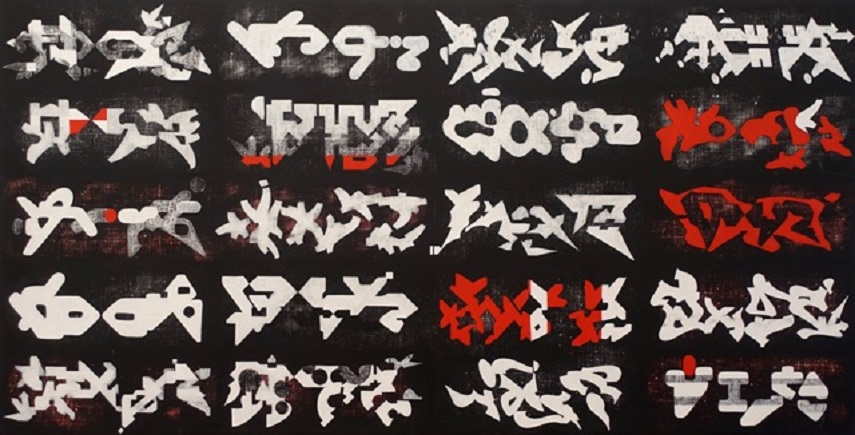 Street Art Exhibition at Galerie Celal
Galerie Celal regularly exhibits the emergent artists of contemporary art scene and proudly presents street art exhibition of L'Outsider and WXYZ. The show runs from Thursday, January 26, until Saturday, February 18, 2017 at Galerie Celal, 45 Rue St Honore, Paris. The gallery is opened Tuesdays to Saturdays 2pm-7pm and by appointment.
Featured images by L'Outsider: Untitled; Untitled 1. All images courtesy of Galerie Celal.