There is a huge number of great street art movies – some of these movies are covering the street art scene in one single city, some of them are about the global urban art scene; there are some movies focusing on the process by particular artist, in some movies we watch several street artist creating murals, and so on (be sure to check out our article about 10 street art movies). For all those who love watching great street art movies, here we present great news. A new street art movie - Amo-Te Lisboa: an ignominious street art movie created by Canemorto & ISO3200 will be presented at Ex Dogana in Rome, by Studio Volante.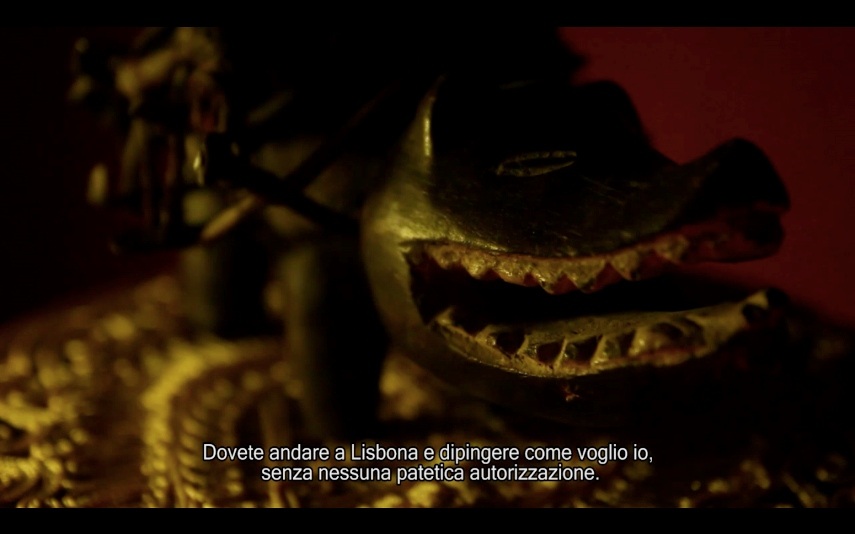 Amo-Te Lisboa
Amo-Te Lisboa is an "ignominious" documentary directed by Canemorto and ISO3200 and based on a project of the Italian artistic trio. For this work, the artists moved to Lisbon for sixty days.  They painted freely the streets of the city, with the aim of telling their own story about changes and developments within street art movement, from a spontaneous and illegal movement to a cultural, commercial and institutional phenomenon. The directors of the film are addressing very important issue, which is street art's recent evolutions and transformations. They are approaching this subject through frankness and ironical narration. An absurd and grotesque style is characterized throughout the film, where artists unidentified by masking their faces, express themselves by speaking a distorted, bizarre and imaginary language, subtitled to make it understandable to the public. So, the film itself is not only about Italian street artists traveling to Portugal and painting the walls; it's much more – it is about the developments and the evolution we are witnessing within the street art movement.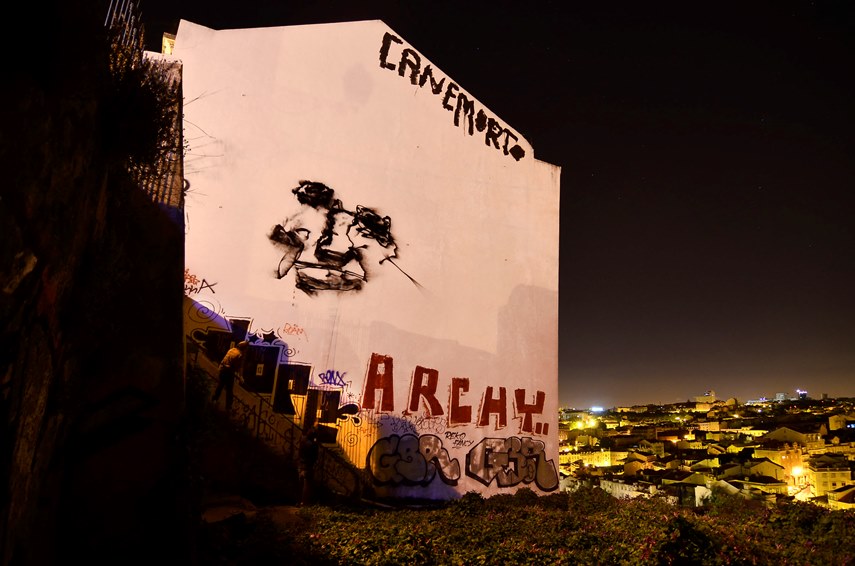 An Ignominious Street Art Movie
Amo-Te Lisboa is a tool to understand what is happening in streets worldwide, and to empathize with the condition of artists who "sweep" them. It is also a great opportunity for Canemorto's artistic experimentation to convey his creative message, inspired by the very essence of humankind, by its hidden and scary aspects, and by underlying animal instincts inhabiting it. Canemorto's craft is purely anti-esthetic; it stares at reality beyond all hypocrisy. The authors pose questions: What is the mission of the artist nowadays? ; What happens when people have to face the dark side of human nature? Some of the issues raised in the movie concern the human nature. As Canemorto put it: Have you ever seen a dead dog at the roadside edge? You would probably find it disgusting and repugnant, but you wouldn't stop staring at it and, even if you don't know why, you have also the instinct of touching it with a little stick.
Amo-Te Lisboa Trailer
Street Art Film at Ex Dogane
The movie was made with the kind participation of Borondo and RUN. It was directed by Canemorto and ISO3200, and edited by ISO3200. The official presentation of the Amo-Te Lisboa: an ignominious street art movie takes place at Ex Dogane in San Lorenzo neighborhood, in Rome, on October 22, 2015, at 9:30pm, while the event is curated by Studio Volante. You can also check out the fanzine entitled Cão Morto em Lisboa by clicking here.
To be informed about new developments in street art, sign up for My Widewalls! It's free of charge!
Featured Images:
Canemorto in action, Lisbon 2015 ©Tanguy Bombonera
Canemorto - O peixe de Ribeira, 2015 © Angela Sabino
Canemorto - O lettering louco , Lisbon 2015 ©Canemorto
Canemorto - Contencao de  Lisbon, 2015 ©Canemorto
All Images courtesy of Studio Volante.