For the majority of its relatively short history, street art did not quite mesh with the concepts of being displayed inside a gallery space. The natural habitats of most street pieces are the very urban surroundings in which they were made, amidst the pavements and loud noises of streets. However, the art scene has individuals who devoted their efforts to incorporating street art within galleries - amidst such persons, one of the soundest names is undoubtedly Magda Danysz.
This French gallery owner spent most of her career dealing with the predicament between street art and galleries, with her exhibition spaces considered by many to be the best examples of how urban art can indeed function within four walls of a studio. Magda's first endeavors in the art world can be found in the early 1990s, back in the time when she was an ESSEC freshman who opened up an experimental art space prior to going on student exchanges at Osaka International University in 1995 and Buenos Aires University in 1998. After graduating, she opened her first gallery in July of the same year, selecting Paris as the location for the new art space. Ever since then, Danysz's has been providing coverage to artists whose work took alternative paths, like the representatives of the street and digital art. She wanted to show how these pieces of modern art are just as worthy of occupying studio spaces as traditional arts and that there is a way these urban works can be successfully removed from their natural surroundings and displayed as a true piece of art. Over time, Magda's gallery and the concepts behind it made her one of the most influential persons in the world of street art, which in return allowed her to open new galleries in London and Shangai. Through her urban art explorations, Magda was able to discover such individuals as Shepard Fairey, JonOne, Seen, Miss Van, Erwin Olaf and Ultralab, all of whom became crucial artists of the modern scene.
Besides successfully running the three aforementioned galleries, Magda Danysz has also taught cultural policies and economics at Sciences Po in Paris, is on the board of the multimedia cultural art center Le Cube in Issy-les-Moulineaux and was a founder of the Paris-based contemporary art fair known as ShowOff. She also published an extensive anthology of street art, a book that is a necessary reading material for anyone who yearns to grasp the impressiveness behind the world of modern urban art. And as Magda is now tirelessly working on renovating her initial gallery in Paris, we bring you a comprehensive interview with one of the most renowned gallery owners in the world.

Surpassing the Obstacles Through Inspiration
Widewalls: As is often the case, your road to success surely wasn't paved in roses. Are there any challenging milestones or overcome obstacles that you would like to share? What were your goals when you first decided to open a gallery dedicated to urban and street art?
MD: When you start at the age of 17, you cannot even imagine all the obstacles paving the road! I guess that's why I started that young, so I did not even give a thought to such details. Looking back now - yes, for sure I overcame a few surprises along the way. Being raised by a mother who is an artist herself and seeing her numerous artist friends, my first idea was that such people are very much alone in their practice and that they are not able to do it all by themselves. It's hard for one person to be the creative mind and the strategist, as well as your own PR. At one point, my mother told me: If I could put words on my paintings, I would be a writer. From then on I decided I would support the artists in order to put words around their art to help them. The second factor was that being born in the 70s, as a teenager, I witnessed the rise of graffiti art. I was lucky to travel a lot as a kid and could witness the emergence of the movement. But if having ideas is easy, the hard part was finding a way to make my dreams come true. Starting out, the hardest obstacle I had to overcome was the lack of legitimacy. A young girl as I was back then, I was not taken that seriously... Since then, I have my own feminist goals, because - let's face it - we're still not taken as seriously as any guy in this industry. Over time, the other challenges were much more positive. Basically, my job is about making artists' visions come true. I find the means, both practical and financial, to make it happen. I am always trying to get the best projects from the artists. This is what inspires me.
Widewalls: What are your inspirations and guiding stars that helped you through the years? What drives you?
MD: The first person who really inspired me in that way was Leo Castelli. I met him by accident in Paris when I was 15 years old. And the thing he told me was: This is a job that takes a lifetime, so you'd better start soon. And that's exactly what I did. Over time, the encounters with inspiring artists became the thing that made me move forward. Each time I have been blessed to meet artists in their early years, I've had a chance to exchange a lot with them. When I exhibited Shepard Fairey for the first time in Paris, he was still not the big star he is today. And we had a great time. The same happened with JR or Vhils whom I often helped in their productions. Then I have to admit that there are some unknown visitors who have also inspired me through the years. The reason why mine and other galleries are opened 5 to 6 days per week is certainly because we like to share our passion. It is significant for us that people come and exchange, debate about art and share their views. In the end of the day, art is about sharing.
Widewalls: Have you ever tested yourself in the making of street art? Or is there any other kind of art in your background?
MD: I was born in a paint bucket! That's already a good art education. I was literally raised in an art studio. But the only background I have in art is my family environment. I have no talent whatsoever myself. Maybe it is the reason why I like to promote other's works. To me, art really takes a lifetime. The more you get to know about art history, the more you want to study it. It is an endless process. My only creative mean of expression, if I had to name one, is writing. From very early on, I took the habit of writing about each show or artist I was exhibiting. Later on, I have been lucky to find individuals ready to publish my thoughts about art.
Widewalls: What are your favorite artists, regardless of whether they are represented by your gallery or not?
MD: Above all else, I am a big Pollock fan. The energy of his paintings has always fascinated me. This is probably why I represent artists such as Futura. But there are so many more art movements and artists that I admire. I admire ancient Asian art, like the Gandhara sculptures, as well as Bill Viola's videos or Christo's land art. I guess an eclectic taste is a necessity in contemporary art. It helps to have broad ideas but also a good set of references. In my endless search for artists, I like to find the ones among them who have their very own way.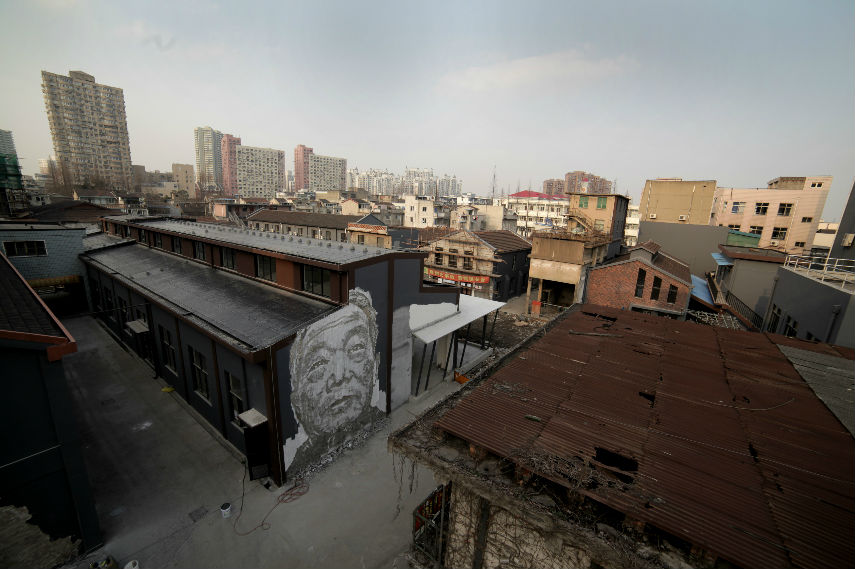 Galleries Finally Becoming New Urban Art Playgrounds
Widewalls: In your experience, just how big a role does the gallery space play when it comes to exhibiting artworks?
MD: Interestingly enough, in an era of intense dematerialization, the gallery space is even more important than before. But at the same time, it's hard to stay between four walls when you deal with artists who have much larger ideas. I often laugh about it, saying that if JR claims the streets are his gallery, then I also have a pretty big gallery... The good thing in urban art, as well as most of the contemporary practices out there, is that there is no limit whatsoever. Things fixed and set to be just displayed in galleries or museums are not a good thing. Galleries should be our new playgrounds.
Widewalls: Providing street art with gallery support was and still is an ambitious effort, not to mention it also carries a bit of a risk. How does representing a street artist differ from working with a traditional painter or a sculptor?
MD: I represent very diverse artists, from street painters to photographers, and I would say that each one of them is different in their own way. Maybe with street art, the main difference lays in the roots of the movement. It is in the very principles of street art to find you own style. As New York artist WEST put it, first you learn your ABC and then you have to find your style. Because of that, there is a fierce competition. And street artists who made it are quite strong because of such struggles. Another difference is that, for many years, especially during the 90s, the movement was endangered and hence the artists have learned to find ways of expressing themselves no matter what. Street artists know they can always find an audience. Some consider these artists to be hard to deal with sometimes, but that's because they don't need you when all is said and done.
Widewalls: In your opinion, how does collegiate education fit with the requirements of street art? At the end of the day, is it advised or not?
MD: Any kind of education is a good thing. But generally speaking, artists are artists no matter what. They are doing what they have to do in order to express themselves. Any type of additional education can add perspectives, open horizons and help the artist to find new means of expression. But sometimes too much of a formal constraint can refrain some people. Moreover, the street experience is an art education in itself. From the techniques to the inspiration, there's a lot to learn on the field.
Widewalls: How much of a difference is there between the traditional and the street art market? Is the difference in interest significant?
MD: I often underline that one should not think the art market and arts are the same things. The art market has its own functionings that serve their one purpose - use arts to make value. The street art market has the same pros and cons as the general art market, and that is that good artists can make a living out of it. Some can not.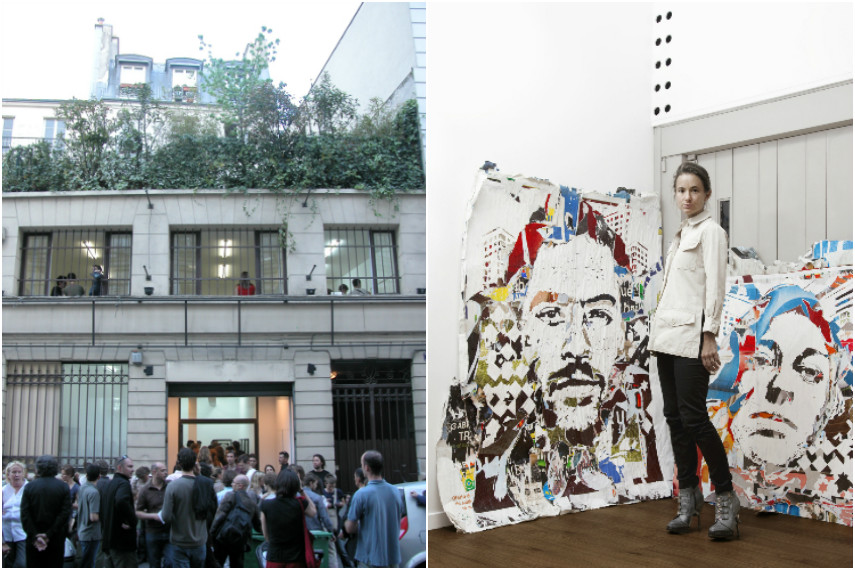 Street Art Today - Watch as It's Going Forward
Widewalls: How do you see the street art scene today? Is it going forward or backward, or is it stagnating? Some of the contemporary theoreticians argue street art to be a period and that it's now over. What is your opinion on this matter?
MD: The street art scene is going forward every single day. As long as there are new talents who develop their own visions, there will be new things coming out. In the 90s, people were saying graffiti is over, just like it was in the late 2000s when people were saying that no new street talent will emerge anytime soon. And still, the 2010s brought plenty of amazing projects, so I am not worried. The main strength of this movement is its perpetual renewal. It is in the DNA of this movement. Because some artists formally do not do things that seem close to the initial graffiti doesn't mean the movement is dead. It regenerates constantly. Furthermore, many artists are now debating over the semantics. Street art is a tricky word. Some prefer to use contemporary urban art. The debate is on, yet the artists are still at work, which is the most important thing.
Widewalls: Street art is arguably the most misunderstood medium of them all, wrongly considered by many to be bordering on vandalism. Will this pass in time or will urban art always be in this rough and misdirected spot?
MD: Street art is still quite misunderstood mainly because the institutional and critical acclaim is still lagging behind. Also, the lack of critical essays on the subject makes it so that most of the people have a hard time making the difference between all the styles and artists. As more books and texts start to be published and as more museum shows demonstrate the quality of the artists, things will change. Street art is also the art of a generation and all the kids who witnessed the growth of the movement are now adults who will have their word on the art market. Looking at it from a historical point, I am not worried about the recognition of the movement. Street art or contemporary urban art, as some call it now, is without any doubt the most important art movement of the 21st century so far. All points to that: it is a truly global movement and with amazingly talented and successful artists. History will tell!
Widewalls: What do you believe are the most radical changes awaiting street art down the road?
MD: It is hard to predict changes as everything in art happens in a smoother way. Art evolves and then, when we look back, we see revolutions. There will be some changes, maybe linked to new medias, or new geographical grounds. Time will tell.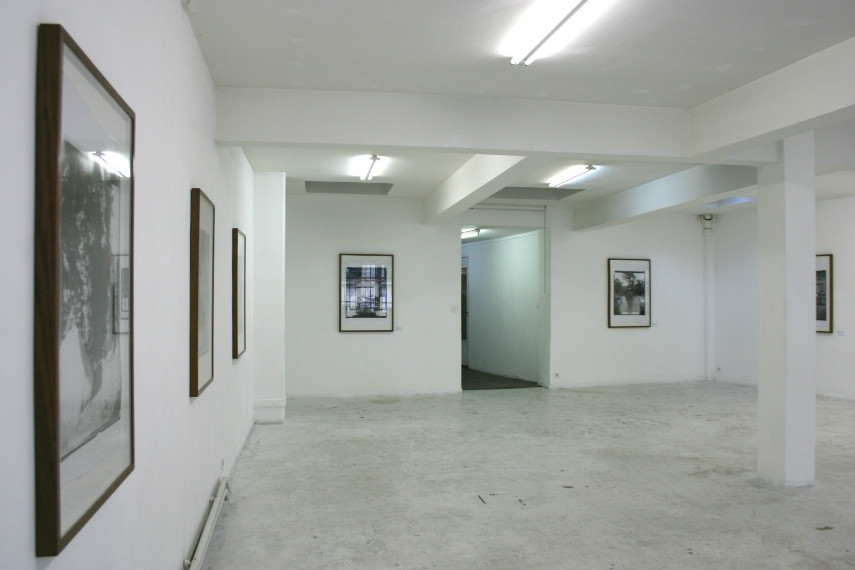 Keeping the Original Idea in a New Space
Widewalls: What do you believe makes your gallery such a success? Does your openness to all mediums and genres play a big role in that, or is there something else at play?
MD: The openness definitely represents an important factor. I believe in the generosity that galleries must have towards their audience. As I said before, it's all about sharing.
Widewalls: What are the goals of the refreshed Paris gallery? What novelties can we expect?
MD: Renovating the whole place is a big step for the gallery. This investment is aimed at giving more space to the exhibitions. We have monthly shows, so we need to adapt the space to the current artists' ideas, as well as some that will come in the future. One of the novelties is that with three floors we can dedicate one to a permanent collection. Often the visitors come for a show that already has been over for a long time. This way there will be a more stable situation and people can always catch up. This part of the new gallery will showcase a lot of street art so the fans will always have something to enjoy.
Widewalls: You seem to have managed to reach the very top as a gallery owner, opening a third space and renovating the initial one. What is the next step for your career? What can we expect from Ms. Magda Danysz in the near future?
MD: I see myself as the same person I was when I started. So I guess I still don't see the top of the mountain and for that reason, I keep on climbing. I am working on turning the gallery more and more into a production facility. We have done such things for many years with projects like Wrinkles in the City by JR, VHILS or Futura, but I want to take it a step further. The dealing part is an interesting one but our challenge is also to become producers of more ambitious projects. I like to be involved from the start and support the artists. This way I can even better serve the collectors with artworks which I know from the inside.
Feature images: Magda Danysz - Work of Nicolas Ledoux, Photo by Celine Barrere, detail; All images courtesy of Magda Danysz Gallery