It started out as a gritty form of expression that wasn't even considered as art back in the day, but gradually, graffiti transcended from indecipherable tags and scribbles to become one of the most popular forms of street art. Nowadays, most major cities are adorned with various graffiti, murals, and other street art pieces that make the grey walls of urbanized areas come alive and stir things up. London is today one of the central hubs for street artists from around the world. Ever since the mid-1980s, when the hip hop scene and other influences from the US started developing, a small number of writers began tagging their names all over town, especially in Brixton and Westbourne Grove. From then on, slowly but surely, the scene flourished and grew. With a wide array of mediums, ranging from miniature bronze statues to intricately painted large-scale murals and vibrant graffiti, London has one of the biggest and best collections of uncommissioned street art in the world. Works from the iconic names such as Banksy, Shepard Fairey, Borondo, Vhils and other globally renowned street artists, embellish the streets of London, making it one of the most popular locations in the culture of street art. So, let's have a look at ten prime examples of what the streets of London have to offer.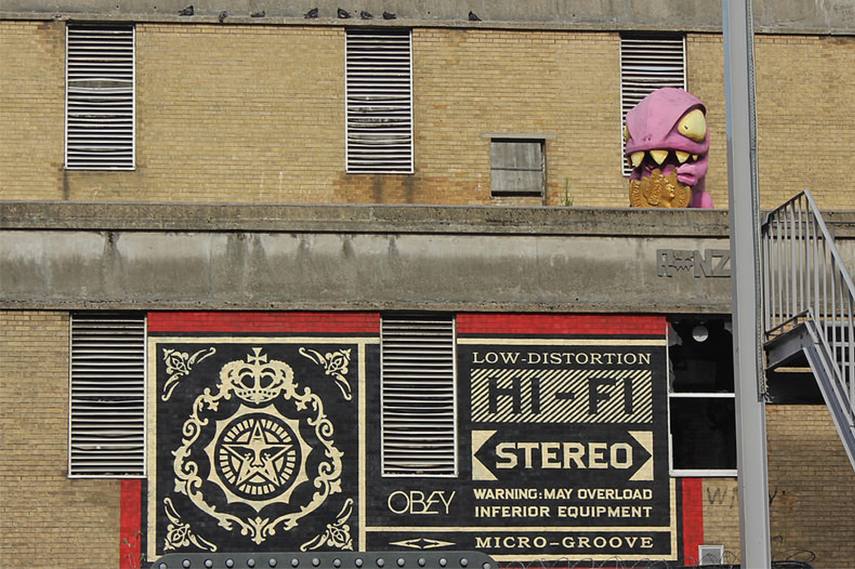 Shepard Fairey, Grey Eagle Street, E1 with a cameo from Ronzo's Credit Crunch Monster
One of the biggest names in street art had to leave his mark in the streets of London as well. Shepard Fairey is a household name, and to some disappointment from a segment of his fans, he definitely knows how to make money and profit from his artwork and brand-name, which is the famous Obey Giant. Whether you're a fan of him or not, Fairey remains at the top of the game even 25 years after his debut. Located in Grey Eagle Street, E1, this cool street art piece from Obey Giant was made in 2012, and it even comes with a special cameo by Ronzo's Credit Crunch Monster in the top right corner.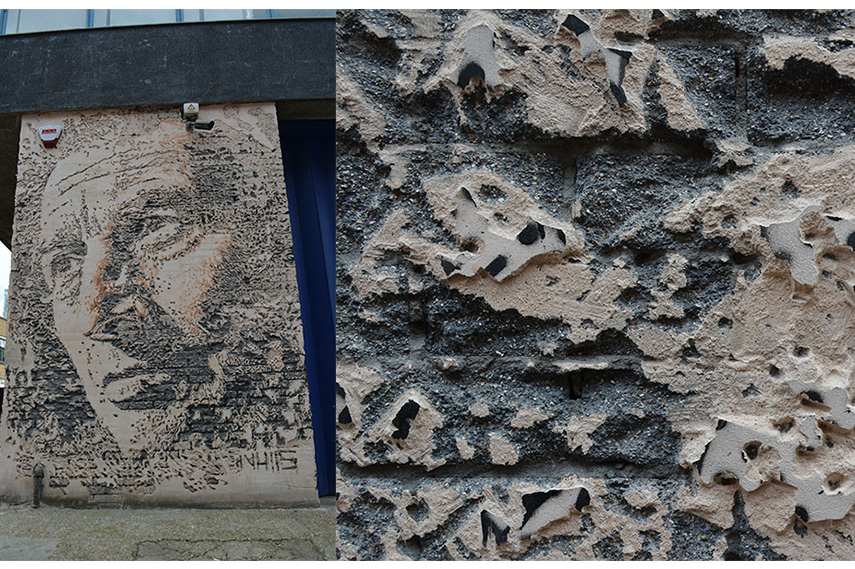 Vhils, Hewett Street, EC2A
Alexandre Farto, better known as Vhils, is a prolific graffiti writer hailing from Portugal. Often praised for his groundbreaking carving technique, Vhils formed one of the most compelling and innovative approaches to street art in the last decade. Before his exhibition named Devoid, back in 2012, the artist and his crew once again used the unique excavating process of chipping away at the wall to create visually stunning pieces of art. This portrait of a man, drilled, chiseled and even blasted onto plaster, can be seen at the Hewett Street, EC2A.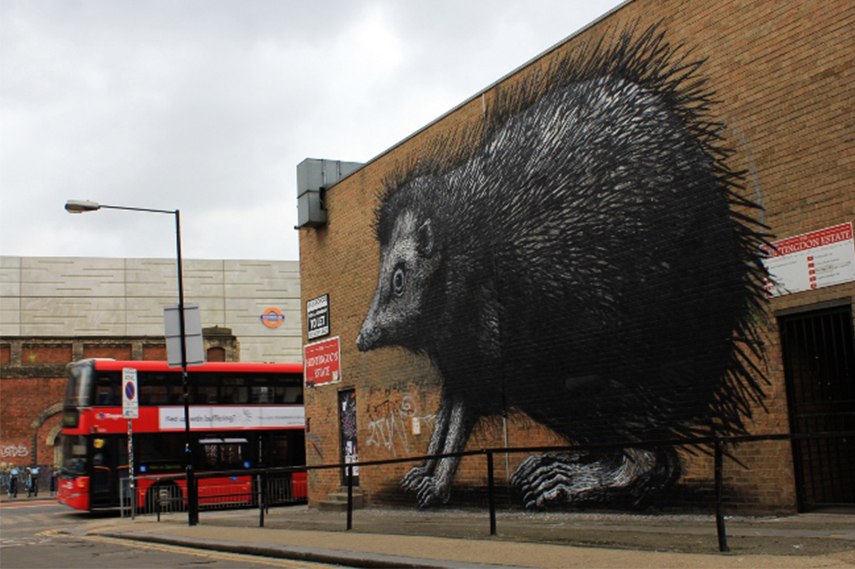 ROA, Chance Street in Shoreditch
Adding to his growing repertoire of animals around London, ROA created this awesome mural on Chance Street in Shoreditch, just before he went on to paint in Poland in 2012. By now, ROA's extensive collection of animal-inspired murals have adorned London streets and fascinated the passers-by. With storks, squirrels, weasels, rabbits, insects, and other life-like interpretations of nature's creations, ROA made this prickly hedgehog which is overlooking the corner on Chance Street in Shoreditch.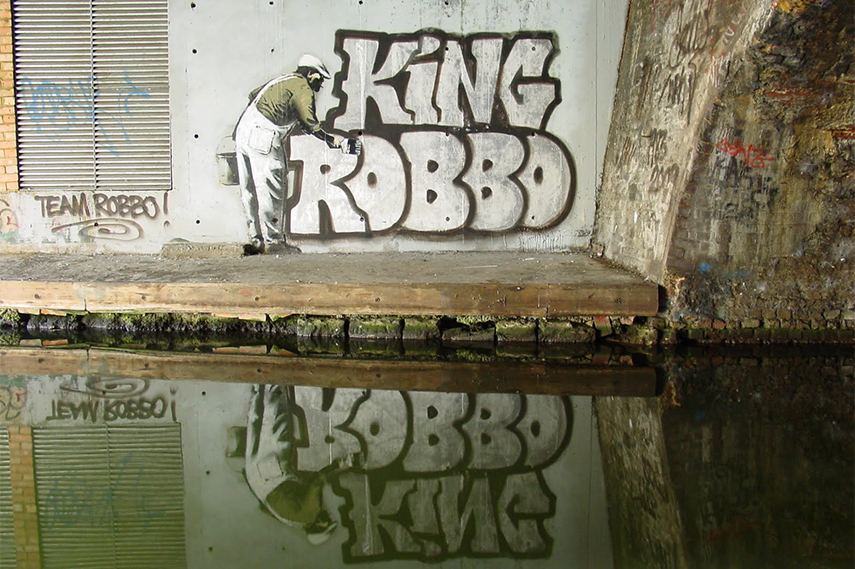 Banksy VS Robbo, Regent's Canal
The famous beef and "war" between Banksy and Robbo is known to almost anyone who is part of the street art world. With even a documentary based on the graffiti war between the two artists, there is not much to say on the subject that you probably don't already know. But there was an interesting quote used once to describe this artistic feud, it was Jorge Louis Borge's comment about the Falklands War and it goes "It's like two bald men fighting over a comb". Either way, this legendary location is definitely worth a visit, for it is a historical landmark of the street art culture.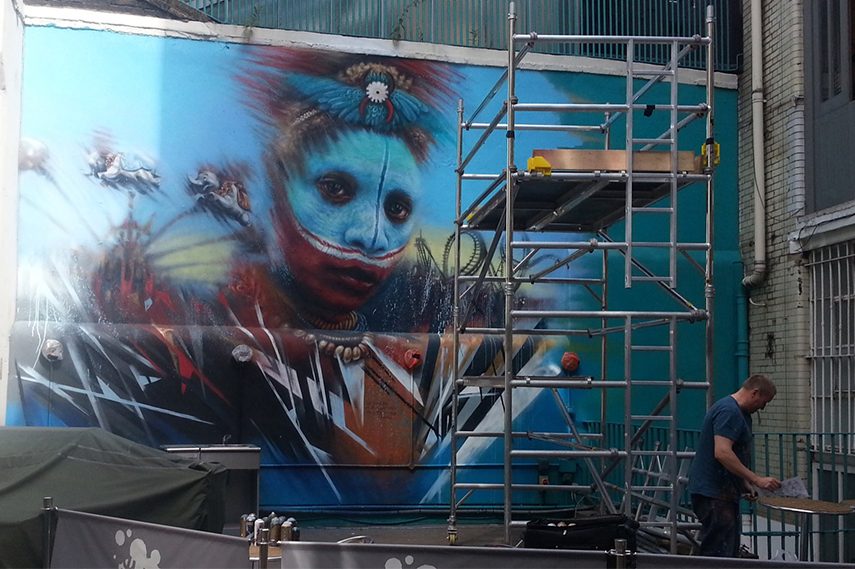 Dale Grimshaw – Disney's World, Scrutton Street, EC2A
Mixing up his diverse influences and incongruous cultural imagery, Dale Grimshaw produced this mural entitled Disney's World. It is an unusual blend of spiritual, primitive, tribal and organic with elements of the commercial, corporate beast that is Disney World. Grimshaw stated that with this piece he wished to question the way we measure the quality of our existence in a world colored with cultural and financial differences. The clash of these vastly different cultures actually underline the frightening reality that the dominant western cultures are reaching almost all corners of the world, causing ecological and environmental vandalism.
Rone, Leonard Street, EC2A
The massive piece located in East London is done in RONE's signature sexy portraiture. The Australian muralist painted this particular wall as part of the organization Global Street Art. Characterized by a unique mix between beauty and decay, artwork of RONE usually features his famous recurring image of the so-called Jane Doe. Located in the Leonard Street, EC2A, this alluring female face looks upon the citizens of London with her misty eyes that really stand out and emanate life and emotions, in spite of the fact the entire piece was made with no distinct coloration on a dirty brick wall.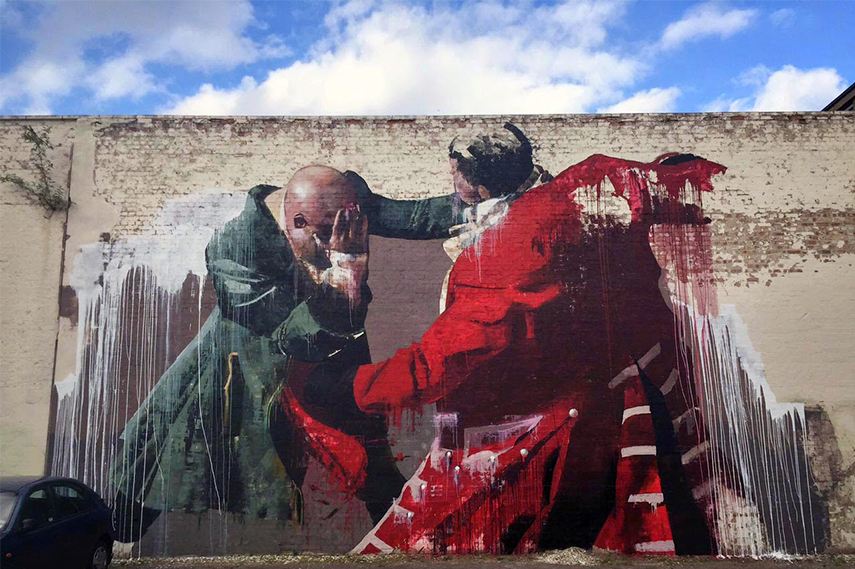 Conor Harrington mural in Walthamstow
As part of the Wood Street Walls project in Walthamstow, an area in north-east London, Conor Harrington created this amazing mural after just two days and a few hours of work. The Irish artist is known for the colonial style characters painted in his uniquely combined loose and photorealistic style. The large-scale mural is as impressive in real life as it is in the photos, and many tourists, locals and visitors often swing by the stunning piece to take a photo. Harrington's loose brushwork, dripping paint and seemingly unfinished imagery are juxtaposed to the sentimental elements of duty and honor in his artwork. Although breathtaking and masterfully made, this particular piece was greeted with mixed reactions from the locals. Some of them claimed it was too violent and imposing, while others appreciated the artwork which embellished their neighborhood.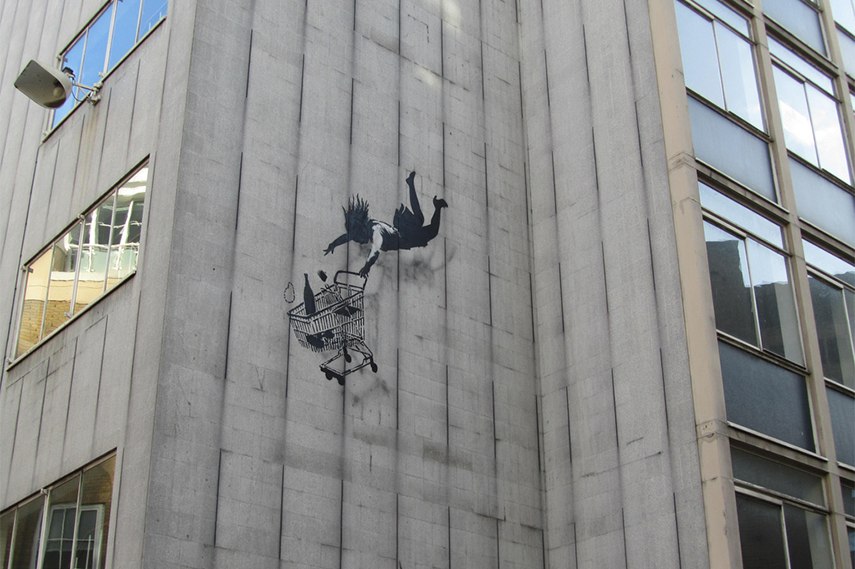 Banksy – Falling Shopper, Bruton Street side of Bruton Lane
Out of so many Banksy's pieces covering the walls of London, it is quite difficult to choose one, but for this list we shall include the Falling Shopper. One of the few rare works of Banksy that aren't protected by Perspex, this satirical piece of the famous street art superstar is painted about 20 feet above the street level. Definitely not by chance, the unambiguous piece is located in a part of London that has a high level of upscale shops and markets. Unlike some other pieces of the prolific artist which didn't stand the test of time and decayed or were removed by the authorities, the Falling Shopper remains untouched and preserved.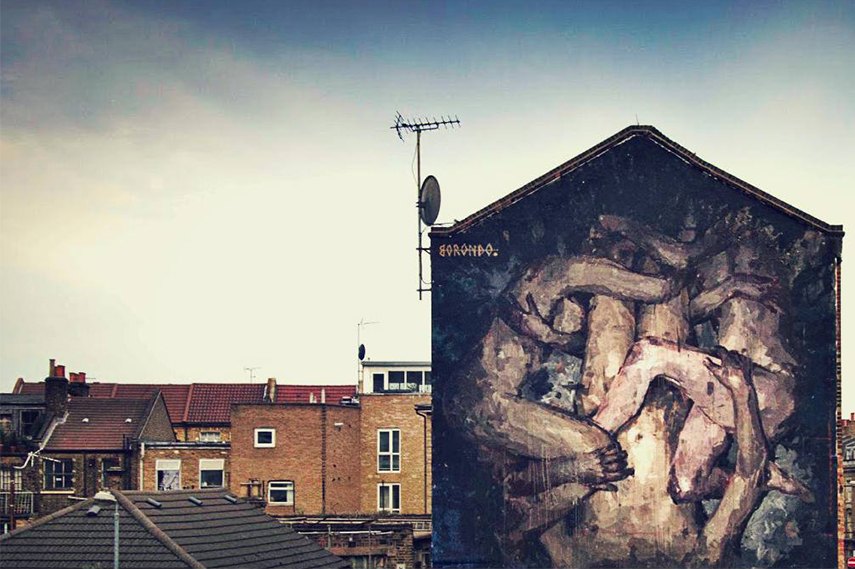 Borondo – Triade, Shoreditch
The Spanish artist Borondo has made several pieces in the city of London. Among others, Triade is one of his massive murals that was made over the course of a weekend. This powerful piece features three intertwined nude bodies, they are wearing nothing, but their limbs are strategically placed so they cover all the intimate parts. The creation of this artwork was organized by an urban contemporary art gallery project RexRomae. In the hands of Borondo, what starts as a handheld sketch, ends up as a large-scale work of art displayed on huge walls and buildings.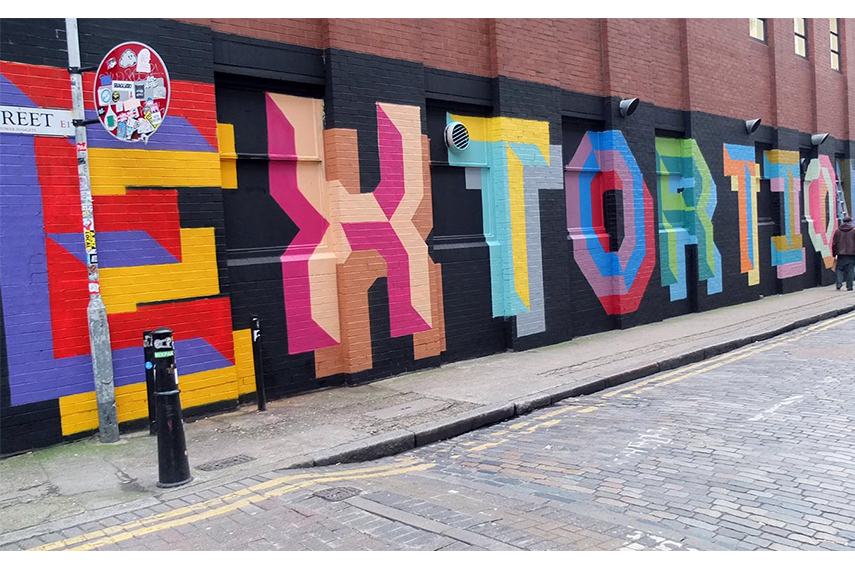 Ben Eine – Extortionists, Ebor Street, E1
Street artist Ben Eine started doing graffiti when he was 14, he loved the sensation of tagging something and then running, being chased and not getting caught. Gradually, he moved on from simple tags to creating stunning street art, where his skills really shined. Before he relocated to San Francisco, Eine was stuck with 2,000 cans of spray paint, which, due to the American law, he couldn't bring from London to the US, so he decided to put them to good use. So was made the epic piece in Ebor Street in East London, where the artist had previously painted the same walls with the two messages Anti Anti Anti and Pro Pro Pro. This time, the featured words for the opposite walls were PROTAGONISTS and EXTORTIONISTS.
Explore the best of what the art world has to offer with a free sign up for My Widewalls!
All images used for illustrative purposes only
Editors' Tip: Street Art London
London: The Capital of Street Art Banksy isn't the only one to express himself on the streets of London. Names like D-Face, Eine, Mobstr and Paul Insect vie for space with international guests such as Obey, Roa, Mr. Brainwash and C215. Street Art London is focused on the latest and best of London's many street artists. The ephemeral pieces that infuse the street scene with new meaning are preserved in this book, which also sets them in a broader context. Full of unique quotes from many of the artists, Street Art London is a unique opportunity to find the cream of the crop, and to become inspired by, and acquainted with, the street artists of London.
Featured images:
Banksy - Queen's Guard
Ben Eine - Protagonists
Roa, Southbank Center
Mobstr, Hackney Road