Apart from all the splendid works of art hanging on the walls of famous museums, thanks to the urban art movement our whole world is turning into one big art gallery, with murals and pieces gracing facades of buildings everywhere. What started as a rebellious act of train painting in New York City, or even before that as conveyance of political messages with Mexican Muralism, flourished and expanded into countless street art festivals and legitimate street art projects. In the last fifteen years especially, many young creatives appeared, donning their talents to their audiences and leaving a mostly ephemeral, yet precious legacy.
As a magazine rooted in urban and street art, we've had the immense pleasure of witnessing the growth of many artists, and seeing with our own eyes the amount of love, sweat, and dedication that they pour into their work over the years. It is therefore never pleasant to see large corporations, fashion houses and creative agencies use these works in their advertising campaigns without the artists' permissions. We've see it happen way too often too: the case of fashion brand Vassilly and artist Cleon Peterson; Moschino's Jeremy Scott and artist RIME; Roberto Cavalli and REVOK, who also sued H&M for using his work in their ads without permission; and then there are vehicle companies like General Motors, whose Cadillac XT5 commercial used SMASH 137's mural without asking him first, and the one for Mercedes G 500, which featured the works of Denial, Jeff Soto, Dabls and Maxx Gramajo.
What these cases also have in common is Jeff Gluck of Gluck Law Firm, P.C., an attorney who has been helping artists protect their intellectual property. Working in the field of fashion and art, he works with victims of infringement, while at the same time helping us understand their rights in regards of the nature of street art. We had a quick chat with Gluck to find out what happens when an artist's public artwork gets used without permission.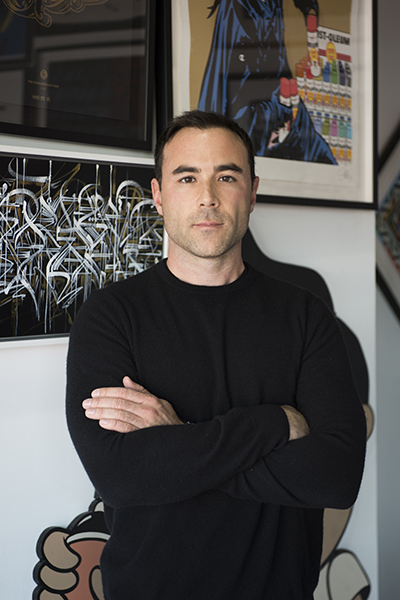 Introducing Jeff Gluck
Widewalls: Tell us a little bit about yourself: why this particular kind of law? Have you always worked in that field?
Jeff Gluck: I am an intellectual property attorney and the owner of Gluck Law Firm P.C.. My firm focuses on representing artists and designers, helping to protect and enforce intellectual property rights. This means that we litigate and pursue infringement claims against alleged copyright and/or trademark infringers.
In other words, if someone copies and steals your work, we fight for you. I have worked in this field for more than 10 years. It is the only type of law I have ever practiced. Many of my clients are graffiti / street artists and fashion designers.
Widewalls: Do you have a passion for art and fashion yourself? Ever tried your luck as an artist/designer?
JG: I have always had a passion for art and design. Growing up (and still now) I was influenced by punk music and skate culture which has a lot of crossover with the graffiti world. My firm recently did collaborations with the artist Othelo Gervacio and the brand Chinatown Market.
Widewalls: Let's talk about a few recent cases involving street art and big brands. How did you get involved? Did you find them or did they find you?
JG: My clients find me. Usually through word of mouth, reading about our other cases, and referrals from other artists. As soon as they contact me, I evaluate their claims and if I believe in the merits, I get involved.

Matters of Copyright in Graffiti/Street Art World
Widewalls: Could you tell us readers, and any artists who are not familiar with it, about The Copyright Act? How does it protect creatives, specifically in terms of public artworks and graffiti?
JG: The United States Copyright Act affords copyright protection for 'any original work of art attached to a tangible fixed medium of expression.' It does not matter whether the work is created on a wall or on canvas, indoors or outdoors, or displayed in public or private.
The Copyright Act gives a broad set of rights to the creator, allowing them to control the reproduction and exploitation of their work. This allows them to have claims against infringers who use their work without permission.
Widewalls: We've seen it happen recently: big brands using artists' work in their ads without permission. Some of them reach out to those artists beforehand and get turned down for the permission, some do not, but in any case, they proceed to feature them. Why? Do they think they can simply get away with it, because they are big? What kind of counseling do you think *they* get in these cases?
JG: Simple ignorance and corporate mismanagement. Usually the bigger the company is, the more they do stuff like this. Lack of oversight.
Widewalls: This leads us to the Revok vs H&M. How (un)wise was it for them to file a countersuit? Where do we stand with it now?
JG: No comment other than the matter was resolved to everyone's satisfaction.
Widewalls: How do cases like these generally turn out? What can the artists expect from the process?
JG: Generally these cases end with the artist receiving a monetary settlement.
Widewalls: Here's an opportunity for little self-marketing: if an artist were to hire you, what would you say makes you the right man for the job?
JG: I have always been interested in graffiti art and the culture surrounding it. Because of that, I understand and appreciate where these artists are coming from. I understand how important and valuable my clients' artwork is to them and how important they are to the community.
Featured image: The San Francisco Mural by REVOK, REYES & STEEL used in Roberto Cavalli's graffiti-inspired line.