Rising sea levels caused by the melting of glaciers are maybe the most visible effect of the growing climate change problem on our planet. This issue is caused by the excessive CO2 emission and will be addressed to at the upcoming summit in Paris later in November. But environmental issues aren't the problem of politicians and NGOs, they affect every human being on this planet. New York based artist Hula, has done his part in raising awareness about climate issues by painting a new series of artworks directly onto the melting icebergs. This new series of artwork is entitled A'o' Ana or the Warning and truly comes as a warning to all of us.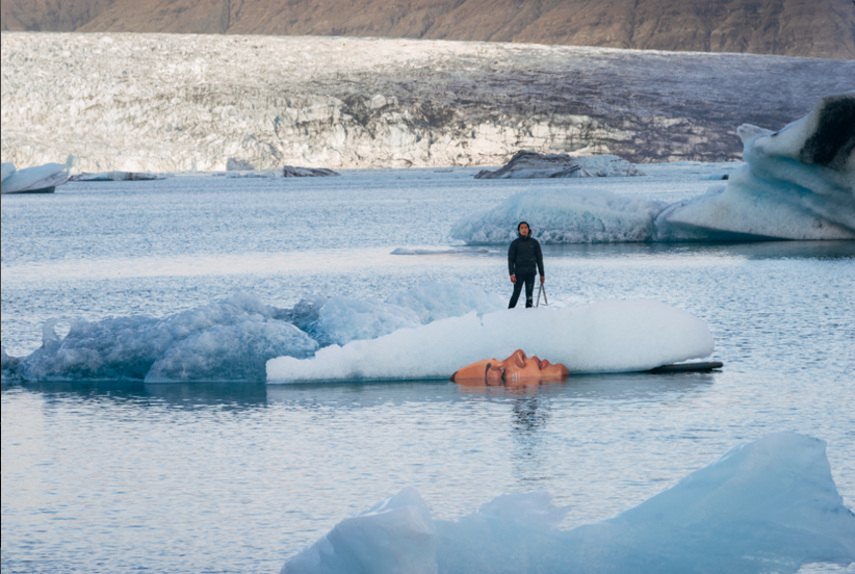 Sean Yoro aka Hula - A Surfer and an Artist
Sean Yoro aka Hula originally comes from Hawaii, but is currently based in New York. While growing up on the island of Oahu, Hula was able to enjoy everything that nature has to offer - clear sky, deep blue sea and an array of wonderful plants and animals that inhabit this heavenly island. This influenced boat his work and his personal views about the environment. His fantastic surfing skills enabled him to explore the ocean while looking for a perfect place to create his pieces. Hula's is known for using his paddle board as his own "floating studio" while painting in the most unusual surfaces as well as using water as an essential component in his works.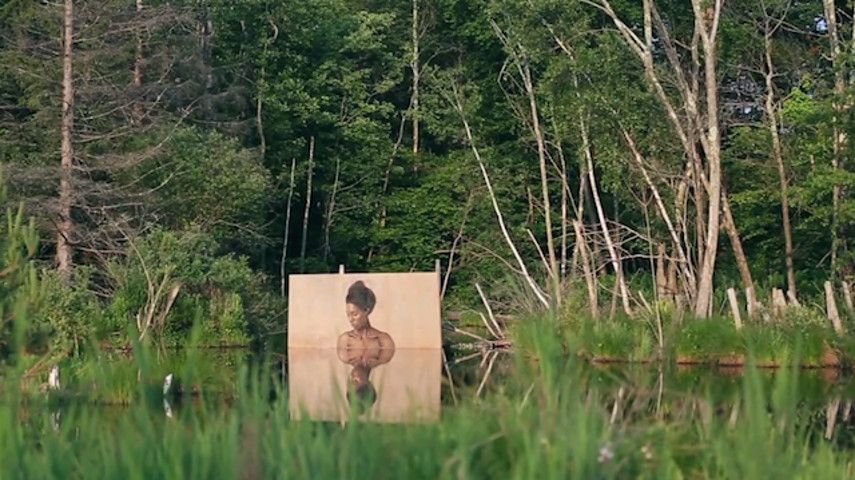 Surreal Portraits by Hula
Unlike his fellow street artists, Hula doesn't create his murals on the streets, but rather moves away from the busy cityscapes and paints on the edges of various water ponds. He likes to bring life to abandoned places, which is why he paints his portraits at the most lifeless locations. The position of his canvasses in relation to the water is essential component of his images which interlace with the surroundings, thus creating the most amazing illusions. His stunning female characters often appear as if they're drowning or emerging from the water. Each one of his murals is painted with a traditional oil painting technique and can take up to four days to complete. His images often mark his mood so you can see both fragile and happy, but also sad, angry or even eerie murals.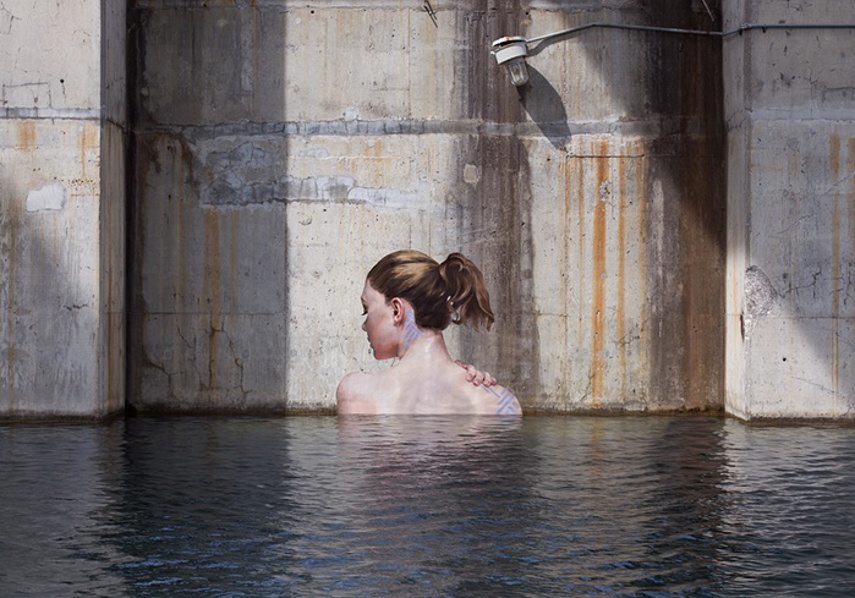 A'o' Ana - The Warning to Us All
In the past, Hula has worked on empty riverside buildings and abounded ships, but now he moved on to a much "cooler" material. Hula's A'o' Ana (the Warning) series is painted on a few of the thousands of icebergs freshly broken off from a nearby glacier. The artist spent a short time at the location and was able to witness the extreme melting rate first hand. Despite the fact that these murals will quickly melt, the artist hopes that his art will have a long-lasting effect on the environmental issues we deal with constantly: "Within a few weeks these murals will be forever gone, but for those who find them, I hope they ignite a sense of urgency, as they represent the millions of people in need of our help who are already being affected from the rising sea levels of Climate Change."- wrote the artist on his webpage. The artist's devotion to climate change issues is as understandable as it is commendable. After all, if all the glaciers do melt his homeland of Hawaii might be one of the first to get flooded. But soon enough we'll all be in danger, so hopefully this street art masterpieces will inspire people to think about the environment long after Hula's murals disappear.
Is Hula the new star of street art scene? Tell us what you think on our Facebook page.
We bring you the latest news from every corner of the art world so

sign up for My Widewalls

, for FREE!
Featured images : Artworks by Hula
Images courtesy of the artist's website