Howard Griffin Gallery in Los Angeles is organizing an exhibition of Italian street artist RUN. The show is entitled Man is God, and it is the gallery's biggest show yet in terms of scale. Through the works that will be exhibited, RUN looks back to the ancient world in a search for a new wisdom for today. RUN understands the world as an indivisibly whole where man and nature are intimately connected. Therefore, the artist is inspired by neolithic and the modern imagery, and sculpture are monuments and relics without time – something that is constantly referring the intrinsic interconnection between the human civilization and nature.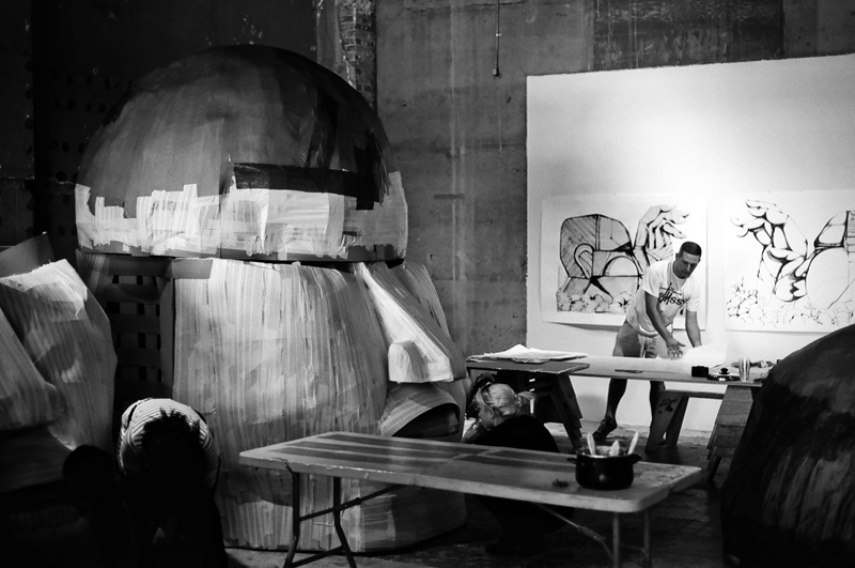 Mysterious Ancient Forms – Street Artist RUN
Giacomo Bufarini a.k.a. RUN is a London-based Italian artist who is globally recognized as one of the leading urban and street artists today. However, he is not only known for his street art; he also exhibits in galleries, and uses different media in practice (you can take a look at our preview of The Man with the Tail exhibition at Galleria Varsi in Rome, held this summer). The visitors of the Man is God exhibition will have an opportunity to see RUN's works that are inspired by the impact of modernity on contemporary society and humanity. A notion of "tribe" seems to have a central role in the artist's motifs. Cities have become a melting pot for different peoples and cultures. Our human society is now indescribably complex yet our basic nature remains the same. In today's world, the inexorable trend towards development, progress, urbanization and technological advancement has separated humans from nature, both the natural world that surrounds us and our own internal human nature. Thousands of "tribes" coalesce in one place. In order to express and represent these views, RUN recalls a time when humans organized themselves into small tribes, each with its own distinctive culture (read more about RUN by clicking here - when RUN was Widewalls Artist of the Week).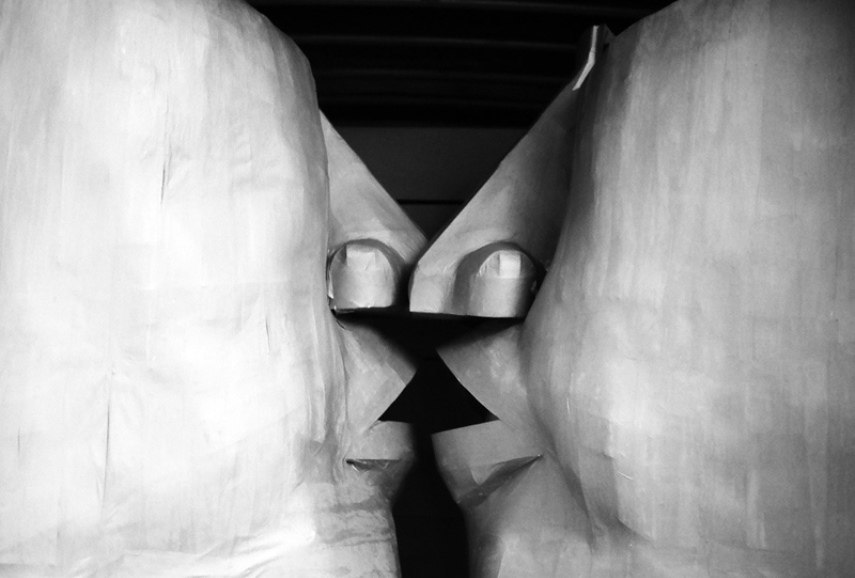 Man is God
In the main room of the Howard Griffin Gallery, the artist presents an installation of monumental sculptural heads and large ceremonial banners that cover the walls from floor to ceiling. Visually these grand works reference Pagan symbolism and iconography, but for modern times, all the while inviting us to consider our true origins as a species and our true nature as humans. Man is God then concerns the very spirituality of man. The monolithic forms are exhibited alongside a series of canvas works that are visually reminiscent of tribal flags, referencing the natural world through imagery of the crescent moon, the sun, flora and fauna. Alongside these, Giacomo Bufarini has created monotypes that represent his heads in an abstract way, suggestive of the rudimental building blocks of anatomy. Totemic symbols are suffused with rich pagan echoes; abstract curves and entwining lines knot into natural and anthropomorphic forms.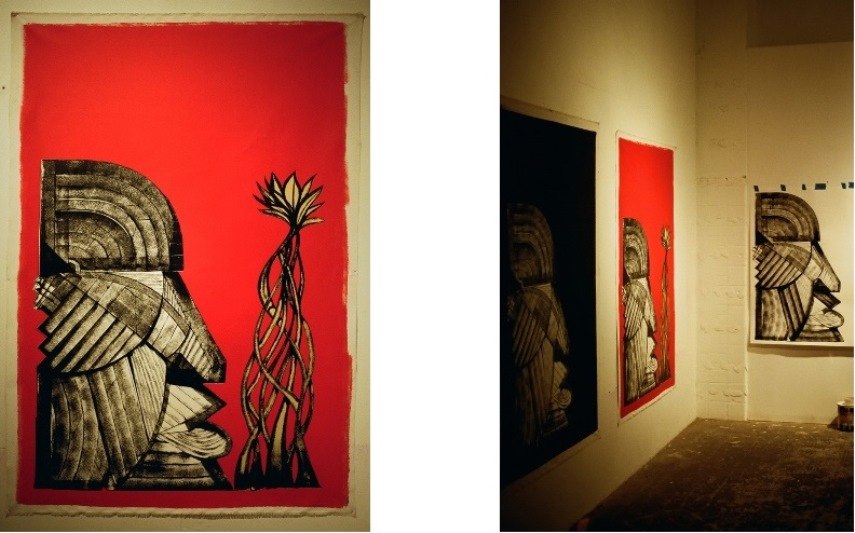 RUN at Howard Griffin Gallery
Howard Griffin Gallery has two locations: one on London, and one in Los Angeles. But, this exhibition of RUN is taking place in LA gallery's space. So, this is a great opportunity for all art lovers to enjoy some amazing art, and to contemplate about modernity and interconnections between humans and nature. The exhibition will be on view from September 26 until October 31, 2015 at Howard Griffin Gallery in Los Angeles.
To be informed about upcoming art exhibitions, sign up for My Widewalls! It's free of charge!
Featured Images:RUN - Man is God (credit Alexander Laurent)
All Images courtesy of Howard Griffin Gallery.