An annual event celebrated around the world to demonstrate support for environmental protection, Earth Day includes events coordinated globally in more than 193 countries. Growing out of the first Earth Day on April 22, 1970, Earth Day Network seeks to diversify, educate and activate the environmental movement worldwide, driving positive action for our planet.
On this day, graffiti writers, street artists and muralists from all around the world have joined forces to provoke thought and inspire action for our planet. Earth Day Network and more than five hundred street artists around the world have planned and executed the largest stealth global art activation in the world entitled #EarthDay2020Halt.
#EarthDay2020Halt: The Global Stealth Street Art Campaign
#EarthDay2020Halt
Breakout artists from every continent, ranging from established to emerging, will showcase their projects, created in secret over the last six months to mark the 50th anniversary of Earth Day. Among artists taking part in the project are WRDSMTH from the U.S., Yulier from Cuba and Shamisa Hassani from Afghanistan. Artists are invited to submit their works through here.
The protest begins on Earth Day (Wednesday, April 22nd) in New Zealand at 9 a.m. NZT until 11:59 p.m. Eastern Time in NYC.
The location of each piece of dedicated art can be seen in an interactive map on earthday.org. and uploading the works onto the interactive map is an ongoing process. Be sure to follow #EarthDay2020Halt on social media to see all participating artists.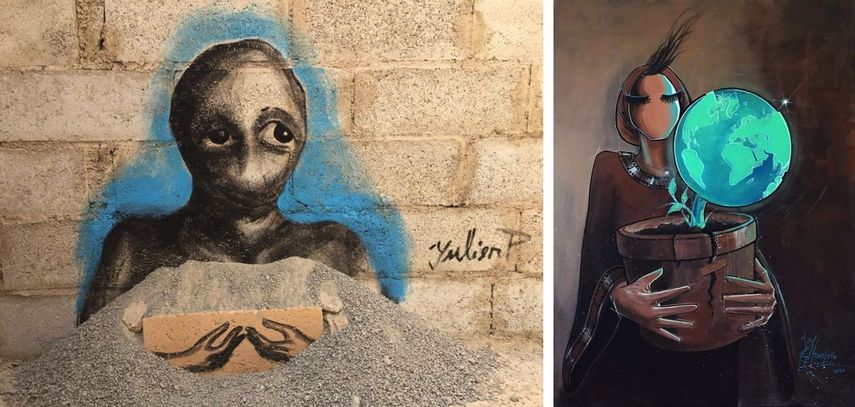 The Practice of Meg Zany
The project was led and curated by LA-based street artist Meg Zany. Specializing in stencil art, Zany seeks to represent the struggles women face on a daily basis, from the gender wage gap and fight for equal rights to reproductive choice. After working as a recruiter in the aerospace industry for eight years, she decided to pursue art full time.
Zany works in a recognizable black and white style featuring bold in-your-face text paired with lively figures that intimately connect with viewers. Blending humor, hope and her unique perspective on life, the artist uses art to incorporate her values and deliver a range of public messages, including Courage Has No Gender, Swim to the Beat of Your Own Current, All Women Are Warriors, and It's an Equality Thing.
Her works featured a range of powerful female figures who have shifted the social norms throughout history, including Ruth Ginsberg and Amelia Earhart. Celebrating a special kind of hero through her distinct aesthetic, Zany hopes to encourage everyone to confront America's major social issues.
Thus far, Zany's art has been featured on walls across America and into a range of European galleries. Throughout her career, she has collaborated on a range of projects with TOMS, Coach, Fox Searchlight, Netflix and other well-known brands. She is also the official Art Curator of LA's Fame Yard and the Arsenic Gallery.
Featured image: Mural by WRDSMTH. All images courtesy of Earth Day Network.