In February 2014 Italian born sculptor Jacopo Mandich had a successful exhibition titled Cosmogonie at Galleria Varsi located in his home town of Rome. Cosmogonie refers to the formation of the universe and was a perfect title for the exhibition of creations by Jacopo Mandich who filled the Galleria Varsi with his own universe occupied by his small figures created from iron and sculptures that resembled parts of a city being built in stone, wood and iron. Such was the success of the Cosmogonie exhibition that Jacopo Mandich has continued sculpting the figures for Galleria Varsi.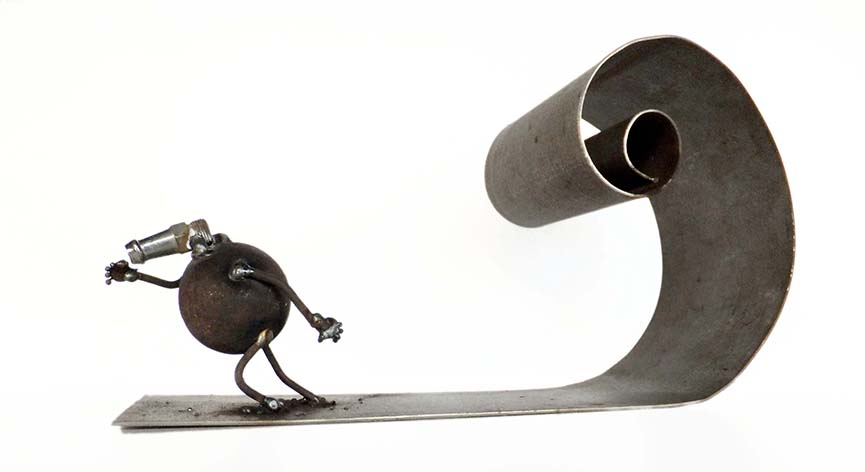 Sculpting
Jacopo Mandich thrives in sculpting with difficult materials particularly iron, wood and stone, seeing it as a challenge to experiment and shape the difficult materials to create his visions. Working with these materials gives certain emotions to the sculptures of Jacopo Mandich; wood is used to imply emotions, physical vibrations and carnality, stone to have a connection to the earth and iron represents rationality and madness derived from the way the artist has to work the iron to sculpt it into the desired shapes. Mandich has a need to transform raw materials, part of a transfiguration of his initial thoughts and dreams that then emerge as a whole new world in his wonderful creations.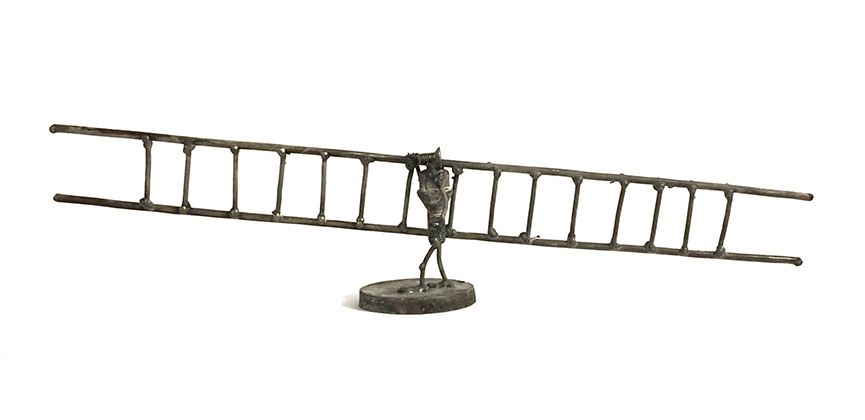 Cosmogonie
The Cosmogonie exhibition at Galleria Varsi in Rome showcased the sculptures of Jacopo Mandich to full effect, transforming the space into his own micro universe, a metropolis of iron, wood and stone that seemingly defies the laws of physics and geometry. These are the nuts and bolts of a cosmos forming literally in front of our eyes, small figures created from nuts and bolts working away and carrying tools such as spanners, much bigger than them, above their heads like a colony of ants busying themselves with each having their own task to complete. Jacopo Mandichs' figures often seem poised in mid movement, a brief glimpse into their industrial fairy tale that hints at dark shadows and a daily grind to this other reality that can make one feel uneasy and giving the general view of desolation.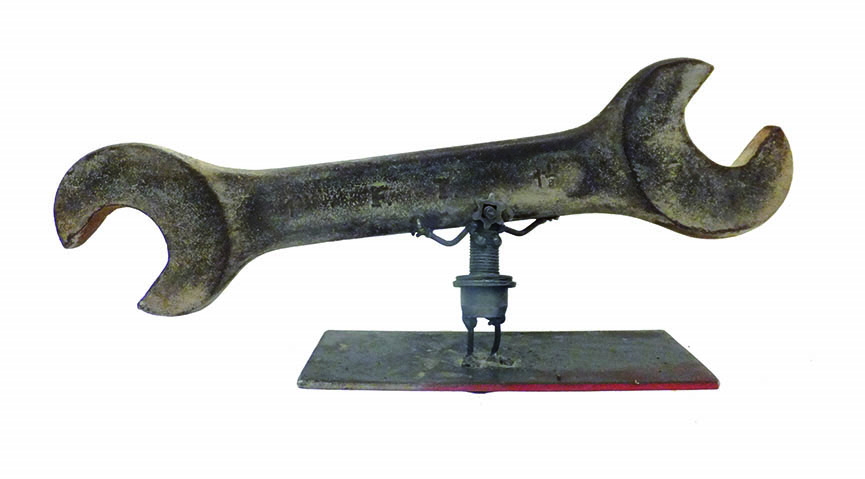 Galleria Varsi
Jacopo Mandich has continued to sculpt these fascinating figures and make them available through Galleria Varsi in Rome, continuing their successful relationship. Some of the sculpted iron pieces reflect the darker side of the work, for instance a piece named Vomit that has a hunched over figure vomiting up what looks like solidified molten metal while there are several pieces that feature the small figures carrying tools far too big for them. Sculptures such as Acrobati and Superero defy gravity, metal figures poised precariously as if they could topple at any moment but they are not without humour as can be seen in the Da Vinci sculpture, a small figure strapped to some contraption ready to fly from the top of a ladder. All of the sculpted pieces available show a remarkable love of working with the materials to create this other universe.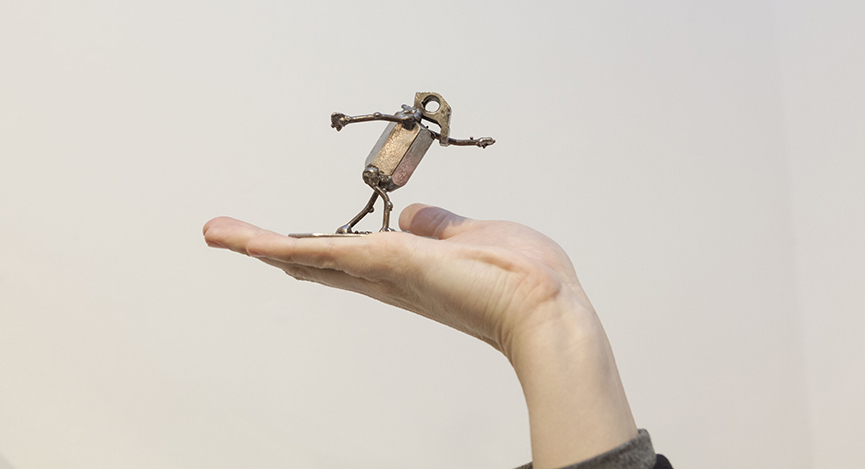 Jacopo Mandich
Jacopo Mandich was born 1979 in Rome, Italy. He graduated from Accademia di Belle Arti with sculpture and a thesis on art, recycling and magic that has gone on to inform his creations to this day where he enjoys the challenge of working with difficult materials to create his new worlds.
Sign up to My Widewalls today to enter into other realities and discover a new universe.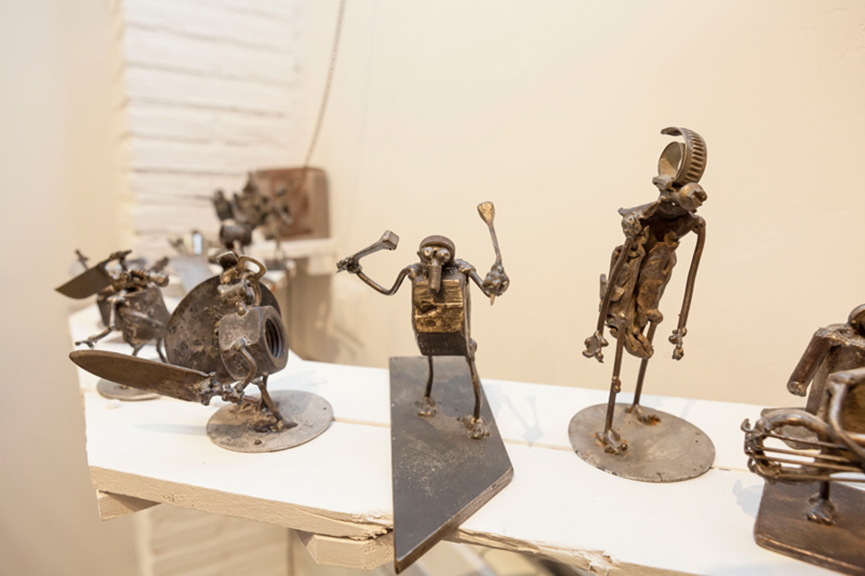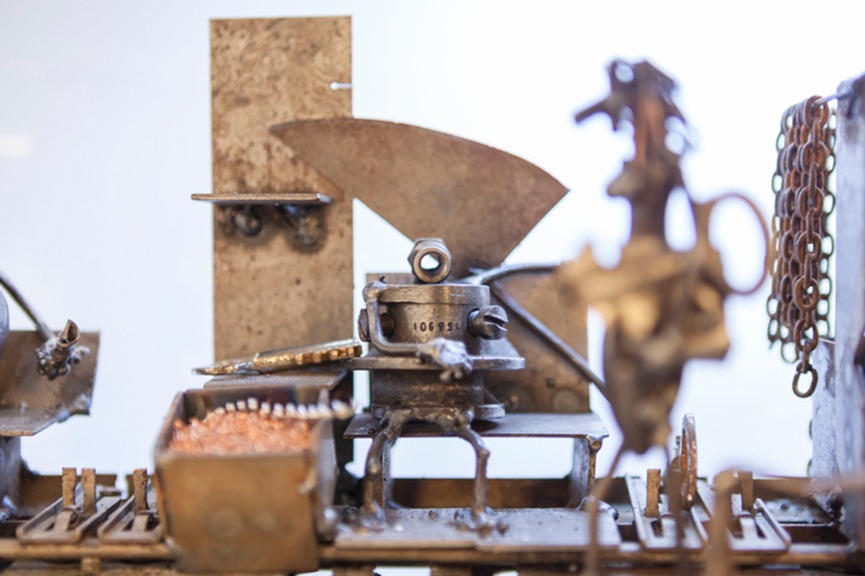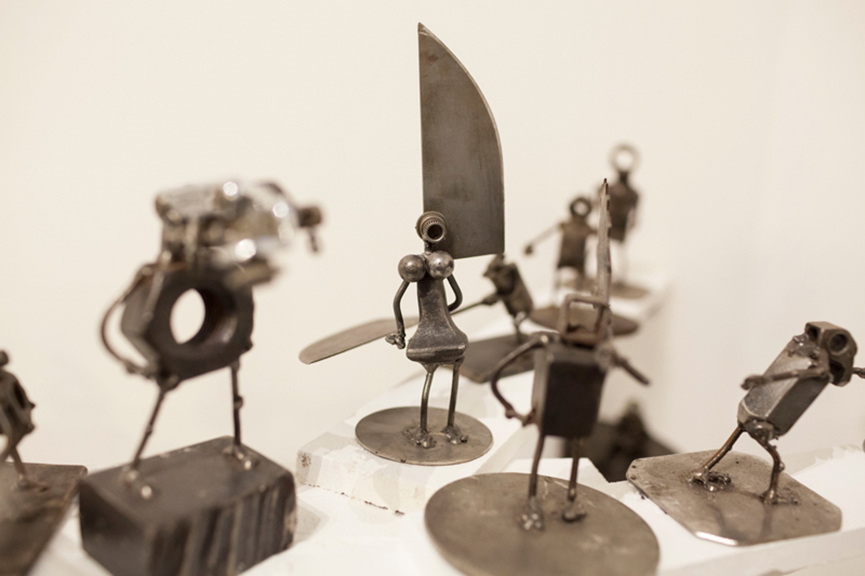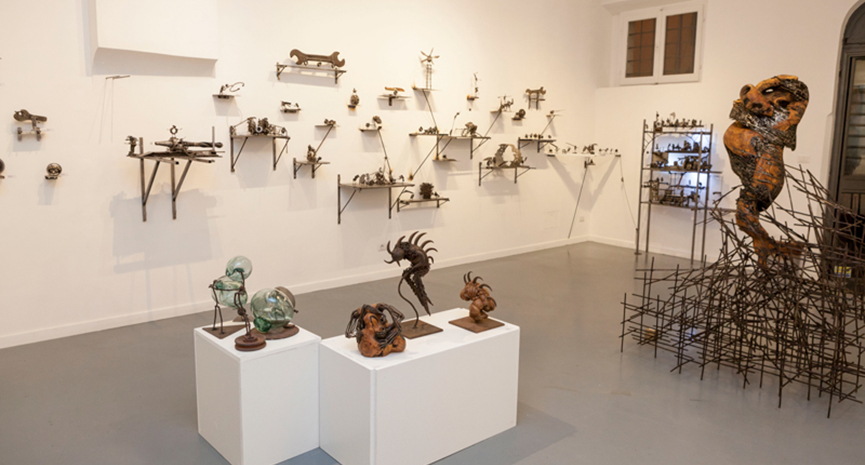 Photos courtesy of Galleria Varsi & Federica Tafuro.