If you've ever visited the cities of Florence, Milan, Turin, Rome, Paris, London, Barcelona or Berlin, you've come across the artworks by Clet Abraham. All you needed to do is look at traffic signs, because this clever French artist makes thought-provoking street sign art. Yes, these actions are illegal but they are also highly entertaining, and now more than a hundred of his panels will be on view at Orlinda Lavergne Gallery in Mulhouse, in the heart between the borders of Germany, France and Switzerland. This will be a great opportunity to see the usual danger, priority and mandatory signs come to life through cunning, entertaining narratives that push the boundaries of street art.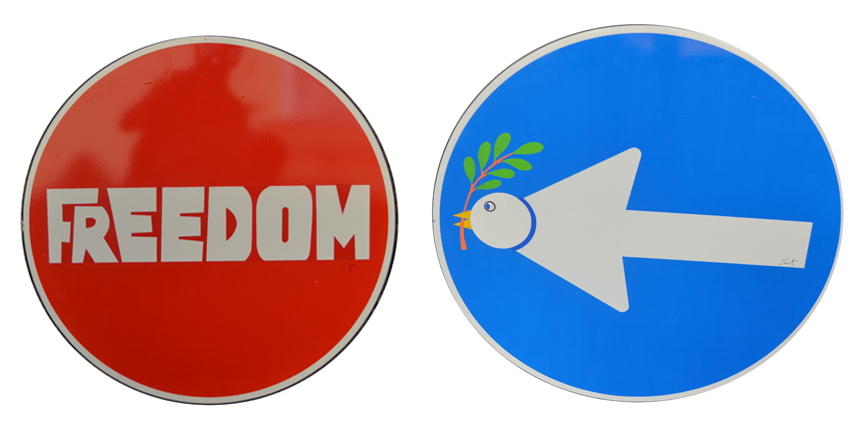 Le Policier Amoureux
The title of Clet's exhibition, Le Policier Amoureux, probably comes from one of his most famous images of a policeman hugging the no entry sign with much love. This is only one of the examples from his brilliant oeuvre, as this creative individual definitely experimented with many panels in a variety of creative ways. It was back in 2010 that Clet designed his very first diversion campaign on the streets of Florence, Italy, taking over the signs with his previously cut stickers. Roundabout signs that get turned into oceans full of swimming sharks, a figurine crucified on the living end street, the imitation of the Vitruvian man inside the No Vehicles sign… Clet is always full of ideas and surprises that are often directly referencing the city they are thought of in.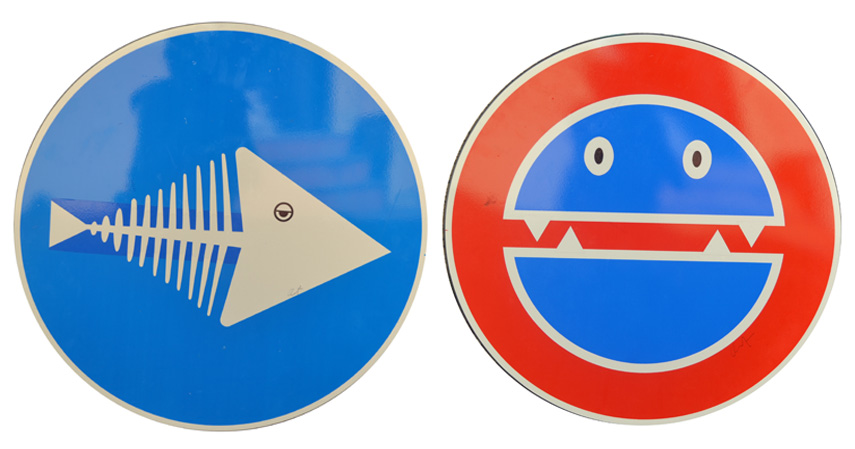 The Poetry of Street Sign Art
In his practice, Clet manages to humanize the panels by inserting characters that are bound to catch our attention. The communication of road signs get transformed into comic stories, proper narratives that convey poetry and freedom. At their core, they are still able to regulate traffic, except now they do it in a different style, oozing with a humorist spirit and enjoying its ephemeral state. While Clet's approach remains illegal, many cities even consider his artworks an excellent support to raise awareness of road safety and better knowledge of road signs. Following the rebellious tendencies of urban and street art, Clet governs the space while sticking to its essence in order to send a significant message to the often distracted passersby and drivers, at the same time making their day a little bit better.
Street Sign Art by CLET
CLET at Orlinda Lavergne
Born in France, Clet Abraham has been living in Italy for over twenty years, and in the town of Florence he even established his own studio. His initial project of making street sign art is still alive and well, with an inspiration that seems to be inexhaustible. Le Policier Amoureux, an exhibition of street sign art by CLET, will be on view at Orlinda Lavergne Gallery in Mulhouse, France, from September 8th through 30th, 2016.
Featured image in slider: Clet - Conformista. All images courtesy of Orlinda Lavergne Gallery.