Art Basel is done. The art handlers have taken down the paintings and packed up the sculptures, ready to be shipped to their new owners. The fair-roadies have taken down the tents and the city workers are cleaning up the last fragments of the art mega-event in Miami. What remains is paint on the walls; paint that is composed in such a way that it forms a bigger picture; the bigger picture finds itself in surrounded by some of the world's best street art; the street art is in Miami's Wynwood District. Once more have to seize the opportunity and highlight these street art masterpieces. However, not only Miami's urban surface has been beautified. In Brazil the art is found inside and in Tokyo, Japans favorite is being reinterpreted.
Sainer
Sainer is Polish, was in Miami last week and created this insane mural. At first glance it reminds a little of Charlie Brown lying down in the grass starring at the sky. A closer look you can tell it's not Charlie Brown. The guy in Sainer's mural is a longer goofy looking guy. Come to think of it he is best described as a mixture of Charlie Brown and Goofy. The donut on his stomach suggests Homer but that would be too imaginative. Fact is the mural is huge, funny, detailed and perfectly executed.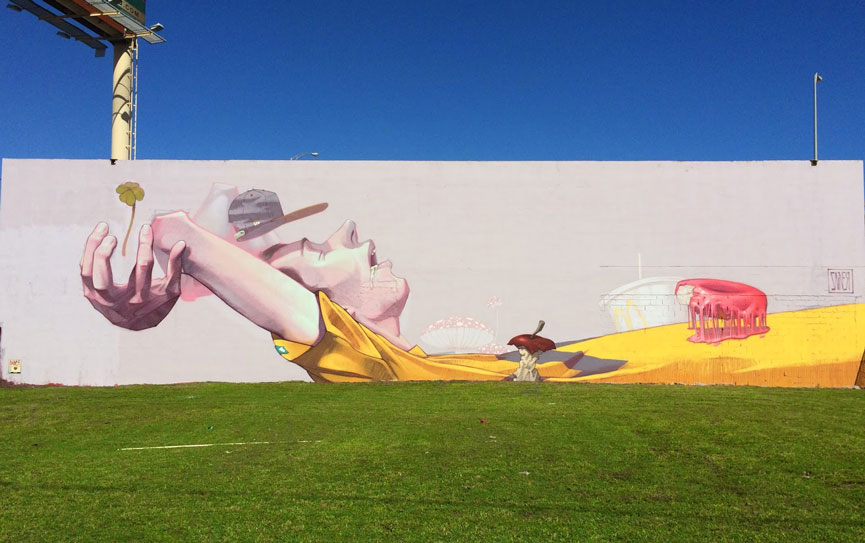 BEZT
Next up is Sainer's only crew member: BEZT, the other half of the Etam Cru. Both where transported to Miami by Vienna's INOPERAbLE Gallery. We showed you what Sainer did know check out what BEZT did. Same, same but different. Same, when it comes to the perfection in execution. Same also, that they are both striking on the wall. Different, because the imagery is surrealist, romantic and darker. The picture at night enhances its lost-in-the-woods feel. Amazing work by BEZT.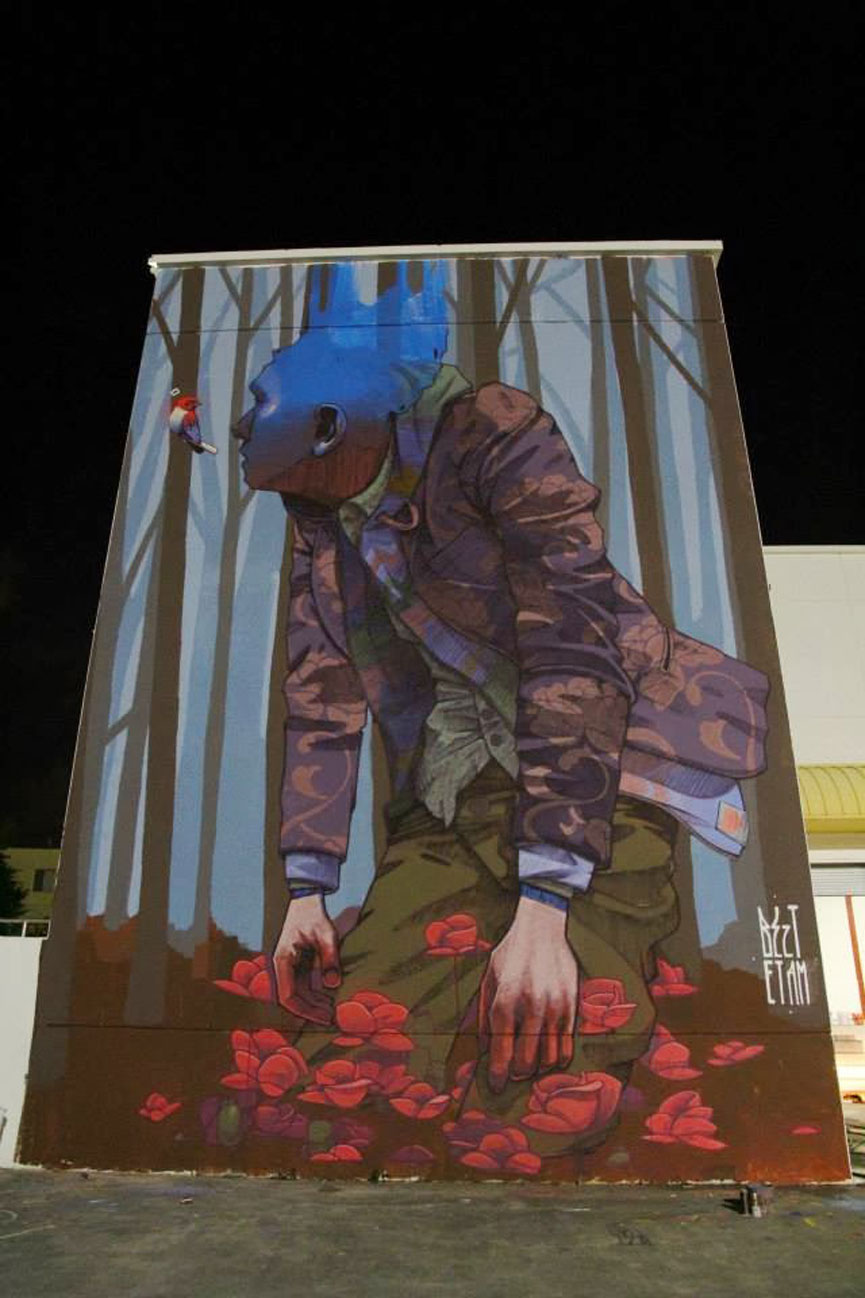 Fin DAC
The man also creates amazing pieces without Angelina Christina. Since, we've only seen artwork from the two together, we are surprised by his solo work down at Wynwood. A Japanese Geisha in a kimono that is finished of with organic details. Across the Geisha's face there is the signature red bar of Fin DAC.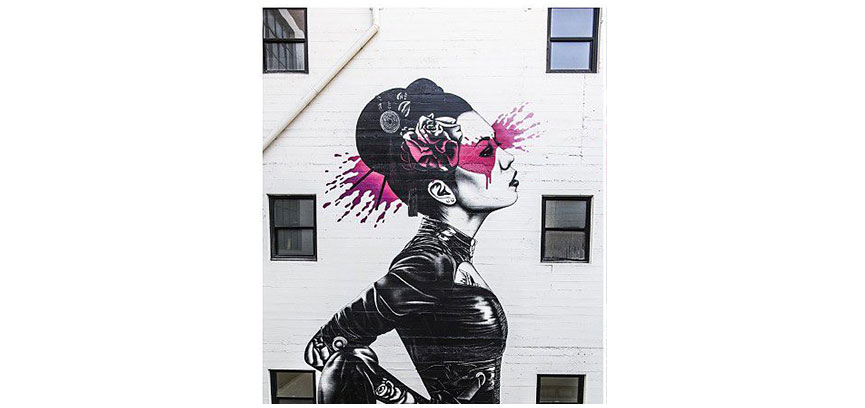 Borondo
The Spanish artist is not in Miami at the moment, he is in Brazil. Invited by Festival Concreto he and his likes are creating murals and street art pieces in Fortaleza at the moment. Borondo's mural is painted impressionistic style (you know?! Claude Monet). It depicts a half naked man smearing black paint on his face. Borondo created a slight three dimensional through shading. The man looks like he is stepping out of the painting on the wall.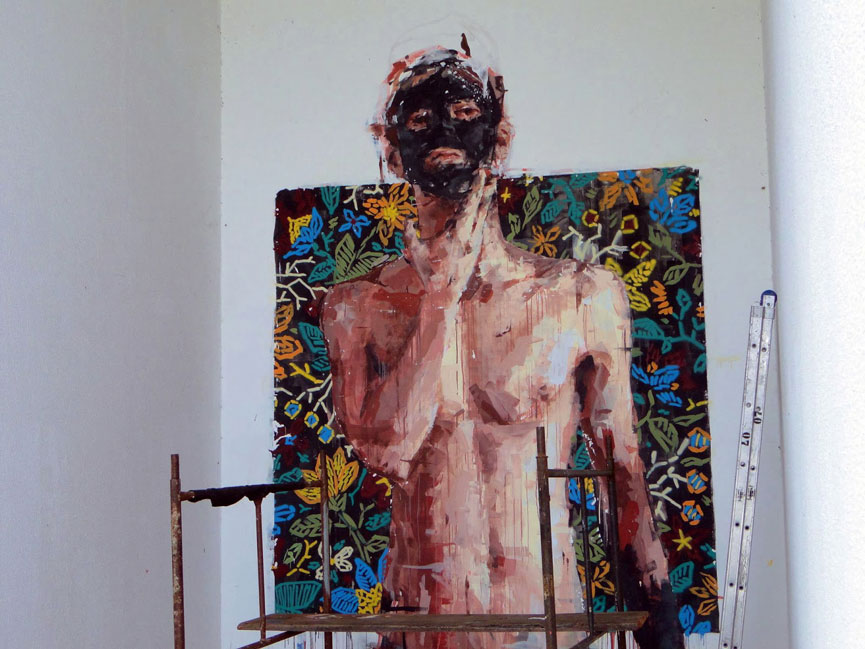 D*Face
UK's D*Face has been at Wynwood already and left his mark or two. That's why this year he traveled to the other end of the earth to mock Japan's famous manga export: Hello Kitty. She fucking deserves, that annoying cat. He merges the Japanese icon with the better looking half of Arnold Schwarzenegger in Terminator (when half his body is only machine). This D*Face piece is a little smaller than the one he did with Shepard Fairey a couple weeks back but equally humorous and just plain cool.