Welcome back to our weekly Street Update. Again we highlight the past weeks most significant street art. This week's selection comprises newcomers and underdogs, but make no mistakes their artwork is stunning. The murals are spread all over the globe, from Sao Paolo, Brazil to Johor Bahru, Malaysia. Some are abstract, some are minimalist, some are critical and all are strikingly beautiful street art. Enjoy
Ernest Zacharevic
The twenty-seven year old Lithuanian street artist Ernest Zacharevic began his Asia trip several months back. Zacharevic started in Malaysia, went to China and Singapore and is now back where it all began. The street artists newest piece shows two Lego man sitting on a bicycle. The bicycle is real the Lego figurines are painted by Zacharevic. This is a typical piece for the street artist, who regularly integrates his actual urban environment into his murals. Also part of the mural is the writing in the background that reads "Sincerity". Any City However Small, Is In Fact Divided By 2.One The City Of The Poor And The City Of The Rich. These Are At War With One Another".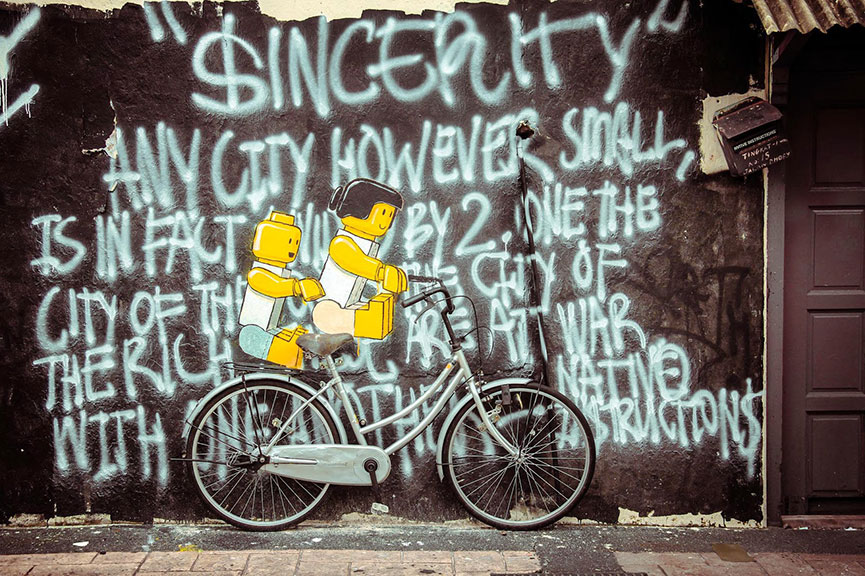 VinZ
The Spanish street artist VinZ is back on the streets of his hometown Valencia to create another of his signature hybrid murals. This mural integrates Christian iconography in form of the white dove and combines it with the nude bird-woman hybrid we are accustomed to seeing in VinZ' work.
Smug
Smug is a Scottish street artist best known for his photo-realistic murals. His latest piece in Melbourne is proof of that reputation. Smug created the mural free hand and only with aerosol spray paint. The outcome is an unbelievably realistic portrait of a man in combination with a teddy bar and a pirate cat. We're not quite sure about the constellation, but it doesn't really matter if the mural is completed to such perfection who gives a fuck about the meaning.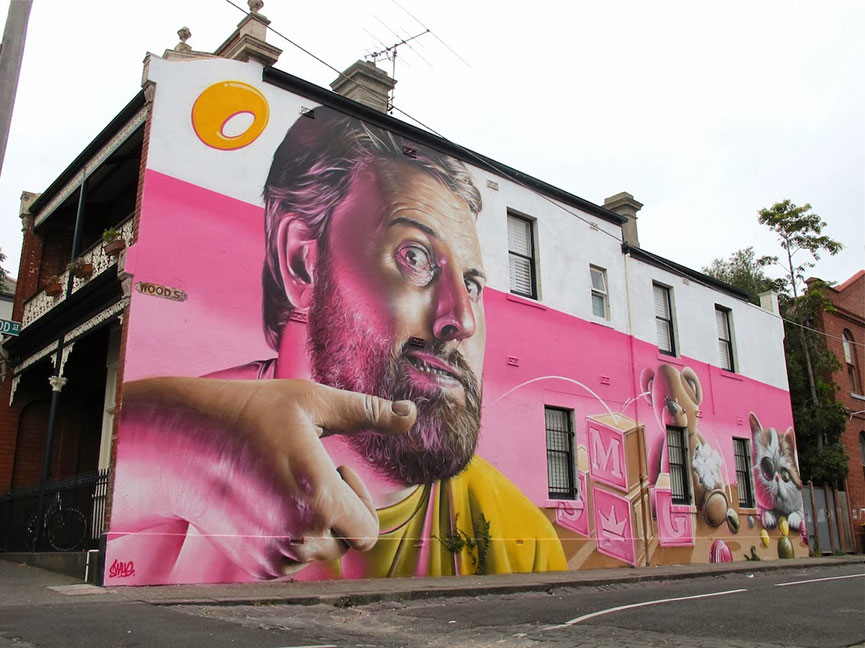 Ino
Our last piece of this weeks selection comes from the Greek street artist Ino. Ino remained in Miami after the Art Basel mania ended at created this huge mural in the Wynwood district. Ino's impeccable technique and the gigantic scale of the mural make this one of the most interesting recent murals in Wynwood. Guys this mural is really gigantic. Look at the bottom of the picture, that not weed under the nose, it's a woman, just so you can comprehend how massive Ino street art is.