The late 1970s were still riding on the impulses of the student protest from 1968 and the struggles to achieve and maintain much-required freedom in a world saturated with patriarchy, homophobia, and racism. During that time, New York was the hotspot for artists despite the fact the city suffered economically and was marked by social unrest and street violence. Low rents and a sense of freedom welcomed experimentation and self-expression, so an array of different communities and lifestyles emerged in New York at the time such as hip-hop, punk, and disco.
The clubs became the meeting points for artists, celebrities, social misfits, and were tolerant for all those feeling marginalized especially the queer, Black and Latino community. The venue that played the most important role in the city after its opening in 1977 was no other than the iconic Studio 54.
After more than four decades from its opening and dubious existence, the infamous club comes to life in a specially crafted and the first of its kind exhibition titled Studio 54: Night Magic at The Brooklyn Museum, devoted to all the layers of Studio 54 aesthetic which gave birth to a myth.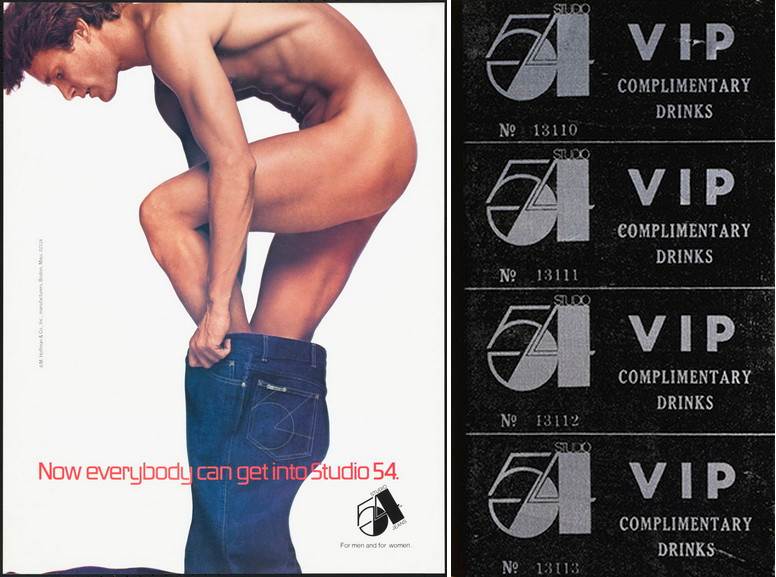 The Studio 54 – The Club To Be
Studio 54 was founded by Brooklyn-born entrepreneurs Ian Schrager and Steve Rubell who were dazzled with the vision of opening a disco club in the center of New York City.
Shortly after the opening, the club gained fame for its innovative décor and impeccable sound system and lights which set entirely standards of the club culture and made it a one of a kind experience. It attracted a versatile audience primarily consisting of fashion designers, musicians, artists and celebrities who were under the waking eye of photographers. Andy Warhol, Bianca Jagger, Mick Jagger, Elizabeth Taylor, Michael Jackson, Farrah Fawcett, Liza Minnelli, Cher, Pat Cleveland, and Truman Capote were regulars, and disco divas such as Grace Jones, Diana Ross, and Donna Summer performed. The club was also packed with fashion designers such as Kenny Bonavitacola, Diane von Furstenberg, Issey Miyake, Stephen Burrows, Halston, Norma Kamali, KENZO, Calvin Klein, Larry LeGaspi, Claude Montana, Robert Lee Morris, Zandra Rhodes, Yves Saint Laurent, Fernando Sanchez, and Giorgio di Sant'Angelo.
Although Studio 54 was open for three years (from April 26, 1977, to February 2, 1980), it gained such a reputation and is considered the best-known club of the 20th century. It was located in a former opera house in Midtown Manhattan, with the huge stage re-envisioned as a dance floor. Quickly after the opening, it became a decadent hub with an electrifying atmosphere where sex, drugs, and alcohol made everybody feel like a part of the stardom united with the sounds of a frenzy disco music.
It can be said that Studio 54 was a cultural phenomenon especially because of its aesthetic and social policy, so it is no wonder it made a lasting impact on the development of party culture, music, cinema, design, and of course, fashion. Yokobosky stated:
Studio 54 has come to represent the visual height of disco-era America: glamorous people in glamorous fashions, surrounded by gleaming lights and glitter, dancing 'The Hustle' in an opera house. At a time of economic crisis, Studio 54 helped New York City to rebrand its image and set the new gold standard for a dynamic night out. Today the nightclub continues to be a model for social revolution, gender fluidity, and sexual freedom.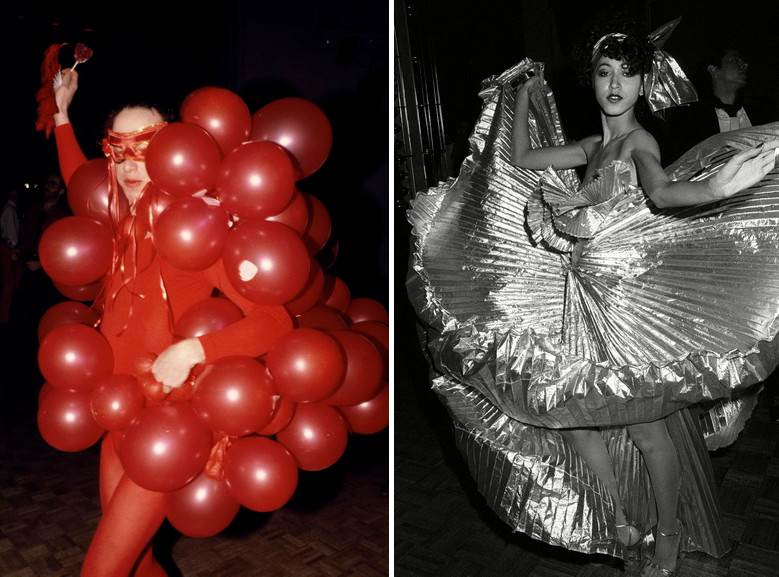 The Artifacts
A total of nearly six hundred and fifty objects spanning from drawings, paintings, fashion design, over film, and music to décor and archives will find their place in the exhibition design inspired by Studio 54's original lighting, and set design; this vast installment will include as well audio elements featuring the popular music and movies of the era such as Le Freak, a late disco classic written after the band Chic was rejected entry to the nightclub's New Year's Eve party in 1977, and I Will Survive by Gloria Gaynor which became the ultimate queer hymn thanks to Studio 54's DJ Richie Kaczor.
The exhibition is chronologically organized, starting with a brief history of New York's popular nightclubs from the 1920s to the 1960s (the Cotton Club, the Tropicana, El Morocco, and the Peppermint Lounge), that became melting pots of diverse communities. On display will also be a brief selection of photographs and videos of New York City in the 1970s which, as it was mentioned before in the text, an exciting meeting point of various practices and lifestyles, with particular take on disco music.
The following part of the exhibition thoroughly explores the creation and development of Studio 54, including sketches, original blueprints, and models which show the renovation process of the former Gallo Opera House and CBS soundstage on West 54th Street that became Studio 54. Here the photographs of Antonio Lopez and Richard Bernstein will be on display, together with the documentation featuring Aerographics (Richie Williamson and Dean Janoff), who designed Moon and Spoon sculptural decoration that hung inside the club, set designer Tony Walton, Jules Fisher and Paul Marantz (Tony Award-winning lighting designers); Ron Ferri; and architect Scott Bromley. Also featured are artists Richard Gallo and Victor Hugo who dealt with fashion worlds and the performance.
The Studio 54 Experience will show the nightclub's most extravagant and legendary theme parties, such as the grand opening conducted by Alvin Ailey American Dance Theater; first anniversary party visually conceived by Issey Miyake; then Grace Jones's unforgettable 3 am performance released for 1978 New Year's Eve party; the; and events celebrating the release of the films Grease (1978) and Thank God It's Friday (1978), which spawned Donna Summer's hit song Last Dance. On display will be a huge collection of photographs chronicling the nightclub's history including memorable works by photographers Rose Hartman, Ron Galella, Richard Manning, Roxanne Lowit Miestorm, Anton Perich, Meryl Meisler, Dustin Pittman, and other photographers that were not that frequent such as Larry Fink, Bob Colacello, Christopher Makos, George DuBose, and Guy Marineau.
More than fifty costume sketches by Antonio Lopez made for the Alvin Ailey American Dance Theater 's opening night performance that were not seen in the public view since 1977; unrealized set proposals by Tony Walton, Mark Ravitz, and Richie Williamson; rarely seen items and ephemera from Studio 54 staff members will be on display.
The club became so famous that the business run by the owners, Ian Schrager, and Steve Rubell, became investigated resulting in brief prison sentences for both and the closing of Studio 54 in February 1980. The final chapter of the exhibition explores Schrager and Rubell's years after their release, when, they ran the highly popular New York nightclub Palladium and later launched the concept of "boutique" hotels.
However, in the 1980s, Rubell found out that he had AIDS, and passed away in 1989. The exhibition also includes an homage to all of those associated with the club who died from AIDS and other causes.
Finally, Studio 54: Night Magic concludes with examples of nightclub design and fashion campaigns (by Rick Owens, KENZO, Michael Kors, and CARR) that were made under the direct influence of Studio 54.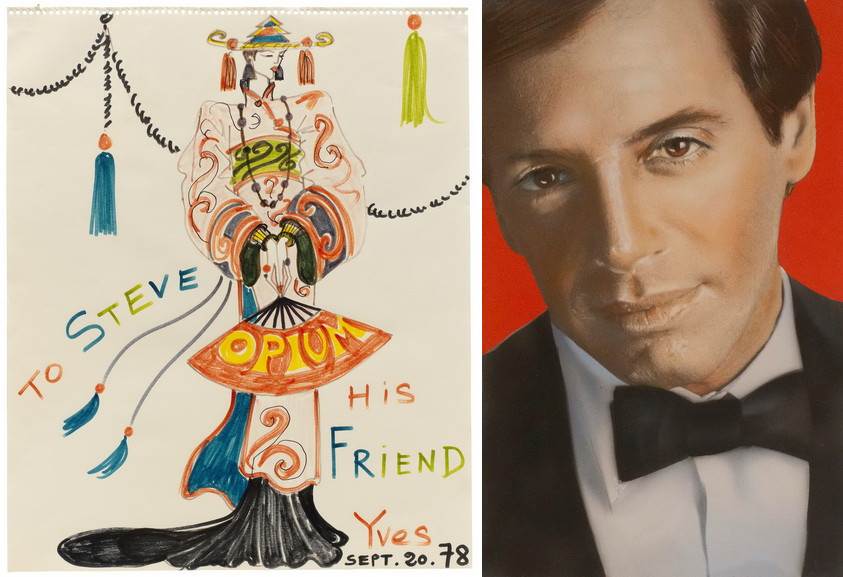 Studio 54 at The Brooklyn Museum
Studio 54 became a grand social phenomenon and was thoroughly explored by various scholars since it nurtured a spirit of balance and equality under the glittering lights where pure enjoyment was the main task of each person present at the club.
Senior Curator of Fashion and Material Culture at the Brooklyn Museum, Matthew Yokobosky, who organizes the exhibition is interested in exploring the symbolical significance of the club by underlining the role it played for the expressive and sexual freedom of the masses.
This exhibition will therefore historically show how the intersection of popular culture and art can raise the spirit of collectiveness through dance culture where race, sexuality, and religion became irrelevant.
Studio 54: Night Magic will be on view at the Brooklyn Museum in New York from 13 March until 8 November 2020.
Featured image: Anton Perich - Karen Bjornson at Studio 54, 1978. Gelatin silver photograph, 20 x 24 in. (50.8 x 61 cm). Courtesy of the artist. © Anton Perich; Dustin Pittman - Stroke of Midnight at Studio, 1978–79. Photograph, 15 x 20 in. (38.1 x 50.8 cm). Courtesy of the artist. © Dustin Pittman. All images courtesy The Brooklyn Museum.