Kreëmart is an assortment of creative collaborators who made a practice out of separating contemporary artists from their typical creative processes and introducing them to the medium of sugar. Set loose within what is probably the sweetest manner of art making, artists are partnered with pastry chefs that allow them to produce their own conceptions and unleash their sugar potential. Presented worldwide, these Kreëmart projects are treated as public art happenings, in order to allow the audience to spontaneously interact with the artists and their creations in an instinctual and immersive fashion. The main difference between more conventional public art happenings and what Kreëmart has going on is that these sugar events insist on the ingestible aspect of the piece - after the event reaches its conclusion, the public can decide whether the experience or the work itself has more value, basically choosing whether to eat or not to eat it.
At the core of Kreëmart is an idea that we should think about controversial art topics and openly discuss them in a fluent dialogue in a way that sugarcoats it just enough to make the experience sweeter. rel="noopener">Raphael Castoriano, the organization's founder, explains it with the following statement:
"Kreëmart is the capricious catalyst of artistic production in a new vein. We are situationists. The artist is the central protagonist in the experience of the senses."
With that being said, we can now venture forth with our list of the ten most interesting Kreëmart projects in no particular order.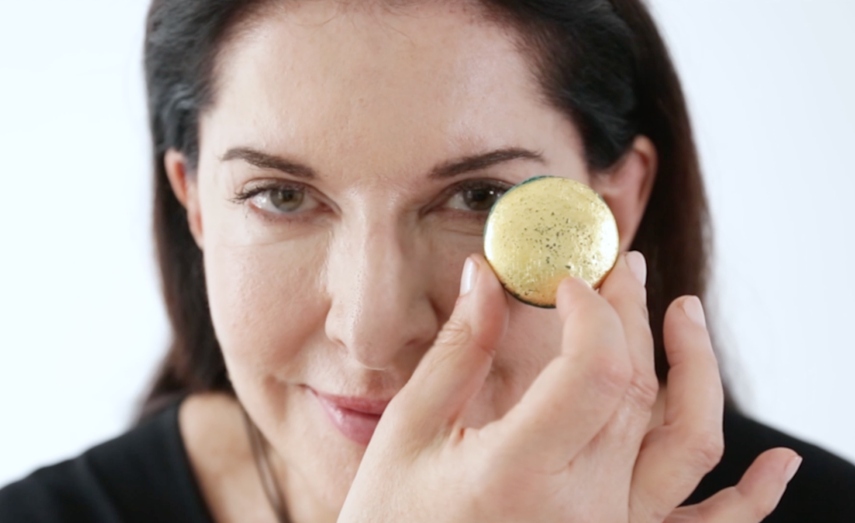 Marina Abramović - Pastry Portrait
More than just the flavor of what's inside your mouth, taste can refer to the accumulation of choices you make in every aspect of your life, decisions that eventually determine your individuality and set the cogs of your personality. This is what Marina Abramović's Pastry Portrait is all about - three macarons were made for this event, representing pivotal moments in Abramović's life and career. These were nestled inside a pyramid-shaped box, a mold whose origin lies in freemasonry, a symbol of energy and power. So much more than just macarons, Abramović's sweets represent a conceptual artwork, emphasizing the performative experience of tasting the artist. Marina Abramović was the first subject to test the concept of the Pastry Portrait Collection because of her affinity for the intangible and the immaterial.
Alexandre Arrechea "More Beautiful Than Silence"
Alexandre Arrechea - More Beautiful Than Silence
At an event held at CIFO Miami Art Basel 2015, Kreëmart and Alexandre Arrechea presented a series of written sentences that needed to be unleashed from their boundaries. They had the goal of provoking a sense of nostalgia as the statements were taken from everyday life. Phrases used in More Beautiful Than Silence were placed in wall-mounted boxes of sugar. The statements that were within these small blue crates were released with hammer blows and, although they are just texts on paper, these phrases echoed through the audiences' minds almost as if they were sounds. The exploration of More Beautiful Than Silence was an abstraction of taste through sound.
Kreeamart Presents Ghada Amer & Reza Farkhondeh "An Indigestible Dessert"
Vik Muniz, Ghada Amer and Teresita Fernandez - American Patrons of the Tate
For the second annual dinner of the American Patrons of Tate Modern held in New York at Sant Ambroeus, Kreëmart decided to turn the dessert course into a performance show by artists Teresita Fernandez, Ghada Amer and Vik Muniz. Less interested in making a galvanizing statement than in coming up with something with conceptual integrity, Teresita Fernández based her design on a house that the architect Gregory Ain built for a single woman in Los Angeles in the 1930s. On the other hand, Ghada Amer and Reza Farkhondeh collaborated in creating a cake that takes shots at President Bush and Tony Blair. The cake representations of these two men were obliterated with a hammer. Vik Muniz created a traditional strawberry shortcake for this event, calling it More or Less a Strawberry Shortcake.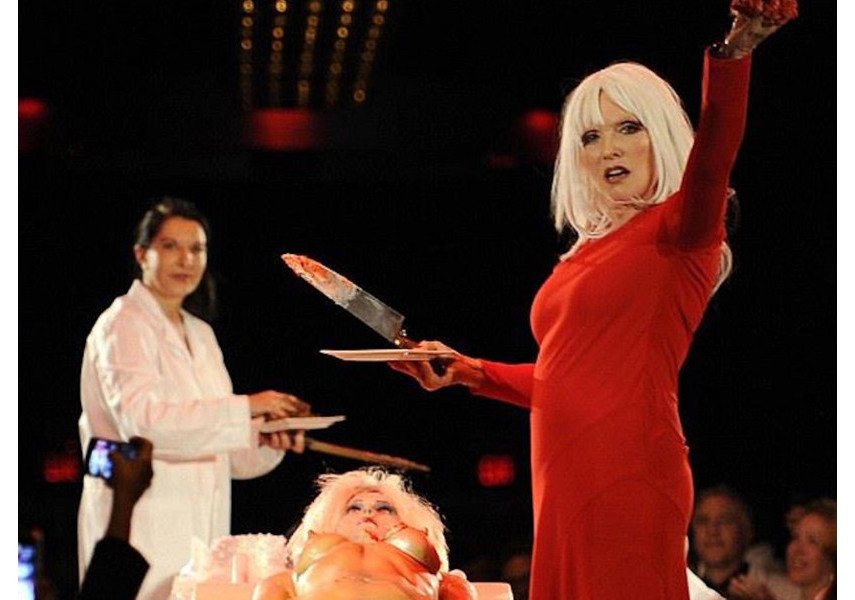 Marina Abramović and Debbie Harry - MoCA Annual Gala
A singer/songwriter, actress, fashion muse and the front woman for Blondie, Debbie Harry is a true icon of popular culture. For MoCA Annual Gala, she collaborated with Marina Abramović for the first time, hoping that by meshing with the celebrated performance artist she could get some extraordinary results. And she was not wrong. The two artists created cake representations of themselves lying naked on the tables. After presenting them to the audience, the participants of the event started taking apart the cakes as they were accompanied by uncomfortable sounds of screaming.
Kreëmart presents Romina de Novellis INFERNO
Romina de Novellis - Inferno
Held at the Navy Officer's Club in Venice, Romina de Novellis's Inferno was a happening for which the artist sat within an improvised altar, wearing a white dress filled with pieces of watermelons. Standing right behind her, an entire orchestra played music from Italian operas. During the course of three hours, the artist was slowly and methodically eating the watermelons in her lap, a repeated gesture that was simultaneously elegant, erotic and disturbing. In a way, Inferno embodies symbols of Italian culture and art history, but the performance is also the manifestation of the artist's need to confront the present social and economic issues that plague the Mediterranean.
Kreëmart presents: Baron Von Fancy's "You're My Drug Of Choice"
Baron Von Fancy - You're My Drug Of Choice
You're My Drug of Choice was a unique installation and interactive experience Baron Von Fancy conceptualized as a sticky sweet manifestation of his alter ego, Gordon Stevenson. In order to illicit themes of addiction, indoctrination and consumption, Kreëmart and Baron Von Fancy created a fountain of Kool-aid, a double-cup Styrofoam edition and a selection of wall panels. Throughout the evening in which the event was taking place, people filled their cups from the fountain, spiked them with tasty vodka and received temporary tattoos.
Kreemart at ArtRio 2012 - Kenny Scharf and Stephan Doitschinoff
Kenny Scharf and Stephan Doitschinoff - Jello Bacchanalia and CRAS
It is often said that artistic happenings are hard to describe with words and this definitely applies to both Kenny Scharf's Jello Bacchanalia and Stephan Doitschinoff's CRAS. This is especially true for Scharf's creation as the strong sacral note makes the entire event surprisingly challenging to watch. Stephan Doitschinoff's CRAS, on the other hand, seems to exist on a conceptual note between play and orgy. Both events were performed at ArtRio.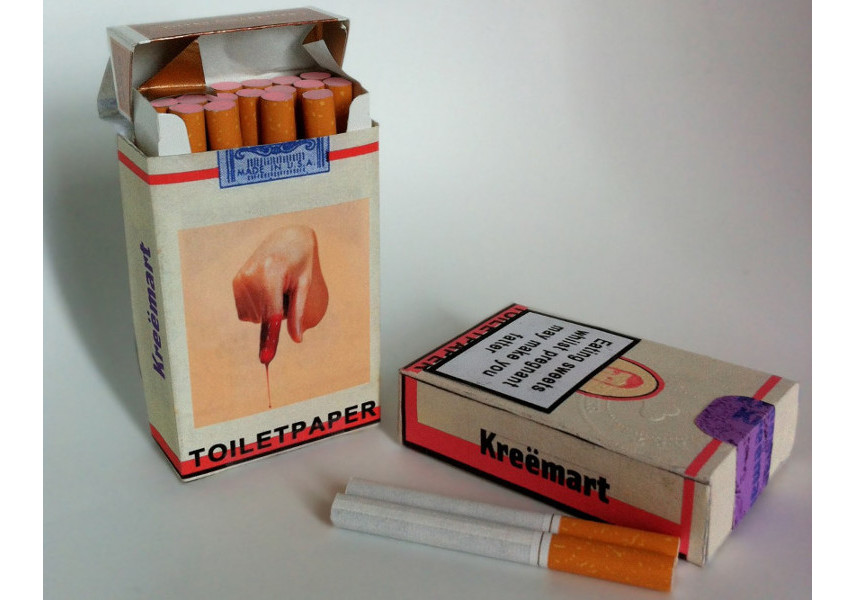 Maurizio Cattelan - Bubble Gum Cigarettes
At the launch of the Toilet Paper Book published by Freedman/Damiani, Kreëmart presented Maurizio Cattelan and his own sugary experiment. The audiences were served marzipan cigarettes created in great detail. Cattelan provoked and questioned femininity by reintroducing the concept of the cigarette as a fashionable accessory. Although the public was weary of eating the shocking cigarette cake, they eventually had at it. Special editions of candy Toilet Paper cigarette packages were also distributed.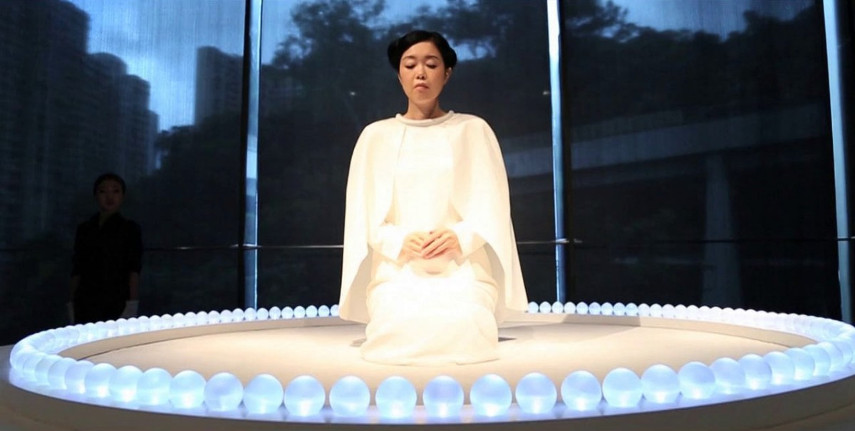 Mariko Mori - Pearl for Oneness
On the occasion of the Asia Society Art Gala honoring Lee Ufan, Nyoman Masriadi and Zeng Fanzhi, Kreëmart collaborated with Mariko Mori to create the evening's performative dessert. Mariko Mori's performance took place on the sculptural platform inside a ring of illuminated pearls made of sugar. Accompanying the visual aspect of the happening was the work of Ken Ikeda, Japanese musician and artist who has composed and recorded for David Lynch amongst others. For Pearl for Oneness, Ikeda improvised a composition that he saw fitting with the overall theme of the evening.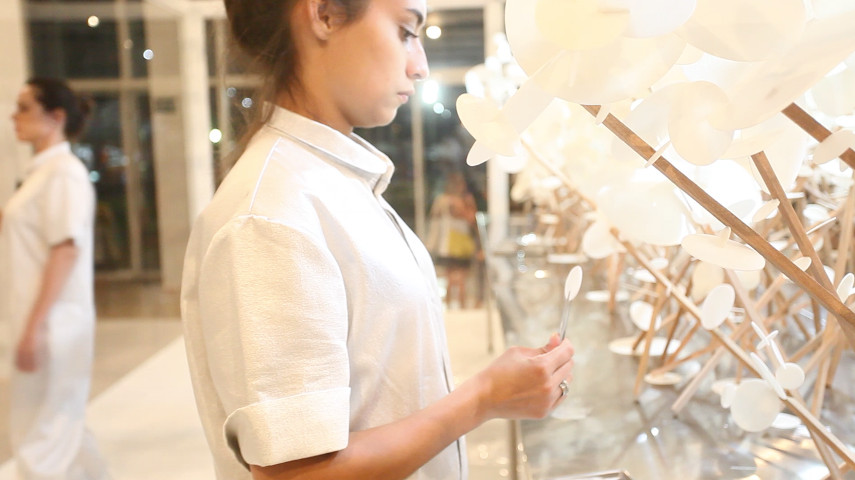 Rirkrit Tiravanija - Untitled 2015 (tomorrow is on our tongue, as today pass from our lips)
For this happening, Kreëmart and Rirkrit Tiravanija created different taste interpretations of locations on a wafer that can basically be used in the same way as holy bread. The glass house present in the performance is a metaphor for the people created by a political party, an intentionally vague element of the piece. Furthermore, the glass represents a barrier that separates the public and the art space, guarding the process of production and, later on, consumption. In order to give false autonomy to the public, the viewers lined up in four different divisions of the space with holes in the glass structure but they had no choice of which taste they received. This, of course, ties back to a political and social context of having a choice between candidates but not really having any real control, power or autonomy.
Featured images: Marina Abramovic - Pastry Portrait; Romina de Novellis - Inferno; Alexandre Arrechea - More Beautiful Than Silence; Baron Von Fancy - You're My Drug Of Choice. All images via kreemart.com.