Imagine entering an exhibition room filled with many, seemingly unrelated, artworks. But after the first glance, when the eyes adjust and the mind opens up to new perceptions, a common thread appears between the works. And although each of the pieces might awaken different emotions or evoke diverse memories, it's precisely this quality of strong suggestion that connects the pieces. Such are the exhibitions of Suggestivism, a new movement propagated by Nathan Spoor, an artist and a curator.
After five editions of Suggestivist exhibitions shown in New York, Italy and California, a new one is to open at San Francisco's Spoke Art Gallery, featuring over 40 international artists and just as many individual expressions.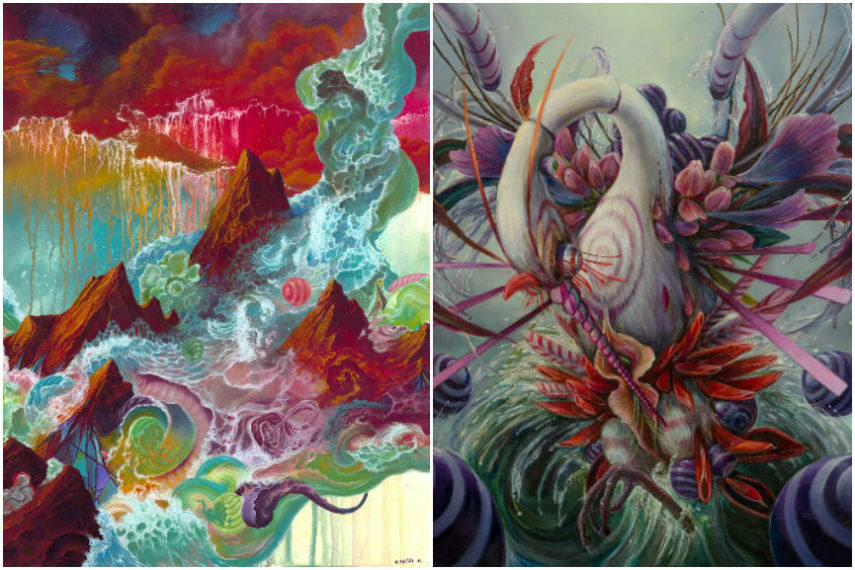 A Word on Suggestivism
Coexisting with many contemporary artistic phenomena, the concept of Suggestivism is rather new in the world of art. Described by the curator Nathan Spoor as "the artist's specific and unique vision, a psychological or even mystical manifestation brought into reality by an artist's personal aesthetic… including a variety of vivid, original and technically obsessive individuals", the eclectic nature of this evocative concept becomes clearer, but we cannot still help but wonder - what is Suggestivism, exactly?
It is a tendency of diverse, globally scattered, current creatives to express their innermost thoughts or ideas through a particular artistic practice, interconnected on a rather conceptual than any material level. As a style, Suggestivism is therefore difficult to define, but it is rather a clear ongoing tendency implying the evolution of a movement.
To dispute the complete lack of stylistic connection between the works of the concept, we can say that Suggestivism is generally a representational style. It is clearly linked to other styles of our time, such as Pop Surrealism or the Urban Contemporary Art, even thouh the public component is largely missing. The core ideas of the concept can be found in the thinking of one Carl Sadakichi Hartmann and his early Suggestivists, while along with the quoted inspirators James McNeill Whistler, Georges Seurat, Rococo and Renaissance masters or Edgar Alan Poe, we can detect many affiliations to Symbolism (Gustave Moreau in particular), Surrealism and even comic art, new lowbrow movements or even Pop Art in certain instances. Wide-ranging, visceral and liberal, Suggestivism is certainly the embodiment of postmodernism at its best.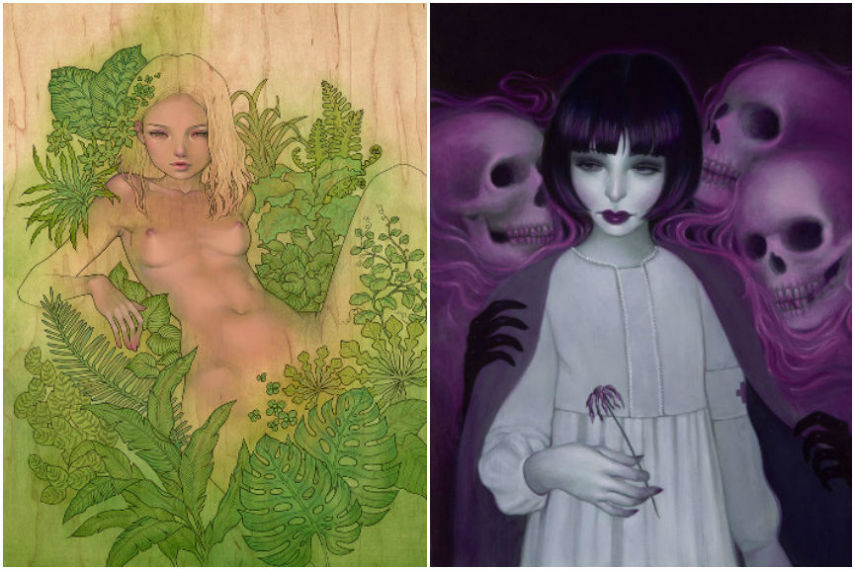 Nathan Spoor's Suggestivism Resonates at Spoke Art
The new edition of the Suggestivist group exhibitions (reminiscing of a tradition of the late 19th century group shows, just to notice) will open at Spoke Art in San Francisco. Vernissage is scheduled for September 1, while the show will stay on till September 24, 2016. The selected artistic names make a new, large group with some recurring names and some novel additions, expecting to raise brows and the voices of critique.
The individualistic visual authors showcasing their work in various media are Alex Pardee, Allison Sommers, Andy Kehoe, Anthony Hurd, Audrey Kawasaki, Boris Pelcer, Charlie Immer, Dan Christofferson, Dan May, Eric Richardson, Esao Andrews, Fulvio Di Piazza, Greg "CRAOLA" Simkins, Hannah Faith Yata, Heiko Muller, Jana Brike, Jen Lobo, Jeremy Nichols, Jet Martinez, Joe Hengst, Joe Vaux, Johnny Rodriguez, Jon Fox, Ken Garduno, Kiel Johnson, Kristen Reichert, Lauren YS, Marisa Aragón Ware, Meghan Howland, Meredith Marsone, Natalie Foss, Nathan Spoor, Nick Sheehy, Nicole Duennebier, Peca, Peter Ferguson, Sarah Joncas, Scott Musgrove, Scott Teplin, Skinner, So Youn Lee, Stan Manoukian, Syd Bee, Tran Nguyen, Troy Coulterman, Vasilis Avramidis, Wendy Ortiz, and Yevgeniya Mikhailik.
Suggestivism: Resonance is curated by Nathan Spoor, the herald of this young movement.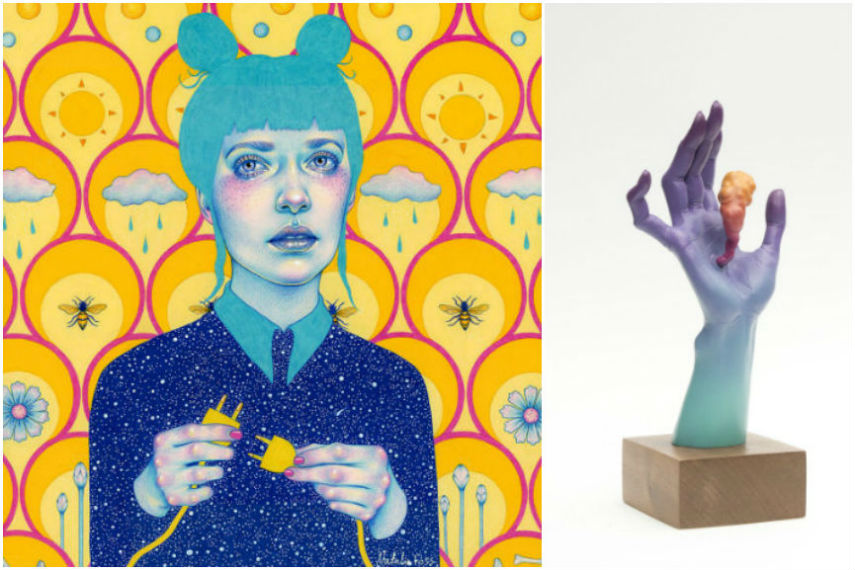 Editors' Tip: Suggestivism: A Comprehensive Survey of Contemporary Artists
The volume gives an initial overview of the young contemporary movement of Suggestivism, presenting the eclecticism and the concepts behind it. Written as a catalogue for a vivid exhibition presented by Cal State University and its Central Art. The term coined by Nathan Spoor is here given as a definition for the common idea a number of young creatives were demonstrating in their work. Every artist's individual intention in their own artworks, which would create a particular meaning or sensation, "amplified understanding, and sensitivity to outside visual stimuli" is presented as the definition of this term, which has been around since the beginning of the 20th century, first found in the writings of Sadakichi Hartmann. The catalog features over 50 artists, includes studio shots and interviews which follow two years of preparations for the exhibition.
Featured slider images: Jet Martinez; Left: Esao - Kelly / Right: Meredith Marsone; Left: Heiko Muller - Verlauster Jaeger / Right: Stan Manoukian - Midnight Meeting; Left: Simkins - The Tea Bringer / Right: Peca - Saturnalia; All images courtesy of Spoke Art, San Francisco