How low does a Saint have to drop to become a Sinner? How far does a Sinner need to reach to be considered a Saint? Most of us are neither or both, and such are the artists about to exhibit their most divine and most outrageous artwork at StolenSpace Gallery this July. An exhibition entitled Saints and Sinners opens on July 11, to run through August 3, 2014, featuring an impressive roster of urban artists, including the most intriguing stars of the genre, such as Word to Mother, Pixel Pancho, Cyrcle., Charlie Anderson, Broken Fingaz and many, many more.
Saints and Sinners will be the yearly Summer Group Show for StolenSpace, presenting a comprehensive and diverse body of work, including paintings, sculptures, mixed media pieces made by both emerging and acclaimed international contemporary artists.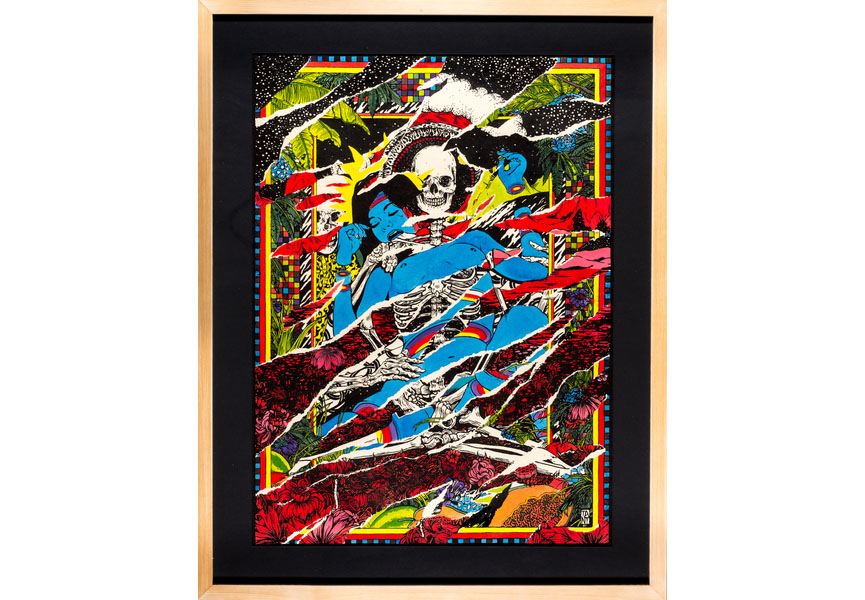 Artist List
The list of participating talent is long and in its entirety includes Alex Yanes, Alessia Iannetti, Andrew McAttee, Arth Daniels, Asha Zero, Beau Stanton, Ben Frost, , Ben Turnbull, Broken Fingaz, C215, Charlie Anderson, Cope 2, Curtis Kulig, Cyrcle, David Bray, Gaia, Hueman, Jim Houser, Joram Roukes, Kai & Sunny, Kevin Peterson, Meggs, Nylon, Paul Stephenson, Pixel Pancho, Ramon Maiden, Reka, Ryan Callanan, Shida, Slvstr, Snik, Sylvia Ji, Twoone, Von, and Word To Mother.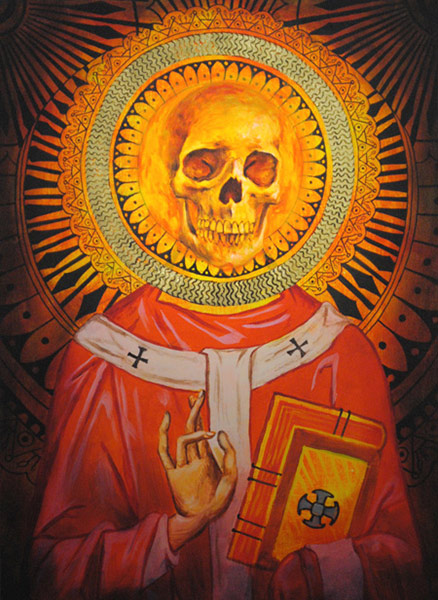 Vice VS Virtue
Tiered paintings executed on pieces of scrap wood have become signature work of Word To Mother, a London based artist. His intimistic approach in painting, coming from his experience as a tattoo artist, is in contrast with his graffiti background, as he merges the two through freely drawn, evocative imagery and stylized letter forms.
It appears as if the artist extracts nostalgic traces of the past onto the canvas surface, drawing his melancholic subjects along with lettering found on old signs. Every element is a chapter in itself, be it an image, wash of color, a letter or a pattern, while all are harmonized in subtly cool palette and elegant composition. It will be exciting to see what Word To Mother brought in as an interpretation of Vice or Virtue.
Turin is definitely establishing itself as one of the urban art centers in Europe, and one representative of the scene that will be presented at StolenSpace is Pixel Pancho. This Italian creative predominantly works as a muralist, one of the best in his niche. His subjects are human-robotic hybrids, emerged in various environments, from seascapes, to forests or Sci-Fi realities. Pixel Pancho's work is interesting from the point of media as well, since he uses tiles, paint and stickers in his work.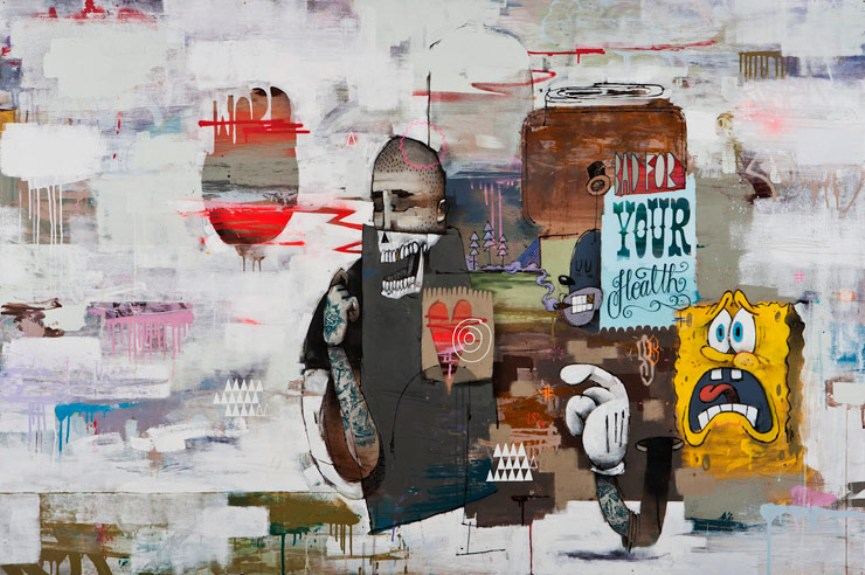 Saints who Sin
Charlie Anderson's work strikes one as collage, but it is actually painting. His fascination with advertising, tabloids and media consumerism is exhibited in his prolific oeuvre filled with references to magazines, flyers, commercials and even political campaigns. Stacking ephemeral imagery, he alludes to the transience of [media] life, while his creative process remains classical, and therefore everlasting, in opposition to the subjects he chooses to depict. StolenSpace will feature latest Anderson's work, an immortal reminder that there is always tomorrow.
Two interesting collectives will also be at the show, the Israeli Broken Fingaz Crew from Haifa with their huge sarcastic comics, and Cyrcle., a duo from LA, California, with their mix of classical and contemporary.
Having provided only several highlights for the upcoming StolenSpace show, we are certain the event will prove itself spectacular, given the lineup of such excellence is not often seen.