Summer is the perfect time for a series of group show where different styles, techniques and materials collide. This summer, Joseph Gross gallery has prepared possibly the most miscellaneous group show yet. The gallery will present artworks made by 21 multinational artists that will range from collages and knitting works to urban art inspired masterpieces. Alex Yanes, for instance will present some of his mix media artworks that embody innovative use of color on unusual materials. The exhibition will include street art influenced works by Rune Christensen, Charlie Grin and Red Temper Tot series of works by Ron English and many, many more.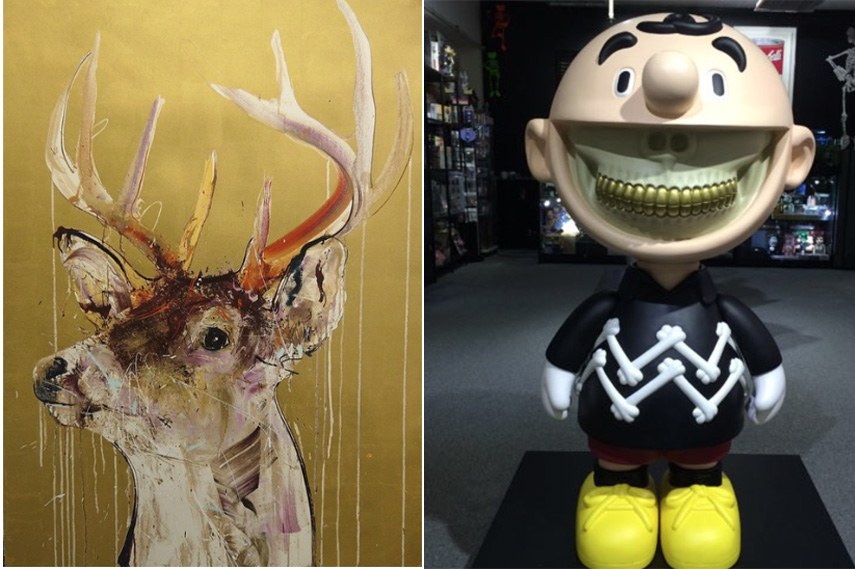 Pcyhodelic Collages and Money Art at Joseph Gross Gallery
Swedish Artist Sebastian Wahl is known for his hand made collages characterized by concentric compositions, colorful landscapes and unique titles. At Summer Group Show he will be presenting several New York inspired collages. These collages are made with found paper images that represent a constant in his work for over 20 years. The artist separates the pop culture and religious elements from the found images with the use of an x-acto knife. These elements are then recontextualized in a form of highly detailed psychedelic collages that awaken the viewers' imagination and project multiple shifting meanings. James Charles is an artist who found an alternative use for money. The artist masterfully employees ink to turn the faces of American presidents into famous artists, scientist, movie characters pop culture icons. He begun to draw on dollar bills for fun but has perfected his style significantly and now his ink manipulations almost completely match the original printing on the bills.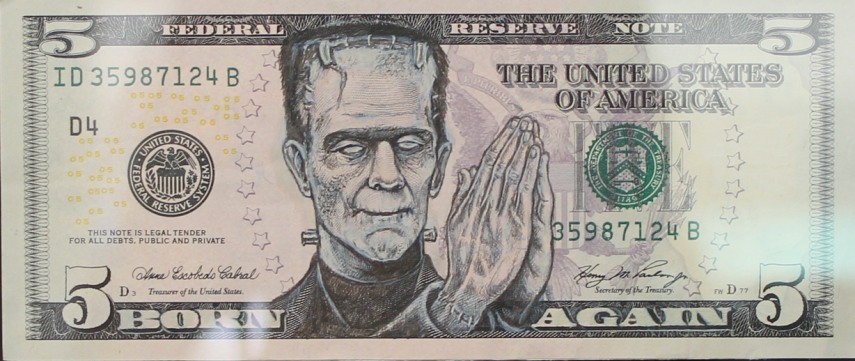 Flags and Quilts in New York
Ben Venom is a textile artist known for creating quilts from recycled materials. His traditional quilting technique is paired up with Vintage tattoos, motorcycle gangs and heavy metal imagery to create unlikely but remarkable artworks. In artworks that will be presented at the upcoming show the artists is playing with contradictions while displaying the glossy skull motives, playboy and other famous logos quilted on recycled materials. Another artist with the interest in quilts is Pam Glew. But rather than creating quilts she creates on them while using quilts as surface for her outstanding portraits. The artist paints various materials in black and then reverses the process by revealing the original colors with a skillful appliance of bleach to certain parts of colored fabric. The materials she uses are numerous and include apparels, old flags and quilts and the process is complex and time consuming. Every piece goes through over 10 rounds of dying, bleaching, washing, drying and pressing before it gets the intended form. At Joseph Gross Gallery's Summer Group Show Pam Glew will be presenting a series of portraits created on top of a vintage American flags.
New Mediums and Genres at Joseph Gross Gallery's Summer Group Show
Summer Group Show will open on Thursday, July 16th at Joseph Gross gallery in New York. Public reception will be held the opening day from 6 pm to 8 pm. In the upcoming summer show Joseph Gross gallery stays true to its mission of presenting contemporary artists that lay the groundwork for new mediums and genres. The visitors will have the opportunity to witness an effective conjunction of works created in different mediums and inspired by numerous sources. The exhibition at Joseph Gross gallery in New York will last till August 1st, 2015.
Whether you're devoted to traditional of innovative art techniques sign up for FREE cause My Widewalls covers them all.
Featured images: Sergio Garcia - Circle and John Felix Arnold III - Healing Galactus Reconciling Galactus
All images courtesy of Joseph Gross gallery