Berlin Fashion Week took place last week and we took the occasion as an excuse to visit Germany's capital. While there, we also paid SuperBlast a visit in his Berlin studio, took some pictures (above and below), sat him down on a chair and asked him some questions. SuperBlast is a pretty big deal in Germany, not only as a street artist but also as a graphic designer, working on collaborative projects with Ecko Unltd, Sony Playstation Portable, Nokia Nseries, Bread & Butter Berlin, WeSC, Veltins Beer, Converse, Mercedes Benz Mixed Tape, Uslu Airlines and others. One, especially noteworthy collaboration was the one with Playstation that resulted in one of the best murals you can find in Berlin. SuperBlast was also responsible for one of the best street art group exhibitions in Germany last year. The show 'Future/Memory', on display in Dresden last summer brought an impressive international artist roster to the Hellerau exhibition space. Enough said, we addressed these topics and many more in the interview, here you go:
Widewalls: Now your street artist and graphic designer, where do you see your origins?
SuperBlast: My roots lie in graffiti inspired by an interesting sub-culture-mix of skater-punk rock as well as hip-hop.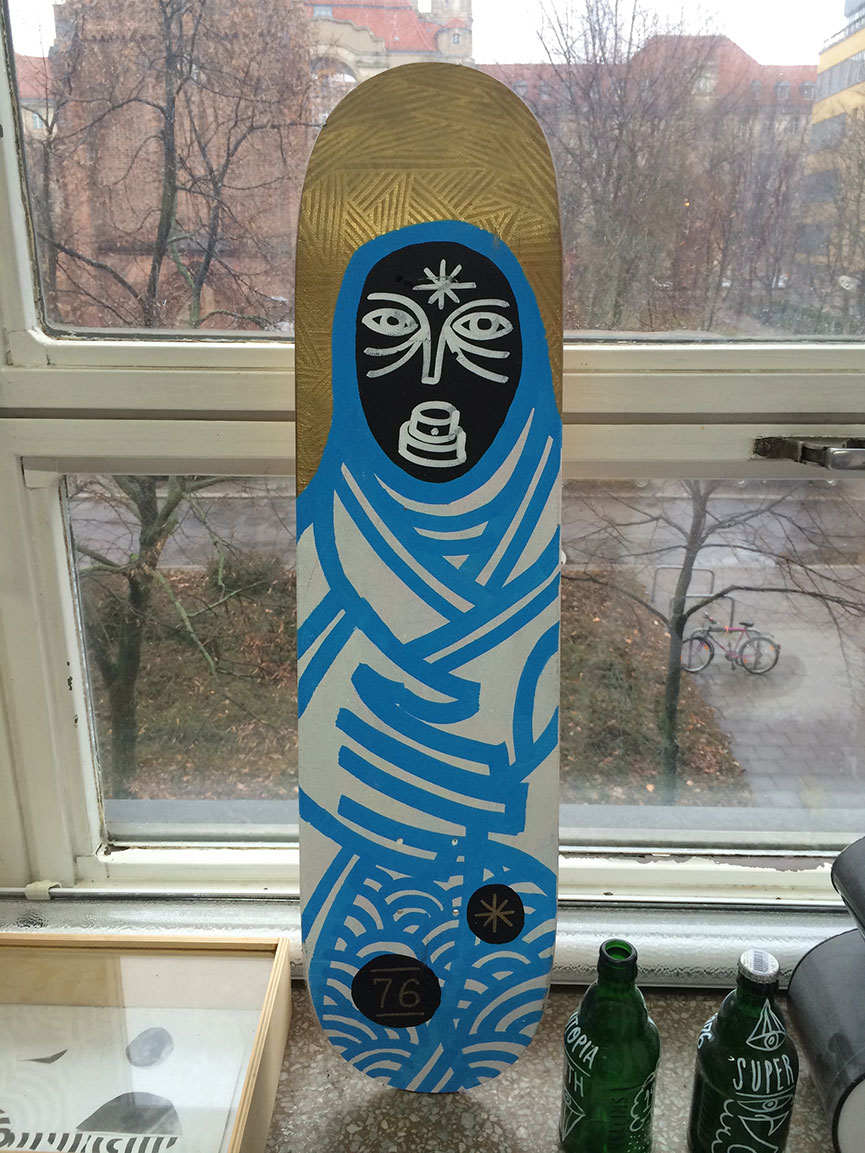 Widewalls: Who where your role models in this time?
S: Back then it was all about TPM crew. TPM crew was founded in 91 in Heidelberg, which was a Mecca for graffiti at that time. The founders of TPM were Peso, Scotty, Time and Kane. These guys were responsible for the first train tagging in Heidelberg, bringing the New York graffiti feel to our town. They we're really innovative. Especially Kane was a huge inspiration.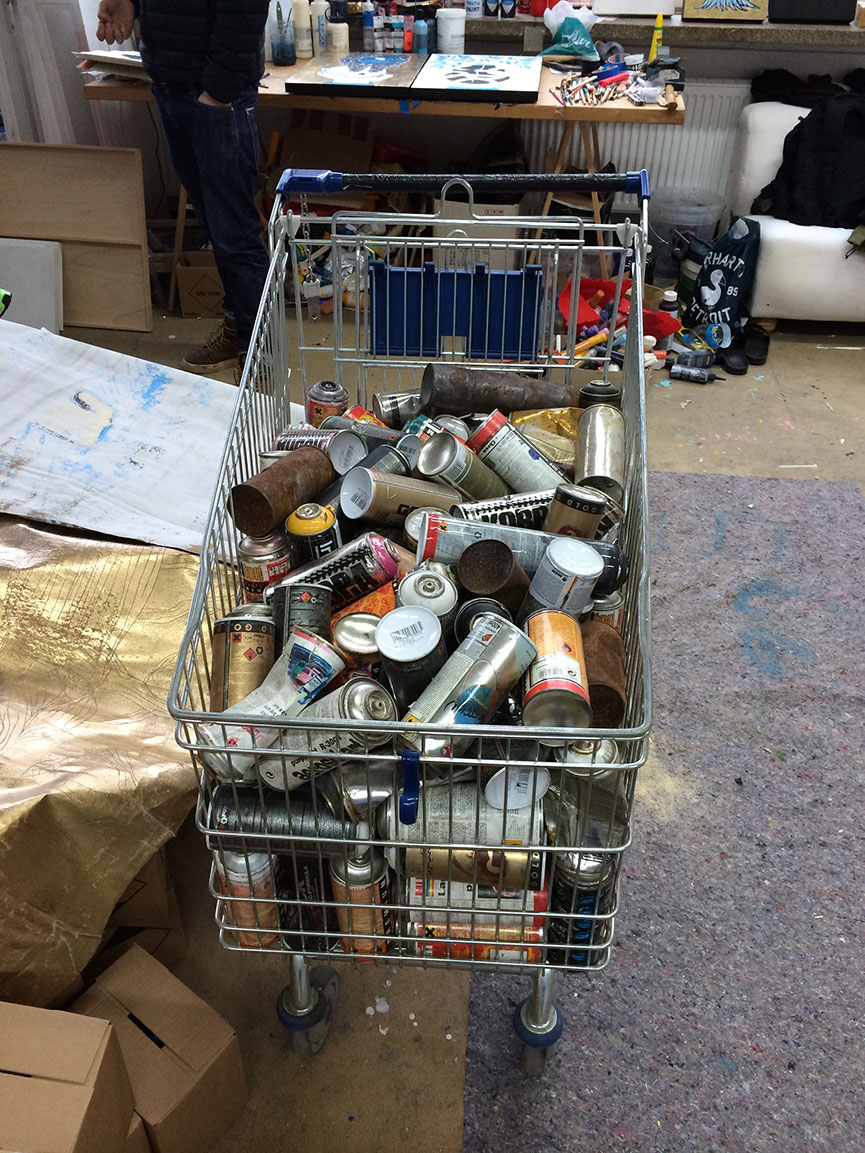 Widewalls: You mentioned New York graffiti culture. Did that have an influence on you?
S: It most definitely did, but not directly. Back then pictures, especially of graffiti weren't as readily available as it is today. You know?! We didn't have Internet in the nineties. You couldn't just look for the newest graffiti from your computer, you had to buy books and magazines or actually go the places. That's why I mentioned TPM, they brought graffiti to my doorstep and I made something of it.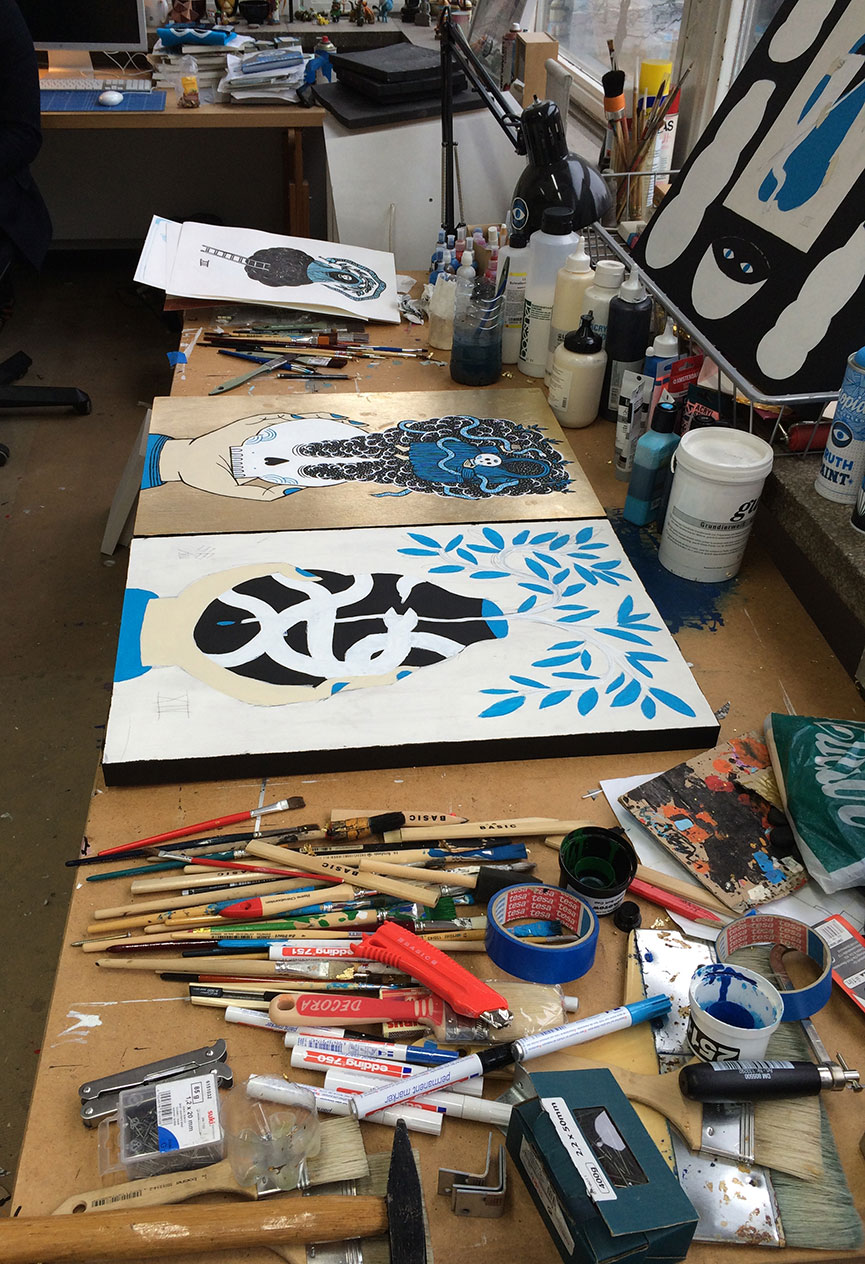 Widewalls: Although one can't say that your art has great resemblance to the graffiti from then.
S: No, it doesn't. My art has developed in a different direction. Nowadays orthodox-iconic imagery plays a great role in my work. Orthodox icons are my entry-portal into street art.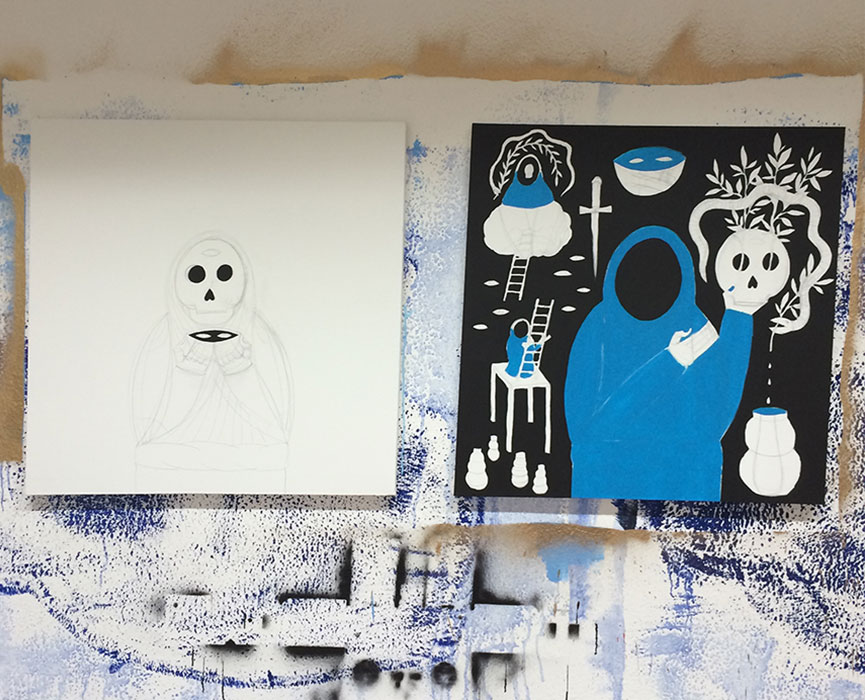 Widewalls: Does being and established street artist with a unique style mean that other artists no longer influence you?
S: I wouldn't call it influence but there are several artists that I connect and exchange with. In a sense you could call that influence.
Widewalls: Who?
S: Jay One, Cody Hudson, Skki, Mode 2 and Cleon Peterson
Widewalls: Many of these artists where part of the Future/Memory exhibition you curated last year.
S: Yeah, that's true. I curated work by Jay One, Cleon Peterson, Skki and Cody Hudson as well as my HuskMitNavn, Martha Cooper and my own work.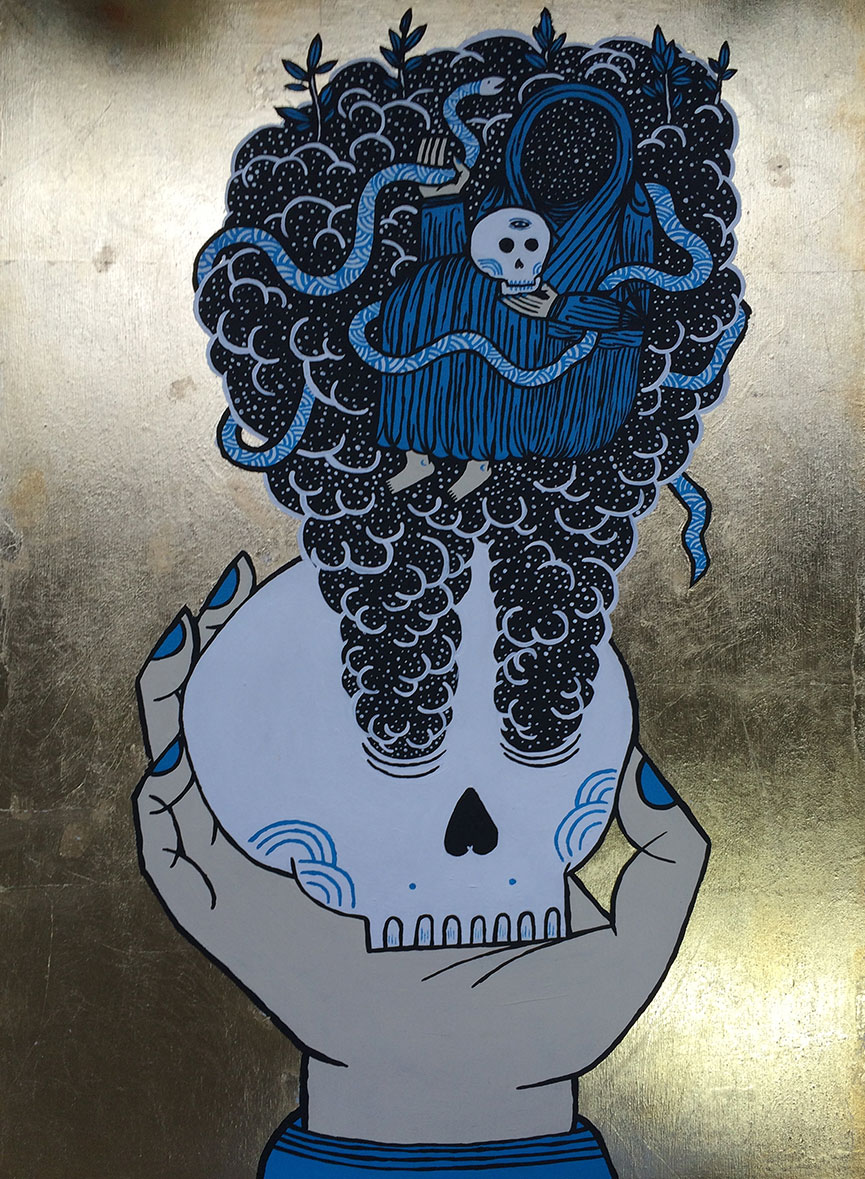 Widewalls: Are you planning to continue in the direction of curating?
S: Yes, I am. I'm looking at continuing 'Future/Memory' in other German cities and maybe even internationally. I don't have anything specific yet, but curating 'Future/Memory' was amazing and I really wanna continue on this path.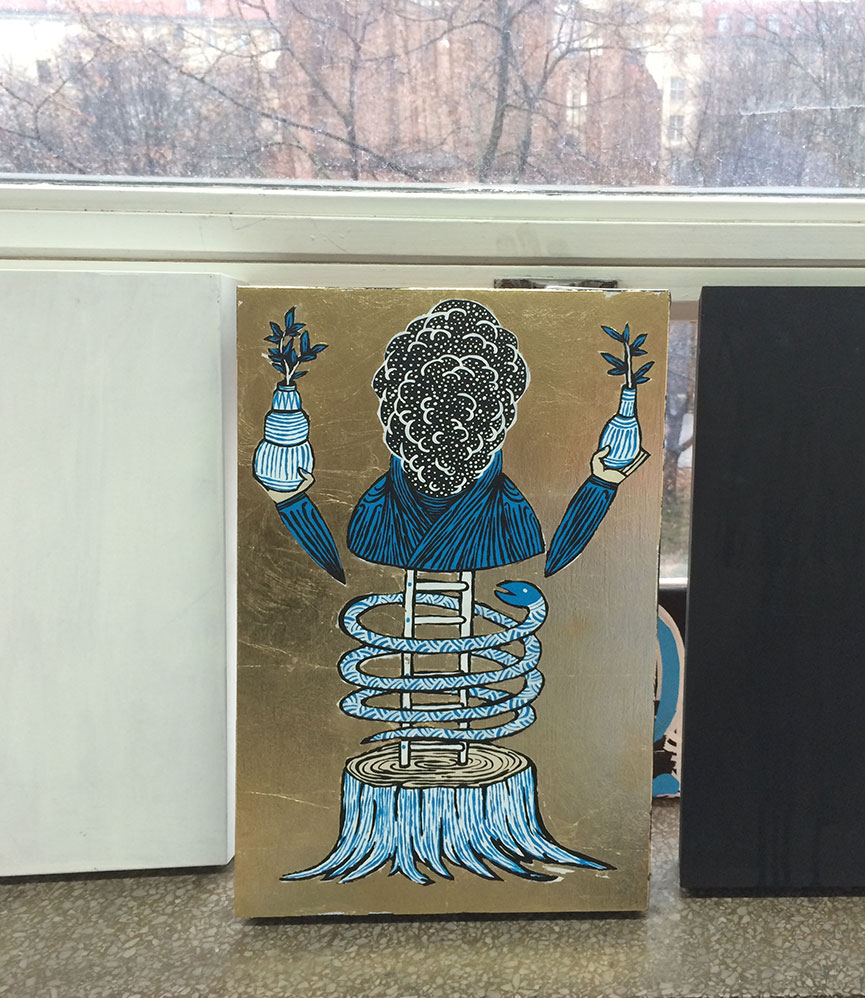 Widewalls: You create and curate art do you also collect?
S: Of course, I have works by Jay One, Delta, Cody, Matt Leines, Herbert Banglione, Cleon Peterson and many more. Very often I trade art with these guys, because the most important thing here is that connect with these guys. I know all of them and really appreciate their work.
Widewalls: I just have one more question and then I'll let you be. Why did you write 'Thanks to Playstation' in your amazing mural on Torstrasse?
S: Haha, well the answer is less mysterious than you probably think. Playstation commissioned the mural when the PSP came out and so I thanked them.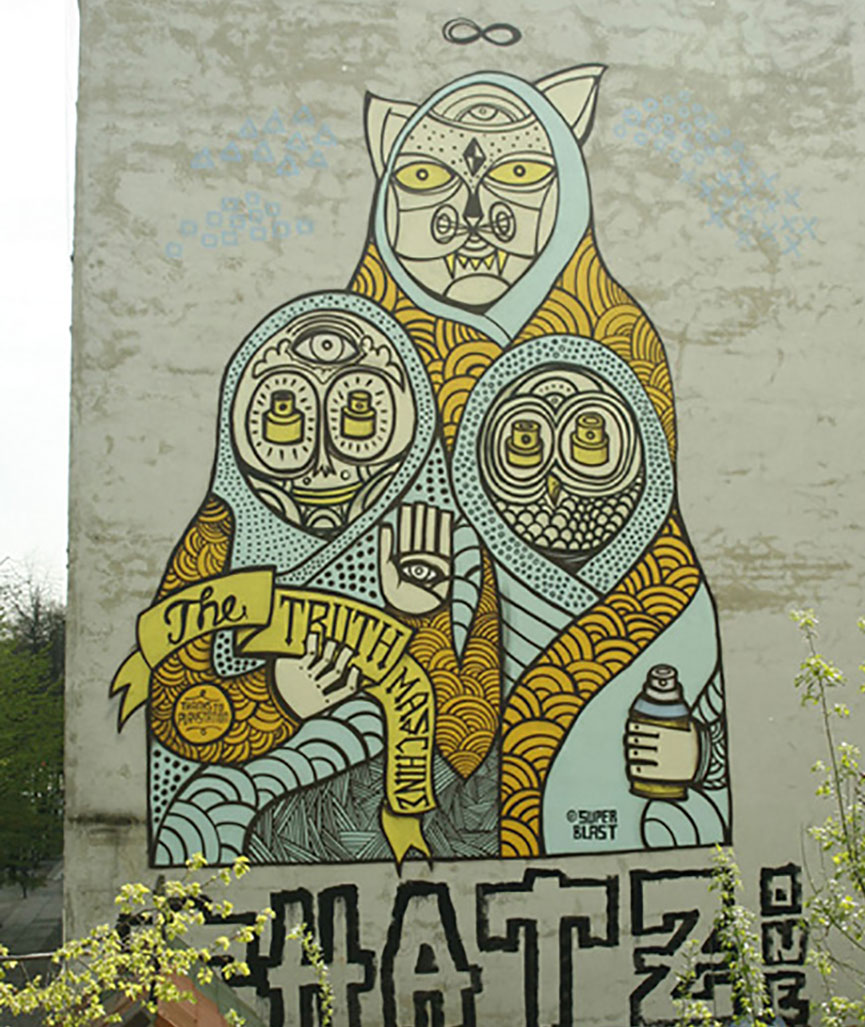 Check out more from Superblast here