For those eager to start this year properly, art-wise of course ,the Golden Gate city is preparing just the kind the thing for the hungry ones. In few days' time San Francisco will yet again become a focal point of contemporary art. Following the ongoing tradition that celebrates new and uprising stars in the art arena, the fourth in the row annual Supersonic Invitational exhibition will occupy the space of the Spoke Art Gallery for the rest of the January. Last year, this group show hosted 41 authors, with names like Brett Amory, Glenn Arthur, Tom Bagshaw and Oliver Barrett. This year's edition of the Supresonic is going even bigger with more than 60 artists which will display their new work at the prominent San Francisco venue. In the capacity of the curator will be Zach Tutor of Supersonic Art, who was also last's year choice.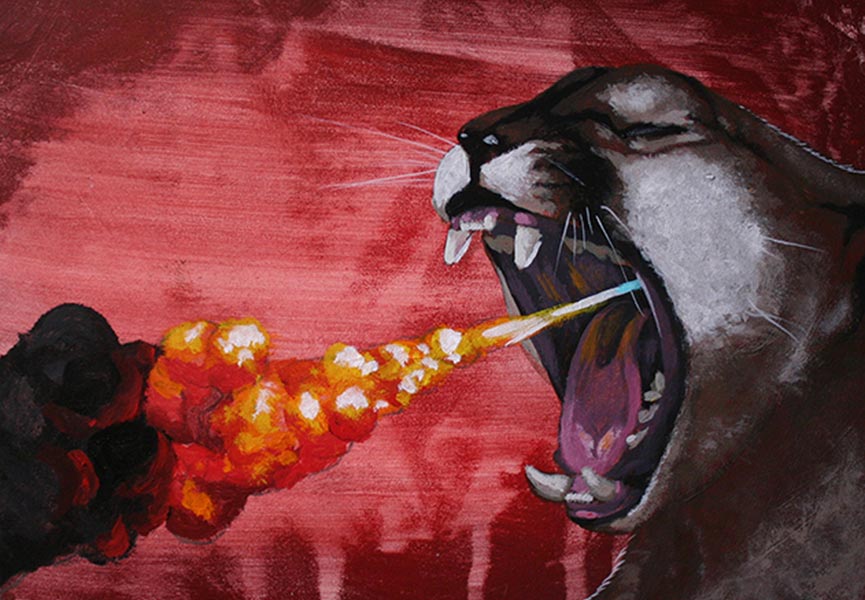 Artists Included
List of the authors that will exhibit their work is an immense one and includes Alessandra Maria, Alex Pardee, Allan Innman, Amy Sol, Bezt, Brett Amory, Cahill Wessel, Cam Floyd, Camilla D'Errico, Casey Weldon, Charlie Immer, Charmaine Olivia, Christian Rex Van Minnen, Christine Wu, Conrad Roset, Dan Christofferson, Daniel Danger, David Slone, Edwin Ushiro, Erik Jones, Fumi Mini Nakumara, Glenn Arthur, Hanksy, Hannah Stougger, Haunted Euth, Henrik Uldalen, Hikari Shimoda, Hsiao-Ron Cheng, Jason Edmiston, Jeff Ramirez, Jen Mann, Joanne Nam, Joao Ruas, Joel Daniel Phillips, Ken Garduno, Ken Taylor, Kikyz1313, Lauren YS, Lucien Shapiro, Matt Ritchie, Matthew Woodson, Meryl Pataky, Mike Mitchell, Oneq, Ozabu, Peter Adamyan, Peter Chan, Rebecca Mason Adams, Robert Bowen, Sail, Sam Wolfe Connelly, Sarah Joncas, Seamus Conley, Sean Newport, Sergio Lopez, Uyu, Stella Im Hultberg, Steve Kim, Tatiana Suarez, T.S.Claire, Tom Bagshaw, Winnie Truong, and Zoltron.
History of Supersonic Invitational
First group show took place back in 2012 and it hosted the likes of Scott C. , Cam Floyd, Steve Kim, Rik Lee, Erik Jones and many more. Many of the names that exhibited then are also a part of today's artists' setup. Over the course of four years, the tradition was slowly forming as the Spoke Art hosted each and every event, with the help of Supersonic Art, a growing tumblr-based art community. The number of participant began to grow, and the second show in 2013. brought us fresh new names like Andrew Hem, James Jirat Patradoon and Nimit Malavia among others. As mentioned, third annual show evolved to even larger scale event, bringing the leading new contemporary artists around the world. The following result to such fruitful practice is the 4th annual Supersonic Invitation that which will open on the 10th of January, 6 pm, at Spoke Art, and it will run until January 31st.
In 2015, same place, same destination, just bigger and better thanks to you! Be a part of My Widewalls and sign up today!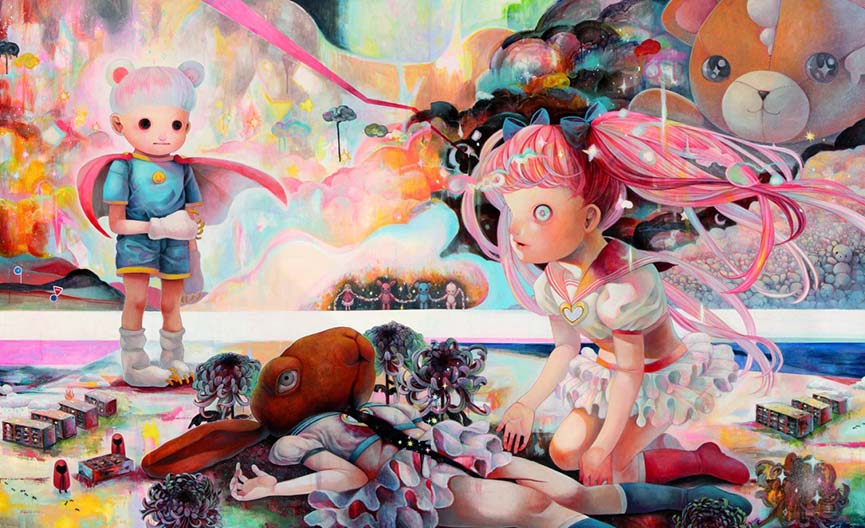 Note: All images are for illustrative purposes only.