Since the beginnings of skateboarding, art has always been an integral part of it. Blending artistry and sport through deck design and all sorts of different media, skateboarding has collaborated with high-profile artists and even launched successful careers of a number of them. Having great connections to their boards, skaters have always viewed artwork on them as a very important aspect. Since the skater culture is built around creative free-thinking individuals, skaters often decorate and customize these boards themselves by adding stickers or painting them in order to reflect their personality and individuality. Skateboard art is therefore a very powerful creative force, and a number of core skateboard brands started featuring contemporary artists on their decks. One of the brands that has a long tradition in skateboarding and is famous for their unique boards and amazing artist collaborations is Supreme. Their cultural influence has been evident for the past 20 years, bridging the gap between contemporary art, skateboarding and street culture.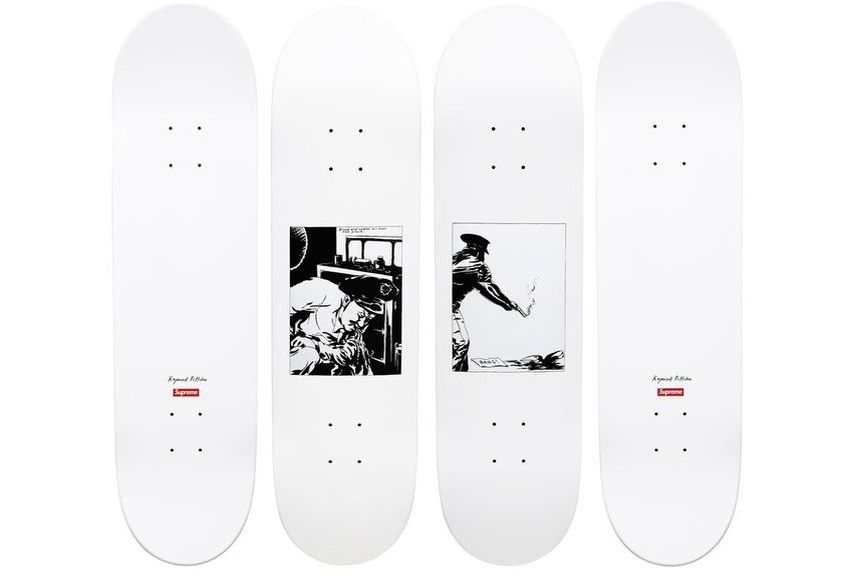 The Beginnings
Supreme was founded in 1994 in New York by James Jebbia. It started off as a small storefront on Lafayette Street in downtown Manhattan, and it has instantly become an epicenter of New York skate culture at the time, with people lining up for hours to buy the latest products. With the store's crew consisted of rebellious young skaters and artists, Supreme became the home of the younger counterculture such as skaters, punks or hip-hop heads. With its unique identity and attitude, but also the selectivity and exclusivity as its  integral part, Supreme has built a colossal public aura and grown quickly into the embodiment of the skate culture, always defining it and setting up new standards of quality and aesthetics. A company based in these alternative sports but bound by art, Supreme has infiltrated the fine art world in many ways.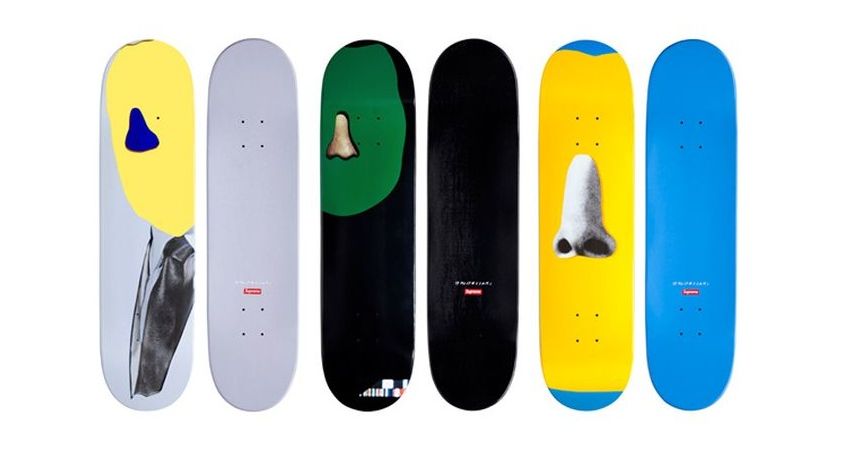 The Skateboard as a Canvas
The legendary brand Supreme has a strong mythology behind it. The label has always pushed the limits by collaborating with esoteric and left-field creatives. Embracing the outsider and the individual, their brand and its products soon became usable forms of creative expression, with their skateboards becoming canvases for unique artworks. Representing creativity and fresh ideas executed the right way, they have always been a step ahead with their limited editions of decks. The early '90s skate culture has been a major influence on them, and it has marked everything they do. Their customized skateboards have become much more than just skateboards, evolving into pieces of highly recognized artworks reflecting trends in contemporary art and culture.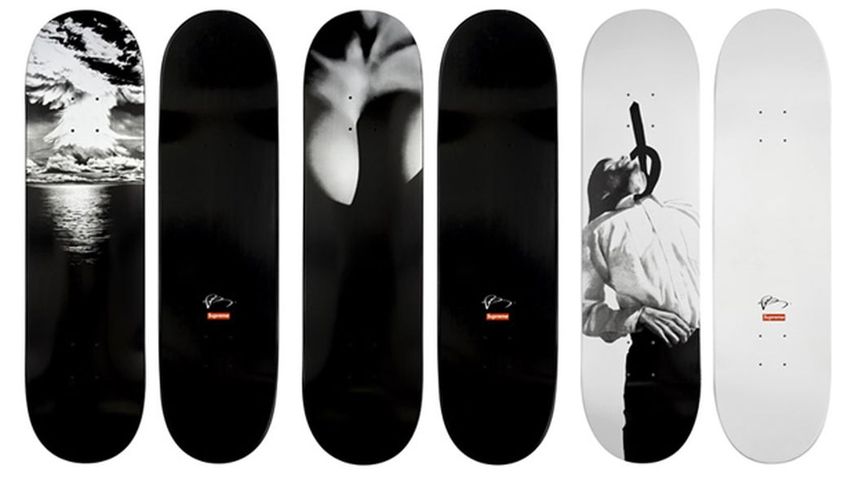 Iconic Supreme Skateboard Collaborations
Over the course of its 22-year history, Supreme has worked with some of the most groundbreaking designers and artists, who have helped define its unique visual identity. Ranging from graffiti legends to the richest living artists in the world, these remarkable collaborations have varied from a mix of fine art paintings to photographs and comics and helped Supreme be at the forefront of incorporating art into street culture. Their decks featured artworks by Damien Hirst, an edition considered to be one of the most valuable and coveted Supreme releases to date; Ryan McGuinnes with the collection of Pantone decks; the street artist KAWS; the visual artist, graffiti writer, performance artist musician and sculptor Rammellzee; the artist Dan Colen with the edition featuring imagery of Nike sneakers and chains; the Russian conceptual artist Andrei Molodkin; the graphic designer Peter Saville with iconic pulsar waves featured on a Joy Division album artwork; the director Larry Clark most famous for his cult film 'Kids'; Neo-Pop artist and 80s icon Jeff Koons with the variety of monkey imagery with surreal backgrounds; Richard Prince; world-renowned Japanese artist Takashi Murakami; Marilyn Minter; George Condo; John Baldessari; Robert Longo; Raymond Pettibon; and many many more.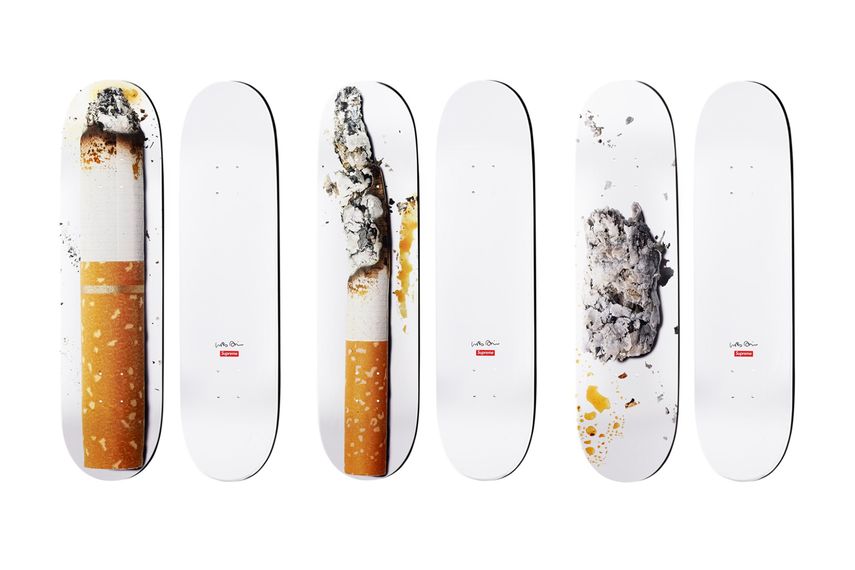 The Latest Collaboration With Urs Fischer
Supreme has recently unveiled their latest joint product with Swiss artist Urs Fischer. Born in Zurich in 1973, the artist's great inspiration has been anti-art and anti-authoritarian directions of Neo-Dada. For Supreme's limited edition, the artist has created artwork depicting a cigarette in different degrees of degradation. Using everyday objects as art, Fischer contemplates the passage of time and its effects on these objects. These collaborative decks have been released in-store in New York, LA, London, Paris and Japan.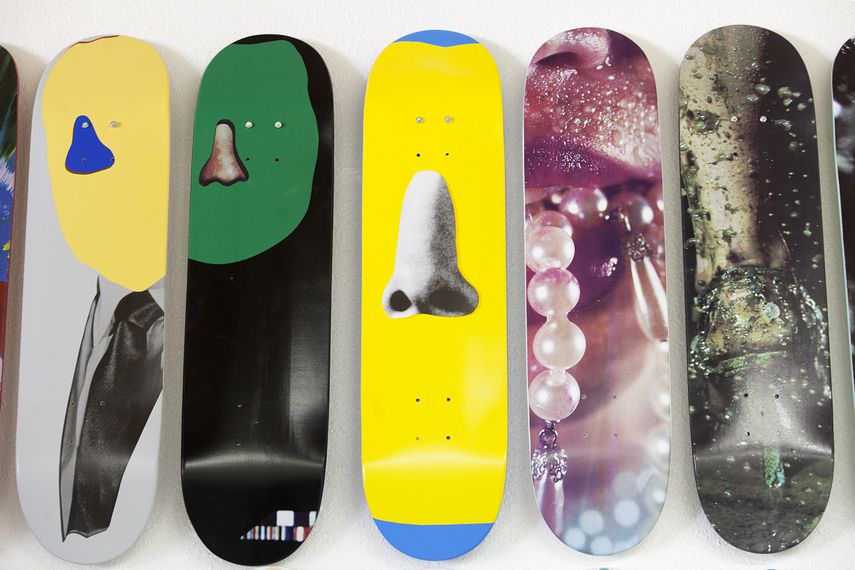 The New Kind of Collectors
With the impressive list of artist collaborations and fresh and bold ideas, the Supreme has built a reputation above your average skate company and has positioned itself as the important binding factor between the skateboard culture and contemporary art. Making skate deck graphic that encourages a visit to a gallery, Supreme continues to inspire and educate the youth. With bare walls and the occasional splash of art, the original store on Lafayette Street even has a somewhat gallery feel to it. Supreme's graphical aesthetics have attracted the attention of a new kind of collectors.
Editors' Tip: Supreme Hardcover by James Jebbia, Glenn O'Brien, Aaron Bondaroff and KAWS
Explore further about the rich visual history of the iconic brand Supreme. This is the first monograph of this independent New York street skateboard label. The Supreme first opened its doors in 1994 and instantly became the home of New York skate culture defining the aesthetic of their era. Since, the brand has collaborated with some of the most groundbreaking designers and contemporary artists. This richly illustrated book - with written contributions from contrasting arbiters of style, Aaron Bondaroff and Glenn O'Brien, and including an interview between founder James Jebbia and the artist KAWS – is a survey of their pioneering work, bringing together the disparate elements of the brand's output, from legendary advertising campaigns to especially commissioned skateboard designs, photographs, and artworks, and a comprehensive index of their products.
Featured images: Supreme Bruce Lee Skateboard Deck, 2013 via ozonweb.com; Marilyn Minter Supreme Eye, via marilynminter.net; Supreme by Boris Kralj, via 032c.com; Supreme by Boris Kralj, via 032c.com; Supreme by Boris Kralj, via 032c.com.