Susanne Vielmetter Gallery in Los Angeles has prepared two exciting contemporary art exhibitions for this summer that will focus on the recent bodies of work by Shana Lutker and Bart Exposito. Both exhibitions will be on view side-by-side, starting from 10th of July. Bart Exposito will showcase his new paintings in the Strange Alphabet and Shana Lutker will present Paul, Paul, Paul and Paul, the new chapter in her ongoing project called Le "NEW" Monocle: The History of the Fistfights of the Surrealists. This is the first time for Bart Exposito to exhibit his works in Susanne Vielmatter Gallery in LA, while Shana Lutker is returning for the fourth time.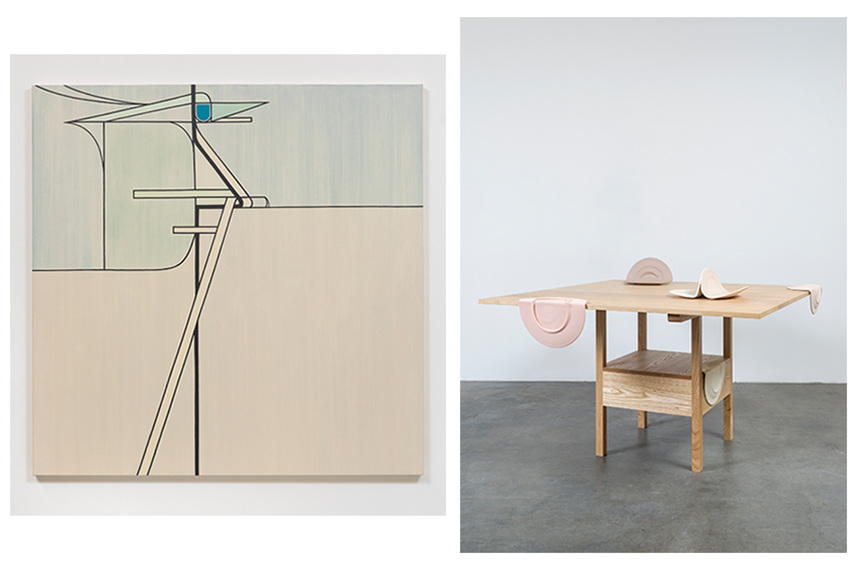 Shana Lutker: Paul, Paul, Paul and Paul
Shana Lutker is a contemporary American artist living and working in LA. Throughout her work, she has been exploring and integrating different artistic practices like writing, sculpture and performance. Exhibition Paul, Paul, Paul and Paul is the fourth chapter in her Le "NEW" Monocle series. In this chapter, her artworks depict the banquet followed by a fistfight, initiated by some notable French surrealists in 1925. During this conflict between conservative art patrons and surrealist artists, André Breton almost got thrown out of the window and his colleague Michel Leiris was severely beaten up. The spirit of "la fête qui tourne mal", as the French saying goes, was beautifully represented through Shana Lutker's array of distorted platters, tables and paper works displayed in Gallery 1 and also in her staircase installation, mirrored sculptures and graphite "boots" staged in the space of Gallery 2.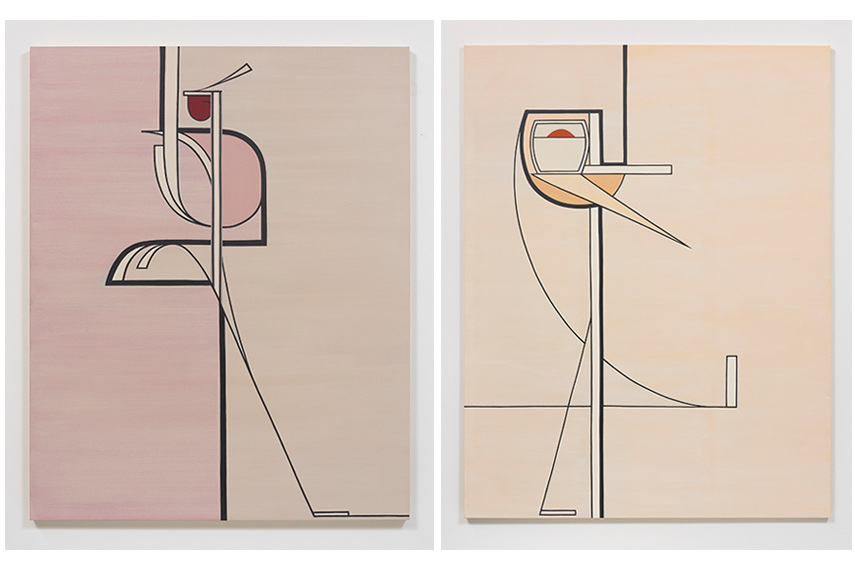 Bart Exposito: Strange Alphabet
Texas-born contemporary artist Bart Exposito is currently working in New Mexico. His artistry is mostly oriented towards painting and drawing practices and his visual style can be described as a unique amalgam of graphic design and abstract expressionism. His lifelong connection to desert ambiance has left a visible mark on his works and it can especially be noticed in his creations of earthy backgrounds resembling the feeling one has when being confronted with the vastness of a desert landscape. These new paintings bring out some interesting typographic characters made in simple lines and placed on a subtle and neutral surface of dusty colors. Opaque characters in juxtaposition with almost transparent background result in duality and at the same time these linguistic signs on the flat layers of paint suggest the ways in which painting exists through its particular language.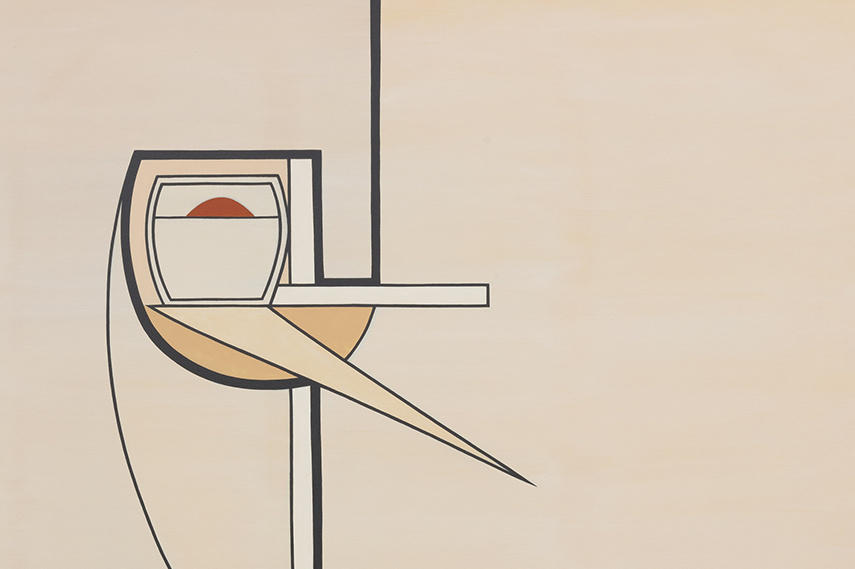 Summer Exhibitions at Susanne Vielmetter Gallery LA
Both summer exhibitions hosted by Susanne Vielmetter Los Angeles Projects will open on July 10th and will run until the August 22nd, 2015. Since they are conveniently sharing the gallery space and occurring at the same time, visitors will have the opportunity to simultaneously experience the excitement of the surrealist public affair seen through the vision of Shana Lutker in Paul, Paul, Paul and Paul and to relax standing in front of some amazing new paintings of Bart Exposito in Strange Alphabet. The reception is set for July 10th, 2015, from 6 pm to 8 pm.
For more news about the upcoming exhibitions create your profile via My Widewalls for FREE!
Featured Images:
Bart Exposito – Untitled, 2015, detail
Shana Lutker - As Many Versions as Witnesses, no. 1, 2015.
All Images courtesy of Susanne Vielmetter Gallery