Mid-May at the Haven Gallery brings two parallel exhibitions of Syd Bee art titled Sunder & Swell, and a group show It Came from Beneath the Sea, curated by guest curator Travis Louie. These two shows tackle different themes, but share the similarity in the style artists use, which can broadly be situated within the framework of Pop Surrealism. Syd Bee is painting the world of emotions, although she gives them figural form, while artists at It Came from Beneath the Sea explore myths and stories surrounding the underwater world with their unique visions. Both worlds possess a strong melancholic tone, achieved through the expressions the figures on the paintings have, coupled with the often dark atmosphere created through heaviness of the palette and moody narratives.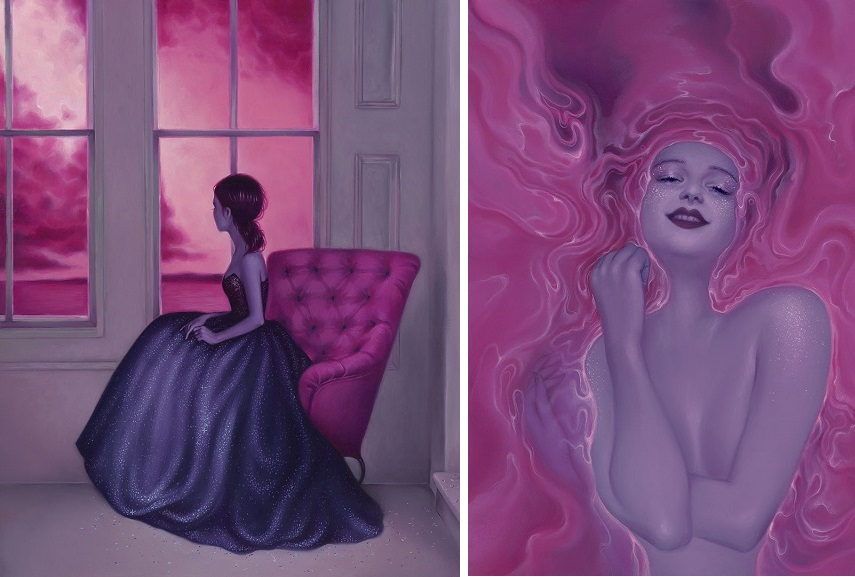 Syd Bee Art - Saccharine and Somber Combined
Syd Bee, a Seattle based artist who, on this occasion, presents her first solo show at the Haven Gallery, creates her paintings with a plethora of emotions guiding her color choices and represented motifs. Her Sunder & Swell exhibition will include eight paintings and five drawings done in Bee's recognizable style, including the color palette some describe as saccharine, comprised of purples, mints, and pinks. Although the tonality of her works may seem as joyous, if colors are considered apart from topics, the true visual power of her works lies in the seamless combination of exactly these colors with the much more somber topics such as anxiety, dread, solitude, and uncertainty.
As Syd Bee explains, her new series of works is an attempt to capture and make sense of the turmoil of feelings. Her tender palette reveals a bittersweet world often filed with isolation, loneliness, and mortal anxiety. "I am drawn to (and embrace) things that are darker and somber, but I find freedom and excitement in marrying those moments with a vibrant palette", she concludes.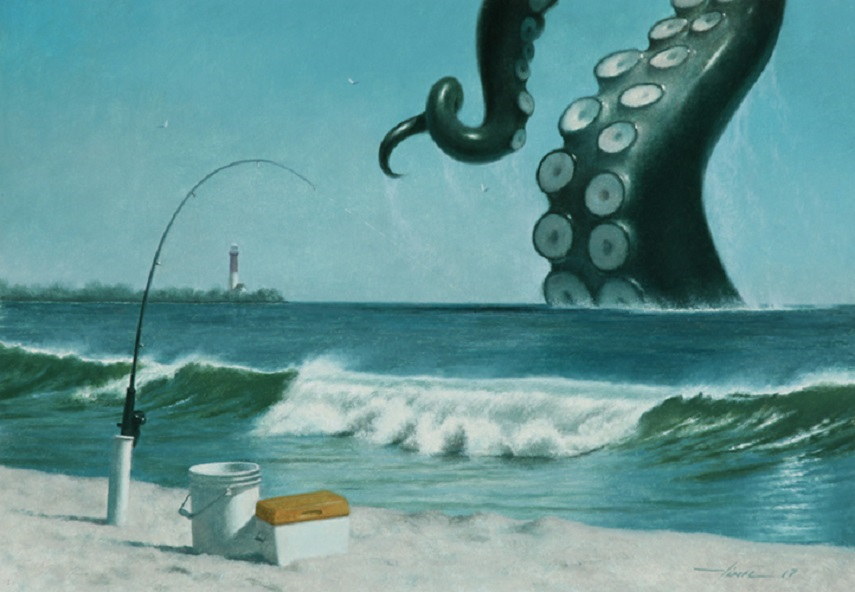 A Group Show Explores the World Beneath the Sea
What can be found beneath the sea level will surprise anyone who attends this show. The world of mermaids, fish, and other creatures from under the sea is enriched with aritsts' imagination, which amuses, but also terrifies at the same time. The created worlds seem to be caught in the middle of certain events. Tentacles reach out from the sea; mermaids swim in circles around magnificent sea flowers, and divers are tending to their business unaware of the creatures lurking behind them. These worlds seem to come straight out from somebody's dream, or a nightmare, inviting viewers to enjoy in the visual spectacle they create.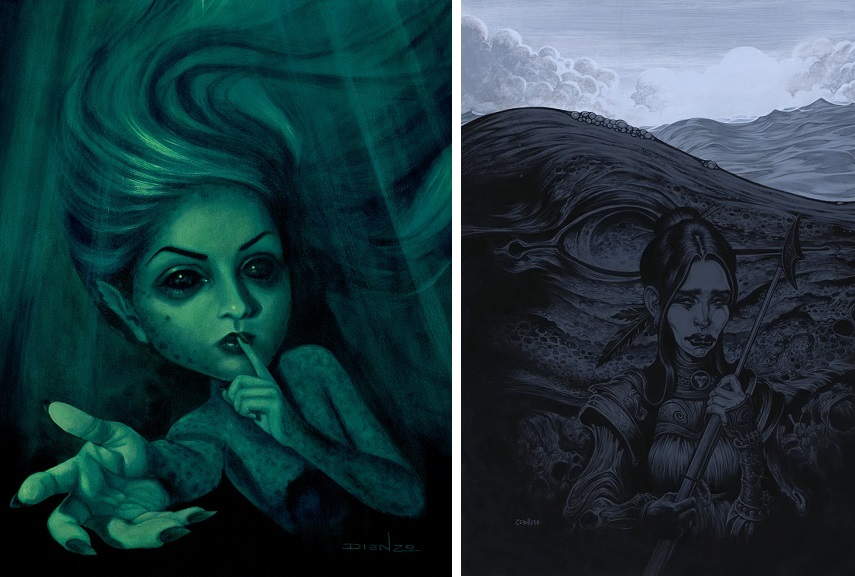 Sunder & Swell and It Came from Beneath the Sea at Haven Gallery
The list of artists for It Came from Beneath the Sea show includes Travis Louie, Mia Araujo, John Cebollero, Steve Ellis, Lauren Budney, Miles Teves, Travis Lewis, Shauna Peterson, Rick "Dienzo" Blanco, Bob Eggleton, Martin Hsu, Robert McKenzie, Vince Nguyen, Tristan Elwell, Mark Elliot, Vince Natale, Chris Seaman, Iris Compiet, Stephen Price, Fred Harper, Stephen Hickman, Steven Daily, Zoë Williams, Tom Cochran, Glenn Barr, Sarah Joncas, Brandi Read, Lola, Amy Sol, Mark Garro, Allison Sommers, Tiffany Turrill, Don Murphy and Jane Ann Wynn.
The Haven Gallery, 155 Main St., The Carriage House Square, Suite 4, Northport, NY, prepares an opening reception for Sunder & Swell and It Came from Beneath the Sea exhibitions for Saturday, May 13th, from 6-8pm, with artist Syd Bee in attendance. The exhibitions will be open until June 18th, 2017.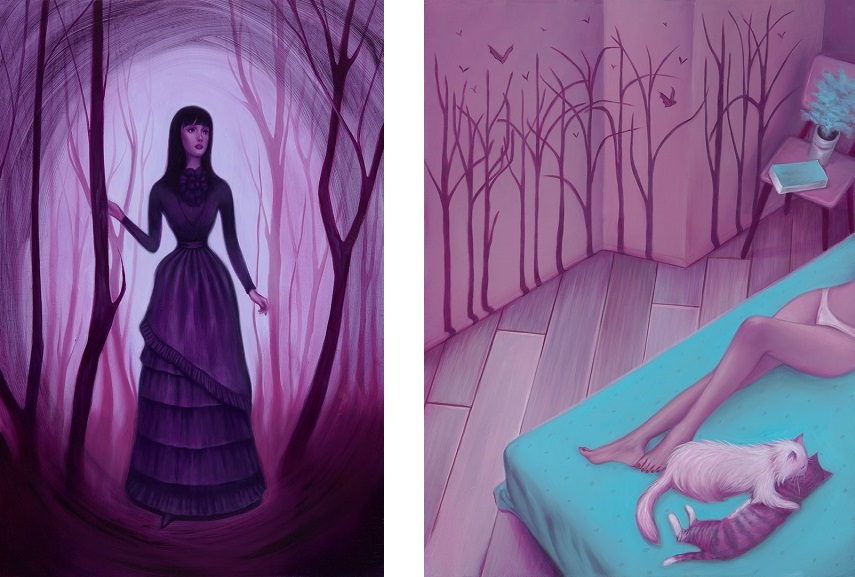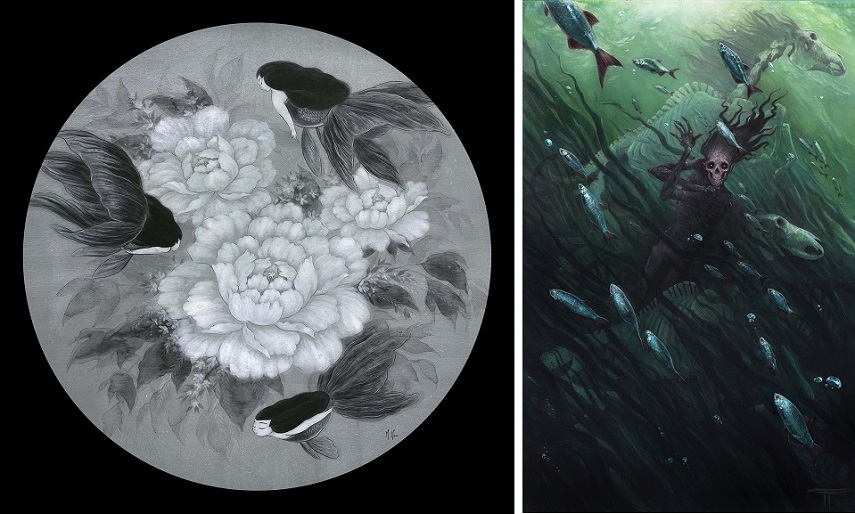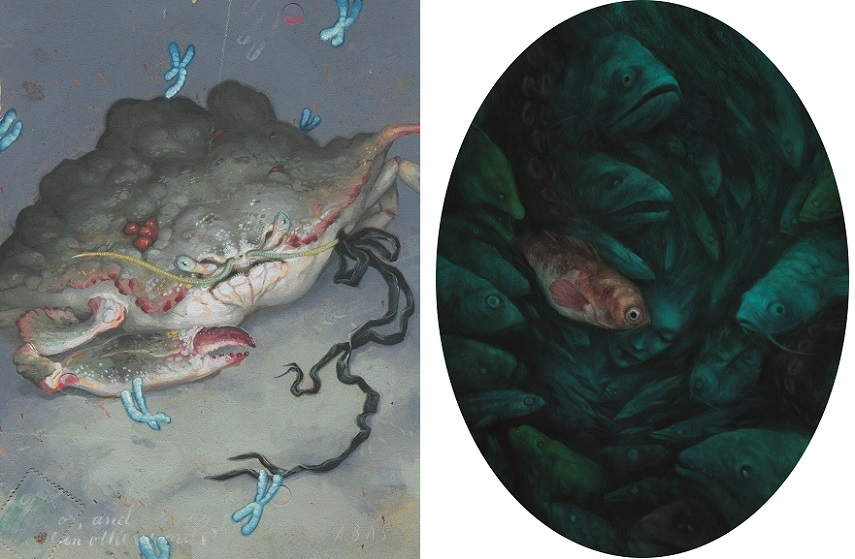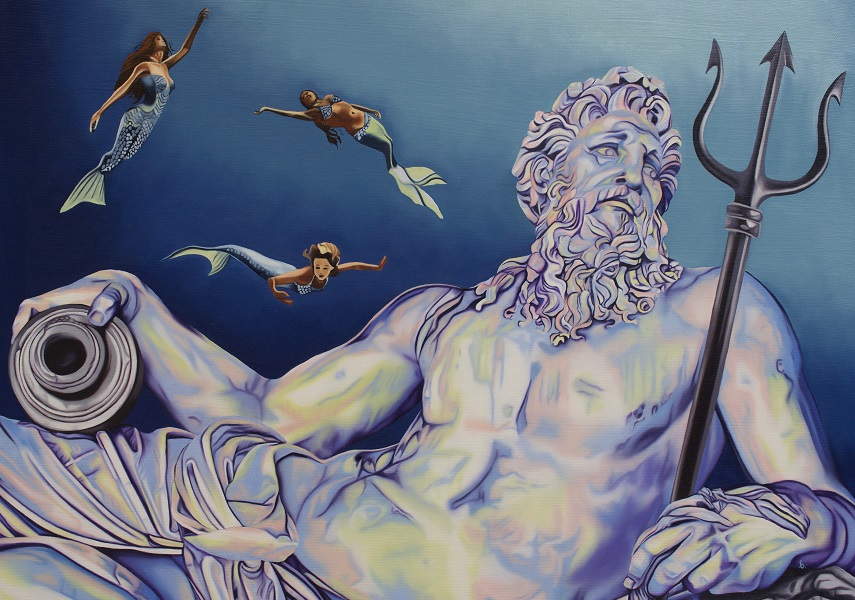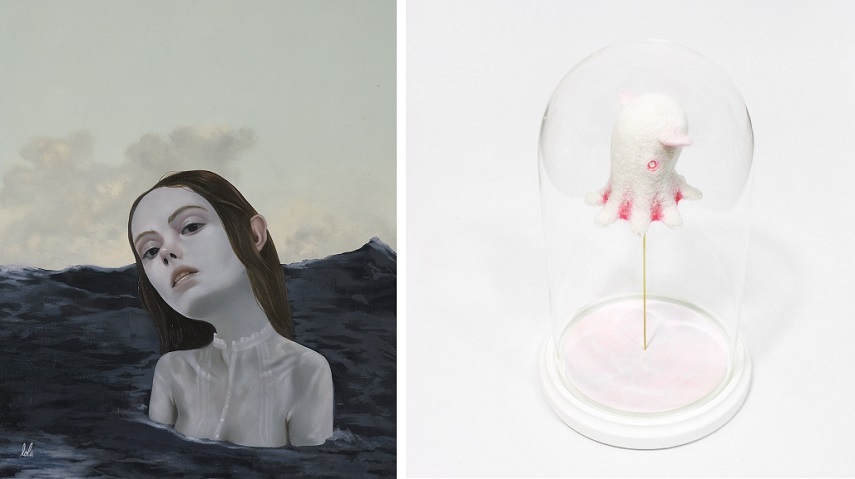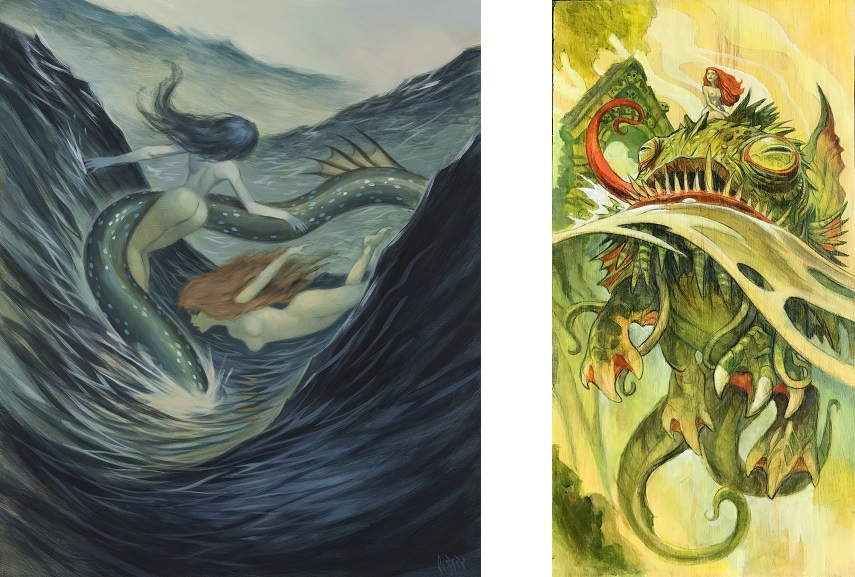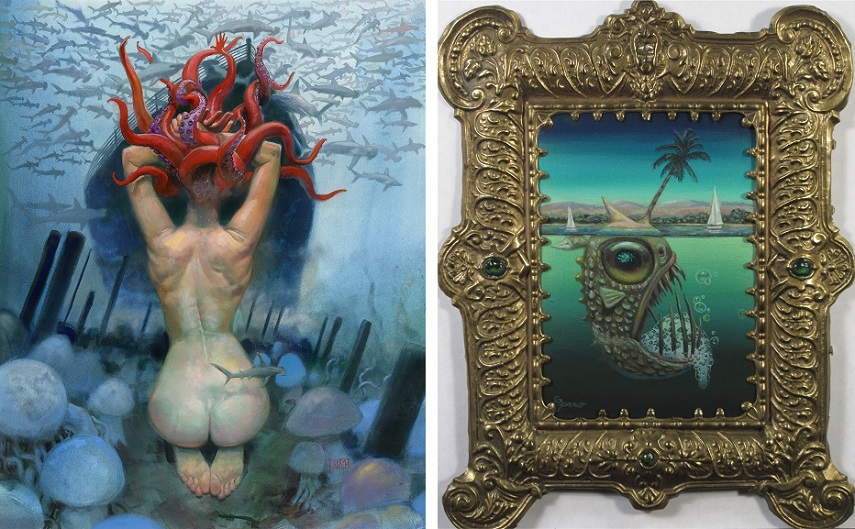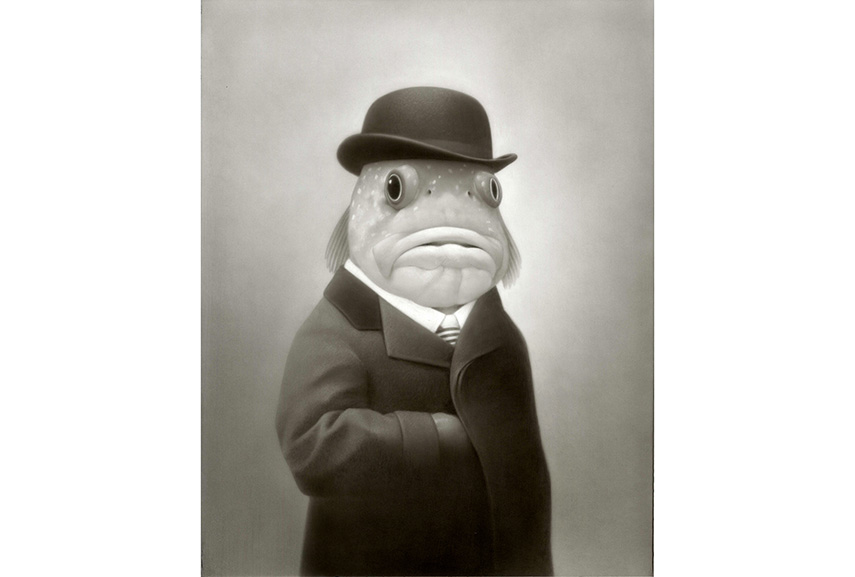 Featured images: Syd Bee - Breathing Spell, detail; Mia Araujo -Cosmic Mermaid, detail; Stephen Hickman - Rapture of the Deep; Steven Daily - Descent; Sarah Joncas - Cecaelia. All images courtesy of the Haven Gallery.