Throughout her career that spans more than twenty years, René Romero Schuler has been creating powerful paintings and sculptures that convey strength, vulnerability and a holistic view of beauty. Focusing on semi-abstract female figures, the artist creates self-portraits and reflections of the human emotions through an approach which is personal but also universal and essentially intimate. Also focusing on the human form, Sylvie Mangaud sculpts the vibrancy that emanates from the female body in motion. Her slender bronzes seduce at first site, bringing to the fore lightness, delicacy and elegance.
Their work will be joined together in an upcoming exhibition at Galerie Géraldine Banier. Titled Body and Souls, it invites the audience to explore the corporeality of the soul. In both Schuler's paintings and Mangaud's sculptures, personal experiences, emotions, and doubts that have marked their lives are revealed.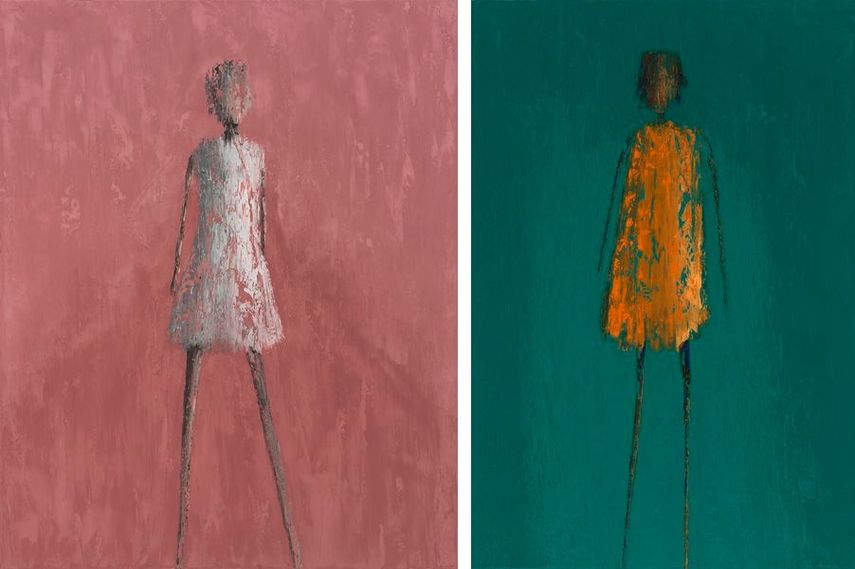 The Artistic Dialogue
The artistic, intimate and universal dialogue of Sylvie Mangaud and René Romero Schuler is embodied in Baruch Spinoza's theory on the body and soul:
The [soul] and the body are one and the same thing, conceived sometimes under the attribute of Thought, sometimes under the attribute of Extent.
Both of these artists reflect the human condition in their work, exposing the sensitive. Their dialog appears as a mirror game through the ethereal form of their silhouettes. The spirit which is echoed in these works evokes Gustave Flaubert's writing in The Temptation of Antoine:
For material to have so much power, it must contain a spirit.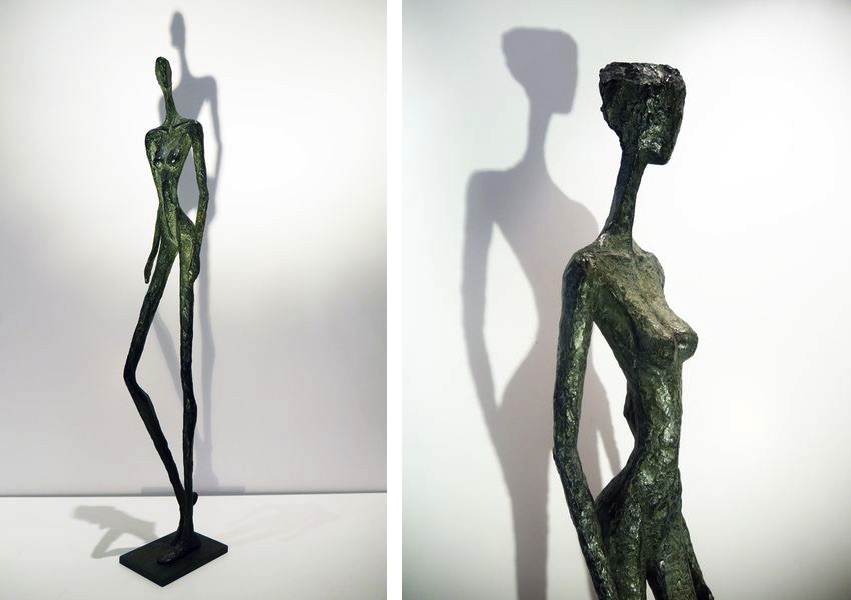 The Practices of Sylvie Mangaud and Rene Romero Schuler
Gracefully stretched and elongated, naked bodies depicted in Mangaud's sculptures capture this fragile moment where the woman oscillates between inner movements and social position. With no definite traits, the faces of these women are universal, representing all. Although nude, they are draped in their emotions and jolts of their lives.
On the other hand, Schuler's women are dressed, however, their joyful fragility is poignant. Using the codes of abstract figuration, they appear timeless, slightly levitating against different colored backgrounds which express the color of their soul. Each having a unique name chosen by the artist, they represent a singular identity.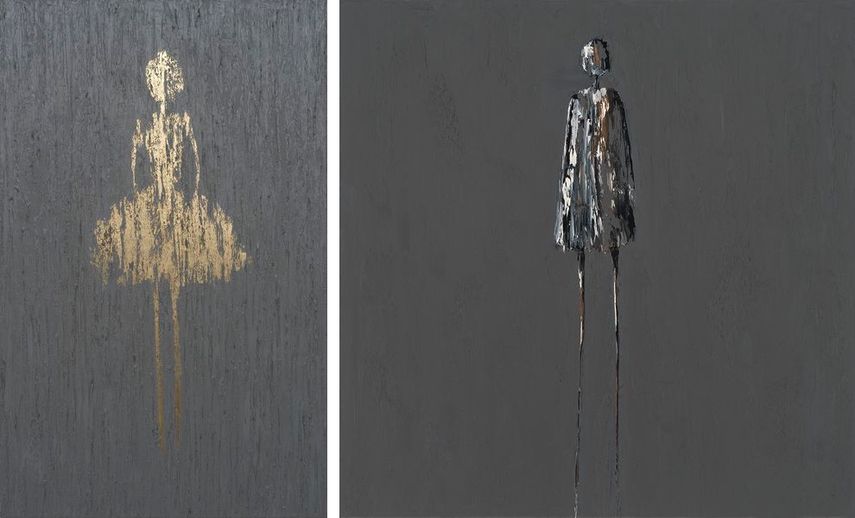 Sylvie Mangaud and Rene Romero Schuler at Galerie Geraldine Banier
Both Mangaud's sculptures and Schuler's paintings have a unique type of materiality.
The exhibition Body and Souls will be on view at Galerie Géraldine Banier in Paris from June 14th until September 21st, 2019.
The opening reception will be held on June 13th, from 7 to 10 p.m. in the presence of both artists.
Featured images: René Romero Schuler - Sylvie (detail), 2019; Sylvie Mangaud - Libre, 2019; Sylvie Mangaud - Caprice, 2019. All images courtesy of Galerie Geraldine Banier.