Bloom Award competition has definitely raised a lot of attention this year, directing many eyes towards the pool of young creatives who work across various media. One of the presented pieces, located centrally next to the stage, belongs to a Lithuanian artist, Tadao Cern, a rising star in international contemporary creative sphere.
He refers to himself as - nobody. His art seeks clear the essence of an idea from any excess elements, preserving the very feeling of the first experiential moment, but the one that will linger on and provoke thinking.
Really, he is Tadas Cerniauskas, educated as an architect who found his way into the exciting world of art through photography. Raising the eye of international press for the first time with his "Blow Job" series, Tadao continued on to his series of sun bathers in "Comfort zone", while today, he is elaborating his series of "Black Balloons".
Connecting two balloons together might seem as a simple idea, but in reality it is a difficult task to achieve, while the working process, the resourcefulness and the clarity of such an unexpected concept remain embedded within each installation piece of the series. Thus, Cern demonstrates a clear inclination towards minimalism, while his aesthetic ideals continue to shine.
We met Tadao at the ART.FAIR Cologne and had the pleasure of chatting with him about his work and the art fair experience.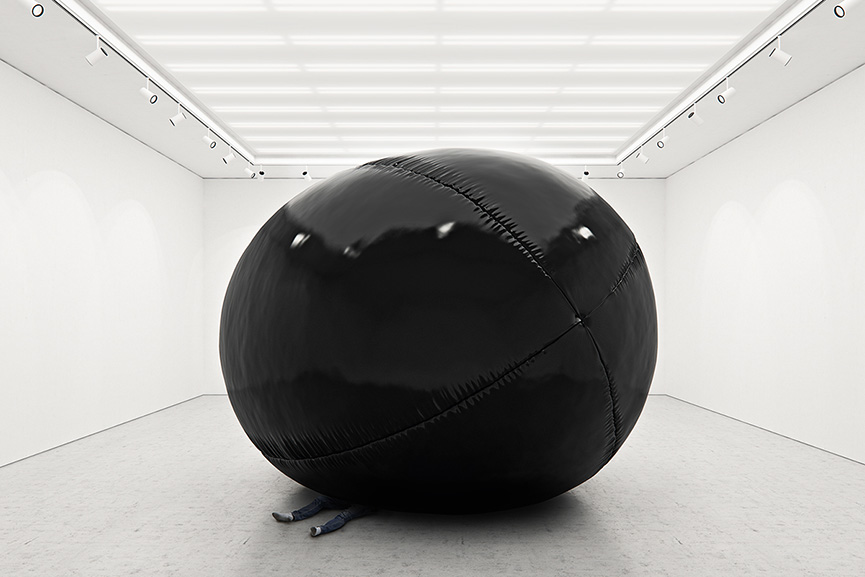 Tadao Cern as The Blooom Award Finalist
Widewalls: You were selected one of the top 10 finalists of the 2016 Blooom Award. How do you find the experience of participating in this event?
Tadao Cern: When I came here I wasn't expecting much, but now after spending few days at the fair and being selected as one of the 10 finalist I know how beneficial it can be. And not in that obvious way that your work gets seen, buts it's such a pleasure to meet people, find new friends, get the insights and learn learn learn...
WW: How did you find the reactions of the viewers to your installation at ART.FAIR Cologne?
TC: I was pleased to see that people really liked it and I kind of take it as compliment when I see so many people taking pictures of my work. It is always fun to spend some time next to your work and listen to what people have to say about it without even knowing that you are the one who made it. Today I overheard some people saying that they came here to the show for the second time because of my installation. Woop woop!
WW: What piece did you apply with and present?
TC: I've applied with a little bigger composition but the structure of the one in the application and presented at the art fair was the same. It's just that I had to scale it down a little in order not to occupy the whole award booth and leave some space for the other too. Bu that was part of the plan from the beginning.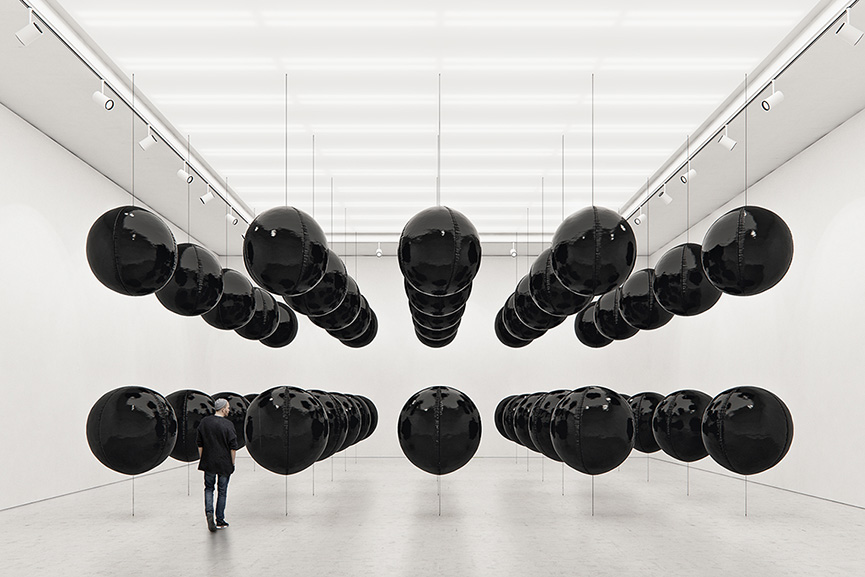 Black Balloons and the Perfection of Simplicity
WW: You are at the moment developing the "Black Balloons" project, if I'm correct. Tell us a little bit about the beginnings of the project. Where is it going now - I see the balloons taking over the world?
TC: My creative process resembles playing. And everything I create comes out of curiosity. The same happened with a project 'Black Balloons'. I believe that a good piece of art should give an answer to a question that you didn't raise. But once you hear it - you start to wonder even more. That's what happened with this project. For an extensive amount of time I had an idea to connect two balloons. I found a free minute between the other currently run projects, bought two balloons, and got overwhelmed by the result when I connected them opposing each other - one was filled with light gas and the other one with heavy. All of a sudden they became alive holding to each other and becoming a reflection without a mirror. It was so unpretentious and so magical at the same time! That opposition created by two very simple and playful objects once again brought a unique childlike sense of discovery. This experience uncovers a lot and the more one looks at it, the more it becomes true: "simplicity is genius". Later on I worked out how to make the balloons float in the middle of a glass tank without connecting them to anything, the compositions started to grow getting bigger and bigger. At first I've started with ordinary latex balloons and now I am reinventing everything from the scratch by making them myself up to few meters wide from totally different materials. That scale change starts to affect you in a totally distinct way - light and huge inflatable structured that are bigger than you putt you in place of panic, excitement, humility and admiration...
WW: Your work is very aesthetically polished, both photographs and installations. How important is the execution for your work?
TC: Very! I guess that comes from my architectural part and making your work look perfect is like an obsession. Figuring out the way how to make certain things look that way is part of the process that I enjoy a lot. And since our surrounding is a big chaos - creating something in a perfectly aligned and polished manner evokes so many new feelings for me and for the viewer too.
WW: Simultaneously, you are diverting from portraying people to the more abstract expression. What inspired this shift in your working process?
TC: As I mentioned before, I come from the architectural background which is working with pure abstraction and may be trying photography was like a test to myself which I didn't pass but I learned a lot from it. The 5 year journey was pretty successful I'd say, and I had a chance to work with major brands including Samsung, BMW, New Yorker, Chupa Chups; I had exhibited my work in many different countries, won few art awards. But ant the end I understood that I want to work with something that it's not so obvious as photography may be and with something that may arouse bigger variety of feelings and experiences that you didn't expect. So I've decided to quit photography, get out of my own comfort zone and plunge in to unknown once again.
Project 'Black Balloons' in a Glass Tank from Tadao Cern on Vimeo.
Near Future Projects for Tadao Cern
WW: What other projects are you working on in parallel?
TC: Quite a few actually. Not all of them been show to the world yet, but I'm focusing on installations and painting. Most of my ideas have a minimalistic approach to them and obsessively I'm in love with patterns. Paintings, that I introduced few months ago are called 'Chromatic Aberrations'. I am looking for refinement in something that would be considered a blemish in photography. It's an extremely rewarding feeling to find beauty in imperfection... and do it in a perfectly planned and crafted way. It takes up to 3-4 months to make one painting; sometimes there are 18 different oil paint layers applied and to get that ideal looking pattern I have to hand cut 2000 stencils.
WW: Are you planning to take part at another art fair? Any exhibitions in the pipeline?
TC: Since everything is fairly new I wasn't expecting much and so fast. But recent project caught attention of some influential blogs and been already published on paper. I already have interest from galleries to do shows in Italy, Canada, US, Taiwan... Fingers crossed but I'm trying to be realistic and champagne is not even in the freezer yet:)
WW: Finally, what piece or booth you liked the most at the ART.FAIR Cologne?
TC: I liked few pieces from the same Blooom Award like combination of a mural and a pool done by Aaron Li-Hill, Liat Segal's UV drawing on a light sensitive canvas, etc. There were a few artists in the the Art Fair that I was already familiar with, but the one that caught my attention just minutes ago was 1010's work. He's coming from a street art background, but his work is sitting in that sweet spot where I could easily imagine it at being placed at my living room too.
Feature image: Tadao Cern at Bloom Awards. Black Balloons series. All images courtesy of Tadao Cern