Takashi Murakami returns to his homeland! The internationally acclaimed Japanese artist will have his long-awaited, first large-scale exhibition in Tokyo in fourteen years, and the honor of hosting it went to the Mori Art Museum. Entitled The 500 Arhats, the show will feature a number of new works, many of which are still in progress, as well as the artist's 100-meter long painting of the same name, considered one of the largest artworks ever produced in the history of arts. Takashi Murakami remains one of Japan's most important creators, best known for his Superflat artistic style which brought him worldwide fame.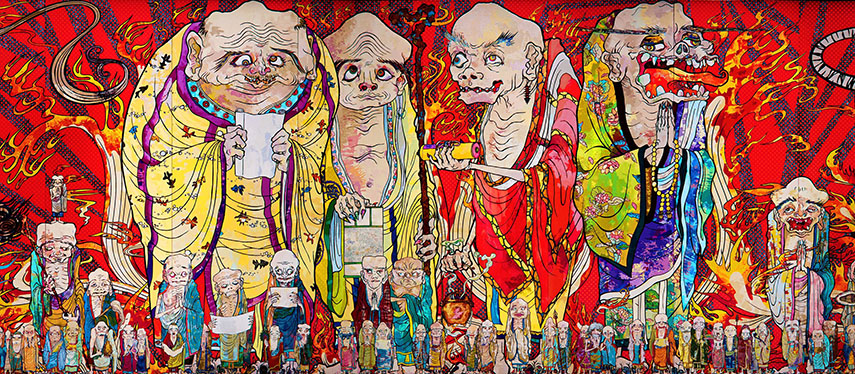 The 500 Arhats
Takashi Murakami's The 500 Arhats painting was created in 2012, as a token of gratitude to the nation of Qatar, which was one of the first countries to offer assistance after the Great East Japan Earthquake and Tsunami in 2011. Thus, the work had its premiere in Doha, and now it is to be shown in the land of the rising sun for the first time ever. The inspiration behind the painting came from the legend of the 500 arhats, Buddha's followers who spread his teachings. It is said that the story was introduced to Japan during the Heian period, presenting itself to the public through works on canvas and wood and stone sculptures. Before Murakami, two other Japanese artists also produced related artworks. For his own tribute, the artist engaged more than 200 students from national colleges in order to complete this monumental artwork.
The 500 Arhats consists of four sections named after the legendary Chinese guardians of the four celestial directions (blue dragon - east, white tiger - west, red bird - south, black tortoise - north). A milestone in Takashi Murakami's career, the piece tackles the topics of religion, mortality and limitations, interpreted through his unique and vibrant style.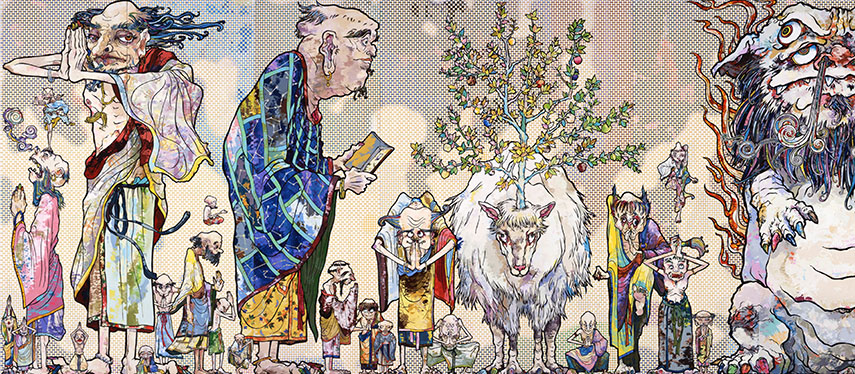 Other Artworks at Mori Art Museum
Also on view, there will be Takashi Murakami's large sculptures, such as The Birth Cry of the Universe and Flame of Desire - Gold, as well as new paintings created especially for this exhibition. These works come from his trademark series, which includes works like 717, Tan Tan Bo and Enso, to be shown here for the first time in the country together with the silver and gold Karajishi Chinese lion canvases.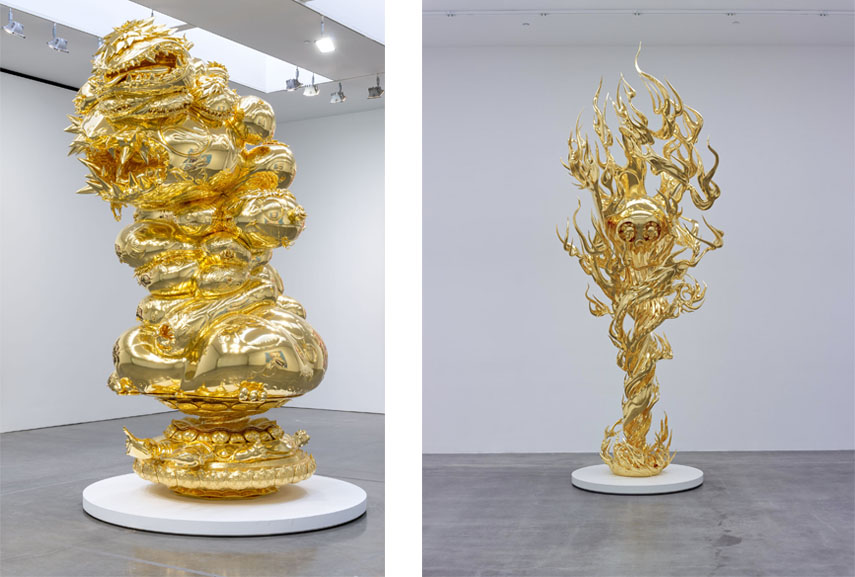 Takashi Murakami in Tokyo
Mixing both the aesthetic characteristics of the Japanese artistic tradition and the nature of the land's post-war culture and society, Takashi Murakami developed a recognizable way of creating that has established his name on the global scene for the younger generations to look up to. As we speak, the artist is also serving as a curator at Blum & Poe Gallery in Los Angeles, for an exhibition of contemporary Japanese ceramics.
Takashi Murakami: The 500 Arhats will be on view from October 31st, 2015 until March 6th, 2016 at Mori Art Museum in Tokyo, Japan.
All images courtesy of Mori Museum.