An acclaimed Japanese artist, Takashi Murakami combines the most cutting-edge techniques with the precision and virtuosity of traditional Japanese art. Inspired by manga and kawaii culture, he creates art ranging from cartoony paintings to quasi-minimalist sculptures to giant inflatable balloons to performance events to factory-produced watches, T-shirts, and other products, many emblazoned with his signature character, Mr. DOB.
The current exhibition at Tai Kwun Contemporary explores the cultural phenomenon of this Japanese superstar artist. Titled MURAKAMI vs MURAKAMI, it dives deep into his multifaceted universe by featuring some of the most notable works, from his large-scale post-apocalyptic works to his optimistic flower pieces, and then to his contemplative Enso paintings, offering Buddhist visions of enlightenment.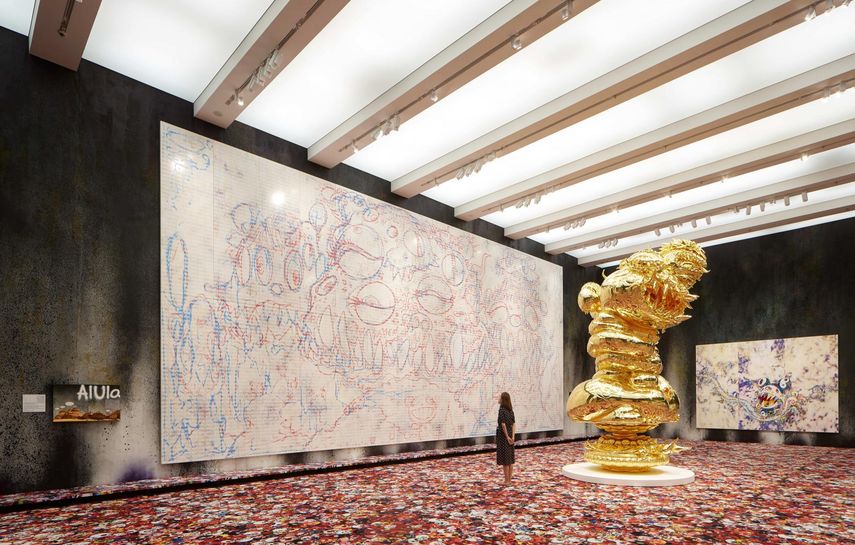 The Universe of Takashi Murakami
The irresistible world of Takashi Murakami is inhabited by monstrous and charming characters, all executed in his Superflat aesthetic. Blurring the boundaries between popular art and high art, his work examines the interrelationships between vanguard art, manga, anime and their forerunner, Ukiyo-e woodblock prints.
Spanning all floors of Tai Kwun, the exhibition brings together over 60 paintings and sculptures in a stunning, immersive setting. It will also feature a showcase of some of the artist's iconic and outlandish costume designs, alongside important video works, samples of his private art collection, as well as the artist's spectacular wall and floor art.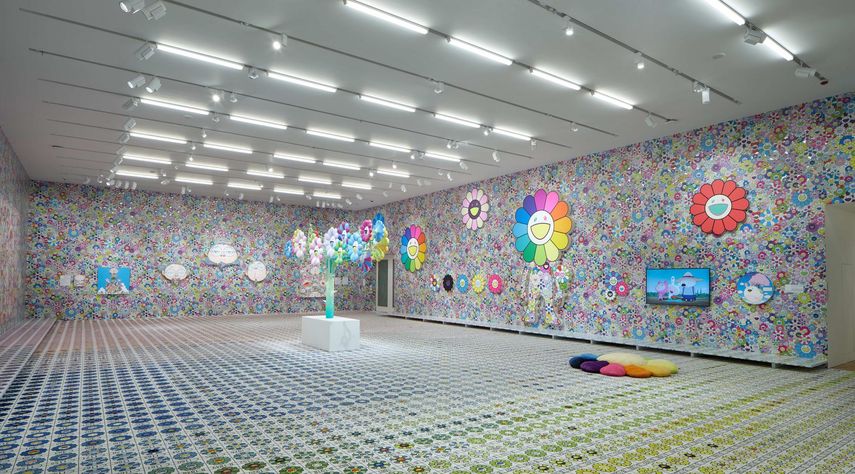 Floor Views
On the third floor, the visitors have an opportunity to see Murakami's mélange of high and low, elite art and pop culture, combining cuteness and darker visions of trauma and pain. The highlight of the room the large gold-leaf clad 4.5-meter tall sculpture The Birth Cry of a Universe, presenting a majesty flustered and disturbed, collapsing under its own weight in formal deterioration. The floor also displays the artist's remarkable collection which reflects his historical rigor and eclectic tastes.
On the second floor, the exhibition presents the artist's eight colorful costumes, which the artist uses to achieve attention and guard himself against the rarefied world of contemporary art.
Among highlights on the first floor are Murakami's works inspired by Francis Bacon; the studies of Tan Tan Bo, a reincarnation of Mr. DOB; Superflat Flowers, his signature flower icons; and Enso paintings, featuring a motif which symbolizes emptiness, unity, and infinity in Zen Buddhism.
In the Prison Yard, the exhibition features Kaikai and Kiki, two mischievous characters that reoccur in Takashi Murakami's artistic practice. Finally, the Ground Floor Entrance offer s a special pop-up store where visitors can enjoy neon and wallpaper works by Takashi Murakami.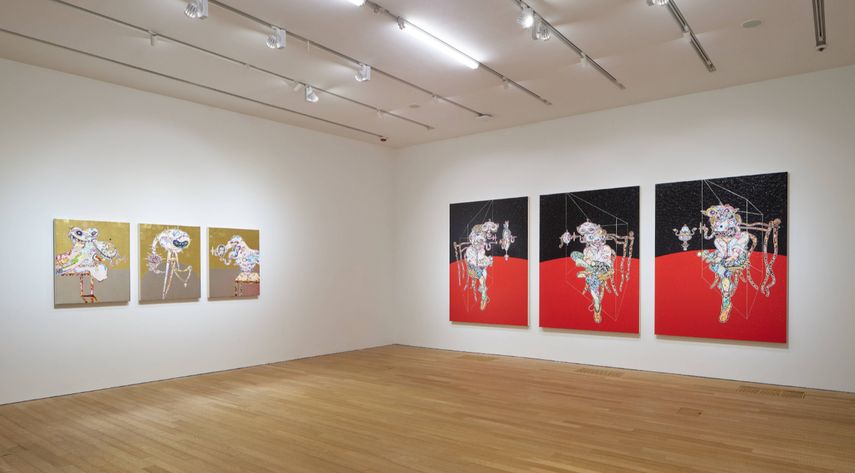 Takashi Murakami at Tai Kwun Contemporary
MURAKAMI vs MURAKAMI will be on view at Tai Kwun Contemporary in Hong Kong until September 1st, 2019.
Over the course of the exhibition, Tai Kwun Contemporary will host a wide range of public programming and educational events, including screenings of Takashi Murakami videos on the Laundry Steps; a public discussion with Takashi Murakami, Gunnar B Kvaran, and Tobias Berger, as well as guided tours, educational workshops, public talks, anime and film screenings, among others. Stay tuned to the website.
Featured image: F Hall Studio © Takashi Murakami. Kaikai Kiki Co., Ltd. All Rights Reserved. Photo: Kitmin Lee; Second Floor © Takashi Murakami. Kaikai Kiki Co., Ltd. All Rights Reserved. Photo: Guillaume Ziccarelli; Prison Yard © Takashi Murakami. Kaikai Kiki Co., Ltd. All Rights Reserved. Photo: Guillaume Ziccarelli. All images courtesy of Tai Kwun Contemporary.