Making her debut in Los Angeles, Tala Madani is presenting her selection of new works in the exhibition Smiley has no nose, hosted by the David Kordansky Gallery. This audacious artist doesn't really hold back when it comes to social criticism and provocative artwork. Her humor conveys much more than just a simple gag or joke, it dares touch upon the social paradigms usually left in the backdrop of our convenient thinking, evoking a dialogue most of us would never even think of having. The work she creates through paintings, caricatures, animated videos and gags, invariably disrupts the forms of conventional art and history. Seemingly blatant pieces of Tala Madani, actually carry a conceptual substructure which yearns to be seen, heard and felt.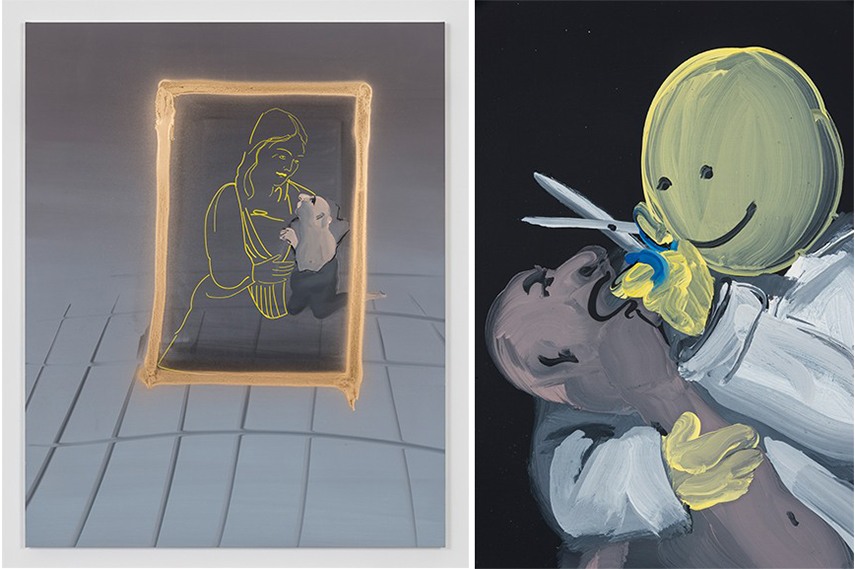 Hey, Why Doesn't Smiley Have a Nose?
How many times have you used the lately popularly called – emoticons, or smileys in your texting or correspondence of any kind? Did you know that this omnipresent symbol has been a part of our culture for more than 50 years now? And have you even once stopped to ask, hey, why doesn't a smiley have a nose? That exact point stands in the form of the title of Madani's exhibition – Smiley has no nose. This question about the universal sign of approval and positivity, is placed upon the violent, mischievous, abused and curious middle-aged men, who are often found as protagonists in the artwork of Tala Madani. In witty, humorous, and carefully premeditated ways, she toys around with her characters, putting them in all sorts of undignified, unfitting and even obscene situations, where they face the ubiquitous motif of the smiley. In some of the showcased works, even a religious strain can be perceived. Projections of the smiley are absorbing meanings of a halo in one picture, and a demonic overtone in another. Much like in the contemporary society, a smiling face doesn't always represent something benevolent and straight-forward.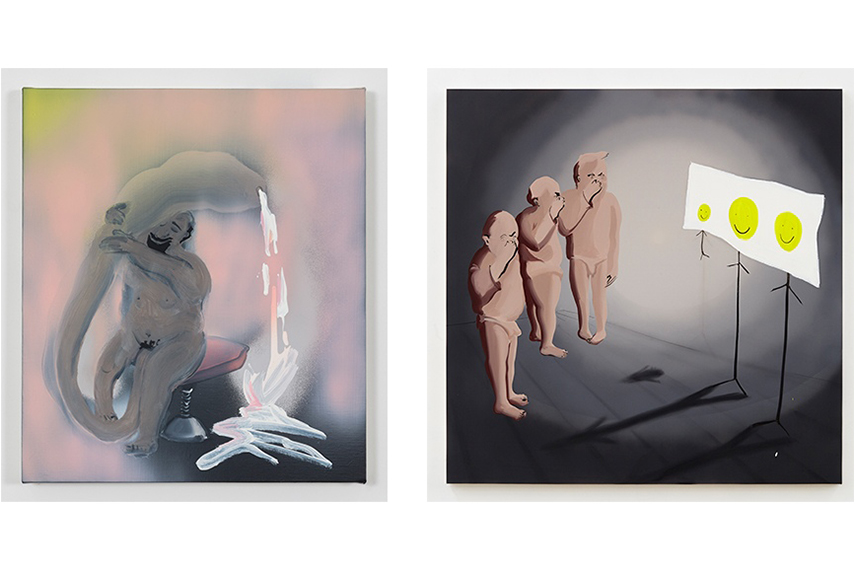 Nothing is off limits
An intoxicating cohesion of creation and destruction overflows in each of these works. The characters themselves are almost drawing, undrawing and re-drawing their environments and relationships. Beams of light exposing intimate parts of the bodies, sometimes depicted even as childlike characters with ridiculously large phalluses, these images often flirt with the absurd. Religious concepts, bodily fluids, toothpaste, scissors, light beams, all of these objects play the roles of creator and destroyer in Madani's artwork, proving once again that for this intrepid artist – nothing is off limits. Professedly simple and obvious, these images contain a delicate amount of anxiety and turbulence, leaving the viewer with a certain feeling of unease. With these figures themselves left to their own devices to cope with the undefined surroundings and their roles in it, we also feel somewhat out of place when we allow our gaze to wander off deeper into the image.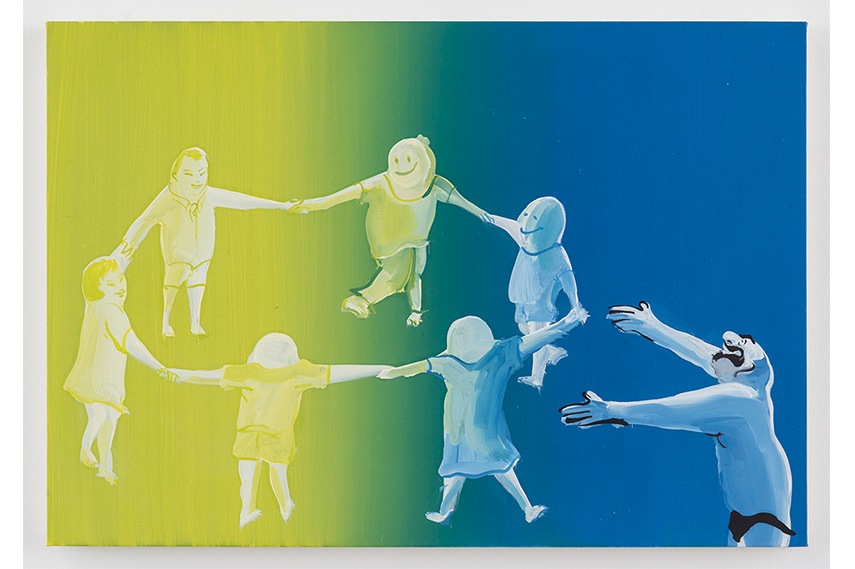 Smiley Has No Nose - solo exhibition at David Kordansky Gallery
LA's David Kordansky Gallery will be the proud host of this thought-provoking show, under the name of Smiley has no nose, the artist's first solo exhibition opens on July 18th, and lasts until August 29, 2015. Tala Madani will undoubtedly shock, surprise, or even disgust someone with her daring work, but there is a plethora of meaning and method behind each of her pieces, so do not be afraid to think about what you see and feel, because that is what the artist, ultimately, wishes to accomplish. If you ever wondered why smiley has no nose, now is your chance to find out, although you may discover a bit more than you bargained for.
Art makes us question the everyday life, find some more answers with a free sign up for My Widewalls!
All images courtesy of David Kordansky Gallery
Featured images:
Tala Madani - Smiley Clean, 2015. Oil on linen - Photography by Josh White
Tala Madani - The Messengers, 2015. Oil on linen - Photography by Josh White
Tala Madani - The Gift, 2015. Oil on linen - Photography by Lee Thompson
Tala Madani - The Dance, 2015. Oil on linen - Photography by Josh White