In 2012, the Russian feminist punk rock group Pussy Riot staged a performance inside Moscow's Cathedral of Christ the Savior against the country's president, Vladimir Putin. Two of band's members served 21 months in prison, having been charged with hooliganism. In late 2014, Cuban artist Tania Bruguera tried to stage a performance entitled Tatlin's Whisper #6 in Havana's Revolution Square, as an opportunity for the nation to speak their mind freely for one minute. The artist was detained by the authorities in Cuba, both then and in mid-2015, when she held a 100-hour long reading of Hannah Arendt's 1951 book The Origins of Totalitarianism, for a project named The Hannah Arendt International Institute of Artivism - INSTAR. It is one year later, and Pussy Riot and Tania Bruguera will finally unite to enforce freedom of speech, as the INSTAR project is being funded through a Kickstarted campaign.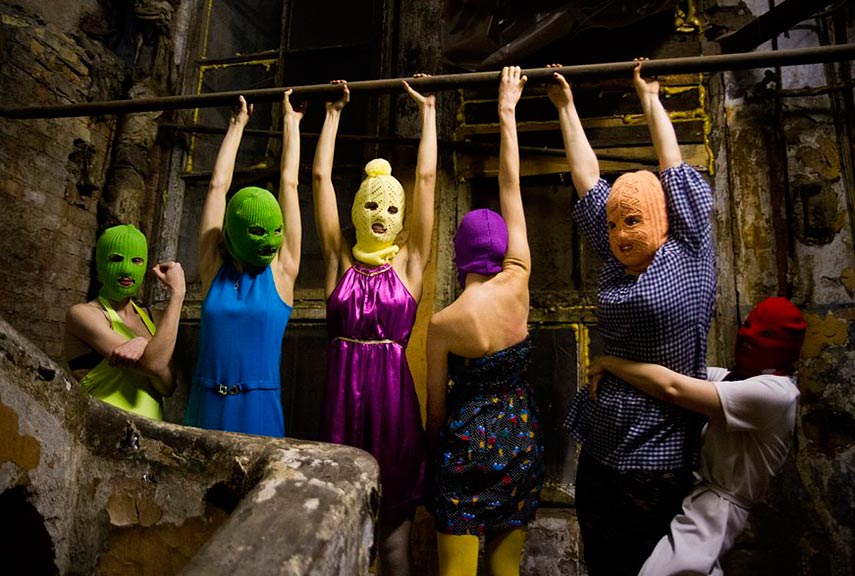 Tania Bruguera and Pussy Riot - Rebels with a New Cause
With the intention to fight political violence and a civic literacy campaign using art, Tania Bruguera will turn her home in Havana into a proper institute for artivism, a place where "people will learn their rights and how to defend them". "[This project] is about creating bridges of trust where there is no fear of each other, to create a peaceful and considered response where there is violence, to create a place where people from different political views can come together to build a better country," said Tania Bruguera on INSTAR's official website. The institute will also offer an activist artist's residency, set to launch in September when the project resumes with its activities. The first announced guests will be the Pussy Riot members, who proved to be big fans of Tania Bruguera's work. In 2015, they reached out to the Cuban via telephone, to discuss the political climate in Havana as well as the rights of artists there. The conversation led to a more concrete project in form of a INSTAR collaboration, although it is yet to be disclosed how Pussy Riot members will materialise their visit to Cuba.
Aside from Pussy Riot, taking the residency in INSTAR's Havana hub will be Palestinian artist Khaled Jarrar and American artist Trevor Paglen. Both artists have been promoting freedom of speech for years, both directly and through their distinct works of art. Khaled Jarrar, who was prevented from traveling to the US in 2014 by the Israeli authorities, in order to attend his exhibition at the New Museum, is known for an art project which involved a gun; as an ex-bodyguard to Palestine leader Yasser Arafat, he used his combat skills to create gestural abstraction paintings by shooting bottles of paint and creating splashes on canvas. Trevor Paglen, on the other hand, tackles the topic of surveillance, through photographs, videos and installations that reveal, for instance, the sub-oceanic finer optic lines used by the NSA.
A video of a conversation between Pussy Riot and Tania Bruguera in 2015
INSTAR - The Hannah Arendt International Institute of Artivism
Tania Bruguera's Institute for Artivism has already received support from some of art world's prominent figures, such as Marina Abramović, Thomas Hirschhorn, Gerardo Mosquera and Pablo Helguera. On March 3rd, the artist also launched an INSTAR Kickstarted campaign, aiming to reach $10,000 for its needs. In return, Tania Bruguera is offering a series of gifts, which includes having your name inscribed on the institute's walls to personalised tour of Havana and your own stay at INSTAR. Right now at a little over $50,000, the artist is inviting everyone to support her project and show the Cuban government the power of art. Anyone interested can donate here until April 7th, 2016.
Tania Bruguera presenting the 2016 INSTAR Kickstarter campaign
Art as an Agent of Social Change
According to a recent report by Freemuse, the year 2015 saw a 98% increase in cases of attacks and violations of artist's rights. In Cuba in particular, there were 6 cases of serious violations of artistic freedom, be it physical attacks, threats and imprisonment, and with US President Barack Obama's recent visit, that number got bigger by at least two. The Hannah Arendt International Institute for Artivism aims to change this situation, encouraging citizens to recognise their rights and to exercise them in order to promote freedom of expression in the face of government opposition. Tania Bruguera's yet another initiative in this direction sure deserves praise and support, and here's hoping it won't be cut down by the authorities in any way, although unfortunately we should probably expect a reaction of sorts - because power in the hands of people is certainly not something a democratic government would have on their watch.
Will you support Tania Bruguera and INSTAR? Share your thoughts on our Facebook page!
Featured image: Tania Bruguera, a Cuban performance artist, poses in her home in Old Havana. Photo by Noah Friedman-Rudovsky via The Washington Post. All images used for illustrative purposes only.