Throughout art history, artists have tried to fully exploit their fancy and present the strange, the mystical, and the uncommendable. However, what happens outside the realm of fantasy? Is every aspect of the actual reality known to us and if not: how do we process it?
The artist Taryn Simon, known for her research-based practice, attempted to determine the bizarre and rarely explored aspects of American everyday through the lens of social and political implications the same evoke with her 2007 project An American Index of the Hidden and Unfamiliar.
Fourteen years later, the Louisiana Museum of Modern Art in Denmark decided to revisit this series, its connection to the present moment, and to underline the artist's interest in categories and systems.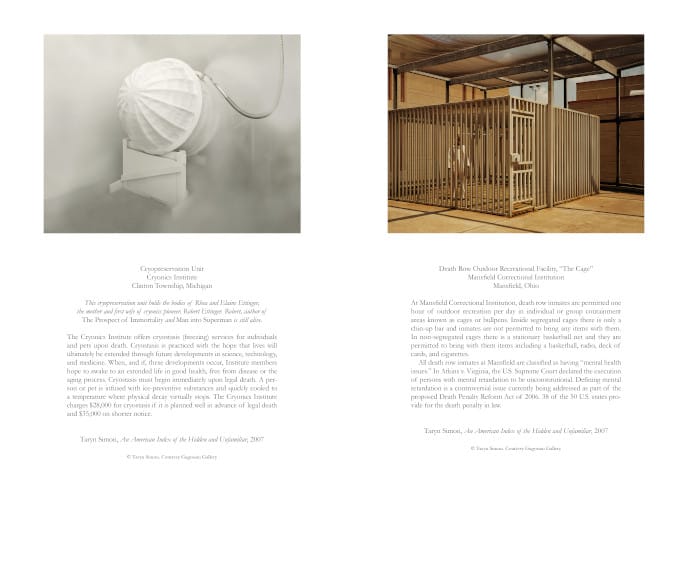 Dismantling The Layers
Taryn Simon explores our perception of familiar systems of organization, such as criminal investigations, flower arrangements, and bloodlines, to unravel the power and authority hidden within. By engaging with different media, the artist thoroughly examines a selected phenomenon and goes through a long process that includes obtaining access from institutions like the US Department of Homeland Security and Playboy Enterprises, Inc.
Simon came to prominence in the early 2000s after her first major photographic and textual work called The Innocents (2002) which documented the cases of wrongful conviction in the United States.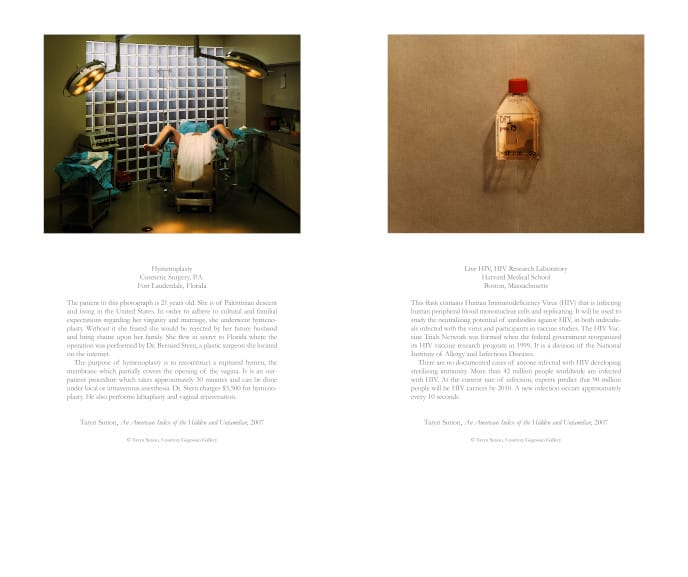 The Series That Unravels
First presented at the Whitney Museum of American Art, An American Index of the Hidden and Unfamiliar consists of photographs featuring objects, sites, and spaces that stand at the core of both American mythology and the everyday, but that remain inaccessible or unknown (a black bear in hibernation, radioactive capsules at a nuclear waste storage facility, and the art collection of the CIA).
Affected by September 11, the American media and government started seeking hidden and unknown sites beyond its borders to strike back and fight global terrorism, while Simon decided to look inside of her own country and confront the boundaries of the citizen to question the apparent division between privileged and public access to knowledge.
Accompanied by texts, the images uncover the hidden structures beneath the American national culture that encompass the foundation, mythology, and everyday functioning of the country.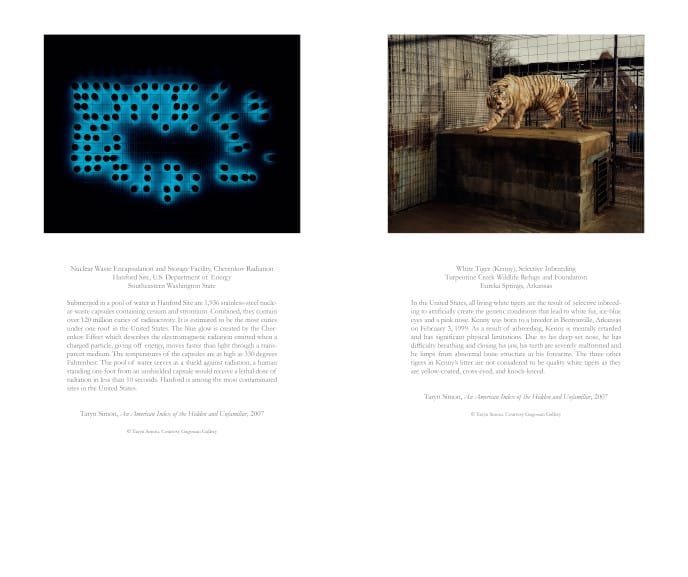 Taryn Simon at Louisiana
For all the mentioned reasons, this series stands as an unsettling portrait of the United States for which the artist undertook an almost performative gesture while acting as an undercover agent and a frenzy collector fascinated with the rare and curious.
Taryn Simon's An American Index of the Hidden and Unfamiliar will be on display at the Louisiana Museum of Modern Art in Humlebæk, Denmark from 21 April until 30 May 2021.
Taryn Simon Interview: Where the Secret Goes
Featured image: Taryn Simon - An American Index of the Hidden and Unfamiliar. All images courtesy of the artist and the Louisiana Museum of Art.