Art dedicated to animals, especially art devoted to saving endangered species, is increasingly present on the international urban art scene. Thinking of Roa and his, often deceased, city critters, of recent mural festivals committed to saving aquatic creatures such as Sea Walls, of charity shows, or just exhibition narratives telling the story of the imperiled nature as Bestiary of Phlegm was, the cause appears to be taking on a shape of a movement in contemporary visual expression. A group exhibition of contemporary painting conceptually oriented to emphasizing the most threatened species is coming to London this fall, presenting a fantastic array of urban and contemporary painters, in the organization of the Bear Cub Gallery. Entitled The Ark, it not only alludes to the great biblical salvation vessel, but suggests the time for action is long overdue. Save the precious diversity of our planet! - cry the artists of The Ark.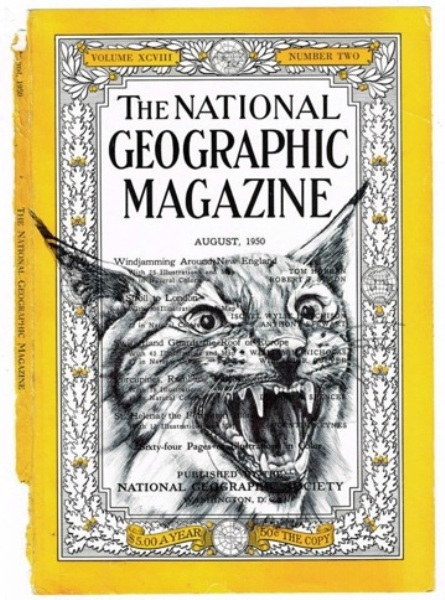 For Salvation of the Almost Extinct
The exhibition will be installed above the historic Crypt on the Green Clerkenwell, while the entire concept revolves around the idea of Noah's Ark. Participating artists were requested to create two original pieces inspired by one species from the Red List, all of which will be symbolically exposed, in 'two by two' manner, aboard the improvised gallery - the large scale evocation of the actual Ark. Thus will the installation be representative of novel ideas in contemporary painting, while advocating environmental action.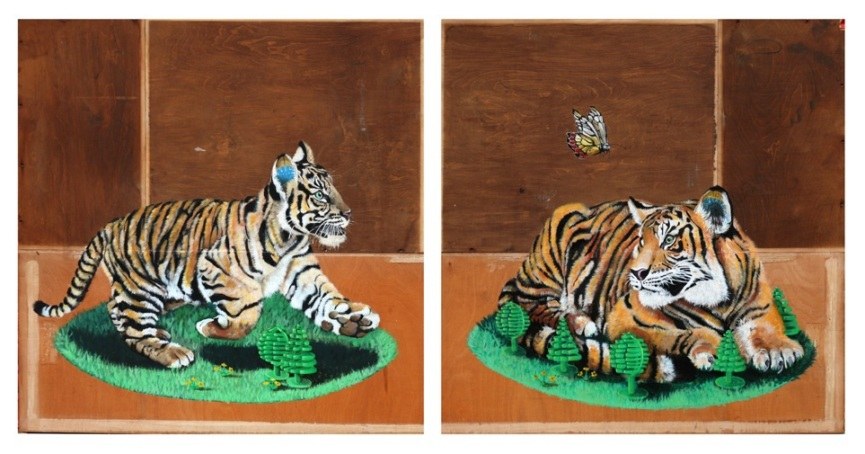 Roster of Animal Inspired Artists
The list of participating artists includes Chemical X, David Tracy and Ben Greenlee, JS Weis, Laura Ball, Louis Masai, Mark Powell, Noe Two, Okuda and Snik, while the Wildcard artist who gained the opportunity to exhibit at the occasion via a Facebook competition (now finished) is Matt Crump.
Chemical X is a designer famous for the design of Ministry of Sound logo, as he delves into realms of fashion, advertising, gaming, freestyle sports and music.
David Tracy is the renowned American LEGO sculptor from LA, who teamed up for The Ark show with his friend and 3D sculpting designer Ben Greenlee, as they make their inaugural appearance in Britain.
JS Weis is an American artist who depicts animals and nature in combination of representational and abstract images. His work is made with layers of paper, which gives it a particular visual depth, while The Ark will also be the UK debut for him.
Specialized in watercolors, an urban artist Laura Ball creates fine, elaborate pieces characterized by figurative animal, human and nature images, abundant with introspective symbology.
Louis Masai is an artist passionate about environment, especially preservation of species, whereas he always begins creating starting from a human suggestion as a referential point.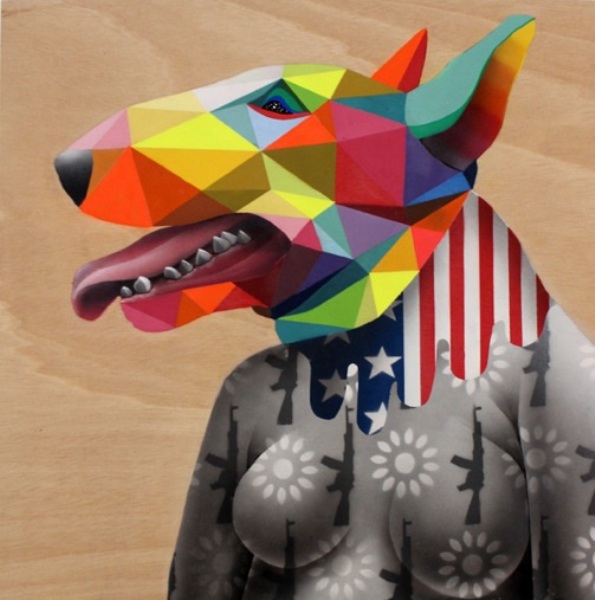 Nature Inspired Creatives
Mark Powell is a fantastic draughtsman, creating with pen on archival document sheets, where he juxtaposes history of the employed media and significance of the portrayed character, which are often animals.
Noe Two is a renowned personality of the graffiti scene in France, from where he draws his vibrant, colorful expression filled with tags, chromatic nuances and animal imagery.
Okuda is a pop-surrealistic urban artist from Spain, known for his geometric use of the broken light spectrum and the chromatic richness of his wall pieces and installations, which is frequently interrupted by unexpected shades of grey. His art constantly questions relationship between our present and past, where roots play a significant role.
Snik is a spray and stencil duo, magnificently skilled in creating representational scenes with these street art techniques. Their art is held by contrasting palette of black and white and rich color, over an exceptional drawing.
Matt Crump will be exhibiting work of characteristic drawing, derived from comic style, in which he often includes famous cartoon characters.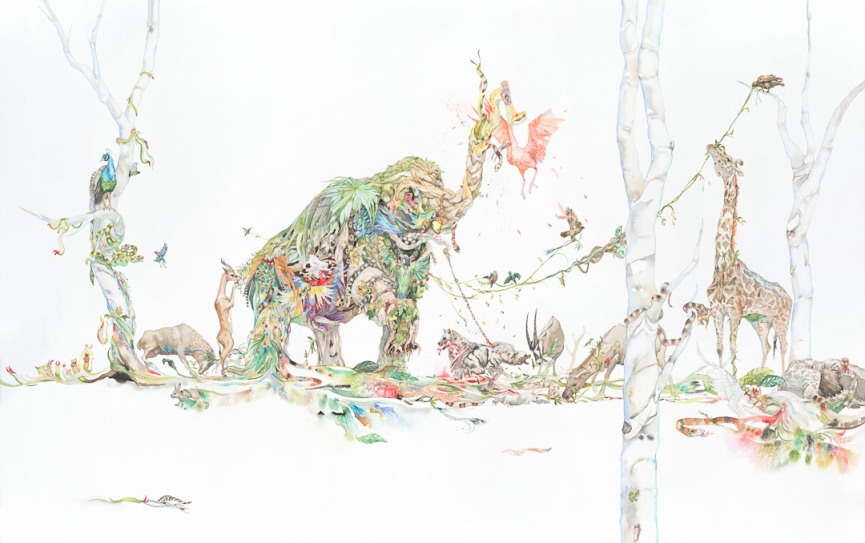 The Ark and Bear Cub Gallery
Bear Cub Gallery is a contemporary art event company, devoted to curating conceptually envisioned exhibitions internationally. The Ark will be shown at Crypt on the Green Clerkenwell, opening on September 26, and as a group pop-up show, running only through October 2, 2014, so all should schedule a visit already, because it promises to be an extraordinary event.