On the fourth day of the 2018 Urvanity Art Fair in Madrid, three splendid women found themselves under one roof at a very particular moment in art history - a moment of the #metoo movement in a still strongly male-dominated urban art scene, and contemporary art at large.
The trajectory of each of these ladies is unique - one is the director of a museum, one of a fair, and one of a gallery. Yasha Young, Tina Ziegler and Anna Dimitrova respectively represent relevant, influential and important figures in this industry, to say the very least.
Conducted by Doug Gillen, Director of Fifthwall TV and the Official Host of The Art Conference, the talk held at LASEDE COAM in Madrid, as part of Urvanity's rich program, shed light on the journeys these women undertook to become who they are today, and the challenges they encountered.
Surely, what could be pointed out as common for all of them is the great passion they have for the art and the artists, and it is this dedication that undoubtedly still keeps them going - and going strong.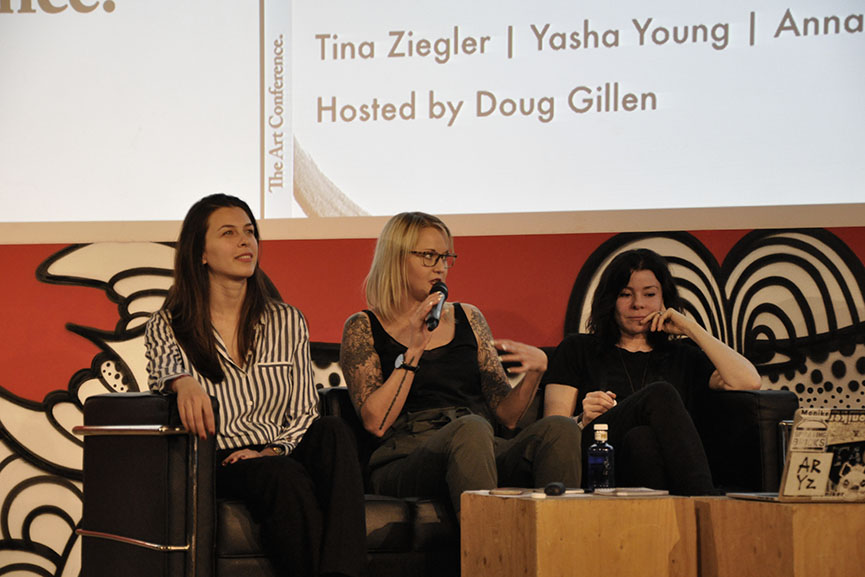 Tina Ziegler
The first one to go on stage was Tina Ziegler, the director of the Moniker Art Fair and the founder and director of The Art Conference. Working as an independent curator from London, Tina has curated more than 80 art exhibitions and worked with 300 artists around Europe, including Ben Eine, C215, Herakut, Ludo and Stik, amongst others.
Fascinated with the street art and graffiti ever since she was a child, Tina knew early that she wanted to be a part of this world. Originally from Santa Barbara, California, she moved to Barcelona in 2004 and became immersed in its vibrant street art scene. She compiled her experiences in a book titled Hunt and Gather- Discovering New Art that featured the work of over 40 international contemporary artists, reflecting the incredible crossover of media and styles.
Tina is currently the director of The Art Conference, a platform that provides space for discussing this burgeoning Urban Art movement, and the director of the Moniker Art Fair whose goal is to support and connect this movement, educate the public about it and engage the collectors. For her, being a curator is a balance between being scared and having confidence. After working in the industry for 15 years and witnessing the explosion of Urban Art, it makes her happy and proud that everywhere she goes in the world, there is a tribe that shares her passion. "Love what you do, love the art, support each other and communicate", she summed it up.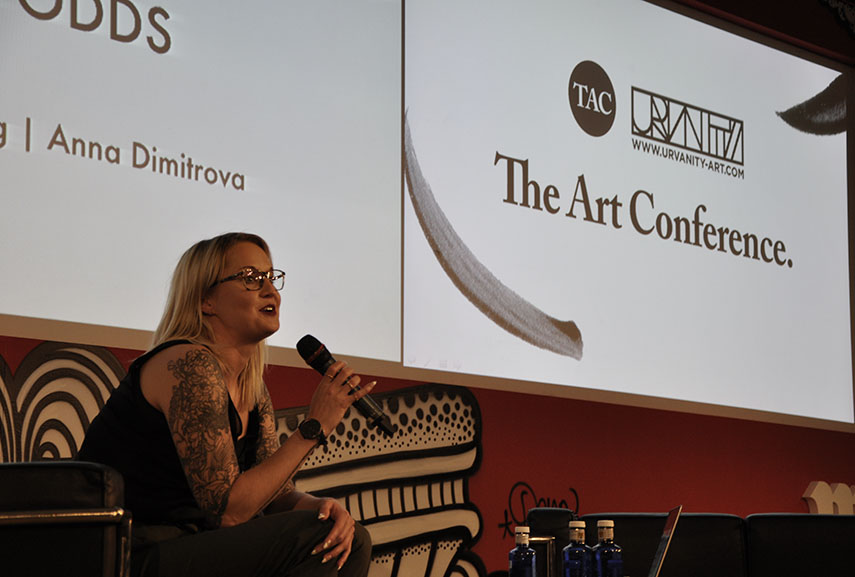 Anna Dimitrova
Up next was Anna Dimitrova, the director of Montana Gallery and the founder and director of ADDA Gallery and more recently, ADDA & TAXIE in Paris. After leaving Bulgaria with her parents as a child, she has spent her formative years in Morocco, before leaving for Madrid to study. Defined by her cross-cultural experience, she lives as a traveler today between Paris, Barcelona and the rest of the world. Her first experience with street art dates from 2003 when she organized CamelArte Festival - an event that fueled her interest in and passion that continues to grow.
In 2007, she created her first company of artistic and cultural projects in Barcelona, NOBULO, seeking to create a bridge with cultural personalities and entities. Among her most notable project is Seres Queridos, an international-level artistic project that builds a bridge between the inhabitants of neighborhoods around the world and their urban environment. After neighbors of a certain city choose and designate loved ones from their own community, renowned artists are invited to immortalize their portraits on walls and facades of the city.
In 2010, she assumed the management of Galería Montana in Barcelona, the first Spanish gallery specialized in urban art and graffiti, where she presented new artists and talents of international renown. With carefully curated shows, she aims to make unknown artists known. In this way, the gallery became a benchmark for introducing new artists to the market and supporting them so they could continue working. As the movement continued to grow and expand, she launched ADDA Gallery that organizes several exhibitions during the year in the main international capitals. In 2017, she opened her own space in Paris ADDA & TAXIE.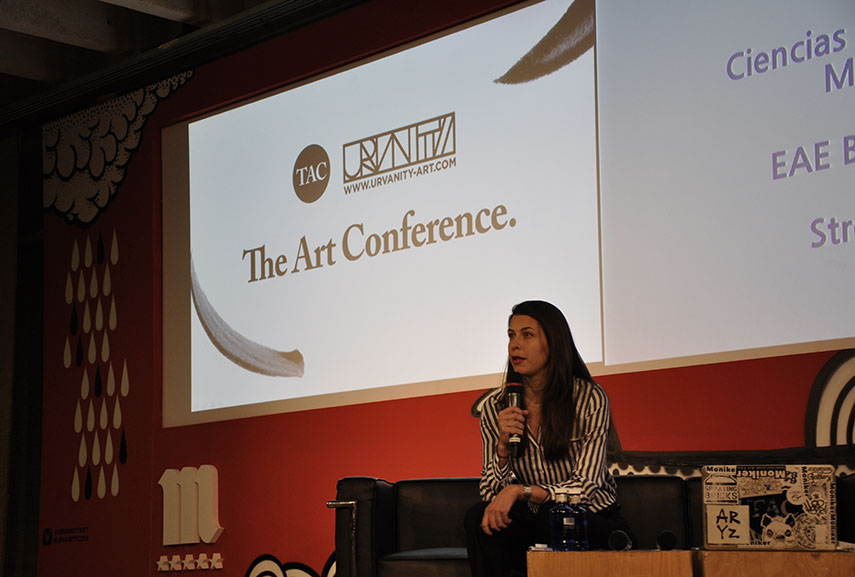 Yasha Young
The last one to go on stage was Yasha Young, the director and curator of Urban Nation. A member of the international art scene since 2011, she has built up her network as a gallery owner and independent curator of more than 250 worldwide prestigious exhibitions.
Berlin-based contemporary art platform, Urban Nation has been transforming the city's facades into a giant outdoor gallery and integrative neighborhood projects since 2013. It was created with a goal to build and maintain a non-profit platform for education, networking, development, research and archive for urban or new contemporary art. Young's work with Urban Nation is based on a high-caliber, worldwide network of artists, collectors and entrepreneurs.
Her creative vision has driven and has been key to the creation of two globally recognized initiatives: Project M and OneWall series. While Project M is an international temporary art project that has the goal and objective to improve the neighborhood, to push creativity and to connect people and communities, OneWall series is aimed to bring art to the diversity of all neighborhoods of Berlin one wall at the time.
Many years in the making, the Urban Nation Museum for Urban Contemporary Art finally opened its doors in September 2017. A one-of-a-kind institution, the museum is a space meant to protect, conserve, document and research Urban Art. Acting as a creative force in Berlin, the museum is focused on promoting public critical engagement and exchange with this ever-expanding art form.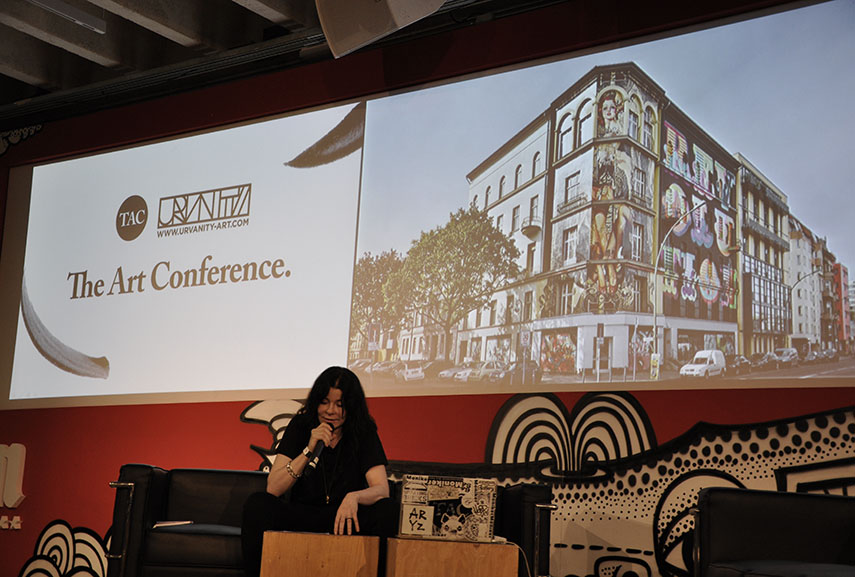 The Art Conference x Urvanity 2018 - Against All Odds
After the self-presentation of each of the women, Doug Gillen began leading an interesting Q&A session.
Of course, the burning question of the evening was the female experience in an environment that rarely features one. Quite expectedly, all of the women agreed that there is no equality, and a frequent problem they had during their careers was having to re-establish their position as a (female) leader for certain projects.
Commenting on the women in the industry, Yasha Young said:
In the business of this art, it's very funny that most of the females that I know find themselves in the selling or marketing positions, and rarely ever get to be the leaders, and that's something I'd like to change very much.
Tina Ziegler added that such a situation is difficult, but also empowering and character-building.
Graffiti is male-dominated, but I've always seen it as an interesting challenge - to show that I'm as tough as you, work as hard as you, I can climb fences, I can go on train tracks at 4 o'clock in the morning, and I'm not gonna complain about it. And sometimes I'll do it in high heels too! So, now I feel really strong and confident about what I'm doing, because now there's a space that is supporting women like us.
For Young, a much bigger challenge comes when it's time for projects.
When you are trying to bring two very different worlds together, you're trying to merge the traditional art market with a subculture. They both need each other, the traditional market is dying and in need of new ideas, and the subculture needs the market in order to sell, find new platforms. My experience there is, if you do not have a super high-power level education, nobody will take you seriously.
The conversation went on to explore the opinions on artists' collaborations with brands, with a conclusion that there has to be corporate social responsibility, naturally leading to the matter of the art market today - with so many rules that constantly change, it is important for artists, and everyone else involved - to think in terms of the long game. Tina Ziegler explained:
The movement has grown so fast, and there are so many players now and there are so many brands that want to tap into that incredible outlet. But it has to be done responsibly. We all need to take responsibility for this movement. It's about scaling back and working with key partners that understand this artistic vision and want to be in it for the long game and not just benefit from the work that we've done and walk away. It is about finding people who want to continue to support art projects for the long-term (...) We need to manage and control who comes into our space, because we all worked too hard to get here.
She added that her personal agenda for future years is to create the space where all the players work together to create conversations.
We all need to calm down and manage this market to become the biggest contemporary art movement that I know it can become.
When asked what they would advise someone entering the industry, the women suggested dedication and honesty but also finding the right allies. Yasha Young also emphasized the importance of loyalty.
Meet everyone, listen to them, and have that passion to make your own thing, but make very clear where your loyalties lie. Because that is that human factor – if we don't preserve this one-on-one with each other, this whole thing will explode.
They all emphasized the importance of working hard and possessing knowledge on the matter, but also being prepared for many personal and sacrifices in general. Because, even though Ziegler, Young and Dimitrova are all accomplished personalities now, they didn't get there easily.
From all of them, we can expect even more in the future: Tina Ziegler will inaugurate the Moniker Art Fair in New York in May; Yasha Young's Urban Nation Museum is preparing an artist residence on the 3rd and 4th floor of their building in Berlin; and the upcoming exhibitions at all three galleries by Anna Dimitrova will certainly not disappoint.
All images copyright Widewalls.