The deadly strain of the coronavirus, also known as COVID-19, has spread across the world, infecting more than eighteen million people and killing over 700,000 worldwide as of August 7, 2020.
The Impact of Coronavirus On the Art World
On March 11, 2020 the World Health Organization declared the new coronavirus COVID-19 a global pandemic. Like everyone else, the art world had to take precautions. With mass gatherings bans, many art museums have closed, biennials and fairs have been canceled or postponed. Here are the updates so far, and keep an eye out for more in the coming days.
Top Three Auction Houses See 79% Drop in Sales
Auction houses Christie's, Sotheby's and Phillips saw a 79% year-over-year drop in revenue in the second quarter of 2020, according to a new report published by a London art market analytics firm Pi-eX. Previously, the same firm had found that sale totals from the same auction houses had fallen 40% during the first quarter of 2020.
In numbers, compared to 2019's $4.4 billion, 2020 brought in $0.9 billion in sales. The decrease is actually more significant than the one following the 2008 financial crisis, when auction revenue fell from $4.8 billion in Q2 2008 to $1.6 billion in Q2 2009.
More in the article by the Art Market Monitor.
Art Museum Shop Masks Become a Hit
A face mask has definitely become part of our everyday life during this pandemic, and the art world found a way to make it a bit less grim. Art museum shops around the world are now offering art-inspired and artist-designed face masks, from affordable to limited-edition ones.
Among the more popular ones, we have MOCA's Masks, which include designs by world-famous artists such as Barbara Kruger, Hank Willis Thomas, Catherine Opie, and even Andy Warhol. At the Detroit Institute of Arts you can find one inspired by a Diego Rivera mural, while the National Gallery in London is offering Van Gogh's Sunflowers on a mask. If you're a fan of Van Gogh but you prefer Starry Night to Sunflowers, head over to the The National Gallery in Washington, DC's shop. Rijksmuseum, naturally, sells the Rembrandt masks, and the Klimt Villa is selling the Klimt ones.
Dallas Art Fair Cancels 2020 Edition, Doesn't Reimburse Exhibitors
After postponing its 2020 edition from April to October, the Dallas Art Fair has now cancelled it altogether, amid a rise in COVID-19 cases in Texas. As artnet reports, dealers who were to participate in the fair will not be refunded the booth fees they have already paid, as the event was cancelled just two months before the scheduled opening date.
East Coast Museums Layoff Staff
In a new wave of staff layouts there are the employees of three major US museums. The Philadelphia Museum of Art is laying off 85 employees, with an additional 42 accepting voluntary separation agreements. The Museum of Fine Arts, Boston (MFA) has eliminated 113 full- and part-time positions (56 staff members were laid off and 57 others voluntarily took early retirements). In April, MFA furloughed 301 employees. The Met laid off 79 employees and furloughed an additional 181, bringing its total layoffs since the pandemic began in March to 160, some 20 percent of museum staff.
Tate Modern Reopens To Protests
After four months of being closed due to the covid-19 pandemic, Tate Britain as finally reopened its doors on July 27. In front of the institution were not visitors, however, but protesters: wearing masks, they gathered outside the London gallery to speak and act against job cuts, many of them including black and minority ethnic staff, according to the PCS union, one of UK's largest trade unions. Some 200 Tate jobs are at risk, from retail and publishing to catering.
Job cuts are unfortunately also expected in other London art venues such as Southbank Center.
Pace Lays Off Staff
After furloughing some staff members, Pace Gallery becomes the latest venue to permanently let its employees go amid the pandemic. According to ARTnews, "the layoffs [are] affecting what the gallery said is fewer than 20 workers."
Gavin Brown Dissolves, Joins Barbara Gladstone
Influential gallerist Gavin Brown, owner of Gavin Brown's Enterprise, shut his own gallery down after 26 years, reports artnet. Instead, he will join Barbara Gladstone's Gallery as partner, meaning that his artists like Alex Katz, Arthur Jafa, Rirkrit Tiravanija, Rachel Rose and Joan Jonas, will now be represented by Gladstone.
US Arts Venues Receive PPP Incentives
In a survey conducted by Americans for the Arts, a nonprofit organization for advancing the arts and arts education, it was revealed that financial losses to nonprofit arts and cultural organizations in the US are an estimated $9.1 billion as of July 13, 2020. 96% of organizations have cancelled events since the onset of the pandemic—many well in to 2021—resulting in a loss of 327 million admissions. 62% of artists have become unemployed.
The analysis also goes to explore the effects of the CARES Act, the $2.3 trillion stimulus package approved by the US Congress in March 2020 to help the arts sector. One part of it, the Paycheck Protection Program (PPP), was designed as a direct incentive for small businesses (up to 500 employees) to keep their workers on the payroll.
Of the total 4.9 million PPP loans, 173,243 of them were made to arts and creative economy businesses worth $13.7 billion, which preserved 1,124,138 jobs. Furthermore, of the 173,243 arts loans, 9,917 went to nonprofit arts organizations and 163,326 went to for-profit arts and creative economy businesses.
The deadline to apply for the PPP loan is August, 8, 2020. More from the AFFA analysis here.
Speaking of PPP loans, Hyperallergic reported that among the venues who received taxpayer money through the aid packages (available publicly here) there are museums like The Guggenheim and The Whitney, as well as mega galleries like David Zwirner, who laid off 40 employees in mid-July. In California, institutions who also got help include The Hammer Museum, the Museum of Contemporary Art (MOCA) and the Los Angeles County Museum of Art (LACMA), but also Regen Projects and Hauser & Wirth.
In a recent podcast, their editors also discuss this list of beneficiaries.
One of Every Three Museums May Close Forever, New Survey Finds
In a new survey of more than 750 museum directors fielded throughout June 2020, The American Alliance of Museums (AAM) reveals the harsh ecumenic harm to the institutions caused by the Covid-19 closures. Some 33% of museum directors surveyed confirmed there was a "significant risk" of closing permanently by fall 2021, or they "didn't know" if they would survive.
Among other key findings of the report is the 87% of museums who have only 12 months or less of financial operating reserves remaining, with 56% having less than six months left to cover operations. During the pandemic, 75% of museums stepped into their pivotal role as educators providing virtual educational programs, experiences, and curricula to students, parents, and teachers, while two-thirds (64%) of directors predicted cuts in education, programming, or other public services due to significant budget cuts.
Laura Lott, President & CEO of AAM, said:
Museum revenue disappeared overnight when the pandemic closed all cultural institutions, and sadly, many will never recover. Even with a partial reopening in the coming months, costs will outweigh revenue and there is no financial safety net for many museums. The distress museums are facing will not happen in isolation. The permanent closure of 12,000 museums will be devastating for communities, economies, education systems, and our cultural history.
Apart from being significant in terms of culture and arts, museums support 726,000 direct and indirect jobs and contribute $50 billion to the economy each year.
Read the full report here.
Art Fund Expands its Museum of the Year Prize
The UK's largest arts charity, Art Fund launched a campaign for museums and revealed plans for a special edition of Art Fund Museum of the Year Prize.
Recognising the challenges that museums face this year, the prize money awarded will go up to a total of £200,000, a 40% increase over previous years, and be equally divided between five winning museums, chosen for their achievements in the year 2019-2020.
The week celebrating the UK museums starts on October 12, 2020.
The news comes in the week when major UK art museums are finally reopening, including Tate, V&A, Turner Contemporary and YSP (more on that below).
ArtTactic Releases a Covid-19 Guide for UK Art Venues
ArtTactic, the art market analysis firm, released a "live" document examining the impact and response of the Covid-19 crisis on the UK arts sector. According to their press release, it will be "regularly updated with new contributions and practical advice from tax, finance, legal, insurance and other experts on how to best tackle the short and medium-term challenges in the UK art market during the COVID-19 crisis."
Find the report here.
TEFAF New York is Cancelled
TEFAF, short for The European Fine Art Fair, has officially cancelled its 2020 New York edition amid coronavirus pandemic, after previously postponing it from May to October. As expected, TEFAF will refund its exhibitors for the booth fees they paid already, and is working on an online alternative likely to take place at the end of October 2020.
Nick Gentry Creates Artwork To Support the NHS
Known for using old technology such as VHS tapes and Floppy Discs to create sculptures and paintings, Nick Gentry is one of UK's most recognized international artists. To support frontline NHS healthcare staff during lockdown, he has now turned to a brand new medium - punch cards. The artist has made artworks using vintage computer punch cards from the 1960s and 70s sourced from all over the world. They are portraits of health professionals, each being unique and telling their story.
Banksy Sprays London Underground
If you ever think Banksy will run out of ideas how to wittily comment on world events, think again. This time, the elusive street artist dressed up as the cleaner of the London Tube, but cleaning was the last thing on his mind; rather. In something of a hazmat suit, Banksy spray-painted several of his trademark rats - some were coughing up mucus, some were using masks as parashoot. Have a look yourself in the video below!
Frieze London is Cancelled!
Frieze London and Frieze Masters, two major art fairs of the London art scene taking place annually in October, have now been cancelled, due to "considerable logistical challenges regarding coronavirus." Frieze organizers let their exhibitors know about this decision in a letter sent on July 14. According to The Art Newspaper, Frieze will offer its online viewing rooms between 8 and 11 October, 2020 to all of the 160 galleries of Frieze London and Frieze Masters.
Here Are the Reopening US Museums
With the Covid-19 pandemic in full swing again, the art museums in the United States are slowly reopening, with multiple safety measures reinforced. For now, we have the reopening dates for the following venues: Museum of Fine Arts, Houston on May 23; The San Antonio Museum of Art on May 28; the Boca Raton Museum of Art on June 3; Crystal Bridges Museum of American Art and the Momentary, Bentonville, Arkansas on June 10; Saint Louis Art Museum on June 16; Toledo Museum of Art on June 23; Denver Art Museum on June 26; Cleveland Museum of Art around June 30; Modern Art Museum of Fort Worth on July 1; Virginia Museum of Fine Arts, Richmond on July 4; The Walker Art Center on July 15; Detroit Institute of Arts on July 15; Institute of Contemporary Art/Boston, Minneapolis Institute of Art and Portland Art Museum on July 16; Art Institute of Chicago on July 30. Museums in New York are still awaiting direction from New York's governor, although The Metropolitan Museum of Art, New York (Fifth Avenue building) announced the reopening on August 29.
Art Basel Miami Beach Will Go On As Planned, For Now
The exhibitors of the upcoming Miami Beach edition of the Art Basel fair received an email on July 8, in which they were informed that the fair will proceed as planned as per their usual schedule - December 3-6, 2020.
The letter also revealed that Art Basel has revoked its original deadline for exhibitor withdrawal, previously set for August 1 and now being October 1. The galleries that cancel their participation after that date will have to pay 75% of the total booth fees. If the fair is canceled, Art Basel will fully refund all previously paid fees.
David Zwirner Lays Off Nearly 40 Employees
Following the now unavoidable footsteps of other major art galleries such as Gagosian and Pace Gallery, David Zwirner announced layoffs across its locations. According to a gallery spokeswoman, David Zwirner expects to see an overall 30% drop in sales by the end of 2020, forcing the mega-gallery to eliminate nearly 40 jobs across its six locations worldwide, including London, Paris, and Hong Kong, but mostly the U.S. staff.
For laid-off employees, Zwirner is offering health insurance through the end of the year and a minimum severance of four weeks' pay.
UK Prepares $2 Billion To Bail Arts Out, Audiences Not Ready For Museums Yet
A total of £1.57 billion will be given out to Britain's arts sector in aid due to the pandemic, it was announced on July 5 by the country's culture minister. The money will provide music venues, independent cinemas, museums, galleries, theaters and heritage sites with emergency grants and loans.
When it comes to art museums, London's National Gallery is the first national museum to reopen, followed by other important institutions such as the Tate Galleries (more on the reopening dates below). In a new survey conducted by Ipsos, the London-based market research company, almost half of the British public has doubts about coming back to the art institutions and galleries, saying they are "not very comfortable" and "not at all comfortable" despite the new social distancing measures. All of those include mandatory mask wearing and at least 1 meter of distance between the visitors at all times.
Some UK Museums Announce Reopening Dates
As of June 30, the UK is has the third highest Covid-19 death rate, so the just-announced reopening of some museums could be pushed.
The National Gallery will reopen on July 8; The Royal Academy of Arts (RA) on July 9; The Barbican on July 13. Whitechapel Gallery will reopen on July 14, as will The Photographers' Gallery. July will see the reopening of the Somerset House and Turner Contemporary, the latter on July 22. Nottingham Contemporary is planning to reopen on August 4, as are Serpentine Galleries. Mid-August is looking bright for The Ashmolean Museum.
All of Tate Galleries will reopen on July 27.
Institutions that will remain closed for the time being include The V&A, The National Gallery, The British Museum, and The Wellcome Collection. The National Portrait Gallery is closed until spring 2023 due to renovations.
NYC Public Art Education Budget Slashed
On July 1, it was announced that New York City's new city budget will cut the part dedicated to arts and culture by 11% in fiscal year 2021, meaning that the educational department will see a nearly 30% slash of art education programs.
UK Arts Sector Predicts 'Catastrophe', New Art Fund Launched
A combined revenue drop of £74 billion for the UK's creative industries in 2020, meaning £1.4 billion a week, is projected in the new research from Oxford Economics projects. The Creative Industries Federation has warned of a "cultural catastrophe", as 406,000 (1 in 5) creative jobs expected to be lost.
The new report, The Projected Economic Impact of Covid-19 on the UK Creative Industries, projects that the creative sector will be hit twice as hard as the wider economy in 2020. Many creative sub sectors are expected to lose more than half their revenue and over half of their workforce. The impact on employment is set to be felt twice as hard by creative freelancers with 287,000 freelance roles expected to be terminated by the end of 2020.
Museums and galleries could lose £743 million in revenue (-9%) and 5% of jobs (4,000), with the impact being mitigated by being able to reopen in July under social distancing constraints.
The news comes in shortly after The Sunday Times published an interesting public survey on essential and non-essential jobs, in which "Artist" made top of the list for non-essential job.
On the other hand, the London-based charitable organization Art Fund has pledged $2.5 million in grants for museums and galleries in the United Kingdom impacted by the coronavirus pandemic, in an effort to cushion the financial losses and expected drop in visitors and revenue.
The funds will go toward collections and exhibitions, the development of digital skills and infrastructure, audience engagement initiatives and reopening costs, and staff support, which were identified as the four key areas of focus from the charity's Covid-19 impact research published in May, reports ArtForum.
Art Fund will award $2 million in grants, ranging between $12,500 and $63,000, to organizations, which may begin applying for funding on Tuesday, June 16. The first round of grants will close July 6.
Art Basel in Basel 2020 Cancelled!
Amid "these are tumultuous and challenging times," Art Basel has cancelled its flagship fair in Basel for this year, announcing the next edition for June 17-20, 2021.
The 2020 edition of Art Basel had already been postponed from its usual June slot to mid-September, after having cancelled its Hong Kong show as well, which was due in March. The Hong Kong show had an online viewing room instead.
Other June Basel shows which were also supposed to take place in September are getting cancelled, among them Volta, and photo basel. The only fairs still scheduled to go on as planned for now is Design Miami Basel and Liste.
Art Basel in Miami Beach will go on in December until otherwise communicated.
Louvre to Reopen July 6
One of the very first major art museums to close due to the COVID-19 health crisis, The Louvre is now finally announcing a reopening. If all goes according to plan, its doors will welcome the visitors again on July 6, "with strict rules for social distancing and 70% of the museum open to the public," according to The Art Newspaper.
The Louvre first closed in early March 2020 and then again on March 13.
Some Parisian museums are set to open in June, namely The Château de Versailles (June 6), the Musée d'Orsay (June 23), while Centre Pompidou and the Grand Palais will follow on July 1.
MARUANI MERCIER Gallery To Host a Local Art Fair
The renowned Belgian gallery MARUANI MERCIER is offering its Warehouse exhibition space to 10 national galleries this November free of charge for a small local art fair.
Aptly called The Warehouse Fair, the event will take place from November 13 to 15, 2020, with the VIP Opening on November 12. Seven galleries have already confirmed their participation, although their names are yet to be revealed.
Laurence Mercier comments:
As international fairs are cancelled world-wide and art travellers are staying local, we believe small local fairs are the best answer to the Corona crisis. I want an exhibitor's fair, one where politics don't count, the booth attribution spaces will be drawn by a ballot and an innocent hand. The finances will be open-book to every exhibitor with a pre-agreed budget.
Turner Prize 2020 is Cancelled!
Tate Britain has just announced that Turner Prize 2020 has been cancelled amid the health crisis. Instead, the award will go out to "a larger selection of artists" - namely, 10 bursaries of £10,000 will be given out, and the 10 names will be announced in late June.
Alex Farquharson, the director of Tate Britain, said to The Guardian that the practicalities of organizing the annual exhibition made it impossible to stage the prize this year.
We have decided to help support even more artists during this exceptionally difficult time. I think JMW Turner, who once planned to leave his fortune to support artists in their hour of need, would approve of our decision.
Turner Prize is one of the most prestigious awards in the visual art field, given annually since 1984 to British and Britain-based artists based on "their contribution to new developments in contemporary art at this time." In 2019 it was awarded to all four shortlisted artists, in a controversial decision that followed a joint letter in which these artists insisted they should not be pitted against each other.
Venice Art Biennale 2021 Postponed to 2022
It seems that the current health pandemic will affect art events beyond the year 2020. After postponing the architecture biennial, scheduled for this year, to 2021, La Biennale di Venezia is also changing the dates of its 59th International Art Exhibition. Happening every two years, thus due in 2021, the Venice Biennale will now take place in 2022, more precisely from April 23 to November 27.
One of the biggest art events in the world, the Venice Biennale 2022 will be curated by Cecilia Alemani, and some of the national pavilions already confirmed their representatives - see here.
The Venice Biennale becomes the latest delayed art event on the calendar - full update further below in this article!
Museums Reveal Reopening Dates
Are we seeing the light at the end of the coronavirus tunnel? Countries around the world are slowly relaxing the safety measures, giving way for galleries and museums to make tentative plans for the reopening.
For most art venues, visiting slots will be limited to 120 minutes, with the the 1.5-meter social distancing rule and the compulsory wearing of masks and a general contact reduction. The number of visitors present in the venue at all times varies from venue to venue, but it will certainly be low.
The first ones to get back to business, at least by means of opening the door of their physical space, was Germany, on April 22. Smaller museums and galleries are now operating under precautions and with limits on visitor numbers. Major museums will still have to wait, but the next possible reopening date would be May 4.
The beginning of May is also looking hopeful for Italy, where the Galleria Borghese will likely reopen on May 3; Maxxi Rome will reopen on 22 May, followed by Palazzo Reale in Milan on 28 May; Peggy Guggenheim Collection, Venice reopening is set for 2 June, just like Scuderie del Quirinale, Rome. Uffizi in Florence will open its doors on 3 June.
Japan is looking at similar dates: the openings of venues such as The Museum of Contemporary Art Tokyo and the Kyocera Museum of Art have been scheduled for May 6.
On May 19, some Belgian institutions are also preparing to welcome their visitors back.
Austrian museums such as Albertina and Leopold Museums announced their reopening on May 27.
Art venues in Switzerland, including the Kunsthaus in Zurich and Kunstmuseum Basel, are announcing reopening on June 8, while July 1 will hopefully be the lucky date for Austria's Belvedere, for instance.
End of May and the beginning of June is looking bright for art institutions in Denmark, Spain, The Netherlands, and Finland. In Sweden, the two Moderna Museet branches will reopen June 16.
In the United Kingdom, auction houses and galleries can reopen from June 1, after they've been recognized by the government as "non-essential retail," according to The Art Newspaper.
In The United States, the first art museum to reopen is the MFA Houston on May 23, accompanied by San Antonio Museum of Art on May 28. June is looking good for the Tampa Museum of Art and Boca Raton Museum of Art, reopening on June 1 and June 3 respectively.
Paris To Give $16.5 million To Its Cultural Sector
Le Parisien reports that a total of $16.5 million (15 million euros) will be given to the cultural sector of Paris. Announced by the city's deputy mayor for culture Christophe Girard, those on the receiving end will be public theaters, concert halls, and art and cultural centers, although it is still unclear which ones.
In France, only bookstores and art galleries have been reopened so far. On June 16, 14 of the city's museums will also reopen, including Le Petit Palais.
More than 28,000 have died of coronavirus in this European country.
ADAA Releases a Grim COVID-19 Report on US Galleries
The Art Dealers Association of America (ADAA) has published a report on the impact of COVID-19 on USA-based art galleries, projecting a 73% loss in revenue and a 74% reduction in employment of contractors and freelancers.
More on the report in our dedicated article.
Another report, published by UNESCO on the occasion of International Museum Day (May 22), it is reported that nearly 90% of art museums was forced to close its doors due to the coronavirus. More info here.
The Metropolitan Museum To Stay Closed For a Few More Months
On May 19, the Metropolitan Museum of Art in New York announced that it has postponed its reopening date from July 1 to at least mid-August, if not "a few weeks later," and has also canceled all tours, talks, concerts, and events through 2020, including the famous Met Gala.
The Met, celebrating its 150 years this year, was one of the first NYC museums to close amid the health crisis. In April, it laid off 81 employees in its visitor services and retail departments and updated its estimated shortfall to $150 million.
Art Fairs Cancellations
The Art Tokyo Association said it had canceled the 15th edition of Japan's biggest international art fair, Art Fair Tokyo, which would have presented 146 exhibitors; the 14th edition of Art Dubai, which would have gathered 90 galleries from 39 countries at the Madinat Jumeirah resort from March 25th to March 28th, was postponed, with new dates not being provided yet; Beijing's Jingart also announced the cancellation of its third edition, originally scheduled to run from May 21st until May 24th at the Beijing Exhibition Center, just like the L.A. Art Book Fair, which were to be inaugurated on April 3 at the Geffen Contemporary space of L.A.'s Museum of Contemporary Art, through April 5. In New York, the inaugural edition of Paris Photo in association with AIPAD was also postponed, with new dates to be announced later.
Joining this worldwide list as of March 13 are Art Cologne, which was slated to run April 23–26, ArteBA in Buenos Aires, which was scheduled for April 16–19; the Dallas Art Fair, originally set to run April 16-19, will now take place October 1-4.
Art Brussels 2020 which was rescheduled to June 25-28, is now cancelled, with the 2021 edition to take place on the "regular" dates April 21 to 23. Art Paris has also cancelled its 2020 show, which this year will take place online and through the Hors le Murs program, while next year's edition will take place April 7-11.
The Seattle Art Fair, which was to take place July 23–26, has been cancelled this year.
Art Düsseldorf is also postponing its fourth edition until 2021, the exact date to be communicated on September 1, 2020.
La Biennale Paris cancelled its 32nd edition, which was due to take place at the Grand Palais from 18 to 22 September 2020. The next event will now take place in September 2021. Same goes for our partners Drawing Now Paris - their March 2020 edition was initially postponed to end of May, and has now been cancelled, in anticipation of the 2021 iteration, which should go on as planned.
Expo Chicago, whose ninth edition was set for end of September, is now pushed to 2021, April 8–11.
Taking place from 7 to 11 October 2020 at Gray's Inn Gardens, London, with a VIP preview on the evening of 6 October is the sixth edition of Photo London.
ARCOlisboa, while rescheduling its physical version to the 13th - 16th of May 2021, is hosting a four-week-long digital program, from May 20th to June 14th at arcolisboa.com. The initiative will present the exhibiting Galleries, as well as a complete Forum with conversations on topics that will again connect the Portuguese scene with an international audience.
NADA, the New York–based New Art Dealers Alliance, announced its own digital fair. Simply called FAIR, it will take place from May 21 to June 21, 2020, bringing together 200 galleries, 118 of which are NADA members. Interestingly, 20% of the total profits brought in through it will be distributed evenly among the exhibitors; another 20% will be distributed among artists whose work is being put up for sale at the digital fair; and instead of the typical booth fee charged by fair organizers, galleries showing at FAIR will be asked to pay 10 percent of their final profits to NADA, reports ARTnews. Half of the final sales proceeds will go directly to the gallery, to be split evenly between exhibitors and artists.
Perrotin, David Zwirner and Massimo De Carlo Support Local Galleries
As featured in this article, David Zwirner has opened up its online viewing room to smaller-scale galleries in different cities in the US and Europe. After the first iteration of their Platform initiative, which featured twelve New York galleries on its website for a month in April, and the subsequent ones for London and Los Angeles, the gallery will now virtually move to Europe.
The fourth Platform will be jointly offered to Brussels and Paris, running from May 22 to June 19 and offering works by 12 galleries, each showing works by a single artist.
Similarly, Perrotin will offer its Saint-Claude space in Paris to 26 local galleries, in form of four consecutive two-week-long presentations. More information here.
In Milan, one of the biggest local galleries Massimo De Carlo is offering its newly developed Space to five other galleries in the city. As part of RISORGIMENTO Milan Virtual Art Summer, these spaces will organize autonomous exhibition through June, July and August 2020 both on their own websites and at massimodecarlo.com.
Participating galleries are Fanta-MLN, ICA Milano, Francesca Minini, Galleria Federica Schiavo, and Galleria Federico Vavassori. More details are coming soon.
The Massimo De Carlo Virtual Space is the first of its kind in the art world: constructed with the newest technologies, VSpace is a complete immersive walkable experience that any viewer can enjoy through the internet or through the Oculus glasses hardware. Moreover, because of its digital identity, the VSpace is completely flexible and adaptable to any exhibition scenario and therefore the perfect platform to be interpreted and shared to serve a higher communal effort.
Frieze New York Goes Online
Following the cancellation of the physical edition of Frieze Art Fair in New York, which was due this May, there will now be an Online Viewing Room. While the VIP preview will be on on May 6 and 7, the public days are May 8–15, making the fair go longer than originally planned.
Each digital booth will include augmented reality options for viewers to see the works to-scale on their walls. The virtual visitors will also be able to attend some programming, such as the online tours of featured exhibitions.
Art Basel Creates Contingency Plans for Its Exhibitors
With the online viewing rooms replacing the cancelled Hong Kong edition and the Basel one being moved to September, Art Basel is making sure its exhibitors are taken care of, in case of further changes.
In an email sent to galleries participating in Art Basel in Basel this fall, world's biggest art event outlined that it will fully refund the fees already paid by exhibitors if a cancelation were to occur. The deadline for the application in the Basel fair has also been extended to June 1, as the uncertainty on whether mass gatherings ban in Switzerland will be lifted by the time the fair starts. The Basel iteration will also have an online viewing room.
For the cancelled Hong Kong edition in March, Art Basel refunded 75% of the fees.
62% of Artists Unemployed Because of COVID-19
More than 11,000 responses have been sent to Artist Relief's COVID-19 Impact Survey for Artists and Creative Workers, co-presented with Americans for the Arts.
The results are dire: a whopping 62% of artists have become fully unemployed because of the pandemic, while 95% have experienced income loss from it, with the average decline in estimated total annual income is $27,103. Some 80% of them don't yet have a plan to recover from the crisis, and in the meantime, 66% can't access supplies/resources/spaces/people necessary for their creative work.
Robert L. Lynch, President and CEO of Americans for the Arts, said:
These survey results will prove to be a key piece to further our local, state, and federal policy efforts specific to individual creative workers in the next phase of COVID-19 recovery. Americans for the Arts is steadfastly committed to ensuring that creative workers can sustain their practice.
Real-time survey results can be viewed here.
Artist Relief has also finished the first funding cycle of its emergency grant.
UK's Leading Artists Sign a Letter To The Government
According to The Guardian, more than 400 notable artists in the UK, including Nick Cave, PJ Harvey, but also visual artists such as Anish Kapoor and Jeremy Deller, have signed a letter calling on the government to financially support the creative industries.
Written by Creative Industries Federation (CIF) and addressed to the chancellor and culture secretary, the letter states that the organizations and professionals in the field are "falling through the gaps of existing government support measures" and that the country simply "cannot allow the UK to lose half of its creative business and become a cultural wasteland."
The text is also referring to Germany who announced a federal aid package worth 50 billion euros for freelancers and small business.
Artists Get Engaged in Quarantine
With most of our planet currently in lockdown, artists too have been forced to stay home. Some of them were inspired to work as well: just a few days ago, Banksy posted a series of rat stencils painted in what is allegedly his own bathroom, and his wife was not happy about it. As per usual when it comes to the interventions of world's most mysterious - and famous - street artist, the internet went mad.
The elusive artist also donated a brand new artwork to a hospital in Southampton, southern England. Titled Game Changer, the one-square-metre (10-square-foot) canvas was made in honor of Britain's health service.
Thanks for all you're doing. I hope this brightens the place up a bit, even if it's only black and white.
Creating a rainbow for charity was Damien Hirst, to show support for the National Health Service (NHS) in the current Coronavirus crisis. The work, called Butterfly Rainbow, is made up of bands of colored butterfly wings, one of the artist's best-known motifs. The idea is to download an image of it from Hirst's website and display it in your windows to show your appreciation for the NHS staff.
A limited edition of the work is also being produced which will be sold with all profits donated to the NHS. Further details will be announced on Damien Hirst's Instagram.
I wanted to do something to pay tribute to the wonderful work NHS staff are doing in hospitals around the country. The rainbow is a sign of hope and I think it is brilliant that parents and children are creating their own version and putting them up in the windows of their homes.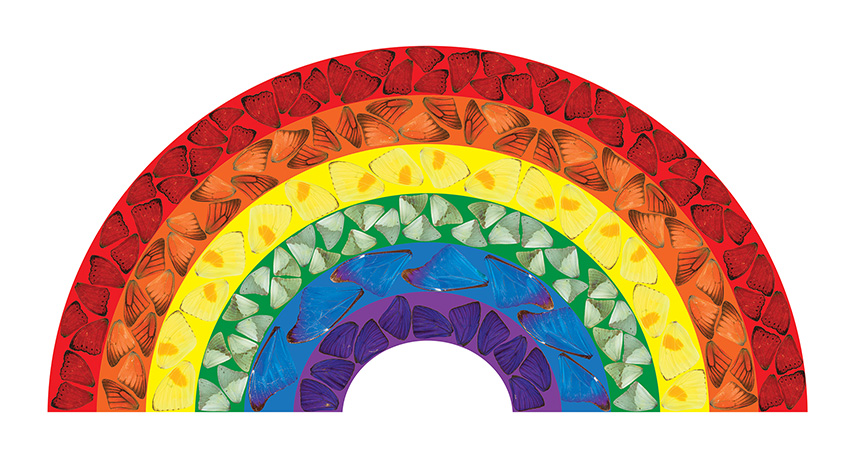 Hirst also announced a collaboration on a new augmented reality experience that allows users to create their own versions of the artist's celebrated Spin paintings using the Snapchat camera. The new lens enables users to pour virtual paint onto a round, spinning canvas. Layers of vivid paint can be applied in any combination of colors, allowing anyone to create their own spin paintings.
The projects supports the global charity Partners in Health, a social justice organization for vulnerable communities in developing countries during the COVID-19 pandemic.
More information can be found here.
Damien Hirst x Snapchat in support of Partners in Health | Spin Art
Again on Instagram, which now appears to be the only shared public space we have, Shepard Fairey announced his collaboration with Adobe and invited people to share their own art in support of the people on the frontlines of the crisis.
Famed photographer and our Artist of the Year 2019 Nan Goldin has also made a specially editioned photograph in quarantine. All of the profits from the sales of this edition will go to an organization that the artist and her group PAIN works with, called Urban Survivors Union.
A new series of paintings by Rashid Johnson, which was exhibited in Hauser & Wirth's online viewing rooms, is a poignant visual representation of mental health in times of isolation and as such are aptly titled: Anxious Red Drawings.
On the other hand, to support night clubs, music venues and arts spaces at risk of going out of business because of the Covid-19 outbreak, Turner Prize-winning photographer Wolfgang Tillmans is selling posters of his work, along with those of over 50 other international artists like Betty Tompkins, Marlene Dumas, Isa Genzken and Andreas Gursky.
The "unlimited editions, only available for a limited period of time" are priced at £50, $50, or 50€ each, as part of the 2020 Solidarity fundraising campaign. Tillmans' and other posters can be purchased via Between Bridges.
More than 20 artists and designers were involved in the making of coronavirus-related art in order to uplift the New Yorkers. Nearly 1,800 digital billboards are shown across the city, courtesy Times Square Arts, For Freedoms and Poster House.
You can see more of the program here.
Museum Layoffs Begin
Under quarantine, museums in the US have begun letting their part and full time employees go.
According to the Los Angeles Times, Museum of Contemporary Art (MOCA) notified all 97 of its part-time employees on Tuesday that the layoffs were coming, while 150 part-time student employees are no longer part of the Hammer Museum staff. The Art Newspaper writes that "At both museums, the laid off roles were primarily on-site employees whose duties could not be performed remotely, including gallery attendants, art handlers, retail employees, reception/box office, and other similar positions. MOCA also laid off educational team members related to its Contemporary Art Start classroom programme."
Three weeks after shutdown, The Whitney laid off 76 of its 420 workers, primarily visitor services staff and temporary employees. The museum says that the employees will receive five to six weeks' pay dating from March 13, the day it closed its doors, according to The Art Newspaper.
The New Museum, which also closed on March 13, let 41 full-time and part-time members of its staff go, while all senior staff members will take pay cuts of 10% to 20%, with the director, Lisa Phillips, taking a voluntary salary reduction of 30%.
The Metropolitan Museum of Art, which had previously said that it expects a shortfall of $100 million in revenue and that it will most likely remain closed through July, also let 81 employees go, with executives taking pay cuts: the museum's director, and Daniel H. Weiss, its president and CEO, will take voluntary cuts of 20&, and 11 others in senior positions will take 10% cuts.
A total of 92 employees of The Guggenheim were also furloughed on April 10, while 85 of them will face salary reductions.
The Cleveland Museum of Art announced it will immediately furlough all part-time staff and temporarily lay off a portion of its unionized staff, which includes security guards. In addition, the museum mandated a five-hour-a-week reduction in salary for all nonunion employees, effectively reducing pay by about 11% to 15%. It also suspended all projects undertaken by contractors.
As of April 16, some 80% of The Portland Art Museum employees will be placed on unpaid leave status, in order to preserve staff wages and benefits for as long as possible.
Joining the list is The Broad. The private museum will lay off one full-time and 129 part-time employees starting April 24.
In San Francisco, the San Francisco Museum of Modern Art laid off or furloughed more than 350 employees and the museum's management team took pay cuts.
The US Passes A Stimulus Package
Both The House and The Congress in the United States have now passed a $2 trillion federal stimulus package that will provide millions of Americans with much needed relief from financial pressures caused by the novel coronavirus. A portion of it, $232.5 million, will be injected into the cultural economy, much less from the $4 billion that the American Alliance of Museums (AAM) asked for.
More specifically, The National Endowment for the Arts and the National Endowment for the Humanities will each be given $75 million, and the Institute of Museum and Library Services will receive $50 million. The John F. Kennedy Center for the Performing Arts—which houses the National Symphony Orchestra and the Washington National Opera—and the Smithsonian Institution in Washington, DC, will get $25 million and $7.5 million, respectively.
The AAM estimates that as many as 30% of museums, primarily in rural areas, will not be able to re-open once the government eases restrictions enforced to curb the spread of COVID-19.
June Basel Fairs Postponed
Art Basel will postpone its Swiss edition, which was due this June in Basel, to September, more specifically from the 17th to the 20th.
Other Basel fairs taking place at the same time, such as our partners Liste and Volta, will also be postponed to 14-20 September 2020. Partner Photo Basel's new dates are September 15-20.
Though not a Basel fair, Masterpiece London has also announced its cancellation; it was due to take place from 24 June to 1 July, 2020.
Petitions for Aids to the Cultural Sector Launched
In separate online petitions, The Met Museum and The New Art Dealers Association call for financial aid amid the Covid-19.
More specifically, they are asking the Congress to include non-profit arts organizations in the nearly $2 trillion stimulus package that is currently being debated.
Read more about it here.
Art Biennales Worldwide Get Postponed
Many of the art biennales, scheduled to take place in 2020, have now been postponed due to Covid-19, starting with Manifesta in Marseille, which was due to open on June 7. The 13th edition of the nomadic European art festival will likely take place at a later date, yet to be announced.
Same goes for the second edition of the Riga International Biennial of Contemporary Art in Latvia, now rescheduled for 20 August – 13 September, 2020, and the Dak'Art Biennale of Contemporary Art in Senegal, new dates are yet to be announced.
The Bienal de São Paulo in Brazil will now be held from October 3 to December 13, 2020.
Following the closure of all exhibitions in Australia as of March 24, 2020, The Biennale of Sydney will now open its doors - online, thanks to the Google Arts & Culture platform.
La Biennale de Lyon has postponed its 16th edition, initially scheduled in 2021, until September 2022.
Prospect in New Orleans has pushed its 2020 edition a year, with the new dates now being October 23, 2021 - January 23, 2022.
Marina Abramović, Ai WeiWei and Jeff Koons Send Messages of Hope to Italy
In a video message sent through a new digital platform IN TOUCH developped by Florence's Palazzo Strozzi, Serbian performance artist Marina Abramović sent a video message to the Italian people, taking of solidarity and encouragement and emphasizing how the Italians are demonstrating "great courage and great feeling of community and humanity"
This is my message to Italy and to the people of Italy which I love deeply. I know this is a moment of crisis and the virus is everywhere but at the same time from the disasters we have to learn a lesson. And the Italian people are showing great courage, great feeling for community and humanity.

We are going to fight this together. It is something is going to pass but what is really left is a very valuable experience that human consciousness should change, our approach to our world and our planet should change.

This is the lesson that we have to learn. Italy, I love you. And my heart is with you.
Ai Weiwei also addressed the Covid-19 virus that is currently paralyzing our world.
Hello. In this very difficult moment I wish you all well—as we all know coronavirus is a challenge of this special time. Many people are suffering. There's no border, no nationality or different class or religion can really escape from this almost very democratic virus. As we know there is no clear solution for something happened very unpredictable and also mysterious—with so much uncertainty that deeply affects our life, and many many people already lost their life.

And the same will continue for a while. This makes us understand that life is fragile and we can never really take this peaceful life for granted and we have to fight, we have to struggle. That requires solidarity, requires understanding, scientific research but more it requires our perspective on life itself.

Life is a struggle and life is full of surprise and I think this moment we need to be fully aware of the situation and to have some kind of positive attitude: stay home and stay together.

Thank you.
Ai Weiwei's new production of Giacomo Puccini's classic opera Turandot, which was supposed to run from March 25th until April 5th at the Teatro dell'Opera, has also been suspended. The artist previously faced backlash after posting on Instagram: "Corona virus is like pasta. The Chinese invented it, but the Italians will spread it all over the world." Among those who condemned the artist's post was artist Francesco Vezzoli who told Huffington Post that "Italy has always welcomed him with open arms; he rewards all that affection by writing those things?"
Joining the action of encouraging the audiences is Jeff Koons, who will (hopefully) have a solo show at Palazzo Strozzi this fall.
I know that Italy is going through a lot right now and you have tremendous strength and you're able to face the coronavirus and eventually will be able to defeat the virus. Italy is such an amazing country and as people you've gone through so much and you will defeat the virus. Culturally, the whole world is so appreciative of everything that you have given to us. And in the future, Palazzo Strozzi and all the other wonderful Italian institutions will also be able to give humankind a light, a direction in which we'll be able to find our way in the future.

So, we thank you Italy for all your cultural contributions.

Palazzo Strozzi, thank you. I look forward so much to the future of your museum. Italy you can do this!
Auction Houses Shut and Postpone Sales
As of March 16, Christie's has announced the closure of its locations in the US and Europe until further notice, and has also postponed almost all of its March and April sales. Christie's has offices in a total of 30 cities worldwide, including some of the COVID-19 hotspots such as Milan, Madrid and Hong Kong. The offices in London, Amsterdam, Geneva and Paris will remain open, with limited staff. The May auctions, part of the Giga-Week in New York, will take place between June 23–28. The scheduled Hong Kong sales slated for the end of May will go on as planned. Their "Classic Week" sales, which include an important Old Masters painting auction, will take place in London during the week of July 6.
On March 20, Phillips announced that it will put their New York and London 20th century and contemporary art sales together in the week of June 22.
Until further notice, Bonhams offices and salerooms in UK (New Bond Street and Knightsbridge, London and Edinburgh), New York, Los Angeles, and Hong Kong, will be closed. The sales scheduled to be held at Bonhams Knightsbridge, and Edinburgh salerooms will go ahead behind closed doors on March 24 and 25, and April 1.
Followed by an indefinite closure of most of its auction houses around the world as of March 17, including ones in Dubai, Geneva, Milan, Paris, and Zurich, on March 20 Sotheby's announced a selection of upcoming spring sales that will now be conducted as online auctions. These include sales of 20th Century Design, Photographs, Contemporary Art, and Prints & Multiples.
Venice Architecture Biennale Postponed
Venice Architecture Biennale, a two-yearly showcase for the most cutting-edge building around the world that was due to open on May 23rd, was delayed until August. A statement from the biennial said that that it will be postponed due to "the recent precautionary measures in the matter of mobility taken by the governments of a growing number of countries around the world, which will have a domino effect on the movement of people and works in coming weeks."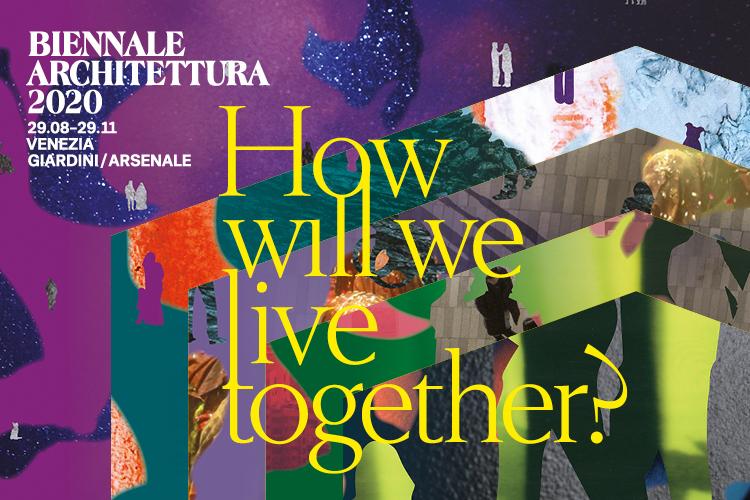 - - - - - -
Tate Closes All Its Locations, UK Museums Follow
On March 17, UK's biggest art institution announced that it would temporarily close all four of its locations across the country: Tate Modern, Tate Britain, Tate St Ives and Tate Liverpool. The venues would be shut until May 1. The decision came a few days after one of their workers tested positive for coronavirus.
Also announcing closures are The Wellcome Collection, the Institute of Contemporary Arts London, Whitechapel Gallery, Serpentine Galleries, Kettle's Yard, The Royal Academy, The Estorick Collection, Victoria and Albert Museum, The British Museum, the National Gallery in London and Nottingham Contemporary.
Galleries in London Close
Even though the UK government still hasn't instructed them to do so, some big art galleries in London are taking precautionary measures and closing their spaces in the capital.
As of March 16, among them are David Zwirner, Pace, Hauser & Wirth, Galerie Thaddeus Ropac, Gagosian, Victoria Miro, Goodman Gallery, Richard Saltoun, Sprüth Magers, Lisson, and Marian Goodman. Many of them still operate by appointment only.
Museums in the US Close Temporarily
The Metropolitan Museum of Art announced that it will temporarily close all three of its locations - The Met Fifth Avenue, The Met Breuer, and The Met Cloisters - starting March 13, to support New York City's effort to contain the spread of COVID-19. The Museum will undertake a thorough cleaning and plans to announce next steps early next week.
According to their statement, The Museum has been preparing for this possibility for several weeks, and has developed an operational plan that is now being put in place, which includes provisions to support salaried and hourly staff.
Daniel H. Weiss, President and CEO of the Museum, stated:
The Met's priority is to protect and support our staff, volunteers, and visitors, and we have been taking several proactive precautionary measures, including discouraging travel to affected areas, implementing rigorous cleaning routines, and staying in close communication with New York City health officials and the Centers for Disease Control. While we don't have any confirmed cases connected to the Museum, we believe that we must do all that we can to ensure a safe and healthy environment for our community, which at this time calls for us to minimize gatherings while maintaining the cleanest environment possible. We look forward to soon announcing when we'll be able to welcome our staff and visitors back to the Museum.
Following their steps were The Guggenheim Museum, The New Museum, The Frick Collection, The Bronx Museum, and The Whitney, and MoMA, among others.
In California, doors of major museums are closed as of March 13 - the San Francisco Museum of Modern Art, Asian Art Museum, the Museum of Contemporary Art (MOCA) and the Fine Arts Museums of San Francisco, including the de Young and the Legion of Honor. Other museums which will also be closing during the weekend of March 14-15 are San Diego Museum of Art, The Broad, The Hammer Museum, the Los Angeles County Museum of Art and The J. Paul Getty Museum.
Across the country, closures were confirmed by Aspen Art Museum and Denver Art Museum in Colorado, Portland Museum of Art, Detroit Institute of Arts, Walker Art Center, Museum of Contemporary Art, Chicago, Institute of Contemporary Art Miami, Nelson-Atkins Museum of Art, Kansas City, The Dallas Museum of Art, The Seattle Museum of Art, and the four Boston institutions: The Harvard Art Museums in Cambridge, the Institute of Contemporary Art Boston, the Isabella Stewart Gardner Museum, and the Museum of Fine Arts Boston have all shuttered. Museums are also closing in Washington, DC, including The Smithsonian and the National Gallery of Art.
Big galleries are also considering closing temporarily, with Hauser & Wirth already doing so in New York and Los Angeles, and Pace, Gagosian and David Zwirner shut their New York spaces.
Museums Across Europe Close
The Italian government has passed an emergency decree stating that all museums across the country must stay closed until April 3rd in a bid to contain the outbreak, including the Galleria Borghese, the Capitoline Museums, the Vatican Museums, the MAXXI museum of contemporary art, the Villa Medici, the Peggy Guggenheim Collection, Fondazione Prada, and Palazzo Grassi. The long-awaited exhibition dedicated to Raphael at Rome's Scuderie del Quirinale, which was due to run until June 2nd, has also been forced to close. The show, marking the 500th anniversary of the Renaissance painter's death, features more than 200 works. Around 70,000 tickets for the exhibition had been purchased in advance.
In Vienna, Austria, major institutions like the Albertina, the Leopold Museum, the Kunst Historisches Museum Wien, the Kunst Haus Wien, and all Belvedere locations will be closed as of March 12 until further notice, and at least until the end of March or early April.
In Spain, where there are more than 2,770 coronavirus cases and 64 deaths reported as of March 12, The Prado Museum, The Museo Reina Sofia and The Museo Nacional Thyssen-Bornemisza have all now closed its doors. Barcelona's Sagrada Familia will reduce its number of visitors, while museums like the Museu d'Art Contemporani de Barcelona (Macba) and the Guggenheim in Bilbao remain open for now.
The Netherlands is taking similar precautions, closing The Rijksmuseum, The Van Gogh Museum, the Mauritshuis Museum, Stedjlik Museum, all until March 31.
In Switzerland, the first museum to shut is Basel's Fondation Beyeler, and was followed by Kunsthalle Basel, Kunstmuseum Basel, and Kunsthaus Zurich.
In Berlin, the museums located on Museum Island will open again to the public on April 19 at the earliest.
Major museums in other EU countries like Ireland, Greece, Belgium, Sweden and Denmark are doing the same.
Louvre Museum Reopens - Then Closes Indefinitely
One of the first big international art institutions to deal with the COVID-19 crisis, Paris' famed Louvre Museum reopened on March 5th with a list of advice for visitors after it was temporarily closed after an outbreak of the virus in France.
On March 13 however, it closed again, alongside the Musée National Eugène-Delacroix. The second reopening date is yet to be announced.
Other art institutions in Paris which are also now closed are Musée d'Orsay, Musée de l'Orangerie, and Palais de Tokyo.
Some Museums in Japan, China and South Korea Reopen
After almost three months of aggressive lockdowns, quarantines and testing regimes due to COVID-19, some good news come in from the initial coronavirus hotspots.
In Shanghai, the public contemporary art museum Power Station of Art (PSA), best known for hosting the Shanghai Biennale, as well as the Shanghai Museum, reopened on March 13.
In South Korea, the National Museum of Modern and Contemporary Art (MMCA) tentatively plans to reopen its four locations on 23 March.
The Kyoto City Kyocera Museum of Art, one of Japan's oldest public art museums, will will hold private previews on 19, 20 and 23 March before a public opening on 4 April after being closed for an expansion since 2017, according to The Art Newspaper. The Museum of Contemporary Art Tokyo and Aichi Prefecture's Toyota Municipal Museum of Art meanwhile expect to reopen on March 31.
At the same time, Hong Kong seeks to remain a creative hot spot despite the coronavirus emergency by opening a new community-run platform, ART Power HK. Launched on March 4th, the platform will feature online viewing rooms for galleries, recorded and live-streamed exhibition walkthroughs, interviews with Hong Kong-based artists and collectors, studio visits, and online talks. It already includes 60 of the city's galleries, museums, and auction houses.
Art Basel Cancels Hong Kong, Opens an Online Viewing Room
Previously scheduled for the end of March, Art Basel has decided to cancel its Hong Kong fair due to the outbreak and spread of the virus. The decision was informed by numerous factors, including fundamental concern for the health and safety of all those working at and attending the fair; the severe logistical challenges facing the build-out and transit of artwork to the show; and the escalating difficulties complicating international travel, all arising as a result of the outbreak of the coronavirus.
However, the fair decided to launch Online Viewing Rooms, a new digital-only platform for its galleries and collectors, with the inaugural edition going live on March 20, 2020. The platform will provide visitors the opportunity to browse thousands of artworks presented by Art Basel participating galleries, many of which will be online exclusives. While the platform cannot replace the 2020 fair in Hong Kong, exhibitors in the March launch event will be able to show works of art that had been destined for Hong Kong. All the galleries accepted for the 2020 Hong Kong show have been invited to participate, at no cost for this first edition.
TEFAF Maastricht Closes Early
After one of its exhibitors tested positive for coronavirus, the grand Dutch art fair TEFAF decided to close its doors four days before the official closing date due to outbreak. The announcement was sent to the participating galleries only hours after the news broke that on Monday, one of the gallerists who was present at the fair was diagnosed with COVID-19 on Monday, March 9. Instead of being on view through March 15, TEFAF Maastricht 2020 will close on March 11 at 7pm, following the decision made in consultation with the city of Maastricht, the health authorities and the fair's venue, the MECC Maastricht.
Nanne Dekking, Chairman of the board of trustees at TEFAF said:
Given the recent developments in the regions around Maastricht and increasing concerns, we no longer feel it is appropriate to continue as planned. We want to thank our exhibitors, visitors and staff for their trust and support in this unprecedented situation. The TEFAF community has always excelled in bringing the best art in the world to Maastricht, we are proud to have witnessed how professional and how united our TEFAF family stood during this fair and unprecedented circumstances.
The Art Newspaper also reports that at least 25 positive cases of coronavirus (Covid-19) (some have since been hospitalized, a number in intensive care) have emerged among exhibitors and visitors to this month's TEFAF Maastricht fair in the Netherlands. The organizers of the fair, which attracted 28,500 visitors, are now facing sharp criticism for allowing a major international event of nearly 300 exhibitors to go ahead as the virus spread across Europe.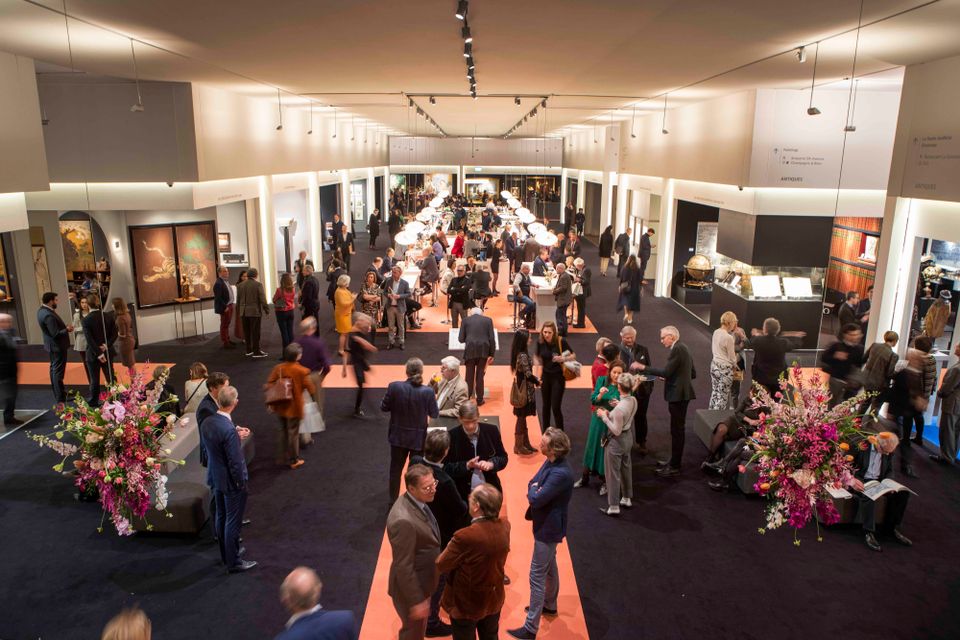 Featured image: Mona Lisa with a Coronavirus mask, image via Pixabay.