Involved in studio work, online work and the street, The Dotmasters has always been bringing a new edge to art as we know it. He is the founder of the collective C6, which makes fun of the art world and is also a platform for those working on the margins of traditional art forms.
GCA Gallery will bring together his latest body of work. Mind in the Gutter, the name of the exhibition, for him evokes dubious intentions, ambiguous actions, all these unsavory and yet jubilant things. It perfectly captures the state of mind of the artist, who, jovial and lucid, enjoys taboos, contradictions, new gods and the absurdity of our contemporary lifestyles.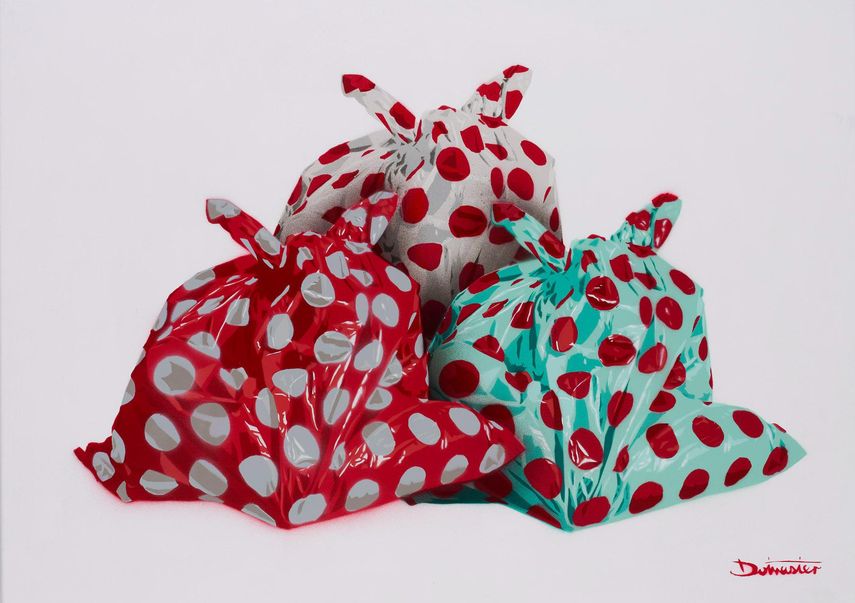 The Practice of The Dotsmasters
The British ar-maker Dotmasters has been involved with street art from an early age of 12. Constantly evolving, his style is characterized by eccentricity and a sense of subversiveness. Although he is on a continuous search for new aesthetic forms, he has remained faithful to the stencil, the medium which rose him to popularity.
Fascinated with pop culture, The Dotmasters creates repetitive realizations of portraits of public figures, logos, characters, signals and emblems that mark the collective unconscious. He is also famous for his fixation with waste and the excesses of the consumer society. His works can be found all over London and he works with both activists and luxury brands.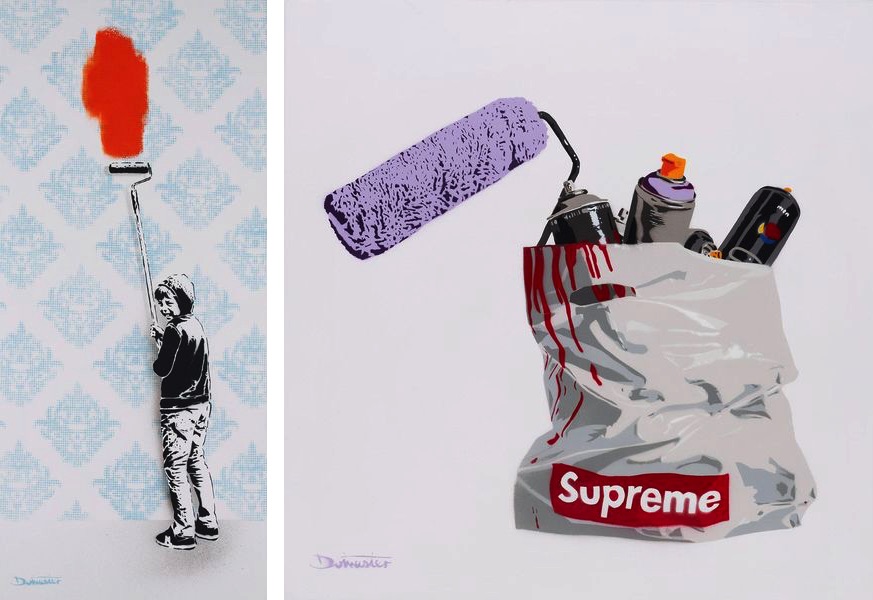 Mind in the Gutter
The exhibition at the GCA Gallery is a pop, offbeat and impertinent visual experience, at the same time presenting an ironic critique of today's society. Developing a concept of "high-end waste," the artist has created brass sculptures of Chanel paper bags which reinforce and play on the ambiguity between marketing and works of art, between a single piece and disposable goods, between aesthetic value and commercial production.
The artist has also incorporated rebellious and cheeky cherubims made from photographs of his nieces, nephews and friends. These stenciled mischievous kids remind us of the joy that arises from disorder, the creativity generated by chaos and especially the importance of not being earnest.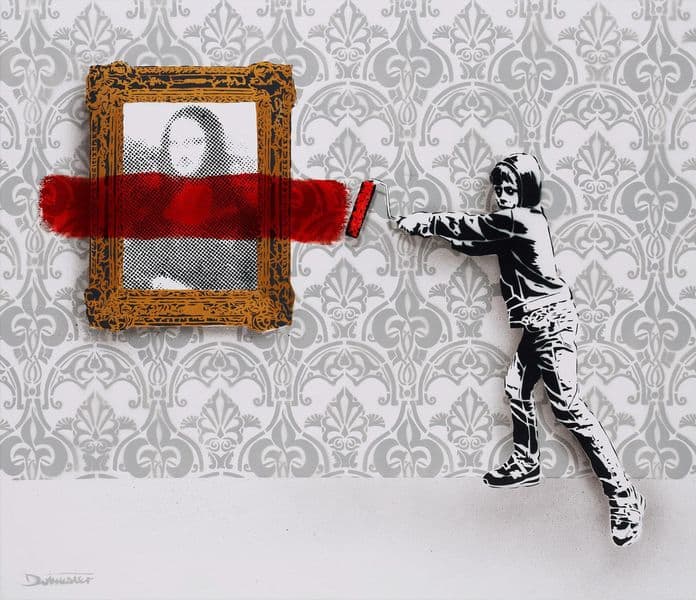 The Dotmasters at GCA Gallery
Through his practice, The Dotmasters combines a vast array of genres and techniques with an interest in technology and taste of political commentary.
The exhibition Mind in the Gutter will be on view at GCA Gallery in Paris from February 6th until March 3rd, 2019. The opening reception will take place on February 6th, from 6 p.m. in presence of the artist.
Featured image: The Dotmasters - Mind in the Gutter; Images by Ian Cox. All images courtesy GCA Gallery.