The Dotmasters set out to beautify the trash on London's streets. What better way than to place the other end of the consumption chain right next to it. The Dotmasters stenciled shopping bags from famous high-fashion brands next to real trash bags. The street pieces are now available as print. The Dotmasters releases an edition of 50 "High Roller" screen print. To make it look more like the original street pieces the Dotmasters and Mesh used more screens to create the stencil effect. The print is 50cm x 70 cm, a 11 colour silk screen on 375gsm Lambeth Drawing Cartridge paper. This exceptional fine and detailed stencil print is available at Graffik Gallery for £150.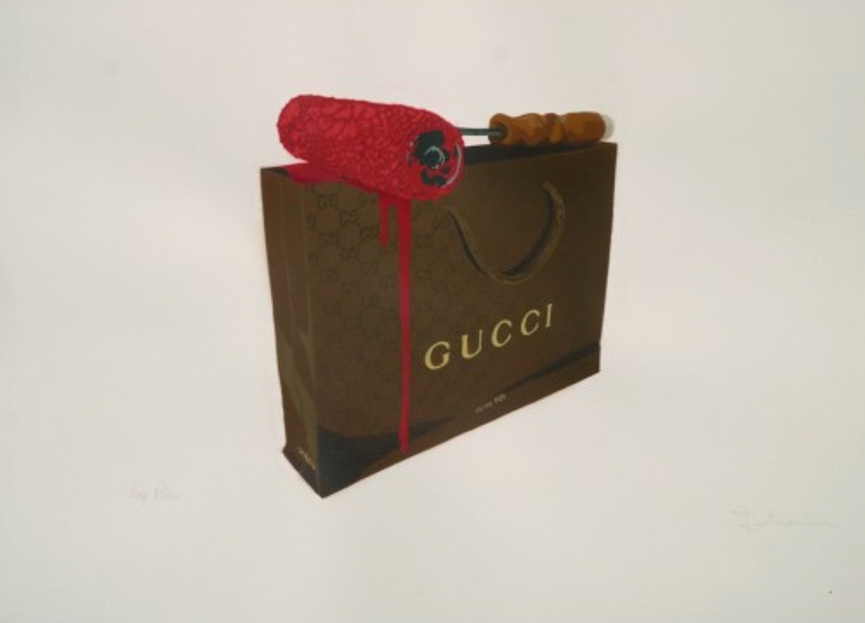 About The Dotmasters
Born and raised in London, The Dotmasters is the offspring of C6.org, a new-media based collective of art-pranksters. Active throughout the 1990's, they bridged the gap between art and activism with attention snatching events that pulled no punches. Hitting the headlines worldwide in 1997 with Man in a box"they incarcerated and starved one of their members in a surveillance cube in a gallery in Brighton. Their work was eclectic, merging graffiti, new media and performance from the street, night clubs and galleries generating a steady stream of irreverent broadcasts. Founding member Leon Seesix, bored of the new-media world and the group dynamic started working under the alias 'The Dotmasters' , sideways look at a populist medium says the East London based artist. The Dotmasters possesses a typically English sense of humor, throwing two fingers up at the passer-by with his impeccably detailed stencil work.