Can and Sevda Elgiz are among Turkey's most prolific art collectors. Yet, they both come from non-artistic backgrounds. While Dr Can Elgiz is an architect, a civil engineer and land developer, Dr Sevda Elgiz is a political scientist. In 2001, they have founded The Elgiz Museum in Istanbul as Turkey's first contemporary art museum. This privately-owned, non-profit institution took on the mission to support the development of contemporary art with an international identity in a 2000 m² space open to the public. Housing the family's collection, the venue hosts dynamic, avant-garde temporary exhibitions and various educational programs, making the museum a melting pot for all age groups under the realm of art and its accessibility.
Situated amongst the high-rise buildings of Istanbul's business district Maslak, this hidden gem of the city is centered around the collection that includes some of the biggest names in contemporary art including Louise Bourgeois, Tony Cragg, Cindy Sherman, Tracey Emin, Nan Goldin, Barbara Kruger, Sol LeWitt, Robert Rauschenberg, and Andy Warhol, among others. The museum has an open-air terrace that provides an exhibition platform for sculptors and land-art projects.
To find out more about the museum and its collection, we've had a chat with Can and Sevda Elgiz. In an exclusive Widewalls interview, they talk about the history of the collection, the decision to establish a museum, their experience of collecting, and much more. Scroll down and enjoy!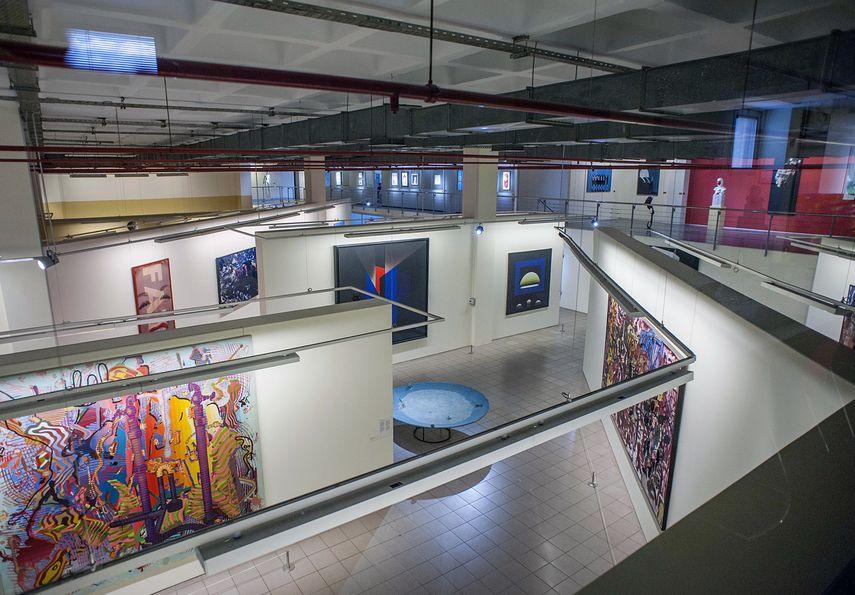 The Elgiz Collection
Widewalls: You are among Turkey's most prolific art collectors, yet you both come from non-artistic backgrounds. How did you start collecting art in the first place and how has your collection evolved and matured over time?
Can & Sevda Elgiz: We started by collecting avant-garde art, we would even invite performers to our house and we were very much engaged in the arts community. In those times, contemporary art wasn't popularized as it is today so the dialogues were much more intimate and sincere in a way.
We started collecting local art, and then our choices began to evolve in the international scene. New mediums were introduced in our collection, such as Tracey Emin's blanket, and we tried to be open to all different media as contemporary art evolved. Of course, video art is a part of this although we haven't really concentrated on digital media specifically.
Widewalls: Your collection now consists of a wide range of contemporary art in different media and is fluid and constantly evolving. Could you talk about some highlights of your collection?
Can & Sevda Elgiz: The recently acquired Erwin Wurm is definitely a highlight, the performance sculpture pieces were unforgettable in the history of sculpture and art. Among other highlights, we could mention Barbara Kruger, Gilbert&George, Chiaharu Shiota and Jan Fabre.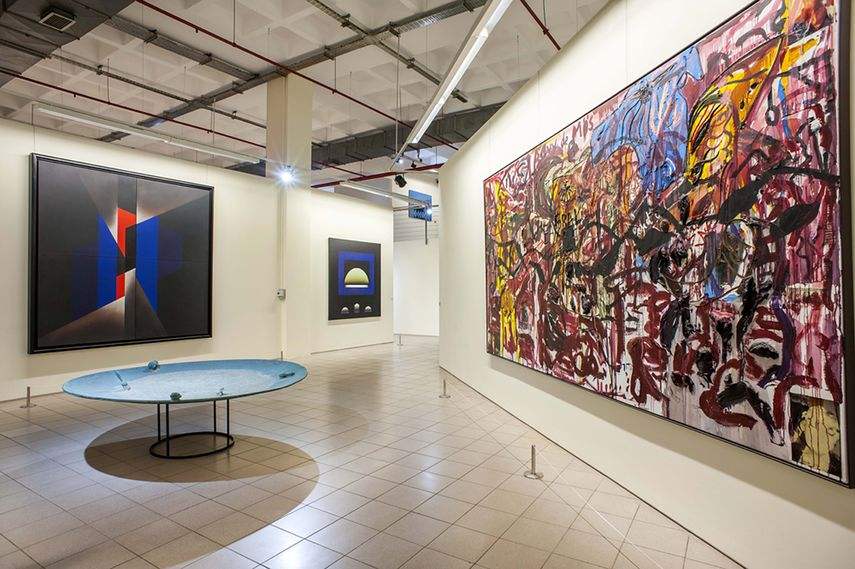 The Elgiz Museum
Widewalls: Founded in 2001, the Elgiz Museum is the first contemporary art museum in Turkey. How did you decide to open your collection to the public in this way?
Can & Sevda Elgiz: We had been collecting art since the 80s, and it was really a passion that my husband and I shared. We decided to share our collection with the public as a social responsibility, we turned our collection into a museum. The museum was designed by Can Elgiz, since he is an architect, it was really about sharing our passion for art with the community. After turning the collection into a museum, of course, many other possibilities came up such as collaborating with guest curators, artists, commissioned projects, performances etc. All this gave life to the collection and opened new dialogues with the audience. The most important aspect is to support the art community, globalize the understanding of local art as well as bridging an international relation with it.
Widewalls: Dedicated to supporting emerging contemporary artists, the Elgiz Museum hosts annual terrace exhibitions featuring works by artists selected by art professionals in the field. Could you tell us something about the 9th terrace exhibition planned for June 2017?
Can & Sevda Elgiz: Normally, the process begins with an open call. This year, for the 9th edition of the exhibition series, the jury made an open call specifically to the artists that had participated in the terrace shows in the previous years. All proposals were evaluated by our jury and 13 artists' proposals were selected, the newly commissioned works are being produced now and will be on view starting from 29th June until the end of October. It's important that the Istanbul Biennale contains the exhibition period as the dialogue of local artists with an international audience is crucial. Although the works are not necessarily referencing Rodin &Claudel's sculptures, for the occasion of the 9th exhibition, the jury wanted to make an homage to masters of sculpture and to be reminded of their great practice, hence our exhibition title.

On Collecting Art
Widewalls: Can you share some memorable moments and anecdotes from your rich experience as collectors?
Can & Sevda Elgiz: It was at an auction and we followed a work that we bid but unfortunately missed it. To our surprise, some time later, we encountered the same piece at an art fair and we acquired it. This journey is full of surprises and one is always intrigued by these memories- I also remember the time that we had to tear a wall of our house to be able to fit a David Salle painting, because we hadn't measured the entrance and the painting was larger so we decided to re-build the Wall in order to hang the painting inside. This is all about passion!
Widewalls: The world of art, and especially the market, can often look overwhelming and intimidating. What would be the most important advice you would give to a starting collector out there?
Can & Sevda Elgiz: Starting a collection is like a journey, one can find his/her own way through art but one should be open to new perceptions. Everyone has a taste, but it's not always about taste. It's also about the power of understanding, adapting to new perceptions as everybody has a different apprehension of things. Art has the power to transform, it's important to support such possibilities in life. The most important of all would be support, starting collections should be exciting and adventurous instead of intimidating.
Widewalls: Could you reveal some of your future plans and projects? What acquisitions are you aiming for? 

Can & Sevda Elgiz: We will be hosting a new piece by the artist Sarp Kerem Yavuz, planned to be exhibited for the first time during the 15th Istanbul Biennale. Our annual Terrace exhibitions continue to bridge dialogues between leading professionals in the field and emerging sculptors. The fifth year will be celebrated this June, as the 9th edition of the terrace exhibition will take place. In the future, we are planning to launch a pop-up video project as well, to open a dialogue between international and local video artists in the future.
Recently we have acquired Big Coat from Erwin Wurm and Common Crossings by Marianne Vitale, interestingly both are sculptures. Although these months we have been collecting at a smaller pace, we plan to attend Art Basel and we are excited for Frieze in the autumn. Sotheby's auctions are always a highlight as well.
Featured images: Can and Sevda Elgiz; Can Elgiz. Photo by Kayhan Kaygusuz; Left: Can and Sevda Elgiz / Right: Can Elgiz; The Elgiz Museum, Entrance. In Foreground Ewerdt Hilgemann for BMW 2016. All images courtesy of Can and Sevda Elgiz.