It's biblical, it's epic, it's apocalyptic. But, when we exclude the monumental phrasing, it's reminiscence of the most famous story of new beginnings. Titled The End is the Beginning, this exhibition echoes a dark vision of hope. It is a recap of Noah's Ark, concerned with known archetypal topics of the beginning and the end. To die and be reborn, as death will bring us salvation, and chance for new life. We already wrote about art dedicated to animals, this is exhibition also adheres to this theme, but this one is not just about animals...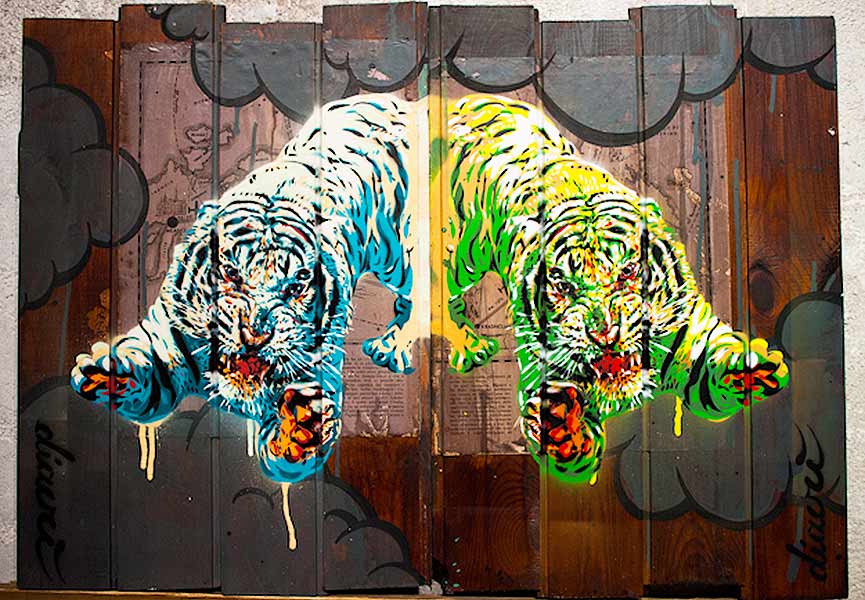 David Diavù Vecchiato
David Vecchiato's beginnings are connected to the introduction of independents music magazines and comics in Italian underground culture. Vecchiato's works as a cartoonist are featured on the pages of "La Repubblica", "Alias" and "Il Fatto Quotidiano" for which he has been writing the column RiFatto since summer 2014. Slight change of course occurred when he entered curatorial waters as he created the MondoPop project together with Serena Melandri, the Urban Superstar Show and M.U.R.O. Since his first solo show at Leoncavallo in Milan for the Happening Internazionale Underground, his artworks have been showcased at the MADRE in Naples and Galleria Provinciale in Cosenza.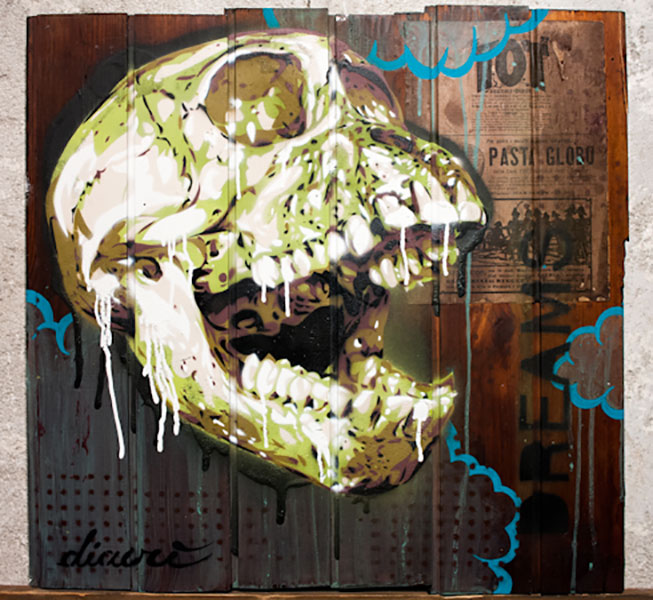 Lucamaleonte
Since 2001 Roman artist Lucamaleonte is engaged in the world of urban art. First with the use of stencil art and then with a more classical approach, after he studied at Istituto Centrale per il Restauro. He began his art story in Rome, painting its walls while spreading into Italian and foreign art galleries. In these last years his production was supported by many of the relevant Italian curators and people from art world. Lately, he was commissioned to paint the front wall of the cultural centre Castel di Lama for Sale Festival, and so he did.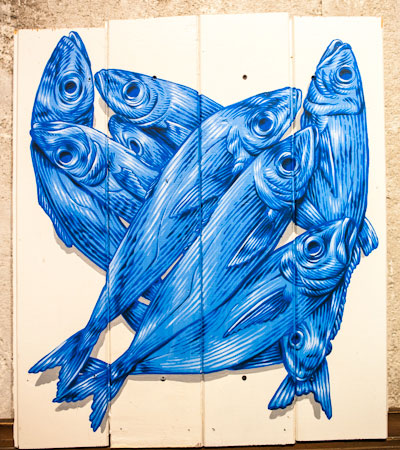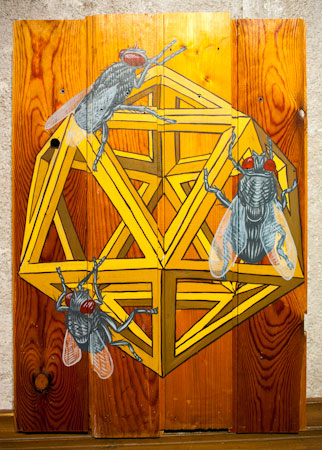 Enter the Ark
These guys got inspired by the Noah's tale and decided to do their own version of it. There is a body of twenty artworks on wood which reveal their concept of beginning and end, death and salvation. Each artist recreates on broken boards the tragedy of the ending which is seen as a point of rebirth. This Italian duo created a comprehensive imagery where destruction turns into salvation, depicting turning point when natures go from calm to wild and aggressive.

Invasion of Walls
Sacripante Gallery is primarily concerned in investigating and exploring lowbrow art. Following such trend, the gallery's space mixes baroque interior design with rough cement as their walls become storyboard for The End is beginning. For six months the two mentioned artists will invade the interior of gallery, ten artworks each. It will be their own fable of embracing the rebirth. This exhibition opened earlier this month, on 6th of November, and will be on display until April 30th at Sacripante Gallery in Rome.
If you enjoyed reading this post and want to find out more about upcoming lowbrow art exhibition, sign up for My Widewalls today!