The House of Magic Affection is the title of the latest exhibition by Italian artist Angelo Filomeno presented at Galerie Lelong in New York. For the exhibition Angelo Filomeno has created over a dozen new paintings along with a series of more intimate works created on linen that sees the artist continue to develop his skills with merging painting, craft and embroidery while also seeing a move away from previous works into serialism that makes use of an expanded colour range, materials including muslin and new characters that have never featured before in his hand crafted paintings.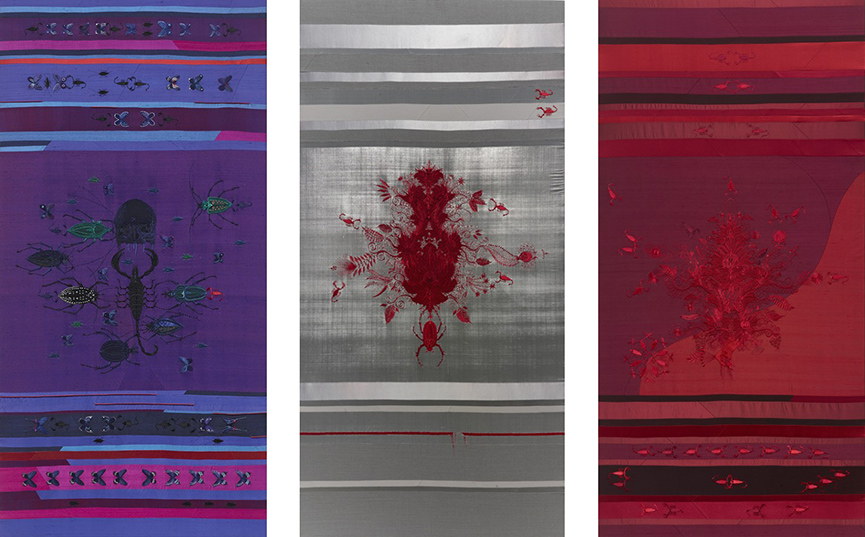 The House of Magic Affection
In the exhibition at Galerie Lelong, Angelo Filomeno presents a series of works that continues his tradition of a rich visual language that builds on skills he learned at a young age, combining an impressive use of techniques such as embroidery with painting and incorporating a rich variety of materials such as silk, metal and crystals into the work. At first glance the series of handmade canvasses resemble a selection of richly embroidered rugs that would not look out of place on the floor or wall of some grand abode but closer inspection reveals a darker side as is revealed in much of the work of Angelo Filomeno. What first appear to be delicate intricate patterns reveal themselves to be of a much darker nature, insects, fish, human body parts, skeletons and reptiles emerge from the finely crafted materials to present the artists interest in the macabre and the themes of death, destruction, obsession and isolation. The canvasses in The House of Magic Affection work on two levels, at first drawing one in to admire the fine craftsmanship, the sensuous materials are alluring demanding you enjoy the aesthetic nature of them along with the technical and craft skills of Angelo Filomeno. Once captured you are presented with the juxtaposition of foreboding beauty and unsettling images both wondrous and allegorical that forces the viewer to think beyond the initial beauty that was presented by the materials used to create the works. Angelo Filomeno in The House of Magic Affection, as with the majority of his work, draws upon his personal experiences, the house in the title of the exhibition at Galerie Lelong, refers to his childhood home where he learned embroidery skills from his mother at a young age while also discovering an interest in the darker side of human nature that has pervaded his work at all levels.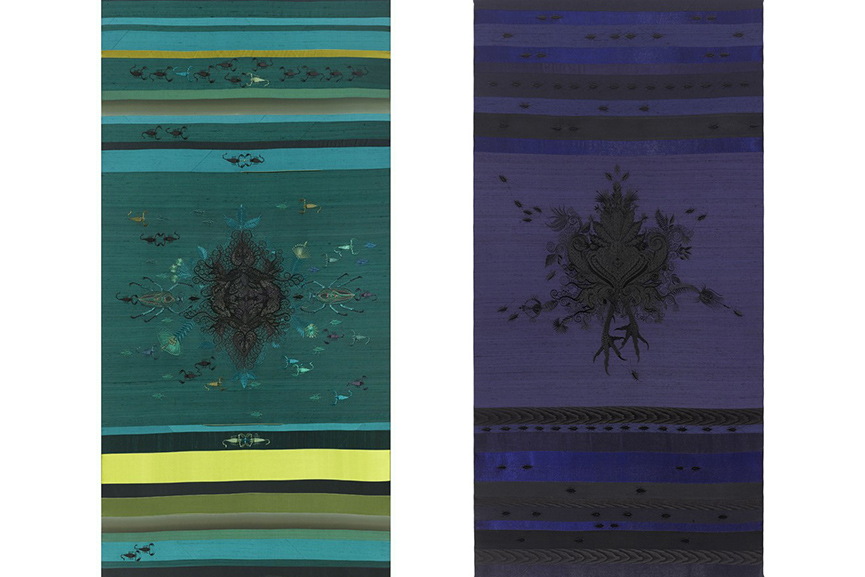 Angelo Filomeno
Angelo Filomeno was born in Ostuni, Italy, 1963. As a young boy he was taught embroidery by his mother and became a child apprentice to a clothes tailor that had a big impact on his creative skills and allows him to this day to use the intricate techniques as both art and skilled craft. Since 1992 he has lived and worked in New York exhibiting his intricately designed and embroidered paintings internationally, becoming renowned for his combination of rich materials and dark subject matter.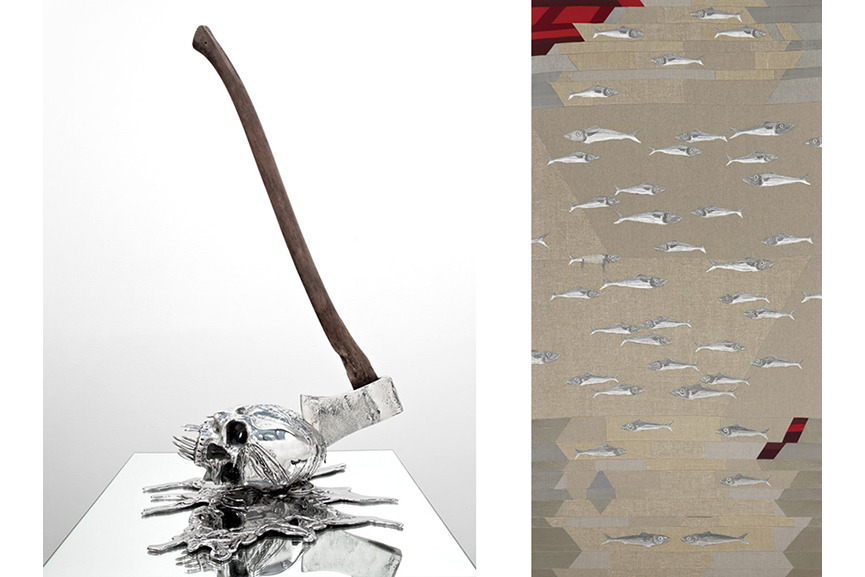 Galerie Lelong
The House of Magic Affection by Angelo Filomeno can be viewed at Galerie Lelong in New York between December 18th 2014 and January 31st 2015.
For for magic and affection sign up to My Widewalls today!