Byzantine art has influenced many countries that were contemporary with the Byzantine Empire, even though they weren't an actual part of it. Although it has been more than six hundred years since the fall of the Empire, many artists around the world, especially the ones from Eastern Europe still find inspiration in it. Greek painter Fikos is one of the contemporary artists who doesn't hide his fascination with Byzantine art. He based his technique on numerous books and paintings he learned from since a very young age. Even though he later continued to upgrade his skill through graffiti and iconography, Fikos perfected his technique of Contemporary Byzantine painting during his studies. Now, the wonderfully talented artist is having his inaugural solo show at Italian Galo Art Gallery…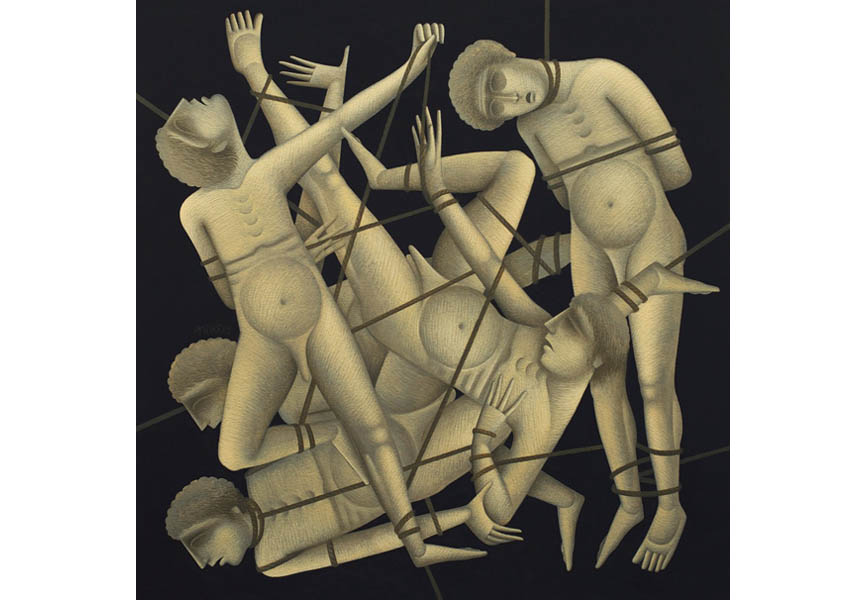 Fallen Angels
The Athens based artist will present a brand new selection of works in an exciting exhibition entitled Fallen Angels. A show presented as a visual reflection of a difficult period features original art made exclusively for the exhibition. Angels, begin a representation of heavenly creatures that help us get through hard times and fall, often thought of as a period for refection and realization about ourselves, convey a beautiful combination of hard work and dedication of the Greek artist. Works that will be presented at the show are painted with eggtempera, ink, and gold leaves on canvas or cotton paper.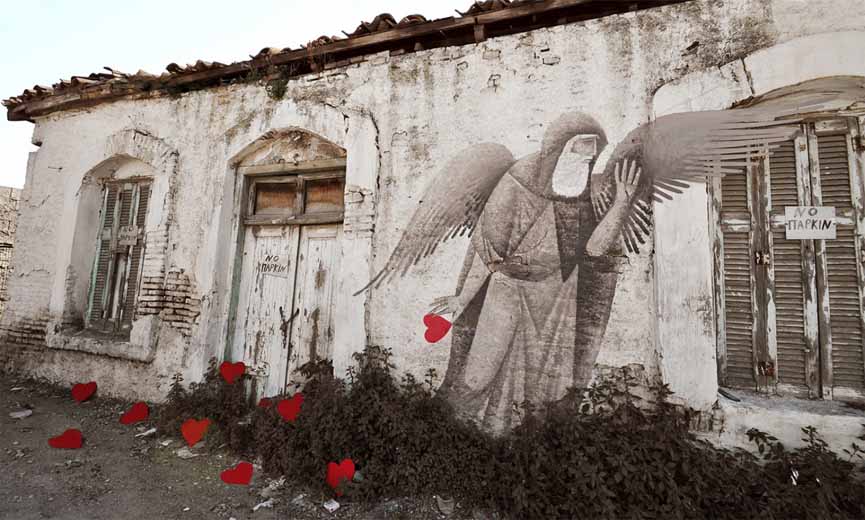 On View Until End of February
Continuing his tradition of Byzantine related art, Fikos prepared series of paintings that are a wonderful example of contemporary art that has a strong base and influence in the era of Byzantine. "Angels, mythological Greek heroes, figures inspired by the Byzantine tradition and archetypal symbols like the Mother and the Warrior are the stars in my paintings. Byzantine Art first captured me at the young age of 10, when I started embroidering and drawing Byzantine icons with colored pencils. I was developing my skills for more than a decade, and I was feeling increasingly split; I was a graffiti artist and an iconographer at the same time", the artist said. He continued working on both of these conflicting aspects until 2008, when he started integrating these two different parts into what he called "Contemporary Byzantine Painting". Comparing his 15 years art journey to a job of a gold digger, Fikos explains the numerous elements that are visible in his work: "In my current works you can meet the art of ancient Greek vases, elements of Sumerian myths and the abstraction of Cycladic and African idols combined with bright colors of pop-art, letters and graphic patterns. For my paintings, I use traditional natural materials like egg-tempera, handmade paper, wood and rabbit-skin glue. My vision is to create the spark that will revive ancient painting tradition in the modern world of art. I work to reconcile past and future in the present time".
Fallen Angels open January 10th at the Galo Art Gallery in Torino, Italy and will stay on view until February 28th, 2015.
If you want to read more posts like these, sign up for My Widewalls today!