The attempts to understand the domains of existence have led men on thought-provoking journeys which span from the times when spirituality was the key of meaning to the times when the rule of science came to be. However, in this vastness of eternal conflict between chaos and control, it becomes almost impossible to choose whether reason or intuition prevails. This is an age of multiple realities and there are particles which exist in dimensions we are just getting to understand. An artist tries to inspire us to continue reflecting upon these stances…

In Case You Didn't Know Who DALeast is...
This 30 years old artist had studied sculpture at the Institute of Fine Arts, but dropped out. He was born in China and currently lives and works in Cape Town. His life as a street artist began ten years ago, when he first started creating in the context of public spaces. Today, his murals can be found on four continents of the world and most recently he is active in New York. As a very active artist, he has been a part of many group shows. His partner in life is simultaneously his "partner in crime" – DALeast is married to the talented street artist Faith47.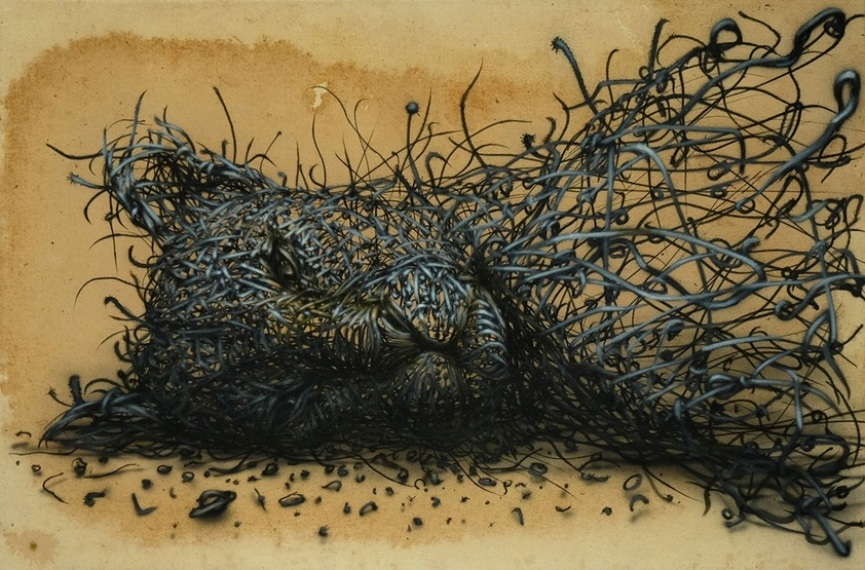 Lines Coming to Life
Although DALeast began his artistic training as a sculptor and is an accomplished digital artist, it is as though his paintings are the artist's strongest suit. It is an inspiring experience to see how the lines, appearing as thousands of metal shards, form an imagery of intricate detail and a particular body of energy. Beautiful shapes of animals and human form are the usual subject matter in DALeast's depictions which seem to pop out of the surface, creating a multi-leveled and multi-dimensional experience. The artist's skillful execution of creating by the power of different perspectives and multiple levels on a usually darker surface render DALeast's work to be an investigation of imaginative depth.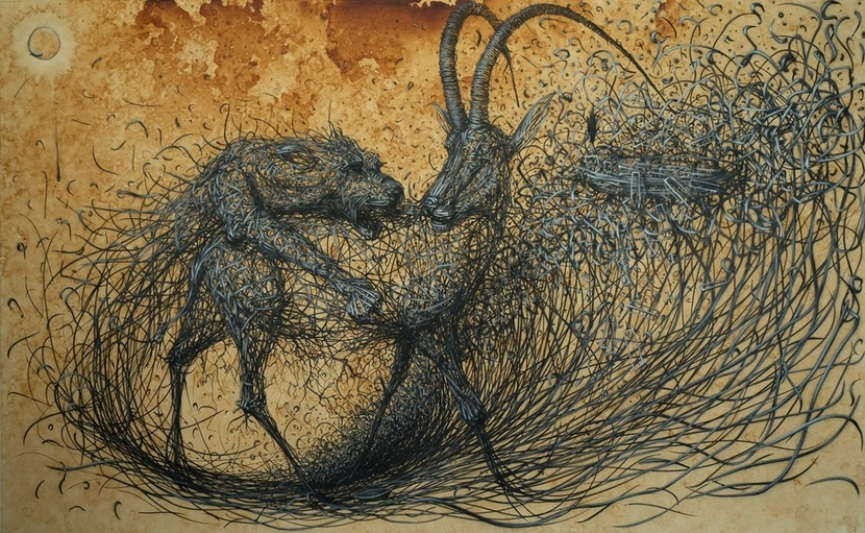 The Laten Photon
A new body of work by DALeast is characterized by acrylic and ink on linen, situated on a textured background. And just like the artist's recognizable work, the animals he paints come to life by the power of precise black lines on neutral colors with the almost constant connotational level of darkness. The Laten Photon represents the artist's invitation to think about how light blurs the distinctions between the universe and images in our mind. By giving life to the animals on canvas, DALeast is asking us to contemplate the notions of matter and energy, not just in the sense of the physic's governed rules, but perhaps even spirituality. The possibility of reflection upon such notions is available at Jonathan LeVine Gallery in the period between September 4th and October 4th 2014.