While representing one of the most challenging artistic endeavors, murals are simultaneously the source of great satisfaction, for artists as well as the public. Imagine, what is more, a large scale piece of art beginning its existence in the frenetical surroundings of a big city. This is the goal of the Cash, Cans & Candy 2014 project, organized by the Ernst Hilger Gallery during the summer in the Austria's capitol Vienna. CYRCLE. and Gaia are responsible for creating a piece of art, a large mural that transpires the discourse of the architectural history of the city, on the wall on Wesbanhof Station in Vienna.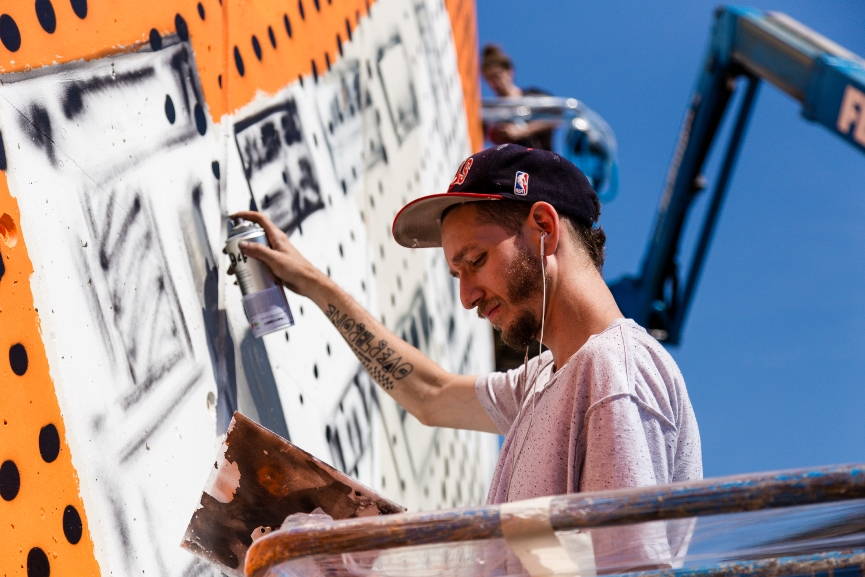 Bring a Friend
During the inaugural year of the Cash, Cans & Candy project, in 2013, there had been presented works by fifty Austrian and international artists. Last year 36 murals were created in the city. Some of the names of contemporary street art whose work was included in the projects were FAILE, RETNA, Shepard Fairey and Faith47, to name a few.  In its second year the Cash, Cans & Candy project has established a curatorial concept "Bring a Friend", emphasizing the importance of collaboration in the Street Art scene. Every artist involved in the project was asked to bring a friend and fellow artist to create a mural that will be the part of the cultural space of Vienna. However, it should be noted that while the work "on the streets" represents a collaboration, the aspects of the project implemented through shows in galleries will be presentations of solo works by each artist.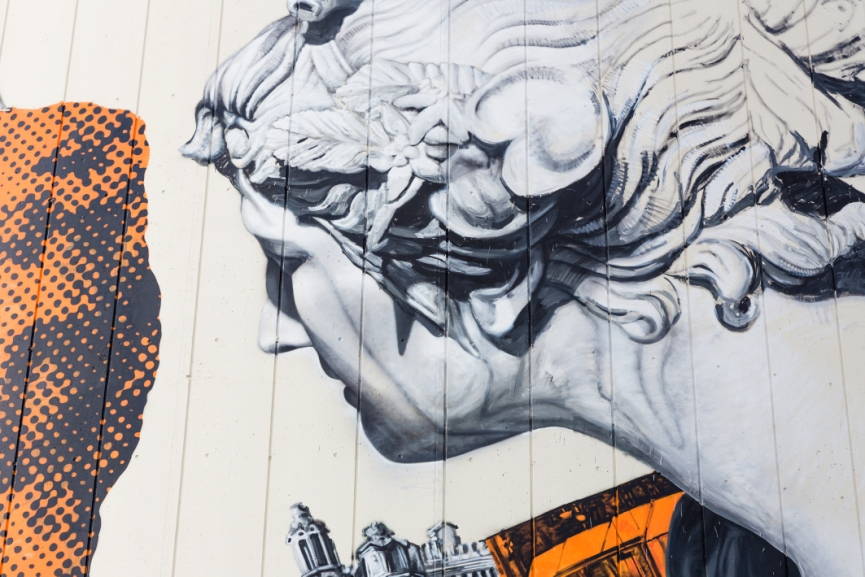 CYRCLE. and Gaia Mural
CYRCLE. certainly represent one of the most talented artistic duos in the world of emerging street artists. Their devotion to art is widely recognizable, and their presence in the social media represents a great model of approaching the public that can serve as a lesson for young artists. Namely, their activity on Instagram and Facebook pages is quite engaging and very informative. They are a duo which focuses on painting, prints and sculptures, and this is very much incorporated in their most recent mural in Vienna. This is no surprise since the duo had taken part in numerous collaborations and projects involving the creation of murals. To Paraphrase their words, the Vienna mural represents a bricolage of famous historical figures from the world of art and architecture as well as depictions of buildings, but holds a connotation of religious tension which is set in the undertones of the orange, black and grey strokes. It is a mesmerizing result of the visual clash of sculpture and architectural forms with the flicker of the contemporary street art expression.