The eclectic Hashimoto Contemporary, located in San Francisco, has announced details of the fourth annual Moleskine Project group show to be held at the gallery. The Moleskine Project IV, curated by Hashimoto Contemporary gallery director Ken Harman and Sydney-based artist Rod Luff, is a collective sketchbook group show which will feature artworks from over 70 international artists. The truly dynamic Moleskine Project IV group show will see the extensive collection of artists and illustrators creating new works in the world famous Moleskine sketchbooks, each presenting their new works over a single two page spread in the sketchbook. With an exciting line up of artists set to exhibit, the Moleskine Project IV group show promises a tantalising view into sketchbook workings that we rarely get to view. Hashimoto Contemporary is known for their wide ranging exhibitions that include the recent Ground of Being solo show by photographer Shaun Roberts and Limbus by German street artist 1010.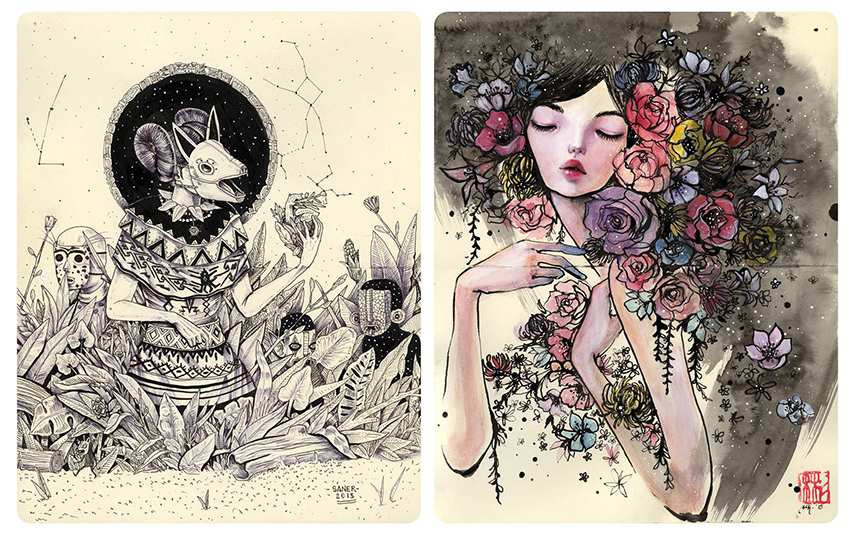 Moleskine Project IV Group Show
The Moleskine Project IV group show is the fourth edition of the now annual event that began back in 2011. The first Moleskine Project was presented at Spoke Art Gallery in San Francisco and consisted of a solo show by Ken Luff, presenting an exhibition of works from his sketchbook pages. Subsequent years have seen the Moleskine Project transform into its current collective sketchbook group show format, now featuring over 70 international artists offering exciting insights into their sketchbook workings. Co-curator Rod Luff states that he Moleskine Project IV group show 'is a tribute to the power of sketchbooks to influence and inform others as well as ourselves'. Whether an artist creates in a sketchbook or on scraps of paper, these are the places where ideas come together, to experiment away from the public gaze, creative possibilities emerge that can make their way into final artworks. For more peeks into sketchbooks, take a look at Liner Notes by Elbow Toe and watch the videos about James Jean, James Jean – The Artist and Pax Paloscia, Detour Exhibition in Berlin.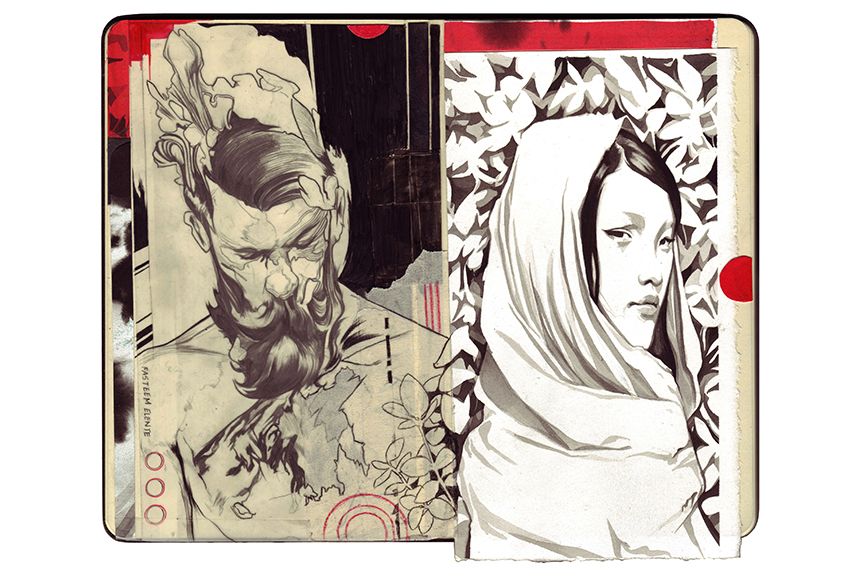 Collective Sketchbook Group Show
The collective sketchbook group show, Moleskine Project IV at Hashimoto Contemporary, celebrates the power of the sketchbook and its use by artists that come from different creative backgrounds, including animation, comics, illustration, fine art, street art, film and more. The ways in which each artist has used the single two page spread is quite breath-taking, with techniques ranging from oils, watercolours, inks, acrylics and a multitude of combinations on the pages that are all sized 8.25" x 11". A few names to look out for include Saner, who has produced a stunning ink drawing titled Love with the Cosmic Girl, which you can see in our exclusive preview image. The renowned street artist DALeast has also created a beautiful ink drawing, Defoliation U and you will also be able to see sketchbook creations from Sam Wolfe Connelly, Redd Walitzki, John Wentz and Tran Nguyen.
Full list of participating artists: Aaron Nagel, Adam Caldwell, Albert Ramos, Allen Williams, Andrew Hem, Andy Espinoza, Brian Viveros, Cannon Dill, Casey Weldon, Chamo San, Christine Wu, Craww, DALeast, Damian Chavez, Dorian Vallejo, Frank Gonzales, Graham Curran, Greg Gandy, Helice Wen, Henrik Uldalen, J.A.W. Cooper, Jayde Fish, Jean Labourdette, Jean-Paul Mallozzi, Jeremy Enecio, Jeremy Hush, Jeremy Mann, Jessica Hess, Joanne Nam, Joel Daniel Phillips, John Wentz, Justin Coro Kaufman, Karla Ortiz, Kate Zambrano, Kemp Remillard, Kim Cogan, Lucy Hardie, Luke Chueh, Martine Johanna, Matt Ritchie, Mike Sutfin, Miles Johnston, Minka Sicklinger, N.C. Winters, Nate Van Dyke, Nimit Malavia, Ozabu, Paul Romano, Peter Chan, Randy Ortiz, Rebecca Adams, Redd Walitzki, Reiner Gamboa, Rod Luff, Ryan Lee, Ryan Malley, Sam Wolfe Connelly, Saner, Sarah Joncas, Seonna Hong, Sergio Lopez, Shawn Barber, So Youn Lee, Stella Im Hultberg, Sylvia Ji,Tran Nguyen, Travis Louie, Valentin Fischer, Ville Ericsson, Von, Zach Oldenkamp.
The collective sketchbook group show, Moleskine Project IV, opens at Hashimoto Contemporary on 4th April, 2015 and runs through until 25th April, 2015. Opening reception is on 4th April, 2015, 6-10pm.
For all the latest exhibition news sign up to My Widewalls today!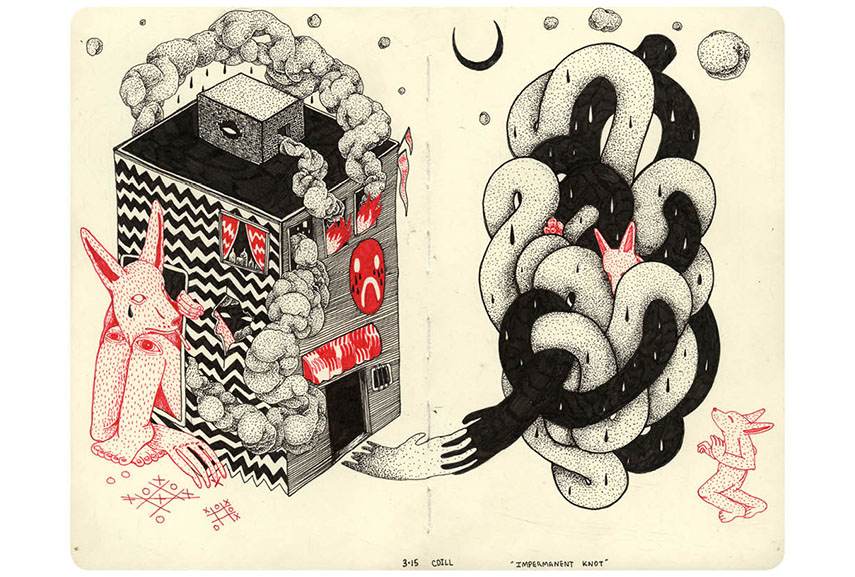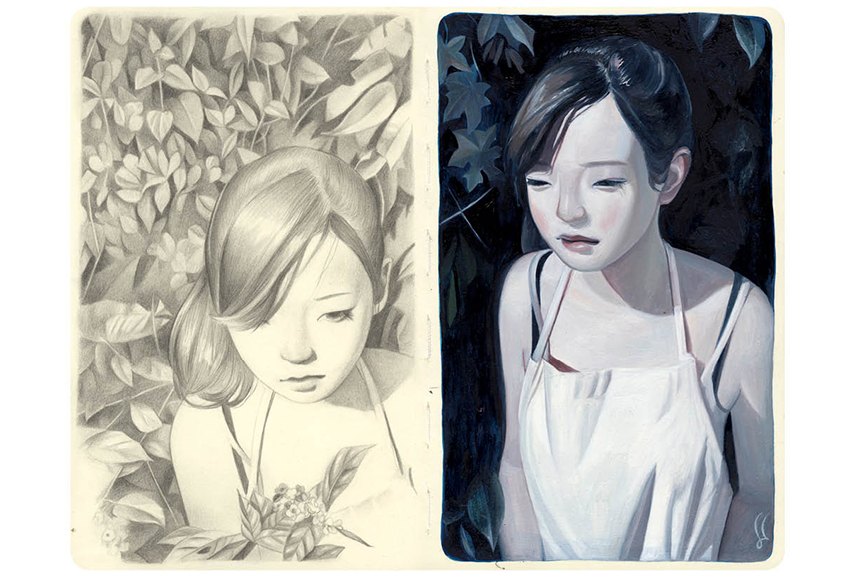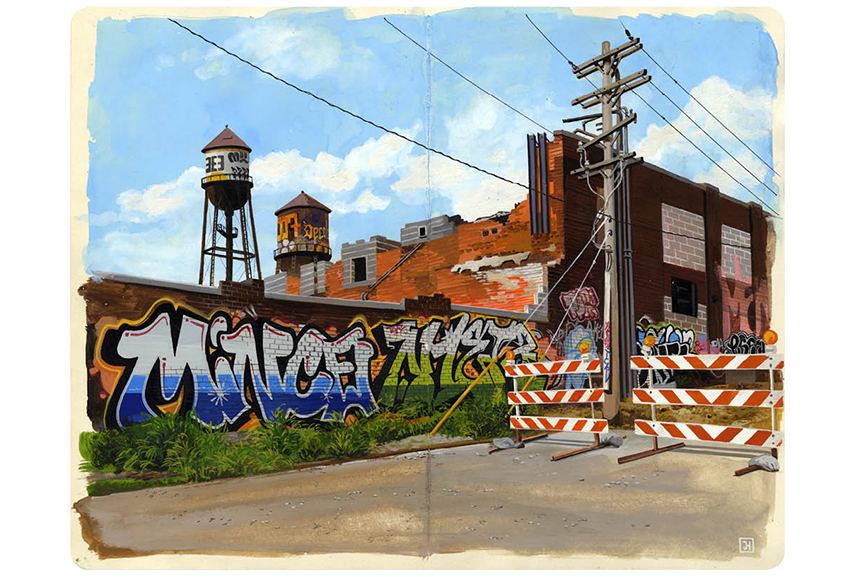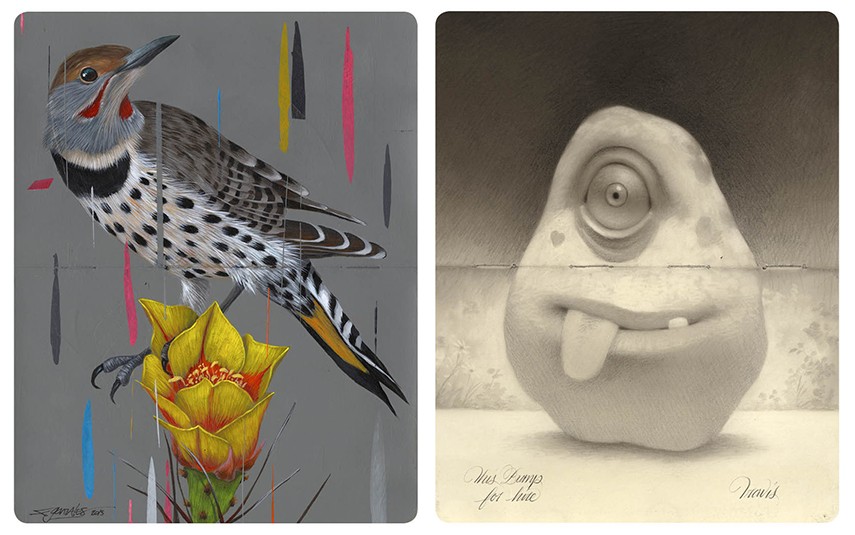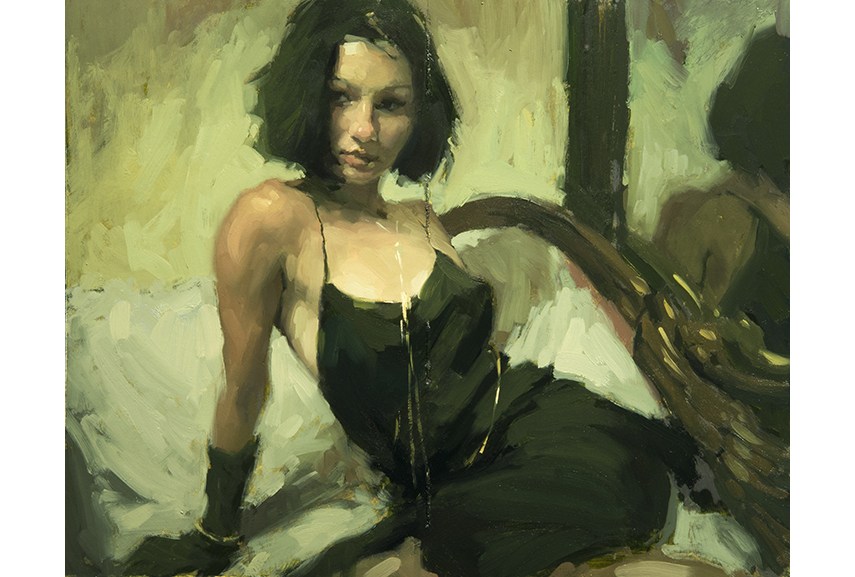 Cover images :DALeast - Defoliation U, Rod Luff - Undergrowth, Andrew Hem - Make It Rain.
All images courtesy of Hashimoto Contemporary.